Fresh off their first shutout win of the season, the Colorado Avalanche are getting a boost to their defensive unit as they head to California for four games in six days.
Veteran defenseman Erik Johnson and rookie blueliner Bowen Byram were back skating with the club on Sunday. They've been skating together at practice this week, and it shows an embarrassment of riches the Avalanche have at the backend.
Johnson missed the first two games of the season due to the mandatory quarantine after the 13-year veteran tested positive for COVID-19. Byram was also in a mandatory quarantine, implemented upon his return from playing for Team Canada at the World Junior Championship.
Everybody is familiar with Colorado's high-flying offense, and everybody saw what they were capable of last weekend when they thumped the St. Louis Blues 8-0 after an opening night loss.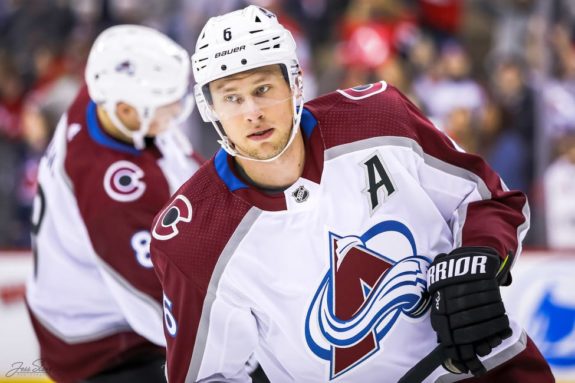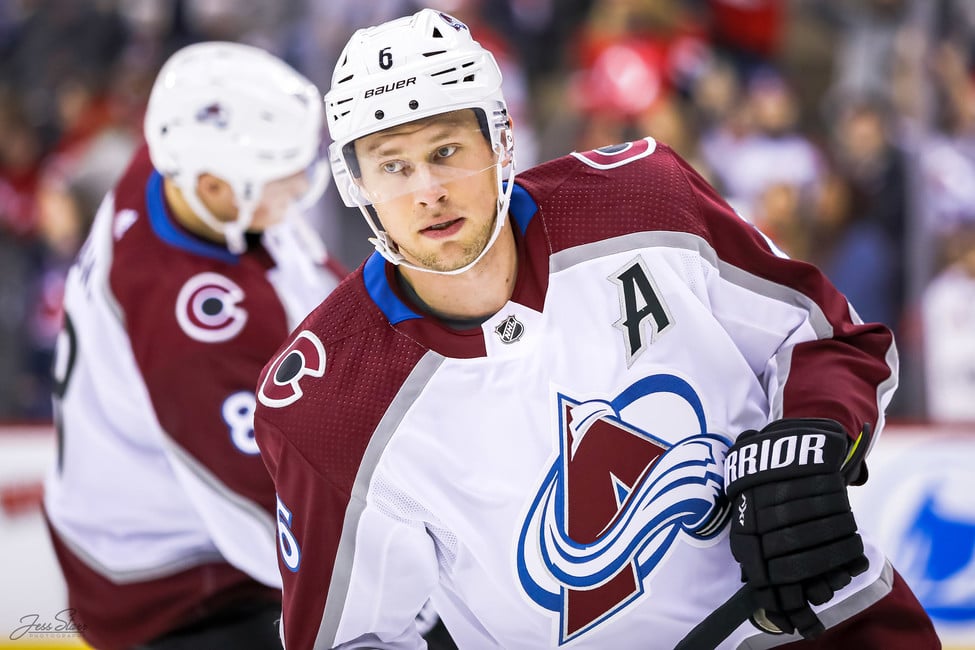 But lost in the gaudy video-game statistics of the eight goals was a nearly impeccable game played by goaltender Philipp Grubauer and the defensive corps in front of him. Grubauer stopped 21 shots for the shutout, and didn't face any consistent pressure until the third period.
St. Louis only mustered 11 shots on goal through the first two periods, and that was in large part to the defense not even allowing anything to get to Grubauer. As much trouble as that defense gave the Blues in their last contest, it's about to get even deeper for Colorado's opponents.
And the Avalanche defensive unit might have even more depth than the offense.
Depth Comes Through Youth Movement
A look at the practices with Johnson and Byram shows how loaded Colorado could potentially be at the back when they're at full strength.
Johnson and Byram were two of nine defensemen that practiced on Sunday. Joining them were Cale Makar, Devon Toews, Ryan Graves, Samuel Girard, Ian Cole, Conor Timmins and Dennis Gilbert. That's a pretty deep list by any metric, but that depth could be there for a very long time.
Makar anchors the defense, and he's just a 22-year-old in his second full season. The average age of those nine players is just 24.8 years old. And that's including 32-year-old Johnson and 31-year-old Cole.
Toews came to the Avalanche in an offseason trade from the New York Islanders, and Gilbert arrived with Brandon Saad this offseason in a deal with the Chicago Blackhawks that shipped out defenseman Nikita Zadorov – who became expendable because of this depth.
As sharp as the Toews trade looks, it's not even the best deal that general manager Joe Sakic has made to build the defensive unit.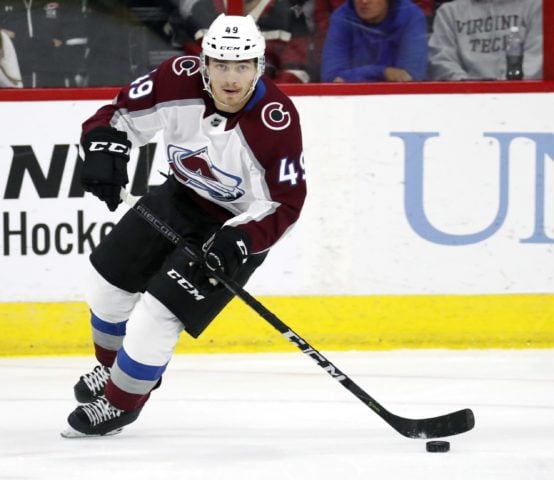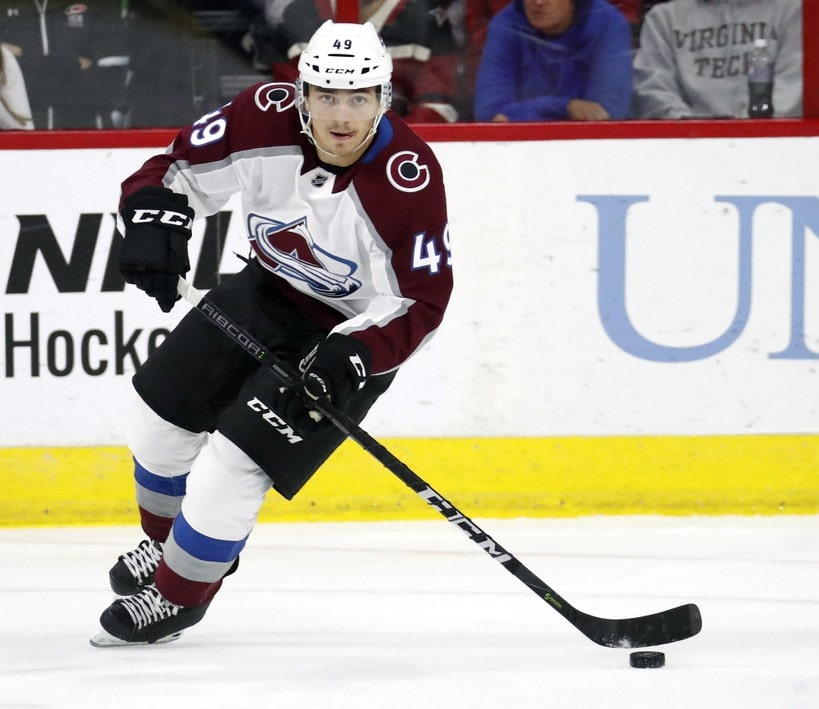 Girard came to Colorado in the high-profile 2017 deal that sent Matt Duchene to the Ottawa Senators, but the Avalanche also got a 2018 first-round pick from the Senators that was protected. Ottawa kept it that year and took Brady Tkachuk. That selection pushed the pick to Colorado in 2019 – where they took Byram fourth overall.
Sakic also acquired Ryan Graves from the New York Rangers in early 2018 for Chris Bigras. Graves hadn't played an NHL game at the time of the trade, and has emerged as a top-four talent and one of Colorado's top penalty killers. Bigras hasn't played in the NHL since.
That means Sakic acquired five of those nine defensemen via trade, and Toews was the only one of those five with any substantial NHL experience – and this is just his third season. That's pretty solid GM work on the blue line by a guy that is one of the greatest offensive players in NHL history.
Johnson Provides Impact, Experience
Young players might rule Colorado's roster, but don't discount the impact of Johnson getting back into the mix.
Johnson might not be put into the lineup right away – since he wasn't able to do any skating during his quarantine – but his return will be welcome. Johnson is the fourth-highest scoring defenseman in franchise history, behind only Tyson Barrie, Adam Foote and Sandis Ozolinsh.
But more importantly, he gobbles up minutes and is a pillar on the penalty kill. In Avalanche history, only Joe Sakic and Milan Hejduk have logged more time on the ice in an Avalanche sweater than Johnson.
Johnson missed 11 games last year, and still was fourth on the team in ice time, and blocked 115 shots. He was also gravely missed on the penalty kill in the playoffs, after getting injured midway through the first period of Game 1 in Colorado's second-round series against the Dallas Stars.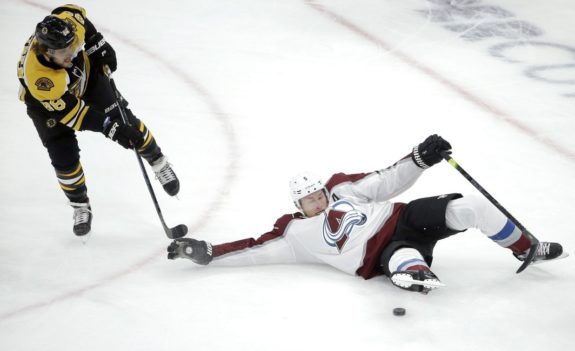 Before the injury, Colorado's opponents were just 3-for-25 (12 percent) on the power-play in the first eight games after the restart. Once he left, the Stars blistered the Avs for 9 goals in 23 power-play chances (39.1 percent) over the next six-plus games. And Colorado still was only a game away from making the Western Conference Final.
Injuries have dinged Johnson in recent seasons. He's missed 10 games or more in four of the last six seasons, but his absence was glaring in the series loss to the Stars. That's another reason why improving the depth at the back was a focus for Sakic entering this season.
Where coach Jared Bednar puts all of these guys on the lineup sheet might be a difficult task when they're all healthy, but that's a problem any coach would welcome.
An interesting pairing would be keeping Byram with Johnson, like they practiced this week. Johnson could be a great mentor, considering Byram turned five years old a week before Johnson was the first overall pick in the 2006 NHL Draft.
---
---
Lifelong storyteller and experienced hockey reporter that has covered everything from major juniors to the NHL. Worked for various newspapers across Minnesota and North Dakota, and now covering the Colorado Avalanche for THW.