After an impressive training camp, Jakub Zboril made the Boston Bruins' opening night roster for the first time in his career. The 23-year-old was one of the organization's three first-round selections in the 2015 NHL Entry Draft. In the five and a half years since he has struggled to make his way to the big league.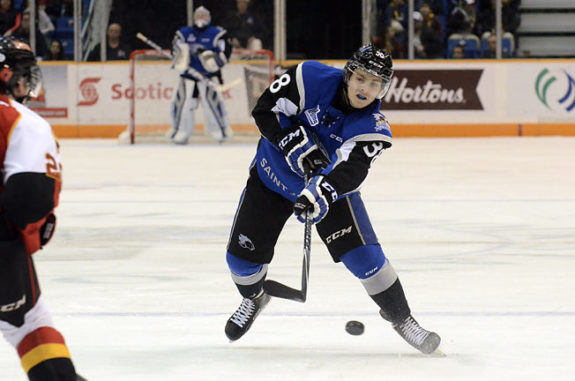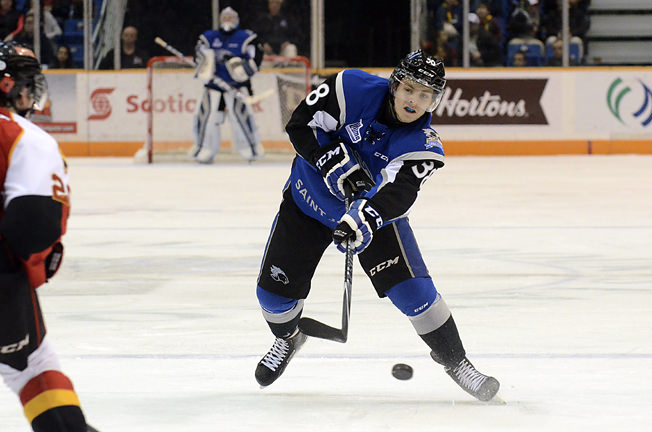 The 2015 Draft had one of the most talented classes in recent history. First-round selections included Noah Hanifin, Ivan Provorov, and Zach Werenski, and those are just the defensemen selected above Zboril. Before the start of the 2020-21 season, Zboril had played the fewest number of games in the NHL of all the players selected in the first round.
It's still early, but so far, Zboril looks like he belongs in the NHL. He played over 19 minutes in both games against the New Jersey Devils, and has thrown his name into the ring for a permanent spot on the blue line. His development was slow, but he has finally hit his stride at the perfect time. The Bruins' blue line is young and fairly inexperienced, leaving the door open for a number of players to step up.
Junior Career
The left-shot defenseman was born in Brno, Czech Republic. He made the jump to North America in the season before his draft year and played for the Quebec Major Junior Hockey League's Saint John Sea Dogs alongside Thomas Chabot, a first-round selection by the Ottawa Senators. 
In The Hockey Writers' prospect profile on Zboril leading up to the draft, he was praised for his ability to mix grit and finesse into his game. He could deliver a heavy bodycheck on one play and then outwork an opponent on the next. His shot was also praised for its accuracy and power.
However, he struggled in the defensive zone. He was also often beat one-on-one and needed to build up his overall defensive play. While he was predicted to go late in the first round, the Bruins selected him 13th overall.  At the time, it made sense as the team needed more big defensemen after they had traded away Dougie Hamilton. In retrospect, given the talent in that draft and the immediate impact many of those players made in the NHL, he probably should have gone a bit later.
Related: Bruins Who Need to Make Their Mark on the 2020-21 Season
After he was drafted, Zboril returned to the Sea Dogs for two more seasons. In 50 games in 2015-16, he scored 20 points, a dip from his 33 points in 2014-15. However, his final season in the QMJHL was his best, scoring 9 goals and 41 points in 50 games.
Three Years in Providence
After junior, Zboril still had areas to improve on and with a crowded blue line in Boston, he was assigned to the Providence Bruins in the AHL. He spent all of 2017-18 in Providence where he had 19 points in 68 games. His first pro point was an assist against the Bridgeport Sound Tigers on Dec. 3 and his first pro goal was on Jan 26. against the Hershey Bears.
The learning curve was steep for Zboril, who is a self-proclaimed slow learner. (from 'Jakub Zboril hopes his time is now with Bruins,' Boston Herald, 12/20/2020)
He had his struggles, but in three seasons, he made important strides in his game. He improved in the defensive zone and gained confidence playing in a professional league. The big-bodied defenseman was solid, scoring 19 points in all three seasons, and head coach Jay Leach noted that in the final stretch of the 2019-20 season, he was the best defenseman on the depth chart.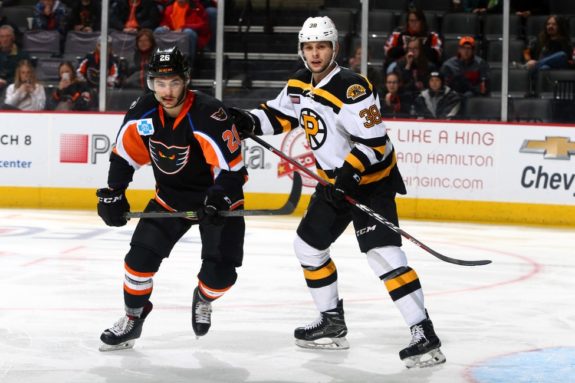 He never scored more than 20 points in Providence, but he is not known to be a point-producer. Those three seasons in the AHL were important for his development and his adjustment to the pro level. Now, he is ready to take the next step.
Cracking the Lineup
Zboril has grown into a solid defenseman in all areas of the game, though he doesn't necessarily excel in one. He isn't a replacement for Torey Krug or Zdeno Chara, but he can make a name for himself in the NHL this season. He and Kevan Miller should be the hard-hitting, defensive pair the team needs. 
Related: Bruins Offering Early Opportunities to Young Players Looking to Flourish
Zboril has received increased scrutiny because of his draft status and the talented players selected after him. Chabot was taken 18th overall and has played over 200 games for the Senators. Wingers like Kyle Connor and Brock Boeser, who could have filled holes on the Bruins' offense, were also selected after him. Unfortunately, Boston's 2015 Draft has been remembered more for the players they missed rather than on the ones they chose, and that has cast a brighter spotlight on Zboril for better or worse. 
In 2018-19, Zboril appeared in two games before being sent back down to Providence, while teammate Connor Clifton stayed in Boston. Zboril later admitted that he wasn't ready for the competition at the time. (from 'Bruins ink Jakub Zboril, two others,' Boston Herald, 10/14/2020) Now, with a new, two-year, one-way contract, he looks like a different player.
There are still more than 50 games to play this season, and it's too early to say if Zboril will remain in the starting lineup. For now, he seems to have earned his place over veteran John Moore, but as we all know, anything can happen in hockey. Still, he's making the most of his opportunity; he has the most shot attempts on the team on 5v5. If he keeps playing like he has to start the season, he may finally have a home in Boston. 
---
---