So close, yet so far away.
Nathan MacKinnon has risen to the top echelon of the NHL over the last three seasons. After struggling to produce on some very bad Colorado Avalanche teams from 2014 to 2017, the Nova Scotian center's hard work and training paid off as he carried a still very bad Avalanche team to the 2018 Stanley Cup Playoffs.
During that 2017-18 season, MacKinnon's point total nearly doubled from 53 to 97. He put up multiple five-point games. He had a goal or an assist on 38% of the team's goals that season, despite missing eight games due to injury. His heroics earned his team a dramatic Game-82 playoff-clinch and himself one of the three nominations for the Hart Trophy. The Avalanche went from dead last in the league to a difficult obstacle for the Nashville Predators to fight through in the first round.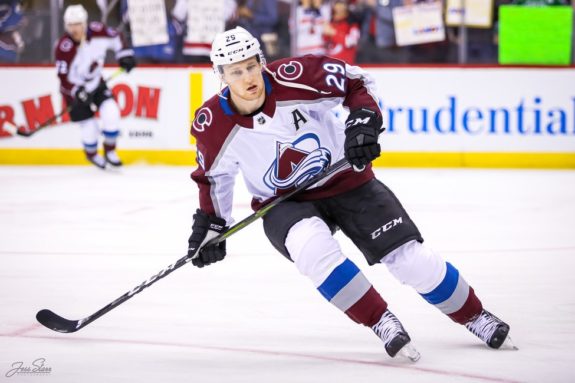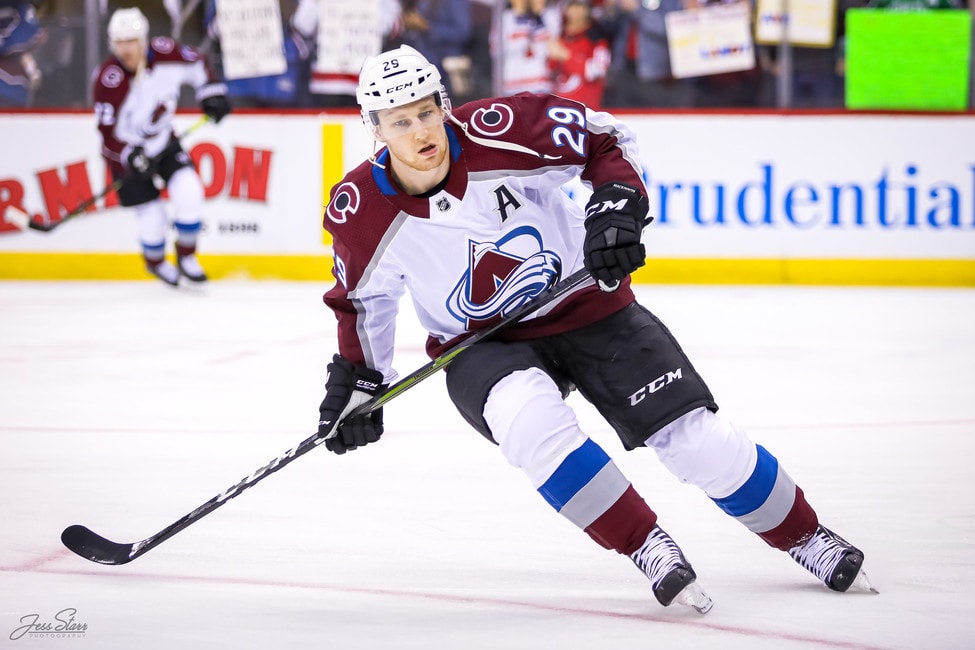 Unfortunately for MacKinnon, his storybook season was met toe-for-toe over in the Eastern Conference. Taylor Hall exploded in his second season after being traded from the Edmonton Oilers to the New Jersey Devils. He had 93 points of his own, and dragged a New Jersey team (that was arguably worse than Colorado's squad) to the playoffs as well. He earned himself his own MVP nomination and would take home the Hart Trophy, with MacKinnon finishing second.
Fast forward two years to the 2019-20 season. The Avalanche are a much-improved team with general manager Joe Sakic building around his franchise player. After finishing with 99 points in 2018-19, MacKinnon has arguably the best year of his still-young career. Despite the Avs being ripped to shreds by injuries as the season went on, MacKinnon posted 35 goals and 58 assists in just 69 games. Rookie Cale Makar finished second in scoring for the team with 50 points, a mere 43 behind MacKinnon's production.
But again, MacKinnon would fall short of the Hart, this time to the offensive dynamo Leon Draisaitl, who collected 110 points in 71 games. MacKinnon finished in second for the award once more.
While most NHLers, MacKinnon included, would value a Stanley Cup victory over a Hart Trophy, getting the chance to stamp your name in the record book as league MVP is still a high honor. So, what will it take in 2020-21 for MacKinnon to finally break through?
MacKinnon Has to Stay Healthy
Over his seven-year NHL career, MacKinnon has managed to, for the most part, stay away from injuries. He has played the full 82-game schedule three times, and played in at least 64 contests each season. He would have likely missed at least a couple of weeks at the end of last season, but the season was postponed one game after he suffered a concussion. (from 'Avalanche superstar Nathan MacKinnon suffers injury in 3-1 loss at Los Angeles,' Denver Post, 03/09/2020)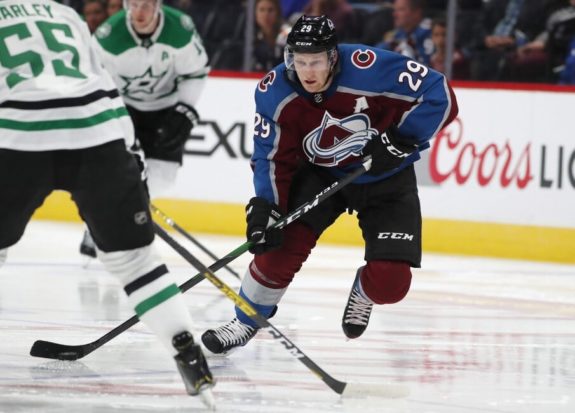 In a 56-game season, staying healthy will be critical for anyone vying for the Hart Trophy. Missing games means missing chances to get points, and voters for the award love points. Four out of the last five Hart winners finished first in league scoring, and all five didn't miss a game during their MVP campaigns. For MacKinnon to contend with the prolific scorers around the league, he'll have to stay on the ice as much as possible.
McDavid and Draisaitl Have to Calm Down
Connor McDavid and Draisaitl are good at scoring points. In the last three seasons, McDavid has 1.43 points per game, while Draisaitl is right behind at 1.23. The Hart Trophy is supposed to go to the player most valuable to their team, so it would be logical that it wouldn't go to skaters who have another MVP candidate on the same power-play unit. But again, voters love points, above all other considerations. So, McDavid and Draisaitl will remain obstacles in MacKinnon's path for the foreseeable future.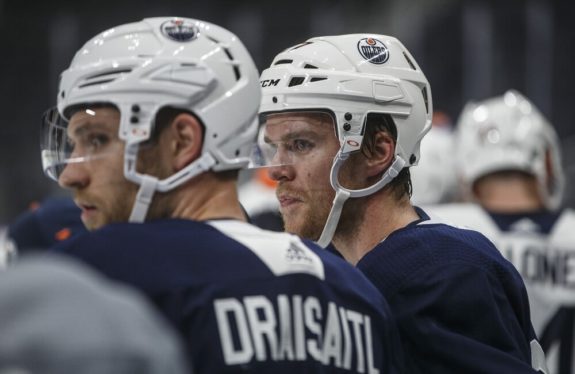 So, either MacKinnon has to post over 100 points in these 56 games, or the Edmonton duo is going to have to sizzle out for a season. Not one of them, both. If only one takes a step back and the other still excels, that arguably raises their MVP stock. Frankly, the odds of both going below a point per game in a North Division filled with defensively questionable teams are not very high.
Not to mention, the rest of the league has plenty of players who could explode at anytime, especially in a 56-game sample size. Vintage Sidney Crosby or Alex Ovechkin? Dangerous. Patrick Kane carrying the shell of the Chicago Blackhawks to another playoff berth? Dangerous. Artemi Panarin, Auston Matthew and Jack Eichel? All Dangerous. Even goalies, like Connor Hellebuyck or Carter Hart? Dangerous. Winning league MVP means rising above everyone else, and everyone else can pack quite a punch.
MacKinnon Has to Help the Avs Hit Another Level
A common theme among recent MVP winners is their teams taking steps forward in the NHL landscape. Hall's Devils made it to the playoffs. Nikita Kucherov's Tampa Bay Lightning won 62 games in 2018-19. Draisaitl's Oilers went from a league laughingstock to one of the better teams in the Western Conference (before going back to a laughingstock in the 2020 play-in round). The Avalanche have gone from dead last to one of the best teams in the league, but MacKinnon will have to help them match and exceed expectations in 2020-21.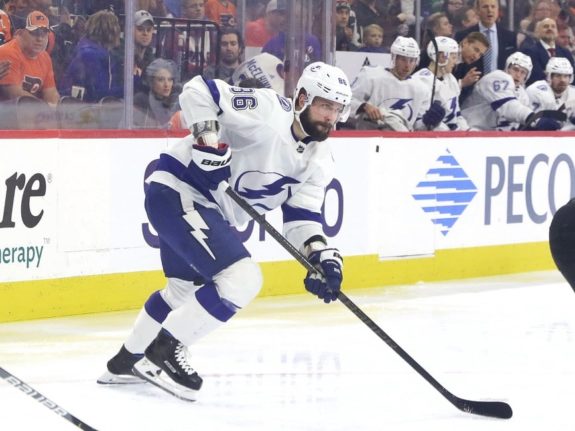 It will start by winning the newly formed West Division. While the bottom half of teams shouldn't cause issues for the Avalanche on most nights, the Vegas Golden Knights and St. Louis Blues each have the potential to claim the division crown. Beating them on a consistent basis will go a long way for MacKinnon's campaign.
If he does help the Avalanche clinch the division, being the top team in the league would help his chances as well. The Lightning will be without Kucherov until the playoffs, so they may take a step back. The Boston Bruins aren't as deep as they used to be. The Toronto Maple Leafs always find a way to be worse than they should be. The Washington Capitals are very old, and getting older. The window is there for a deep Avalanche team to win the Presidents' Trophy.
Nothing comes easy in the NHL — not a high place in the standings, not a nomination for MVP. Winning the Hart Trophy is an incredible feat, because of all the factors working against those fighting for it. In the prime of his career, MacKinnon has another chance. It'll take a great season and a little luck for him to finally claim the prize.
---
---
Avery is a writer covering the Colorado Avalanche. He is graduating in April with a B.A. in English and Mass Communication. He has previously worked for The Puck Authority covering the Rapid City Rush and for NGU Vision Media as their News Editor. He is a board game enthusiast and enjoys spending time with others.