With the New Year upon us and as the countdown to Season 6 of the National Women's Hockey League (NWHL) in Lake Placid begins, the Metropolitan Riveters have a lot to look forward to. They have a young class of athletes, new goaltending, a former player turned assistant coach, and league veterans to bring the team together. With a new look comes some New Year's resolutions for a successful season and an Isobel Cup run.
Score More Goals
The Rivs danced around third and fourth place in the standings a lot last season. Although they were not able to earn any wins off the powerhouse Boston Pride, they went 3-4 against the Minnesota Whitecaps, 4-2 against the Buffalo Beauts and 3-2 against the Connecticut Whale, to finish third with 23 points.
Related: Riveters' Connections to Lake Placid and What To Expect
Last season saw many close games, ones that if they scored another goal or two would have brought more wins. Putting more pucks in the net should be at the top of the Riveters New Year's resolutions.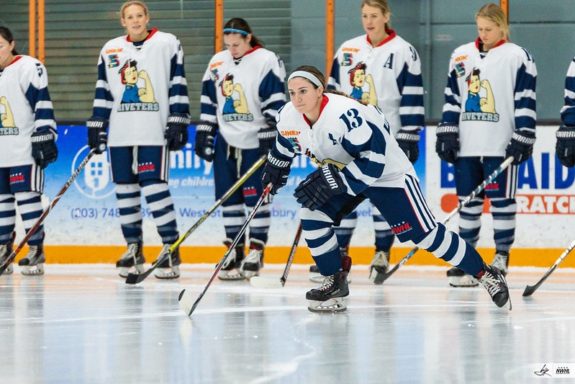 This means the Rivs' offense needs that extra push to put more pucks in the net. With their new additions, draft picks Tera Hofmann, Saroya Tinker and Bridgette Prentiss, and returning forwards led by captain Madison Packer, their front lines have exactly what they need to fulfill the more goals resolution.
It will be crucial for Packer and the other returnees, like Cailey Hutchison and Kendall Cornine, to find the right combination with the new additions to put up more points. They will have to make every game count in the upcoming shortened season. In this shortened season, there is no room for error.
Continuing the Strong Bonds & Keeping That Positive Attitude
The chemistry of this team is immaculate; everyone gets along so well. Every practice is high energy — and every player is dedicated to improving the team this year. The season has not yet started, and you can already tell that the team is even more committed than last year through their social media posts. This resolution will not be hard to accomplish, but they will have to transfer their dedication into the new year.
General manager Kate Whitman Annis and head coach Ivo Mocek did a fantastic job in acquiring the right assets for the Rivs in the offseason. With that said, these bonds are going to be really beneficial in Lake Placid and beyond come the new year when it comes to teammate communication.
Rebecca Russo has strong relationships with her teammates, especially Packer. Cornine and Mallory Rushton not only went to Rochester Institute of Technology together but lived together last season. The team has become a family, and it will pay off. Strong bonds mean better communication and better play on the ice, an essential New Year's resolution.
With those relationships also comes a humble attitude. Packer has been a positive influence as captain; she is always willing to improve and makes sure the team is at its best. This will continue as she was just named captain again for 2021, with Hutchison and veterans Kiira Dosdall-Arena and Rebecca Morse receiving the "A."
The Rivs have strong leadership — exactly what they need to make a run for the Izzy Cup. They were as positive and confident last season, through the wins and losses, and that should continue into the new season and new year.
Out With the Old, in With the New
There may be less than a day left in 2020, but the 2021 NWHL shortened season commences in 24 days, a little over a week after the NHL does the same. There are 23 more days in the new year to gear up for the season and make some final fixes before the bubble.
Although it will not look like the first five seasons, it will surely be one to remember. What better way to go into a new year than making NWHL history, especially after the pandemonium 2020 has brought. The Riveters are sure to succeed if they accomplish these New Year's resolutions.
---
---