Adding 11 new players for this upcoming season, the Metropolitan Riveters were looking for some change. The team has been on their way up, with star forward Kendall Cornine raking up 24 points and National Women's Hockey League (NWHL) Newcomer of the Year Kate Leary leading the team with 16 goals.
After losing in the first round of playoffs in the 2019-20 season, the Rivs looked to rebuild a bit and change up the names on the roster in order to bring that consistent winning back to the organization. They have taken steps to do just that, adding four forwards, five defensemen, and two goaltenders on top of the 12 returners for this year's team. This team is inching closer to being back at the Isobel Cup Final.
Experience, More Scoring and Speed up Front
Of the four forwards obtained, two have prior NWHL experience — Emily Janiga and Kelly Babstock. Add in Rebecca Russo after a season off, and the Rivs now have three more forwards with league experience.
Janiga had 10 goals and seven assists with the Buffalo Beauts, winning the Isobel Cup with them in 2017. A native of East Aurora, New York, Janiga also played with the Vanke Rays of the Canadian Women's Hockey League (CWHL) and was most recently with the Professional Women's Hockey Player's Association (PWHPA) this past season. The 26-year-old's experience will be key in adding her to the Rivs' lineup. The team now has a string of skilled centers; You could put her alongside wingers like Brooke Avery and Russo for an experienced line behind the Madison Packer and Leary duo that constantly delivered last season.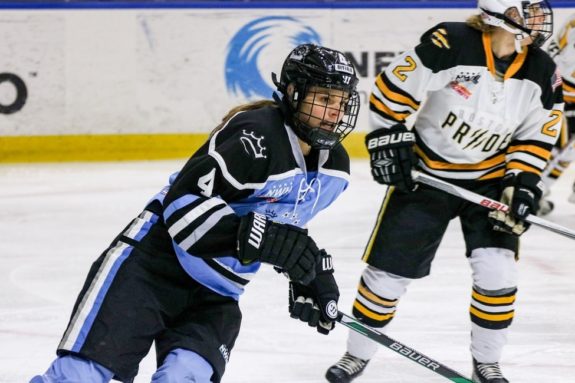 Babstock is the newest addition, being traded from the Toronto Six after she signed there a few months ago. She has 23 goals and 27 assists in 49 games over three years played with the Connecticut Whale, and four goals and six assists with Buffalo in 2018-2019. As she is also coming from a year away from the league, the Mississauga, Ontario native will bring the explosiveness to the Rivs' offense that they are in need of. Averaging .92 points per game, Babstock is a player that stays active and never stops moving, a potential center to that Packer and Leary line to bring the offense to the next level with more scoring chances.
Paige Voight is a 23-year-old Rivs 2018 draft pick that was most recently with the PWHPA. A Merrimack College alumni from St.Michael, Minnesota, with 76 points in 140 games, she is sure to add to their offensive pressure. Voight has proven her scoring ability with the Warriors that will hopefully transfer into her professional career, alongside other young forwards like Jayne Lewis or veteran Russo. Put Voight and Tatiana Shatalova together for a line with extraordinary speed, getting past their opponent's defense to score more goals.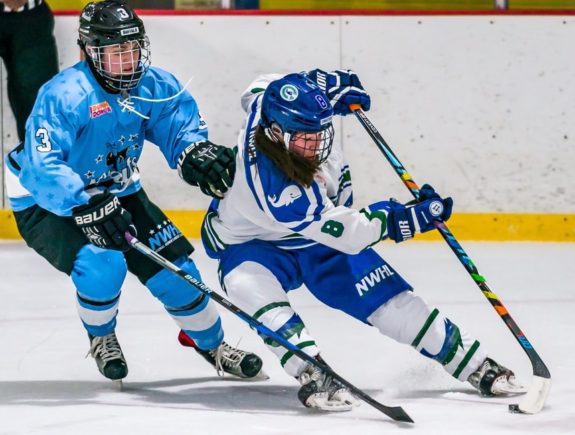 After two successful years in Germany with EKU Mannheim and Kurpfalz Ladies of Frauen Bundesliga, 24-year-old Onalaska, Wisconsin native Theresa Knutson is bringing her point-scoring ability to New Jersey. She scored 73 goals in those two seasons, making her another offensive power to bring alongside Babstock and Voight.
Put any of these explosive forwards with returners Cailey Hutchison, Mallory Rushton, Cornine, Packer, Avery, Shatalova, Lewis, Leary, and Russo to get that fast offense the Rivs need to score goals.
Strong, Offensive Defensemen
Adding to the defense are four young players. Sammy Kolowrat is a defender to watch this season, as her quick release makes for a great offensive defender. The 24-year-old from Prague, Czech Republic, has that overseas experience with hockey as a member of the Czech Republic National Team. At the University of Vermont, she earned MVP as captain her senior year, with eight goals and 20 assists. She is strong and is determined in the way she plays, also giving that potential to be a top defender with Morse, Kilduff, and Kiira Dosdall-Arena.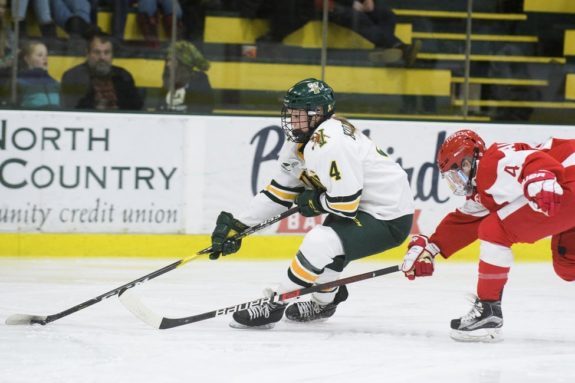 Samantha Fieseler also has some of that international taste, coming off of a year with Goteborg HC in the Swedish Women's Hockey League. She is also 24 and a Mercyhurst University alum, scoring 15 goals and 23 assists in 138 games with the Catamounts. She will be a quality, trustworthy support to whatever defensive pair she ends up on to help the offense keep the puck on net.
Oshawa, Ontario native Saroya Tinker was the fourth overall pick at the 2020 NWHL Draft. The 22-year-old was a solid defender for Yale University, also raking up five goals and 27 assists. She one of two Bulldogs drafted to the Rivs, along with goalie Tera Hofman. Tinker is a strong defender and could communicate with Hofmann well.
Another draft pick is 22-year-old Bridgette Prentiss. At Franklin Pierce University, the Buffalo, New York native earned New England Women's Hockey Alliance Defender of the Year in 2019-20, with 19 goals and 26 assists her senior year. She can be put alongside returners Leila Kilduff or Dosdall-Arena to learn from them and develop her professional game.
Will Morse be paired with Dosdall-Arena or Kilduff, or a rookie? The Rivs have four newcomers and three returners to either spread out the talent on each defensive pair and have the rookies learn from the veterans or create a veteran pair and put the new players together.   
A Completely Different Look in Net
Completely new goaltending for the Rivs started with them drafting former Yale University alum Tera Hofmann in the third round of the 2020 Draft in April and the addition of former Whale netminder Sonjia Shelly in June. Sam Walther will not be on the roster this year, leaving Hoffman and Shelly to start a new era in net for the Rivs.
Shelly, a 23-year-old from Braceville, Illinois, appeared in 13 games in her rookie season with the Whale last year, putting up a .894 save percentage (SV%) and 3.99 goals against average (GAA) while trying to find the team a win. As the Whale did not have the season they hoped for, her determination in net stayed strong throughout.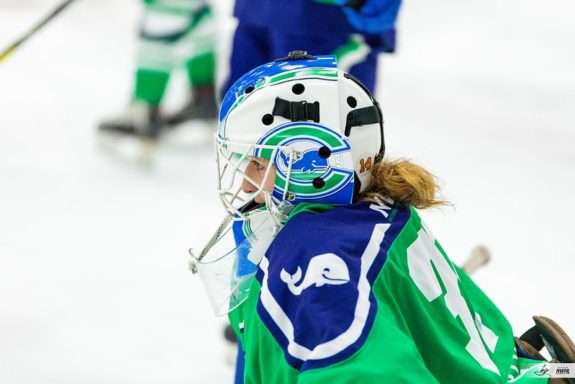 The 22-year-old Hofmann put up a .891 SV% and 2.29 GAA with the Bulldogs in the 2019-20 season, sharing the net with junior Gianna Meloni. The Toronto, Ontario native appeared in 12 games, with three of her seven wins being consecutive shutouts against Dartmouth, Union, and Rensselaer.
As both are still young, they have the opportunity to develop their personalized way of playing and improve on their already apparent skills. The Rivs were desperate for a solid backup when Walther was not playing, and both of them can be fits for this role, as well as a starter. Shelly is likely to be seen as a starter with a bit more experience than Hofmann, but both can be a good alternative to each other. Having two consistent goaltenders will be key for the Rivs' success this year.
The New and Improved Metropolitan Riveters
Each of these new players will help shape the team in their own ways, playing individual parts, as well as working together with other new faces and returners to take on that goal of another Isobel Cup run. As the 2020-21 season goes on, we will see more of what roles these players fall into and how it contributes to the Rivs' hopeful success. Although it may be a long road, small steps at a time through strong goaltending, more offensive pressure, and tight defense will bring this team back to where they and head coach Ivo Mocek want to be.
---
---