The Metropolitan Riveters added a bonafide scoring threat in Kelly Babstock, whom they acquired in a trade with the Toronto Six on Oct.15. Babstock had signed with the Six back on May 2 after sitting out the past NWHL season. In return, Toronto will get the Riveters 1st Round pick in the 2021 NWHL Draft and their 2nd Round pick in the 2022 NWHL Draft. The Six now own eight picks in the 2021 Draft (five of their own and a 1st and 2nd acquired from the Boston Pride).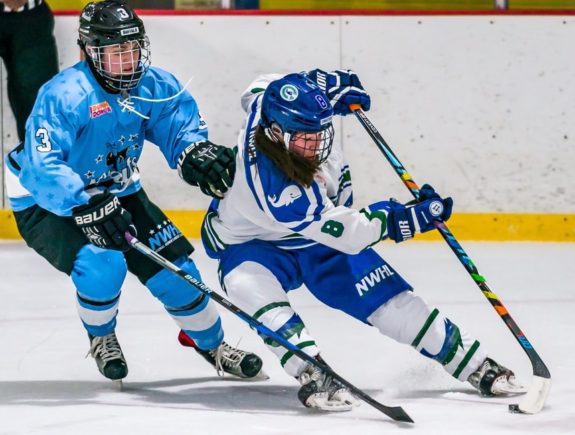 The 28-year-old Babstock previously played four seasons in the league – the first three as a member of the Connecticut Whale and in Season 4 with the Buffalo Beauts. A two-time All-Star (2017, 2018), she has 60 points (27g-33a) in 65 career regular-season games and four goals in seven career playoff games. 
Riveters-Killer Now a Riveter
In 21 career games against the Riveters over the first four NWHL seasons, Babstock has put up 23 points (15g-8a). So what better way to avoid her scoring on you than acquiring her?
Riveters Head Coach Ivo Mocek told us via text that the team has been pursuing a deal for Babstock, who is still the Whale's all-time leader in goals (23) and points (50), for a "VERY long time. Two and a half months."
How will she fit in with the Rivs?
"Babs is bringing energy, experience, and a work ethic that very few of the players in this league can match," Mocek told THW. "I definitely want to see what the former Buffalo combination with Emily Janiga would look like. Luckily we have plenty of time to figure it out, but I already have ideas where she might fit in."
The team had been looking to add offense to its roster all off-season long as evidenced by Mocek's quote after recently signing Paige Voight from Merrimack. "The main goal of this off-season was to add some offensive depth," he said.
Babstock has yet to win an Isobel Cup in her career and now with the Riveters, she will have a great chance at achieving that goal. During her lone season with the Beauts, she lost to Minnesota in overtime in the Isobel Cup Final. With 60 career points, she is tied for third on the NWHL's all-time scoring list.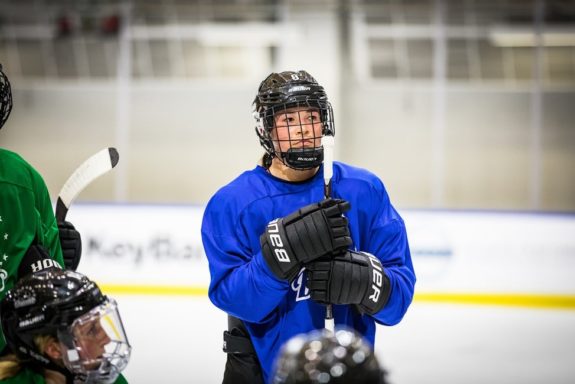 "I missed having the hunger to win a championship – the Izzy Cup," Babstock said back in May when it was announced that she was returning to the NWHL after a year away. "Last year I took the year off and joined the PA. I realized the PA's goals didn't match mine and the NWHL's matches with my goals. So I'm excited to play hockey again."
Hardly Knew Ya
She had originally signed to play for her hometown team in Toronto, but when the start of the season was delayed until January, Babstock was unable to play in Toronto due to prior engagements.
The plan was that she was going to be living in Connecticut, where she has a full-time job, and commuting to Toronto for games, but now she has a much shorter commute to New Jersey for games and weekly practices as well.
Related: Toronto Adds Kelly Babstock
"Kelly's vision for the future of the NWHL and women's professional hockey aligned with our organization perfectly, so we were excited to have her on board for the inaugural season," said Six President Digit Murphy following the trade announcement.
"Her presence to our club as a veteran player and a leader who loves the game was a huge factor in choosing her to play with us. However, with the season and circumstances changing, we are glad we could get a deal done that was in the best interest of Babstock, the Riveters, and the NWHL. We wish her well in her future career.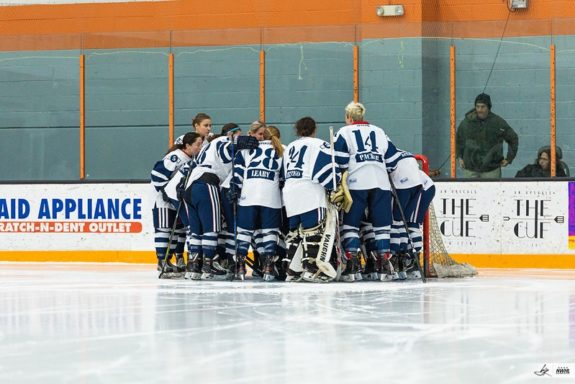 The trade is just the eighth trade completed in NWHL history, and six of them have involved the Riveters. This looks like a win-win for both teams as the Rivs get an immediate influx of offense and the Six (who don't have as many established players as the other five franchises) will be able to target top-end, young talent over the next two drafts – but especially in the upcoming one where they will own half of the picks in the 1st Round.
With the acquisition of Babstock the Riveters now have signed 22 players on their roster for the upcoming season. She joins goaltenders Tera Hofmann and Sonjia Shelly, defenders Bridgette Prentiss, Sammy Kolowrat, Rebecca Morse, Saroya Tinker, Leila Kilduff, Samantha Fieseler, Kiira Dosdall-Arena, and forwards Madison Packer, Kendall Cornine, Cailey Hutchison, Paige Voight, Mallory Rushton, Emily Janiga, Kate Leary, Brooke Avery, Jayne Lewis, Theresa Knutson, Rebecca Russo, and Tatiana Shatalova.