In 2019-20, a power forward in the Colorado Avalanche organization outscored his nearest teammate by almost 50%; he scored more goals than the next best player at his position did points. No, it's not Nathan MacKinnon, it's Sasha Mutala, the Avalanche's 5th-round draft pick in the 2019 NHL Entry Draft. A right-handed right-winger on the Tri-City Americans, Mutala joins fellow mid-round 2019 draftee Alex Beaucage as an Avalanche power forward prospect who has the potential to earn his keep in the NHL in a few years.
Related: Top 3 All-Time Penguins Goalies
Despite still being a teenager, Mutala's mental fortitude has been tested a lot over the past couple years. His parents fell seriously ill in 2017 and 2018 while the young Canadian was playing junior hockey across the border in Washington state. This season, he and his teammates had to overcome the departures of six of the club's top-10 scorers from 2018-19 and they plummeted in the standings. They ended the coronavirus-shortened season last in the WHL's Western Conference with a 17-40-8 record (40 points), a 34-point decrease from last season.
Mutala Shines in 2019-20
The silver lining for the Americans was that Mutala took a big leap in his development in 2019-20. He paced his club with 28 goals and 39 assists in 62 games. Cam Robinson, the managing editor of Dobber Prospects, analyzed Mutala's talents in late 2018:
The Vancouver-native brings a hard-working approach to the rink each night. Has quick acceleration and excellent top-end speed. This helps him cause havoc on the forecheck and create turnovers. Has a heavy and quick release. Projects as an energy player but I like his instincts. There's more offense than meets the eye.
The main impediment to Mutala's NHL career is that he doesn't have an elite skill to drive him into the pros. However, Joel Henderson who covers the WHL for Dobber Prospects was optimistic that Mutala could do what it takes to make it to the big league:
Mutala is a projectable player, meaning that he's a prospect with high-level skills. Skating ability, decision-making at top speed, and efficiency have a way of separating the career-minor-leaguers from bonafide talent. The top minor league, the AHL, is chock-full of players who fall just shy of elite in several abilities.
Skating is the most fundamental part of a power forward's game, and it takes incredible skill in another area to compensate for imperfect skating. Today, there are few poor skating NHLers who do not contribute in other ways. Fortunately, Mutala has a powerful and accurate shot and has a nose for the net.
He's improved his goal scoring every season he's played with Tri-City, from 11 in 2017-18 to 28 in 2019-20. Even if he only develops into a bottom-six NHL forward and penalty-killer, he should have a role with the Avalanche. Avs head coach Jared Bednar's system requires all forwards to backcheck and forecheck. Mutala's high energy and sturdy game will help win those battles in the corners or provide a physical presence along the boards, but he will need to continue strengthening his lower body.
Mutala's NHL Comparisons
Being a "Jack of all trades" might be Mutala's best way to earn an NHL paycheck. Two more seasons in junior should give the Avalanche a good idea whether he's worthy of an entry-level contract and a roster spot on their AHL affiliate, the Colorado Eagles. His future is bright if he can keeping improving. I have not read reports indicating that he's a big fish in a little pond playing on a last-place team; he has translatable skills to the NHL. Two full seasons in the AHL would mean an NHL start at 23 years old.
He shares a lot of similarities with another late NHL arrival, left-winger Chris Kunitz, who went undrafted after a successful college career at hockey powerhouse, Ferris State. Playing for four different organizations across 1,022 NHL games, Kunitz is best remembered for developing tremendous chemistry with Sidney Crosby during much of their eight seasons together on the Pittsburgh Penguins. Credit Crosby for noticing Kunitz's late-career skill development in 2013:
He's a great guy to play with. Anyone who has played with him will tell you that he does so many little things. He's always been a guy that really goes to the net hard, every shift he's always around the net, but I think he's also finding different areas to score, too. I've never seen him in areas where he's just more ready to shoot as he is this year. He's finding different ways to score.
Playing with Crosby helped Kunitz learn the nuances of the game, so it's unfair to expect Mutala to have a similar career. Even if Kunitz hadn't lucked out to play alongside Crosby, he was scoring 40-60 points per season in the previous four. But, there is a path for Mutala to the pros even if his development stalls at the "very good" level.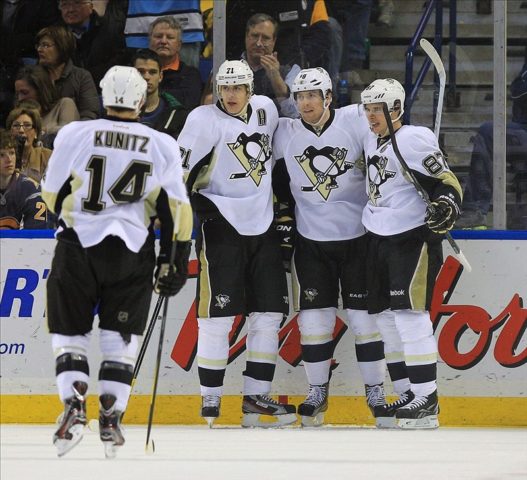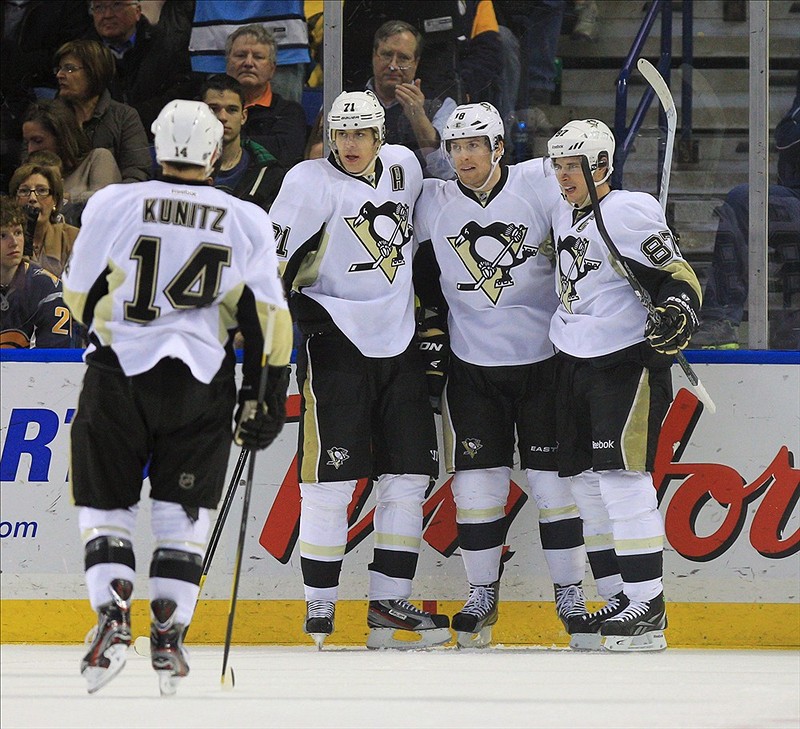 Fortunately, the Avalanche are a modern team that knows how to mine for underappreciated value and use it to their advantage. They exploited the undervalued talents of Tyson Jost and Valeri Nichushkin in 2019-20, the club's two best defensive forwards who are unreliable scorers at best. Both are former 1st round draft picks who have carved out a niche for themselves by developing skills other than those for which they were drafted.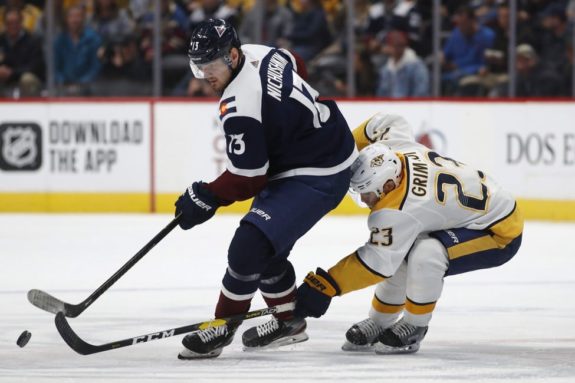 Nichushkin played a lot on the 2nd and 3rd line because he is the team's best forechecker. Jost saw time on the 2nd power-play unit to protect against short-handed opportunities. Combined, they earned $1.8 million or approximately 2% of the team's salary, yet their play translated into 6% of the team's points in the standings. Injuries and poor play by other players often forced their usage, but they maintained their roles during the postseason when everyone was healthy.
If Mutala masters the nuances of the game and continues to grow into his frame, then there's a pretty good chance that the Avalanche will acknowledge his determination with a pro deal.
Mutala aligns more closely with Curtis Glencross, despite the position difference (Glencross is a center). Glencross made his NHL debut when he was 24; he was undrafted out of Alaska-Anchorage and bounced around the minors. Like Mutala, Glencross peppered opposing goalies with shots.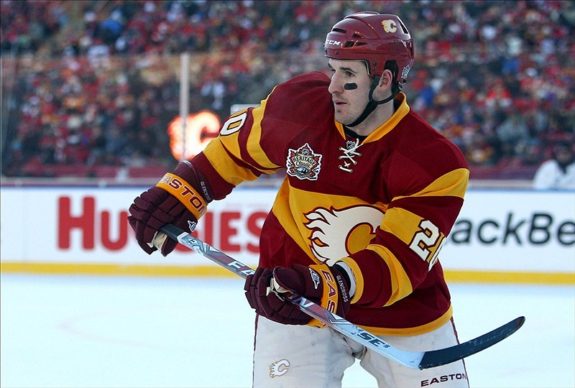 Glencross racked up some of the highest shooting percentages on the Calgary Flames alongside Jarome Iginla and Daymond Langkow. His responsibilities and linemates frequently shifted and he became accustomed to assignment changes depending on his linemates of the day. In a 2008 article originally featured in the Kindersley Clarion, Bleacher Report quoted Glencross describing his Swiss-army knife contributions to the Flames:
I'm getting more comfortable, more confidence and more playing time. I've been playing with Craig Conroy consistently and we've had the chemistry since day one. It's nice to know that there's a bunch of different guys that can fill in with us. 
This is the type of NHL career that I think is Mutala's ceiling. He won't be called upon to score top-six numbers, but he won't be a slouch either. In seven seasons with the Flames, Glencross scored 283 era-adjusted points in 418 games. He averaged 0.7 points-per-game or 55 points over 82 games.
Related: What Mats Sundin Meant to Toronto Hockey
The Avalanche send out three scoring lines instead of a top-two and a checking line, but the coaching staff still requires that skaters back each other up, red line to red line. Mutala's high motor, excellent shot, and terrific skating put him on the prospect map, but refining his all-around game will get him to the pros.
---
---
My name is Chris Haddad and I've lived in Denver since 2014. When I'm not writing about the Colorado Avalanche or watching their games, I'm usually in the mountains with my wife and two dogs.