Sharks coach Todd McLellan did an interview for NHL.com's "Five Questions series on Tuesday and started an interesting new chapter in San Jose's offseason drama. The responses conform to the team's recent policy of making everything nearly impossible to understand, artfully dodging any sort of committal statement. However, there appears to be a shift in tone taking place that may give hints as to where general manager Doug Wilson and the Sharks' rebuild is headed.
"Part of the Solution"
McLellan states that the team's veteran players — which has been a thinkly veiled euphemism for Joe Thornton and Patrick Marleau for most of the summer, though he does actually name them here — "are part of the solution, not part of the problem."
While McLellan and Wilson never named names, it's been take as a given that Thornton and Marleau have been on the trading block. Though it's a rather complicated trading block, since both were given new contracts toward the end of last season that included no trade clauses.
In the interview McLellan says, "I think a lot of people, especially in the media, went to 'Well, they're going to trade Thornton and Marleau.' That's not the case." So, the situation was that the media that misunderstood what was happening there and not that the Sharks were shopping them.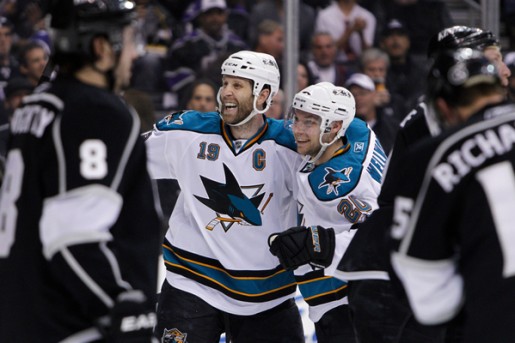 That seems at odds with Sharks beat writer David Pollak's interpretation on June 24 when he wrote:
But [Wilson] has stressed that greater responsibility on and off the ice is being given to the next generation. And that he has told veterans that San Jose may no longer be a good fit for them as the team takes one step backward now to take two steps forward in the future.
…
"We're building for the future," the general manager said.
More Misunderstanding
It seems that fans and reporters weren't the only ones who misunderstood what Wilson meant when he talked about veterans, especially since much of this was said after he did move Dan Boyle (his rights, the team had already announced they weren't re-signing him) and Brad Stuart, and the team bought out veteran Martin Havlat.
Joe Thornton and his agent seem to have misunderstood as well. Thornton's brother issued a statement on his behalf saying, "If [Joe Thornton] felt the fans didn't want him in San Jose, he might re-think things," referring to Thornton waiving his no trade clause.
Marleau also addressed the rumors when he told Yahoo! Sports at the NHL Awards, "I want to play in San Jose. I want to win there." Adding that he hadn't given any thought to waiving his NTC.
There were enough people who misunderstood those statements and action by the team that it was an odd choice not to clear up any confusion until mid-August when talks about the Sharks rebuild and a shift in focus started in May and June.
There were a number of others who misunderstood as well. According to Pierre LeBrun, the Stars were interested, but Thornton wouldn't waive his NTC. The Toronto Sun's Mike Zeisberger wrote that the Maple Leafs and five other teams had interest. Elliotte Friedman also believed that the Sharks were trying to get Thornton to go. A rumor that read strange since the team had just signed both Thornton and Marleau to three-year extensions.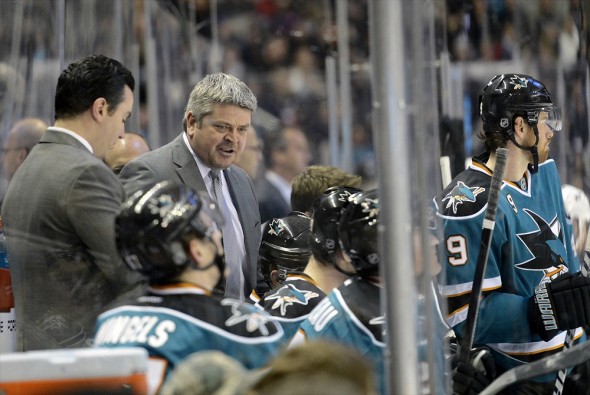 What a Rebuild Really Means
McLellan also talked in the interview about how the term "rebuild" can be "confusing at times." Dan Rosen asked him "[C]an you see how it would get confusing when the term rebuild is tossed out there?"
McLellan responded:
Well, you know what, when I hear the term rebuild in the non-hockey world if you will, I think of something that gets torn down and you start rebuilding. I guess there's so many different terminologies that can be used for it.
I also think about rebuilding when I hear the word rebuild. I think about the Sabres gutting their organization, losing the cornerstones of their team in Thomas Vanek, Jason Pominville, Christian Ehrhoff, and Ryan Miller and executing a multi-year plan to rebuild the organization.
But there's truth that "rebuild" can be somewhat murkier in hockey than in construction. Let's give him the benefit of the doubt and plow forward.
In a postseason interview with both Wilson and McLellan, Wilson said that the team is "not going to…go status quo." He said "It will be different players in core leadership roles. It will be different players."
All the teams that are playing in the…Conference Finals…have gone through these phases. This time we're going to go deeper than we have before. We have to go back here [motioning down with hands] to potentially get there [motions to a higher level] and if we think otherwise we're probably fooling ourselves.
Wilson also said:
I don't want to put a name on you, but [if] you're a guy that hasn't won, had a long career, you want to go win. You might say, 'this doesn't fit for me.' I may go to the next guy who has won a Cup. He says, 'I've won a Cup, I want to be here, I want to be part of it. That's an interesting part of my process, and I may want to be a coach in the future.'
And of the rebuild, "Make no mistake about it, it's going to be challenging. You go into it with your eyes open, and you go into it committed."
What now
While this he said, she said game is fun, and it's fun to pretend like everyone misunderstood — though it seems more likely that there's just been a change in the situation — what's important here is that Marleau and Thornton aren't going anywhere. Whether that was always the plan or they refused to waive their no trade clauses matters not for the moment. These are the players that will take the ice with the Sharks on opening night.
The truth is that San Jose remains a strong team with three top line centers that give them the kind of depth they'll need to compete in the West. However, it does feel as though this entire to rebuild or not to rebuild question has been botched a bit in all the drama.
Here's the problem: Rebuilding is fine. Staying with and fine-tuning what was a strong team who collapsed in the playoffs to the eventual champions is fine. But it seems that Wilson needs to pick one or the other. If you're going to rebuild, then you really have to tank. It's hard to believe that a team with Joe Pavelski, Logan Couture, Joe Thornton, Patrick Marleau, Brent Burns, and Marc-Edouard Vlasic is going to be selecting Connor McDavid or Jack Eichel in the 2015 draft.
But if you're not going to tank — and the Sharks aren't going to tank, they remain a playoff team — you need to fine tune and fix whatever went wrong last season. Getting rid of Boyle, Stuart, and Havlat to bring in Taylor Fedun and John Scott and give players like Taylor Doherty, Freddie Hamilton, Eriah Hayes, and Mirco Mueller a shot, isn't going to put the Sharks head and shoulders over the Kings and Ducks in the Pacific.
There's also the matter of bad blood, which is something that's largely unknowable. But spending the summer feeling like your team is asking you to leave and preventing the team from becoming a winner isn't making anyone excited to play. It's not making anyone feel more like a teammate and less like a co-worker, which was a criticism that Marleau allegedly leveled at the team in exit interviews.
The Sharks are a good team. Todd McLellan and Doug Wilson, while they haven't had the playoff success they need the team to find, have created a winning culture in San Jose and put together a deep team that is competitive every year. The end of this story remains to be written, but right now the 2014-15 season plan has been nothing but the status quo. If that's the team they field they will be a winning, solid, playoff-bound team, but not a Stanley Cup team.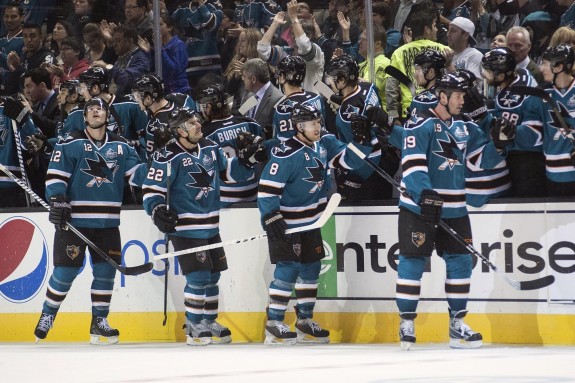 I'll leave you with three depth charts to judge what kind of rebuild is taking place. One from early in last season, one from the start of the 2014 playoffs, and the projected depth chart for the 2014-15 season at this moment.
Early Season line-up: I picked a game at random and grabbed the October 30 game against the Los Angeles Kings.
(projected by CSN Bay Area's Kevin Kurz)
Forwards:
Tomas Hertl – Joe Thornton – James Sheppard
Patrick Marleau – Logan Couture – Tyler Kennedy
Martin Havlat – Joe Pavelski – Tommy Wingels
John McCarthy – Andrew Desjardins – Mike Brown
Defense:
Marc-Edouard Vlasic – Justin Braun
Matt Irwin – Brad Stuart
Scott Hannan – Jason Demers
Goaltender:
Antti Niemi
Alex Stalock
Out: Raffi Torres (injury), Adam Burish (injury), Brent Burns (injury), Dan Boyle (injury), and Matt Nieto (injury)
Projected lines going into Game 1 of the 2014 Playoffs
(projected by CSN Bay Area's Kevin Kurz)
Forwards:
Joe Pavelski – Joe Thornton – Brent Burns
Patrick Marleau – Logan Couture – Matt Nieto
Tomas Hertl – James Sheppard – Tommy Wingels
Raffi Torres – Andrew Desjardins – Marty Havlat
Defense:
Marc-Edouard Vlasic – Jason Demers
Scott Hannan – Dan Boyle
Brad Stuart – Justin Braun
Goalie:
Antti Niemi
Alex Stalock
OUT: Mike Brown, Matt Tennyson, Tyler Kennedy, Adam Burish (injury), Matt Irwin, Bracken Kearns
Potential Depth Chart for start of 2014-15 season
(line combos aren't necessarily likely, but these are the players on the roster)
Patrick Marleau – Logan Couture – Tommy Wingels
Tomas Hertl – Joe Thornton – Matt Nieto
Raffi Torres – Joe Pavelski – Tyler Kennedy
Tye Mcginn – James Sheppard – Adam Burish
Defense:
Marc-Edouard Vlasic – Jason Demers
Matt Irwin – Brent Burns
Scott Hannan – Justin Braun
OUT: Matt Tennyson, John Scott, Mike Brown, Andrew Desjardins, Mirco Mueller, Taylor Fedun