When Mason Raymond, the speedy winger, was let go by the Vancouver Canucks in 2012 things looked bleak. There were no offers, no phone calls, and it wasn't until he got himself out to Toronto for a tryout that he found a team that was willing to put money on the line for him. And boy were the Toronto Maple Leafs glad that they did – he was an absolute steal at only $1 million for the year, scoring 19 goals and 45 points. He rotated back and forth between the third and second line for the majority of the season, though it seems almost guaranteed that he'll be taking up a top-six role with his new team.
Mason Raymond has now signed a three-year deal, worth $9.5 million with the Calgary Flames. He was born and raised in Cochrane, Alberta – just outside of Calgary – and couldn't help but gush about coming home and playing for the team he rooted for growing up. In an interview with The Calgary Sun he said, "It really is a surreal feeling… The opportunity to play for the Calgary Flames has always been something I've dreamed of."
Well we're sure that Calgary will be just as happy to have him.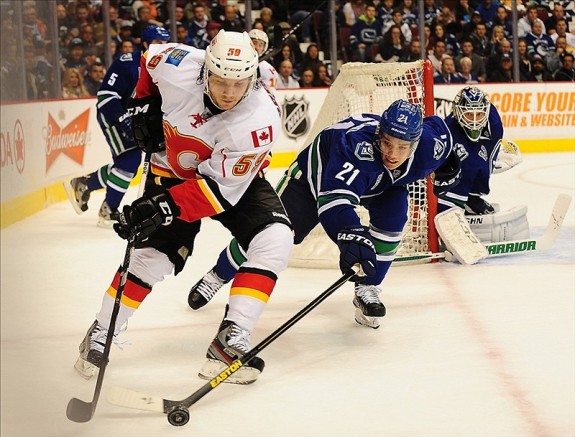 With the departure of Mike Cammalleri, the Flames need someone who can handle the pressure of a top-six spot, and who has the leadership and experience to hit the ground running. Well they found the jackpot in Raymond, who's looking forward to bringing his experience to a team that will be looking to build out some of the best young prospects in the league. With highly regarded players like Sean Monahan and new draftee Samuel Bennett, he will definitely get his hand at the mentorship role.  Management has also hinted that they'll be looking to use Raymond on the penalty killing and powerplay units.
From a technical standpoint, Mason Raymond plays extraordinarily well with linemates that look to take advantage of his speed. His coordination with Toronto center, Nazem Kadri, gave hockey fans a taste for what Raymond can do when he gets a bit of room to move. And we mean REALLY move. Beyond his speed, he's a creative player, that can pull a whole series of plays without even thinking about it. We all remember his infamous spin-o-rama.
The Flames definitely have a new face to look towards, and his focus on a multi-year deal shows that he's here to stay.