The Bakersfield Condors might have wished for a better start to their current five-game homestand. The Edmonton Oilers farm team dropped back-to-back games against the Stockton Heat. In their last game, the Condors fell behind 4-0 in the first period which led to Nick Ellis getting pulled after allowing four goals on nine shots. Ed Pasquale took over the rest of the way and made 12 saves over the final two frames.
Bakersfield came out strong in the second period scoring three goals. Joey LaLeggia, Patrick Russell, and Ty Rattie all scored but the Condors ultimately fell 5-3. Jesse Puljujarvi had an astounding nine shots on net in the loss. Bakersfield is now seventh in the Pacific Division with a 3-4-0 record. The good news is that the Condors still have three games left on their homestand.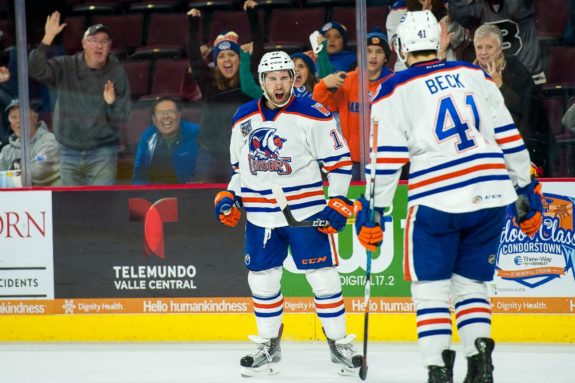 The team plays all three games this week against the Texas Stars and Manitoba Moose (twice). There's a possibility of moving into fourth place in the division if the team can win all three games. That said, here are this week's headlines in the Condors Report.
Ethan Bear Tied for Team Scoring Lead
Ethan Bear's been an intriguing prospect for the Oilers and is already turning heads in the AHL. The first year pro is currently tied for the team lead in scoring with two goals and five points. He's shown some great vision with the puck and has been a reliable distributor for the Condors. Adding to that his booming shot makes him dangerous from the blueline in.
He scored a wicked goal on an odd-man rush against the Ontario Reign the other week and absolutely blasted the puck. Bear, 20, is currently playing on Bakersfield's top defensive pairing along with Dillon Simpson. He's also getting plenty of ice-time on the Condors power play. Luckily for the Oilers, they haven't endured any injuries to their backend.
If they did you'd have to think that Bear would possibly be one of Edmonton's first recalls from the minors. Bear scored 28 goals and 70 points in 67 games for the WHL's Seattle Thunderbirds last season.
Nick Ellis Player of the Week (Oct 16-22)
After a mediocre opening week to the season, Nick Ellis was named the AHL Player of the Week from October 16-22. Part of the reason was him stopping 67 of 68 shots against during a two-game stint against the Ontario Reign that week. Ellis, 23, recorded his second career shutout during this stretch and held a 125:51 shutout streak.
He's just the third player in Condors history to be named AHL Player of the Week. The two previous players were Taylor Beck and Anton Lander.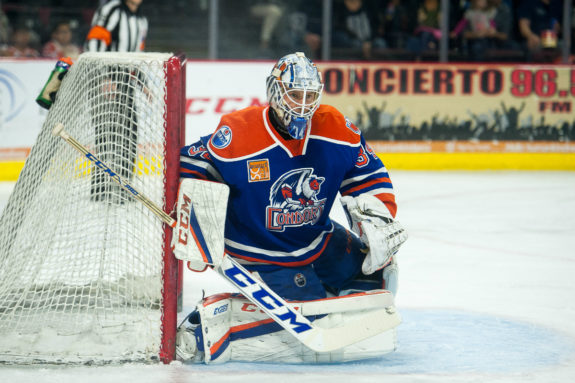 Even Oilers general manager Peter Chiarelli came down to help celebrate the minor achievement for Ellis. As mentioned above, he struggled in his lone appearance last week allowing four goals on nine shots in a loss against Stockton.
Ellis currently holds a 2.43 goals-against average (GAA) and a .919 save percentage (SV%) through four games. Those numbers are good enough for 12th amongst AHL goaltenders that played a minimum of three games.
| # | GOALIES | GP | MINS | W | L | SOL | SO | GA | GAA | SVS | SV% |
| --- | --- | --- | --- | --- | --- | --- | --- | --- | --- | --- | --- |
| 34 | Nick Ellis | 4 | 197:40 | 2 | 2 | 0 | 1 | 8 | 2.43 | 91 | 0.919 |
| 40 | Eddie Pasquale | 4 | 217:34 | 1 | 2 | 0 | 0 | 12 | 3.31 | 84 | 0.875 |
| | Totals | 7 | 420:00 | 3 | 4 | 0 | 1 | 21 | 3.00 | 175 | 0.893 |
*statistics courtesy of Bakersfield Condors website
This is on par with Ellis' rookie numbers from the 2016-17 season that saw him go 16-12-2 with a 2.69 GAA and a .918 SV%. He's done a decent job with the starting duties since taking over from Laurent Brossoit last year.
As Pasquale continues to struggle, head coach Gerry Fleming might end up giving Ellis the ball to run with the crease in the coming weeks.
Jesse Puljujarvi Still Searching for First Goal
Jesse Puljujarvi continues to shoot the puck for the Condors. The second-year forward currently has 22 shots through seven games and averaging 3.1 shots per game. He's had some golden opportunities but is still searching for his first goal of the season. He had five shots in his last game.
He's got just three assists to his name so far but just hasn't found the back of the net. The stat line might be disappointing to Oiler fans, but Puljujarvi's been sacrificing his offensive numbers to play a more complete game.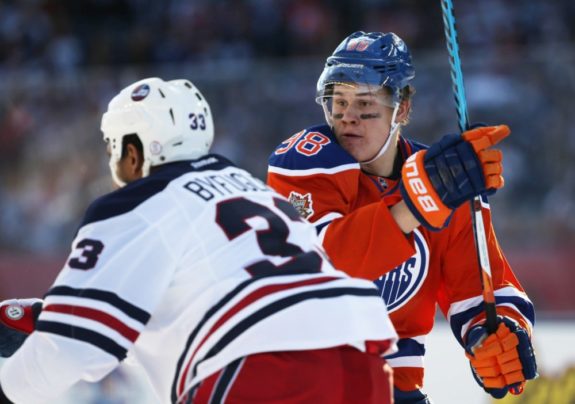 The most prominent criticism of Edmonton's 2016 fourth overall pick is his play away from the puck. While in Edmonton, Puljujarvi was asked to play better away from the puck by Chiarelli and the coaching staff. Under Fleming his games got better, but it's still a work in progress.
Puljujarvi's got to watch the turnovers, especially the neutral zone ones he's been prone to. For Oiler fans wondering if Puljujarvi is ready to come up and help boost the anemic offense, don't count on him being the answer just yet.
Patrick Russell More Comfortable in Year 2
Patrick Russell has taken another step this season. He's playing on the Condors fourth-line with Braden Christoffer and a rotating center (last game with Josh Currie). In his limited ice-time, Russell has been willing the puck on net and had 18 shots this season. He's scored twice, both of them being short-handed goals. He's stepped up on the penalty kill and is looking much more comfortable as a pro in his second year.
The 24-year-old from Denmark had just eight goals last year but is well on his way to surpassing that total in 2017-18. He's got a nose for the net, gets a combination of ugly and skill goals, and is better than where his position in the lineup might indicate. It's only a matter of time before he moves into the top-nine permanently.
Laleggia & Rattie Are Providing Offense
Joey LaLeggia continues to grow as a prospect since making a move from defense to left wing. He's been Bakersfield's most consistent forward and is tied with Bear for the team lead in points with five.
He's an undersized player at 5'10 and 185 pounds, but he's got quick feet and has a high hockey IQ. Don't be surprised if LaLeggia makes his NHL debut at some point this season. The 25-year-old had 20 goals and 38 points in 67 games last season.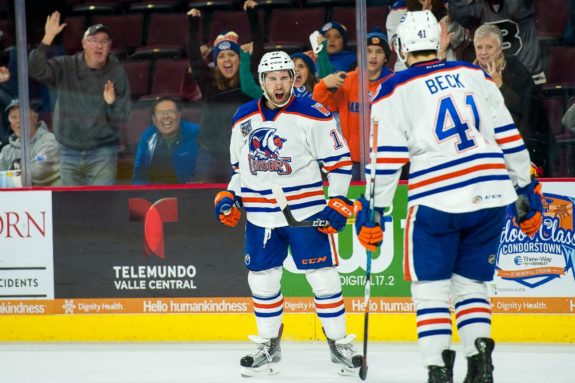 Ty Rattie's also picked up some steam recently after a slow start to the season. He's now got two goals and three points including a power play goal the other night. He's playing on the Condors second-line, but recently got promoted to the top-line with Puljujarvi and Grayson Downing.
Rattie, 24, was a prolific scorer in junior but hasn't been able to find success as a pro. He needs to show some consistency if he's hoping for a call-up to Edmonton.
Condors Sign Doornbosch to PTO
Bakersfield also signed ECHL defenseman Jamie Doornbosch to a professional tryout (PTO). The 27-year-old was a late bloomer in junior who ended up disappearing into the Canadian College hockey circuit. He popped back up in the ECHL last year scoring 30 points in 40 games, which are naturally decent numbers for a blueliner.
He got into the Condors last game and played third-pairing minutes. Doornbosch was unsuccessful in converting previous year's PTO with the Binghamton Senators into an AHL deal. He's hoping for a better showing with Bakersfield this year.
Edmonton Oilers regular contributor providing insight on all things Oilers including club history, prospect profiles, trade breakdowns, and everything else in between. Check back regularly for new and exciting content. Follow on Twitter @SanderTHW.