The Tampa Bay Lightning are taking on the league one team at a time and at this rate, they should have no problem winning the Stanley Cup — or at least being Stanley Cup contenders. Last year at this time, the Lightning had won five of nine games with a cumulative 27 goals scored. This year, they've already won 10 of 12 with a total of 53 goals. In 2016-17, they finished the season ranked 17th, which begs the questions: what's changed and how have they managed to make such a big jump in the standings already?
The Addition of New Players
The biggest change to the Lightning's roster is the absence of Jonathan Drouin, who was traded to the Montreal Canadiens in exchange for defenceman Mikhail Sergachev and a conditional 2018 draft pick. This is Sergachev's rookie year and he's already managed to score four times and register seven assists. That's pretty impressive for a defenseman entering his first NHL season and he's a big reason why the Lightning are faring so well this early in the year.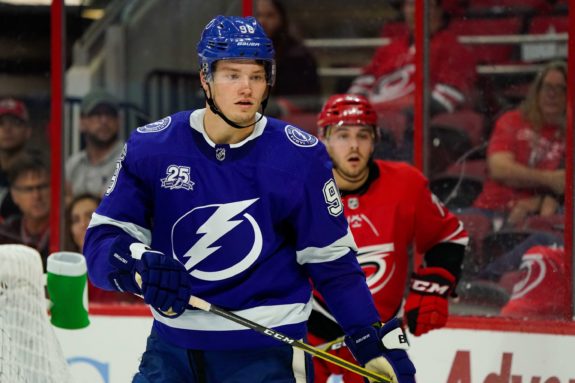 But Sergachev is just one man. Another reason the Lightning are doing so well has more to do with the team's system and style of play. They're using their small size and speed to maintain possession of the puck and guys like Sergachev are making that possible.
The Enhancement of Old Players
Look at Russian right-winger Nikita Kucherov for instance. He's leading the NHL in goals and ranks second in points — and he's not even a first-round draft pick. The 5-foot-11, 183-pound, 24-year-old sniper is one of those 'under 6-feet-tall' guys set on proving you don't need to be a big boy to have an impact. In fact, ever since his arrival in 2013-14, Kucherov has made huge strides in his point production:

The Lightning might be onto something big with all their small players. Of their top 14 players, only three are taller than six feet and their offensive talents have helped the team to a first-place tie in the overall standings, alongside the St. Louis Blues. The ripple effects of a team loaded with smaller, faster players on the top end can be seen in different aspects of the Lightning's style of play.  Centreman Brayden Point is another late draft pick who's having an impressive season and he too is under the 6-feet-tall mark.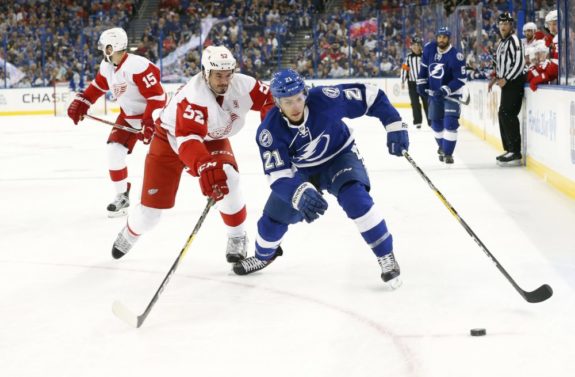 The 5-foot-11, 165-pound, 21-year-old was drafted in 2014 in the third round at no. 79. He played four seasons with the WHL's Moose Jaw Warriors, served as the captain in his last two seasons, and was also captain of Team Canada at the World Junior Champions during his final major junior year. In 2014-15, he won the World Junior's gold medal and in 2013-14 and 2015-16, he won the WJC Best Face-Off Percentage award.
Now, 13 games into his second NHL season, Point's already scored six goals and eight assists. Considering all of his accomplishments before playing in the NHL, it's a wonder that he wasn't taken sooner in the draft. The answer likely has to do with his size.
The Revival of Injured Players
Then there's Steven Stamkos, the first-overall selection from the 2008 Draft. The 6-foot-1, 194-pound centreman has been a winner his whole life. Drafted by the OHL's Sarnia Sting in the 2006 OHL Priority Selection at no.1, Stamkos played there for two years, served as the team's alternate captain during his last year and finished that season with a whopping 105 points.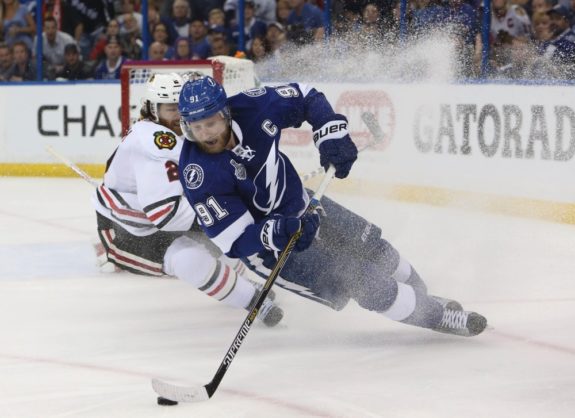 Unfortunately, his career's been riddled with serious injuries and that's just one more reason to admire him. Last year, on Nov. 15, when the Lightning played the Detroit Red Wings, Stamkos suffered a season-ending injury after an awkward fall into the boards. That's when he suffered a lateral meniscus tear in his right knee.
At the tail end of 2015-16, he had a blood clot near his collarbone that required surgery, forcing him to miss all but four games of the playoffs. Then in 2012-13, he broke his right tibia, which required a titanium rod to be inserted into his leg.
Yet after all this, Stamkos has managed to come back from it and lead the NHL in points.
Stanley Cup Contention
Perhaps in 2013, it was still too soon to introduce a smaller, speedier roster into the NHL or perhaps the Lightning simply didn't have enough of those small speedsters. Regardless, these reasons aren't getting in the way of their success now.
Kucherov is the best goal-scorer in the league and that's new for him. And it's not just his team that's setting him up to score a lot — he scored a lot without them at the World Championships. They've been successful early because the team plays a defensively sound game and their defensemen are providing an extra layer of offense from the blue line. The combination of good offense, good defense and those two working well together has resulted in the Lightning's quick bump to the top. Assuming Stamkos stays in good health and Kucherov keeps up the goal-scoring, we can certainly expect the Lightning to make it to the playoffs this year.