As expected, the NHLPA has filed a grievance against the Los Angeles Kings over the early termination of forward Mike Richards' contract. The news was announced by the Player's Association in the following tweet:
The NHLPA has filed a grievance on behalf of Mike Richards contesting the termination of his contract by the LA Kings.

— NHLPA (@NHLPA) August 10, 2015
Dean Lombardi traded for Richards in 2011
Seeing his team's window of opportunity to compete for a Cup opening after two consecutive trips to the playoffs, Kings General Manager Dean Lombardi completed a blockbuster deal during the 2010-11 offseason, acquiring the much-heralded two-way center from the Philadelphia Flyers for power forward Wayne Simmons, prospect Brayden Schenn and a second round draft pick.
Said former assistant GM (now current Flyers GM) Ron Hextall in 2014:
"We had guys who were ready to push it, but we just had that one missing ingredient. We needed his leadership; we needed another [two-way] player and someone who could play on the penalty kill and the power play. (Philly.com)"
They also needed a consistent second-line center, one who could create offense while adding healthy doses of defense and grit. Richards was coming off a 23-goal, 66-point season, his fourth straight 60+ point campaign. Still just 26, he seemed to have years of high-level play ahead of him.
Reflecting on the trade after his first season in Los Angeles, Richards said the following:
With Richards, the Kings won two Cups
The Kings' heavy emphasis on defense impacted Richards' 2011-12 numbers (44 points), but following their 6-1 thrashing of the New Jersey Devils in game six, Richards and the Kings were able to hoist Lord Stanley's Cup for the very first time. For his part, Richards did everything expected of him, providing grit, leadership and scoring 15 points in 20 games.
Despite falling to the Chicago Blackhawks in the conference finals the following year, Richards and the Kings weren't done. Los Angeles overcame three straight series deficits during the 2013-14 playoffs, including a historic opening-series triumph over the San Jose Sharks after falling behind 3-0. Ultimately, the Kings won the Stanley Cup in five games against the Rangers, their second championship in three seasons.
Richards hadn't come close to his former offensive production in three seasons with Los Angeles, but after arguably the NHL's most successful three-season run in nearly two decades, it didn't really matter. Not yet, anyway.
Crash and burn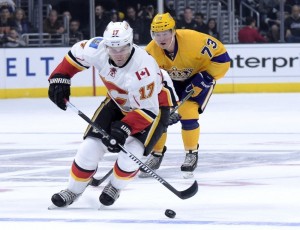 The Kings' five-season playoff streak ended in 2014-15, as they finished two points out of a playoff spot. Moreover, Richards' spiraling production cratered, with just five goals and eleven assists in 53 games. Overmatched during most of his shifts, he found himself demoted to the fourth line. Speculation regarding the toll previous concussions had taken on him was rampant.
The Kings placed Richards on waivers in January, eventually sending him to the Manchester Monarchs. He languished for two months before returning for the stretch run, but remained ineffective. The Kings were eliminated from the playoffs after a 3-1 loss to Calgary on April 9th.
Richards' arrest
On June 30th, news broke that Mike Richards was arrested at the Canadian border for alleged possession of oxycodone without a prescription. Upon hearing the news during the NHL draft, Dean Lombardi immediately ended trade discussions and terminated Richards' contract, citing the following clauses from the CBA:
a) fail, refuse or neglect to obey the Club's rules governing training and conduct of Players, if such failure, refusal or neglect should constitute a material breach of the SPC.

(b) fail, refuse or neglect to render his services hereunder or in any manner materially breach the SPC.
With the termination, the Kings potentially gain salary cap relief of all but the cap recapture penalties:
After termination of Mike Richards' contract, LAK face cap recapture penalty of $1.32M per year for each of the next five years.

— Bob McKenzie (@TSNBobMcKenzie) June 29, 2015
Of course, the NHLPA may have something to say about that before it's all said and done.
What's next?
In a word: arbitration. Per Article 17 of the CBA, the case must be heard in front of an impartial arbitrator. Could it end up in court? It's possible, but unlikely. Unless Lombardi is in possession of a smoking gun he's not yet disclosed, expect a settlement at some point down the road.
Thoughts? Do you think the Kings decision will be upheld, or will the arbitrator rule in favor of Mike Richards?