In the slow time of the year in the hockey world, and amidst a summer of confusing trades for the Vancouver Canucks, it makes for a good time to focus on trades that have proved to be the most beneficial over the team's history. The Canucks have acquired a good portion of their best ever players via trade, including three of their four top scorers and top goalie in franchise history.
So which three trades top as the most successful in Canucks history? There's a lot to pick from, but I picked out the most lopsided trades:
3. Roberto Luongo Deal
To VAN: G Roberto Luongo, D Lukas Krajicek, 2006 6th Round Pick (Sergei Shirokov)
To FLA: F Todd Bertuzzi, D Bryan Allen, G Alex Auld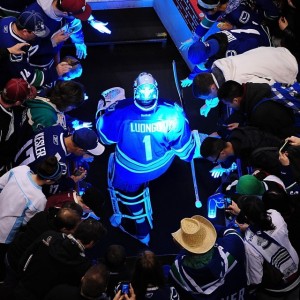 Then-GM Dave Nonis and the Canucks pulled this trade off the day before the 2006 NHL draft, and in doing so acquired the top goalie in their franchise's history. Based on just Roberto Luongo's success during his time in Vancouver compared to the three players combined that were sent to the Panthers, the Canucks far and away won this trade.
Todd Bertuzzi was one of the league's best power forwards during his prime in Vancouver, scoring at least 25 goals in five of six seasons prior to being traded by the Canucks, and topped out at 46 in 2002-03. Alex Auld had just finished the 2005-06 season primarily as the Canucks' starting goalie, and Bryan Allen was coming off his most productive year in Vancouver. While the stay-at-home defenseman Allen spent five years with the Panthers, Auld would only play in 27 games with Florida and Bertuzzi played in just seven.
Although it appeared the Canucks gave a reasonable return to the Panthers, all the value of this deal was in Luongo.
Sergei Shirokov, the player selected with the sixth round pick from Florida, has only played in eight career games, and Lukas Krajicek lasted 117 games with Vancouver. Luongo, meanwhile, blossomed into one of the league's best goalies and the Canucks' best ever. His arrival brought a solidified net presence on a Canucks team that used 18 different goalies following Kirk McLean's departure in 1998, a span of almost eight seasons. Luongo's list of accolades go on, including two Olympic gold medals, being a four-time all-star and winning several NHL awards. The Canucks as a team also experienced their best years as a franchise with Luongo backstopping them, as well as with two other pretty well known Swedish players who are next on this list.
2. Trading Carousel to Acquire Henrik and Daniel Sedin
To VAN: 1999 2nd Overall Pick (Daniel Sedin), 2000 3rd Round Pick (Max Birbraer)
To ATL: 1999 1st Overall Pick (Patrik Stefan), 1999 4th Round Pick (Rob Zepp), 1999 9th Round Pick (Ray DiLauro)
To CHI: D Bryan McCabe, 2000 11th Overall Pick (Pavel Vorobiev)
To TB: 1999 4th Overall Pick (Pavel Brendl), Two 1999 3rd Round Picks (Brett Scheffelmaier, Jimmie Olvestad)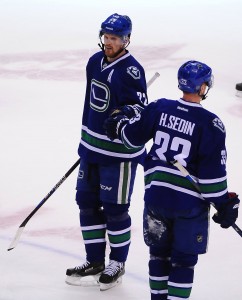 The brilliant series of moves made by then-GM Brian Burke leading up to the 1999 NHL draft enabled the Canucks to draft the two best players in their franchise's history. Thanks to four separate deals with three teams, Burke lined up picks to acquire the second overall pick to draft Daniel Sedin, allowing the Canucks to draft both Sedin twins, since they already possessed the third overall pick which they used to select Henrik Sedin.
It's a lot of trades to follow along with so we'll take it step by step.
Burke started by acquiring the Chicago Blackhawks' fourth overall pick in the 1999 draft for Bryan McCabe the Canucks' 2000 11th overall pick. Burke then traded that fourth overall pick and two 1999 third round picks to the Tampa Lightning for the 1999 first overall pick. Finally, Burke sent that first overall pick to the Atlanta Thrashers for their 1999 second overall pick and a 2000 third round pick. There was also an agreement that Atlanta wouldn't select either Daniel or Henrik (the Canucks had also traded a fourth and ninth round pick in that year's draft to Atlanta for "future considerations").
Take a breath.
The result of these unique trades was the Canucks acquiring the future center pieces of their franchise, in a draft year with a minuscule amount of players who went on to have successful NHL careers. The player selected first that year, Patrik Stefan, went on to be one of the biggest draft busts in NHL history, and the hockey world will never forget his epic empty net miss in 2007.
Stefan went on to play in 455 NHL games. The other six players drafted by the Blackhawks, Thrashers and Lightning following these trades have played in a combined 256 NHL games. Henrik and Daniel, meanwhile, have a combined 1,796 career point total in 2,153 combined NHL games. The only asset the Canucks really gave up was McCabe. The defenseman had five seasons with 15 or more goals over a productive 16-year career, but only spent one season with Chicago after being traded from Vancouver.
It's hard to believe the Canucks pulled off such an improbable series of trades to acquire Daniel and Henrik, and the young Sedin twins likely benefited under the leadership of the player who tops the list of the Canucks' best trades all time.
1. Markus Naslund Stunner
To VAN: F Markus Naslund
To PIT: F Alek Stojanov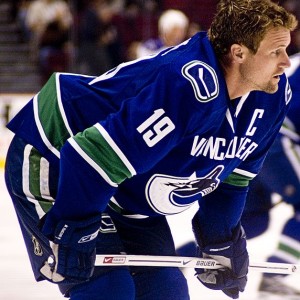 This trade by former GM Pat Quinn and Vancouver is not only the most lopsided trade in Canucks history, but quite possibly the most lopsided in NHL history. At the time of the trade on March 20, 1996, Alek Stojanov had one career point in 62 NHL games, while Markus Naslund was in his third NHL season and had 19 goals and 52 point in 66 games that season. This evidently was a sign of things to come for the outcome of this trade.
Starting with the Penguins end, Stojanov went on to play 45 games with Pittsburgh and had two goals, four assists and 86 penalty minutes. By the end of the 1996-97 season Stojanov was well on his way out of the NHL.
In hindsight, Naslund was a gift wrapped present to Vancouver. He eclipsed 30 goals six times, and scored more than 20 goals all but once in his 11 full seasons with the Canucks. Naslund's most productive season came in 2002-03, when was second in the league with 48 goals and 104 points – a year where he won the Lester B. Pearson Trophy and was a Hart Trophy nominee. Naslund was the Canucks' captain for 8 years from 2000-2008, making him the longest tenured captain in team history, was a five-time NHL all star and his 346 goals with Vancouver are the most in franchise history. And who's Alek Stojanov?
Just imagine if Twitter existed at the time of the trade.