It's been a puzzling offseason so far in Vancouver. Several trades have left the Canucks faithful wondering where this team is headed, next season and beyond. It appears on paper that the team may have a long season ahead in what should be a powerhouse Pacific Division.
Vancouver is looking to get younger, which for the most part GM Jim Benning and management appear to have done. However, the Canucks, while hoping young players like Sven Baertschi, Frank Corrado, Linden Vey and Jacob Markstrom play increased roles, have no guarantees that most of their young guns are even NHL-ready. The cost of the Canucks getting younger has been losing a sufficient amount of NHL talent for little more than mid to late round draft picks. Vancouver now can only hope that moves made this summer won't leave them limping through the 2015-16 regular season.
June 28: G Eddie Lack to CAR for 2015 3rd Round Pick (Guillaume Brisebois), 2016 7th Round Pick
It was clear heading into the NHL draft in June that Eddie Lack was likely going to find a new home with a crowded crease in Vancouver, but next to no one expected it to be in Carolina.
The good for Vancouver was acquiring the 66th overall pick from the Hurricanes in this trade and drafting defenseman Guillaume Brisebois. The Canucks were slim on defensive prospects and needed to pick a D-man after taking forward Brock Boeser in the first round and not having a second round pick.
The bad for Vancouver was everything else. A 7th round pick in next year's draft was essentially meaningless in this deal. And based on the return of similar caliber goalies – Cam Talbot for the Rangers and Martin Jones for the Kings – the Canucks don't appear to have done nearly as well as they should've for a return on Lack. The Rangers managed to get 2nd, 3rd, and 7th round picks from the Oilers in exchange for Talbot and their own 7th rounder. Meanwhile, the Kings sent Jones to the Bruins as well as a first round pick and a defensive prospect, a package that got them Milan Lucic from Boston.
Lack is likely the best goalie out of he, Talbot and Jones, having played the most career games and while not posting quite as good numbers, he also hasn't had quite the same shutdown defense in front of him that Talbot and Jones have had. And while this deal stings greatly on the Canucks end, Lack will be the back up goalie in Carolina behind Cam Ward, when there were a number of teams where he would've assumed number 1 duties had he been traded there.
June 30: D Kevin Bieksa to ANA for 2016 2nd Round Pick
Much like Lack, fan-favorite Kevin Bieksa was bound to be traded for a number of reasons, as the Canucks needed make room on the roster and in cap space.
The 34 year-old Bieksa would've had a cap hit of $4.6 million with Vancouver in 2015-16 and was set to become a UFA at the end of the season, and a second round pick in return is plausible on the Canucks end. There was lots of speculation heading into the NHL draft that Bieksa was set to be traded to the Sharks, which fell through when San Jose didn't want to give Vancouver the draft picks they were asking for.
Report: Canucks trade of Bieksa to Sharks fell apart http://t.co/9wodgPBNCN (via http://t.co/qTfCGAwMRR )

— RockinSportz (@JamesDownie1) June 27, 2015
The timing of this move was necessary for the Canucks and beneficial for Bieksa, who since waiving his no-trade clause to be moved to Anaheim has signed a two-year extension with the Ducks. However, what's unnerving on the Canucks end is that Benning has already traded away this second round pick they received from Anaheim (which you'll read about shortly), meaning they have no assets left from this deal, which otherwise wouldn't of looked so bad.
July 1: F Zach Kassian, 2016 5th Round Pick to MTL for F Brandon Prust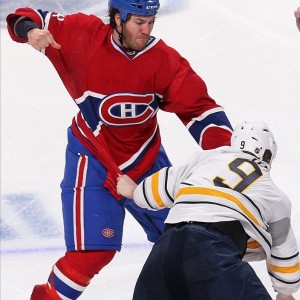 Zach Kassian never lived up to expectations in Vancouver, which were high when he was acquired from the Sabres on the 2012 trade deadline for Cody Hodgson. While given ample chances with the Canucks, Kassian's brutal work ethic along with back injuries led to him being an odd man out in Vancouver. Benning and the Canucks realized now was a good time to move on from Kassian. The return for the 24 year-old, while beneficial in some ways, still reflects a confusing vision of the future from management.
Trading for Brandon Prust helps solidify toughness in the Canucks lineup – something that has been in limbo in recent years, especially come playoff time. Canucks forward Derek Dorsett and newcomer Prust were second and third in fighting majors in the NHL last season, respectively, and acquiring Prust should allow both Canucks' tough guys to play their roles well.
Dorsett says Jim Benning texted him first about the Prust trade and his response was thank you. #Canucks

— NEWS 1130 Sports (@NEWS1130Sports) July 3, 2015
And while the move for the 31 year-old Prust appears to be backwards of the Canucks plans to get younger, it makes sense based on the leadership he brings, and his veteran presence will have a positive effect on younger players.
However, Prust carries a $2.5 million cap hit next year, which will make him the seventh highest paid Canucks forward. Kassian would've been slated to make $1.75 million next year in Vancouver, and for a team already close to the salary cap, it's questionable why they would be willing to take on Prust's extra salary. Replacing Kassian with Prust in the lineup also takes away a fair bit of skill, and throw in that the Canucks also gave up a fifth round pick in next year's draft and it looks like on paper they gave up an awful lot to get a fourth line player.
July 28: F Nick Bonino, D Adam Clendening, 2016 2nd Round Pick to PIT for F Brandon Sutter, Conditional 3rd Round Pick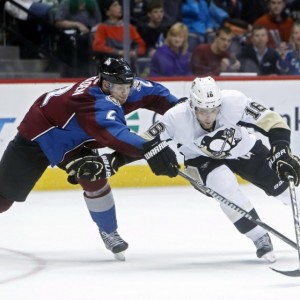 Brandon Sutter brings a lot of positives in his game to Vancouver – he's an excellent skater, is tremendous on the penalty kill and he solidifies some question marks for this season in the Canucks lineup. Sutter should fit into Bonino's old spot centering the second line, be a part of the Canucks powerplay and perhaps their most valuable penalty killer. What's risky about spending so much to acquire Sutter is that he has never played as large of a role as he will be given in Vancouver.
Benning seems to have a lot of faith in Sutter, having already given him a five year contract extension which will pay him $4.375 million per season starting next season.
Benning told reporters earlier this week after signing Sutter to an extension that he feels he is a "foundation piece" for the Canucks group, and feels Sutter's intangibles are what make him so valuable. At this point, the Canucks better hope these intangibles result in Sutter producing like Benning thinks he will, because he's certainly earning the salary to be that good.
#Canucks sign Brandon Sutter. His $4.375M cap hit in 2016-17 is the highest of any NHL forward to have never tallied over 40 PTS in a season

— Sportsnet Stats (@SNstats) August 4, 2015
Taking on Sutter's $3.3 million cap hit this season instead of Nick Bonino and Adam Clendening's combined $2.66 million cap hit is another hit to the cap-tight Canucks, similar to Prust. Add to this deal that the Canucks flipped the second round pick they received from the Ducks for Bieksa (the only return they got on Bieksa), and it seems like yet another trade this summer where the Canucks gave up way too much with not enough return.
What's Ahead in Vancouver?
Although the Canucks seem to have drained a lot of the value on their NHL roster this summer, the fan base thinks they still may have lots to offer. I asked Canucks fans on Twitter how they felt about the departures and acquisitions in Vancouver this offseason.
@ColtonnDavies move 20, 14, 17 and 36. Heck of an offseason.

— Tyson Fedor (@Tyson_Fedor) August 5, 2015
@ColtonnDavies Got a bunch of hustlers, should be good if we make the playoffs, if not we got a bunch of good trade deadline options. — ͇ ͇\̿ ̿ky (@CanuckSyko) August 5, 2015
— Ben Dooley (@BenTDooley) August 5, 2015
With what we've seen so far, Canucks fans can only hope that management is done making trades this offseason.