The Toronto Maple Leafs and goaltender Jonathan Bernier finally agreed upon a new contract a few days ago. While Bernier got close to what he wanted in money, the term of the deal doesn't really work out in his favor.
Bernier's deal is only two years long. Its no secret that he still needs to establish himself as a No. 1 goalie in the NHL, let alone Toronto. Well, how good are the Maple Leafs supposed to be in the next two seasons? No one expects the Leafs to be anywhere near the playoffs. If anything, it will be shocking to see them pick outside the top-five in next year's draft.
That doesn't really spell out success for Bernier. No matter how good he is, the odds will be stacked against him. So what will this do for him?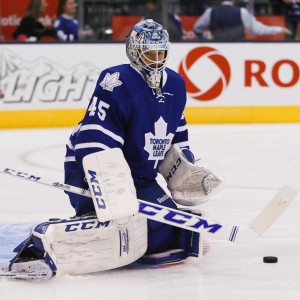 This more than likely means that even if he has a modicum of success in these next two seasons, he will have to settle for another short-term deal. The thing is, with what's going on in Toronto, will he want to stick around? He is slated to become an unrestricted free agent on July 1, 2017. As such, he will be free to sign with any of the other 29 (or more) teams.
The Choice Of Moving On?
Will he want to look for opportunities elsewhere? If Quebec does indeed re-join the NHL in 2017, would he want to play closer to home? Surely any NHL team that feels they just need a better goaltender to contend would be interested in Bernier. Would those options be more enticing than returning to a Leafs team that will still, more than likely, be in the middle of a rebuild?
So maybe its the Leafs that are set up for failure. Bernier will have options when his contract ends. What will the Maple Leafs have if Bernier elects to leave? James Reimer is a UFA after this season. What if he leaves? The Leafs would then have their trio of goaltending prospects in Antoine Bibeau, Christopher Gibson and Garret Sparks competing for two NHL jobs. That is, unless the Leafs were to find a veteran goalie that wanted to take part in a rebuild.
So who is in the worse position with this new deal? That's a question that won't be answered for another two years and it probably won't be a fun two years to watch.