For the first time in forty years when the BU hockey players arrived on Commonwealth Avenue in September 2013, Jack Parker was not there to greet them.  For forty years, the BU hockey program had continuity, and a rock-solid foundation.  Only two coaches in NCAA hockey history have won more games than Parker.  In his retirement press conference, Parker admitted "I think I'm a little long in the tooth. I don't think I've had the focus I need to have. I haven't lost a step, but I don't want to lose a step."
It did not take long to find Parker's replacement.  Just thirteen days after Parker's retirement, former BU hockey player and assistant coach David Quinn was given one of the most prestigious jobs in college hockey.  When Quinn was handed the keys to the BU hockey program, he was given a seemingly impressive stable of players and recruits.
The current roster included seven players drafted by NHL teams, and the list of incoming recruits included superstar Jack Eichel, who will likely be the highest drafted player to play college hockey since James vanRiemsdyk.  The Terriers ended the 2012-13 season on a tear, losing to UMass Lowell in the Hockey East Finals, ending their hopes for a national championship bid.  But dig a little bit deeper, and there were a number of signs that there was some trouble with the program.
A Disturbing Trend in BU Hockey
During Parker's final two years at Boston University, the program was mired in controversy.  In December 2011, then-leading scorer Corey Trivino was kicked off the team for sexually assaulting a female student when intoxicated.  It was the final straw for Trivino, who had a number of other problems with the team prior to his eventual dismissal.  One of the others was related to an incident that occurred on Saint Patrick's Day that got both Victor and Vinny Saponari kicked off the team in 2010.  A few days later, one of the team's brightest and most talented players, Sharks 2010 first rounder Charlie Coyle, left the team in favor of the QMJHL.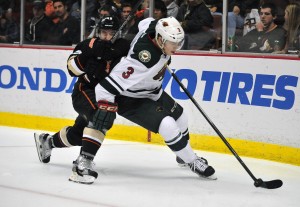 A few months later, defenseman Max Nicastro was arrested for sexual assault in February, and was promptly kicked off the team as well.  Sensing a problem, the University launched a task force to investigate the various offenses related to the hockey team.  They found that there was a "culture of sexual entitlement" among the hockey players.
In the 2012-13 season, the problems with players continued.  In December 2012, Yasin Cisse voluntarily left the team, and in February 2013, Wes Myron left the team.  Also in February, defenseman Alexx Privitera was suspended for the remainder of the season due to "repeated on-ice discipline incidents".  He ended up leaving the school, and his brother Jarrid decommitted from BU before he was set to arrive in September, 2013.
In all, from May 2010 to June 2013, the BU hockey program kicked five players off the team (Vinny Saponari, Victor Saponari, Corey Trivino, Max Nicastro, Alexx Privitera) and had four leave voluntarily (Charlie Coyle, Wes Myron, Yasin Cisse, Jarrid Privitera).  For a school that is known for world-class academics and a storied hockey program, to have this level of turmoil and turnover in a short time period is remarkable.  It is not unusual to have a player leave school if he is not getting the playing time he thinks he deserves, or thinks he is better served developmentally elsewhere.  But to have this many leave is unheard of.  Perhaps Jack Parker had grown a little longer in the tooth than he had realized.
David Quinn as Head Coach
When you replace a man of the magnitude of Parker, you are going to have big shoes to fill.  In terms of a system, Quinn emphasized that he wanted a hard working team that was difficult to play against.  His practices were up-tempo, and he placed a real emphasis on conditioning.  He was saying all the right things, and it appeared that the team was buying into his system.
Anyone that has watched BU hockey this year knows that things have not gone as planned.  After a lukewarm start to the season that was chalked up to a new coach, the team has gone into a freefall.  Over their last 14 games, they are 1-10-3.  They have struggled to do even the basic things right, and have gone 0-8-1 in road games this year.  Almost every player has regressed, and you'd be hard pressed to find a single bright spot on the roster.  For a team that has so much talent, how has it gone so poorly?
Jamming a Square Peg Into a Round Hole
Despite the fact that the Terriers have a very talented team on paper, one must remember that it was Jack Parker that recruited these players.  Jack Parker recruited them because they were a good fit for his system, which relied on transition offense, scoring on the odd-man rush, and long stretch plays.  Quinn's system preaches hard work, skating, and a blue-collar work ethic.  Those two styles require a very different type of player and skillset.
Look no further than the 2012-13 Frozen Four champion Yale Bulldogs to understand how important systems are in college hockey.  Under Keith Allain, they played a stifling defensive system combined with a hard-working attitude on offense.  They won the national championship with just four players being drafted by NHL teams, two of them being freshmen.  The teams Yale defeated in the finals and semifinals, Quinnipiac and UMass Lowell, had three drafted players each.  They both adhere strictly to the defensive systems implemented by their coaches, and have enjoyed tremendous success as a result.
Simply put, the system that David Quinn is trying to implement is not tailored to the skillset of the current roster.  As a result, the team looks disorganized on the ice and struggles to execute on a regular basis.  Goaltenders Sean Maguire and Matt O'Connor are regularly bombarded with 30+ shots a game, many of them quality chances.  In order to get the players he needs to fit his style, Quinn will have to hit the recruiting trail.  Despite the team's current lack of success, he should be able to successfully leverage the program's storied history and strong academics to lure in talented players.
The Current Roster is a Mess
Throughout the season, the team has had to deal with a number of injuries to key players.  Matt Grzelcyk, the team's best defenseman and arguably most important player, is out for the season with a separated shoulder.  Juniors Cason Hohmann and Evan Rodrigues combined for 68 points last year playing together on the second line, but have just 28 this season thanks in part to injuries to both.  At times, the team has had to play with just 16 skaters.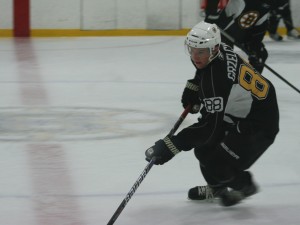 Although he was not a significant contributor in his 1.5 years at BU, Sam Kurker left the team in favor of the USHL early in 2014.  Kurker was a highly touted second round pick of the St. Louis Blues who had good size at 6'3″, 209 lbs., but never put everything together for BU.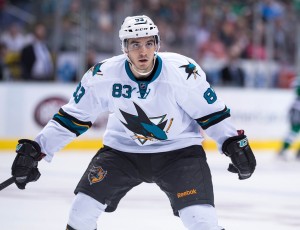 It's likely more important to realize who is not on this Terriers roster than who is.  Of the nine players to leave the team in Parker's final years, five would still be on the roster right now.  In addition, BU has been hurt by players leaving early for the pros.  Matt Nieto and Charlie Coyle are both productive NHL players that would be in their senior season at BU.  Adam Clendening is a dynamic puck-moving defenseman that is currently the third highest scoring defenseman in the AHL, but currently would be in his senior season had he not left.  However, players leaving early for the pros is no excuse for a bad season.  All of the elite college programs deal with it, and BU should be no exception.
The result of these injuries, controversies, and early departures is an extremely young, raw roster.  There are fifteen freshmen and sophomores that take a regular shift with the team.  That compares to just six juniors and seniors.  Had the program been able to prevent some of the expulsions and departures in the past two years, the current on-ice product would not be nearly as bad.
The positives are that the team is young, there are strong recruits in the pipeline, and there is real value in the program's history and university's prestige.  It's admirable that BU was able to make the NCAA tournament, and come within one bad bounce of making the tournament the past two years considering what the program has gone through.  It makes you wonder what damage those teams could have done if they were kept whole and managed better.  The downside is that BU hockey has a much longer path to return to greatness than many realize.
Bill Schoeninger is a Philadelphia Flyers writer and current Boston University student studying business. Coming to THW from Hometown Hockey, Bill follows and writes about the Flyers, Boston University Terriers, and NHL Draft prospects. Follow him on twitter @BSchoeninger17