For the first time — in what seems like a long time — the New Jersey Devils have some real, solid depth at the goaltender position throughout their system. Ken Appleby is a big part of that depth and with an expansion draft looming that may very well see the franchise lose a goaltender, his signing as an undrafted free agent and continuing development may become very important in the organization. At the team's recent development camp, Appleby looked like a completely different player than he did last year, both physically and on the ice.
"You're able to get these guys into the development program that we've talked about extensively this week and Ken is a good example of that. We didn't have room for him, he was really the fifth guy in the organization (on the goalie depth chart) and we wanted him to play," Devils' assistant general manager Tom Fitzgerald explained to The Hockey Writers following the completion of the camp. "We were fortunate to have an affiliation in Glens Falls/Adirondack – 45 minutes away (from Albany). So if he needed to practice with us he could get down there. Scott Clemmensen did a great job with him; being that close he got to spend a lot of time with him and was able to go work with him and watch him. When we needed him, he was ready. That was the beauty of it, and the convenience of it being that close. These guys…college, junior hockey…the pro step is a big one, whether it's the NHL or the American League."
Ken Appleby (@KAppleby35) stretching before the shootout at 😈 Development Camp. pic.twitter.com/U83Mz6fpty

— Dan Rice (@DRdiabloTHW) July 17, 2016
As the depth chart stands now, obviously Cory Schneider is the number one hombre in net. After that, though, who knows? Keith Kinkaid and Scott Wedgewood will likely battle to be the NHL backup, with the loser of the battle becoming the Albany Devils number one. That means Appleby will be battling a former nemesis in the OHL for a spot with the A-Devs: Mackenzie Blackwood. All of this would change if there is a trade involving a goalie between now and the start of the new season, but this is what is on tap.
"Blackwood and Appleby — they're good goalies," Fitzgerald said. "Blackwood is obviously our top (goaltending) prospect for us, Appleby had a good first pro year this year; splitting some time in Adirondack and Albany. The plan right now with Blackwood turning pro; he'll be 20-years-old at the end of the year and we think he's mature enough to handle that. Where 'that' is? Again, that's the competition element that we speak of a lot in the organization. They'll be competing for time in Albany."
THW spoke with Ken Appleby on the last day of camp to hear about his journey from one year ago until today, his friendship/rivalry with Blackwood and his equipment preferences as well.
Ken Appleby turns a pro tryout into an @NHL entry-level contract with NJD. Well done.https://t.co/7j0LwzrUYc #OHL pic.twitter.com/NBFNvvxdmM

— Callum Ng (@CallumNg) October 5, 2015
The Hockey Writers: What did you enjoy most about this week of development camp? Anything in particular among the off-ice activities you guys did?
Ken Appleby: I don't know that I could just pick one; they made the camp pretty well this year and gave us a good mixture of learning what to do and as well as having some fun. It's not all serious hockey, they realize and know that not everyone is in great playing shape. They did a good job at making it fun and competitive.
THW: Last year you were here at Devils Development Camp without a contract as a free agent; can you explain to us the process of things you have been through since then a year later?
KA: It's been a long journey. Last year I was an undrafted, free agent, just trying to get a contract. I just worked hard and tried to impress; fortunately, I was able to eventually get a contract. They put me down in Adirondack (ECHL) where I got lots of development. I got to see (AHL goalie coach) Scott Clemmensen a lot, he would come down and work with me. The main focus really was working a lot on my skating and I think I made huge strides in that aspect. I think that's been huge for my development. So far I think they've treated me really well in developing me.
[RECAP] Ken Appleby gets 1st win & 1st shutout as #ADevils blank Amerks 3-0 → https://t.co/ydPC9SFqV5 #UnitedInRed pic.twitter.com/Wv0LXPUkeS

— Albany Devils (@AlbanyDevils) February 14, 2016
Coming into this camp, Chris (Terreri, NHL goalie coach for the Devils) was pretty funny, he said he didn't even recognize who I was. It's a compliment though and it's something we are going to continue to work on. This year it's kind of a different feeling, I know what to expect. I have that contact and I know that I can breathe a little bit out there. There is a little bit of that familiarity factor when you've been around and you see everyone. Despite that you're always still trying to impress everyone, so in that way, it's not too different from last year.
THW: What do you think the upcoming season holds for you? Will you be in the AHL or are you not sure yet?
KA: We'll have to see what happens. It's most likely going to be between Blackwood and I. It will be some good, fun competition and that's always good.
THW: He's a kid that you know for a while now, right?
KA: Yeah, we've played against each other for years now, playing in juniors. We've had some good battles.
THW: Is it nice to be on the same side, despite the fact you are both competing for the same thing?
KA: Absolutely. He's a great guy and we get along well.
[SPOTLIGHT] Take a look at Mackenzie Blackwood, he's a player we could see in Albany next year #UnitedInRed pic.twitter.com/YuSTVdEoxB

— Albany Devils (@AlbanyDevils) August 5, 2016
THW: The 3-on-3 tournament you guys have, that has to be like a nightmare for you goalies right? Completely unfair too.
KA: (laughs) Yeah, it's fun for the fans, though. It's definitely tough when it's being played in half the rink, half the zone. Everything's so quick, things turn quickly. But it's fun, though.
THW: We wanted to ask a little about your equipment, is that okay?
KA: Absolutely.
The Metamorphosis: DAVEART MaskGallery posted a photo:

Ken Appleby, New Jersey Devils, 2016 https://t.co/J8bAXfvRPx New Jersey Devils

— Jonas Nilsson (@devils_nhl) February 4, 2016
THW: Can you tell us about your mask and the design on it? Did you have a lot of input on that?
KA: I had a little bit of input. The guy I worked with was great; DaveArt. He was great, I just gave him a couple of ideas and he pretty much put it all together. He's the artist (smiles) so I just let him do the work.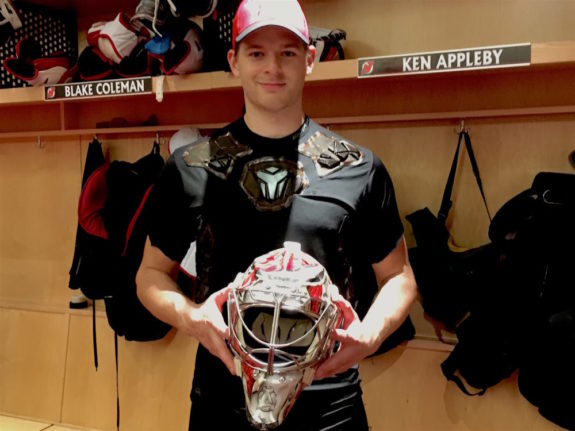 THW: What kind of stick do you use?
KA: I use Bauer.
THW: Are the glove and blocker the same?
KA: Yup, they're Bauer too.
THW: Is everything going to be Bauer?
KA: (smiles) Everything's going to be Bauer, yeah.
Ken Appleby
(Adirondack Thunder)
Custom Bauer NXG setup pic.twitter.com/5UiAoUfige

— Tendy Gear (@Tendy_Gear) November 23, 2015
THW: Ok, so is there any particular reason you chose that brand?
KA: I grew up wearing some of their stuff. I used to wear Reebok a couple of years ago, but then Bauer came out with a new line and I really liked their new line so I made the switch back and I've been pretty satisfied.
THW: How do you decide when you need to get new pads?
KA: Well goalies are kind of weird, we're always tinkering with our gear and looking for the best technology, the best gear out there. I had the chance to try out some of their stuff and I really liked it ever since.
THW: Do you tie your laces and strap your straps tight or do you like them a little loose?
KA: It's all different really. My skates, I have pretty snug on my feet. My pads, well I guess everything's kind of snug. I like feeling where my gear is and where my equipment is on me.