This year won't be the first time the Montreal Canadiens play a pair of matinee match-ups on Super Bowl weekend. Based on their above-average success rate in those games and the likelihood of a very good weekend this year in particular, it also won't be the last.
Since the first time the Habs played back-to-back games on Super Bowl weekend in 1991, they've accumulated a record of 24-17-4-1 (winning percentage of .522). Of course, considering their .660 winning percentage this season and the fact that they've only swept both games five times, one can make the argument the 31-13-3 Habs are in for some disappointment. However, this year could be different.
For starters, looking at the numbers a different way, that above-mentioned .660 winning percentage points to a greater chance at victory. Secondly, in sets of back-to-back games this season, Montreal is 12-7-1 (.600) overall. That percentage actually holds steady in just the second halves of those sets, with a record of 6-3-1.
So, the takeaway is the Habs have been eerily consistent in both the first and second back-to-back games. And, with four sweeps already this year, they've proven themselves capable of running the table, especially with them likely being extra hungry with first place in the Atlantic Division in sight, especially with dinner being served to them on a silver platter over the next few days.
For example, just look at their competition:
Canadiens vs. Capitals: Saturday, Jan. 31 (1 pm Eastern)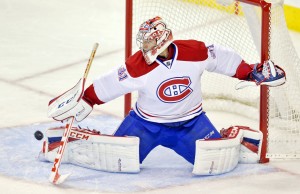 The 25-14-9 Washington Capitals will be Montreal's toughest competition this weekend, the third seeds in the Metropolitan Division.
While they're no slouches, they are definitely a shell of the team they were in recent years past. This particular season, Montreal beat the Caps 2-1 in a shootout in their second game of the season. That game was in Washington, with the Habs now hosting the Caps, who are 0-3-1 in their last four on the road.
The game will potentially come down to a battle of special teams, with Washington owning the third-best, 24.1% power play in the league and Montreal being fifth best on the penalty kill with an 84.9% success rate.
However, with Vezina Trophy-candidate Carey Price named to start this particular contest, Montreal is arguably more likely to thwart Washington's seventh-ranked offense. The Capitals are scoring 2.98 goals per game, but Price has only allowed more than two once in his last 15 appearances.
CONFIRMED: Carey Price gets the start in goal on Saturday afternoon against Washington. #GoHabsGo

— Canadiens Montréal (@CanadiensMTL) January 30, 2015
Canadiens vs. Coyotes: Sunday, Feb. 1 (1 pm Eastern)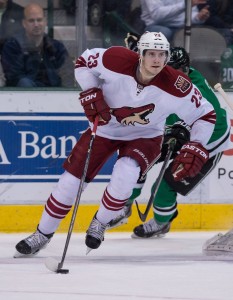 The first sign that the Coyotes are easy prey, ripe for the picking is their 17-25-6 record, "good" for second-last in the Western Conference.
The second sign? They just decided to deal away the only goaltender who was making saves for them this season in Devan Dubnyk, hinting at a desire to tank.
That Devan Dubnyk was their only goaltender making saves points to a whole slew of other problems, considering the former Hab (yes, you read that right, Dubnyk was technically a Hab) played for five different teams over the last two seasons (including the American Hockey League's Hamilton Bulldogs).
No. 1 goalie Mike Smith has only eight wins (8-20-4), an .890 save percentage, and 3.41 goals-against average, meaning even Montreal's anemic 2.60-goals-per-game offense should be able to find the back of the net a few times (he doesn't have a single shutout this season).
When your general manager goes on record as saying your team's all-star defenseman, Oliver Ekman-Larsson, is available to be traded, while 38-year-old Shane Doan "isn't going anywhere," count that as perhaps a third sign the vultures are circling.
This isn't to say a victory is guaranteed against the Coyotes (or Capitals), as these are professional hockey players who presumably hate to lose that we're talking about. However, the chances are very good for at least two points out of four this upcoming weekend.
As mentioned earlier, there's also a shot at first in the Atlantic on the line as the second-place Habs play twice, while the first-place Tampa Bay Lightning, up by one point, play just once this weekend.
So, Montreal should have extra motivation to earn the other two and, as winners of four straight heading in, tie their season-high six-game winning streak in the process.