On Friday, the Boston Bruins recalled goaltender Malcolm Subban from Providence. Niklas Svedberg, who has held the role of back-up goalie to Tuukka Rask all season, was sent down for what is being called a conditioning stint. Svedberg hasn't seen action since January 8th against New Jersey when he posted a 14 save shutout.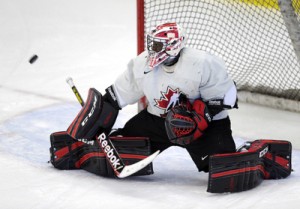 When the Bruins drafted Subban in the first round in 2012, the move surprised many Bostonians. First of all, the Bruins appeared to already have their next franchise goalie to follow Tim Thomas in Rask. Second, there have only been three goaltenders since 2005 drafted in the first round that are currently starters- Rask, Carey Price, and Semyon Varlamov. And of course, Subban is the brother of rival Canadien P.K. Subban.
During the Peter Chiarelli era, the Bruins have had problems with their first round draft picks. With the 8th pick in the 2007 draft, Chiarelli chose Zach Hamill, who has already found his way overseas. In 2008, current Calgary Flame Joe Colborne was drafted in the 16th spot and was later dealt in a deal for Tomas Kaberle. 2009 brought Jordan Caron to town and finally in 2010, the Bruins drafted the can't miss prospect, Tyler Seguin. We all know how that played out.
Trade showcase for Malcolm Subban? #B's call him up, send Svedberg to AHL for conditioning after long AS break layoff http://t.co/ufucs8aWkq

— Joe Haggerty (@HackswithHaggs) January 30, 2015

Subban joins Dougie Hamilton and David Pastrnak as the only home-grown first rounders in Boston, but how long is he going to be around? With Rask signed for an eternity and Subban already knocking at the door, it doesn't seem smart to keep both in the long run. Subban may not even be ready for the NHL and there's a chance Svedberg is recalled before Subban has a chance to play. With just two games on the Bruins slate this next week, it's highly unlikely Subban will get a start.
At just 21-years-old, there is plenty of time for Subban to develop. Perhaps next season, he can take the next step and become Rask's full-time back-up. There's no reason to give up on him anytime soon, but I wouldn't be surprised if Chiarelli has already received calls about the young goalie. Chiarelli has already made one mistake by trading away a top draft pick, so he should tread the water carefully when it comes to Subban.
The Bruins take on the Stanley Cup champion Kings in Boston tomorrow night.