Here's a thought: with less than half a season to play, the Montreal Canadiens should start calling on backup goaltender Dustin Tokarski.
We've reached the 47 game mark and Tokarski has suited up for just 10 games.  That's 21% of all games played this season.  Not much.  It's time to play him more.
My argument isn't that Tokarski is undervalued or that All Star goaltender Carey Price hasn't earned his starts or needs his rest. Obviously, Price is the biggest story out of Montreal this season, and rightfully so.
Price has been the Canadiens' saving grace, even though his numbers aren't as flashy as top-ranked Pekka Rinne, goaltender for the Predators; but they are close despite a defensive system that isn't nearly as stifling as Nashville's.
So, why should Price sit in favour of a little-used backup?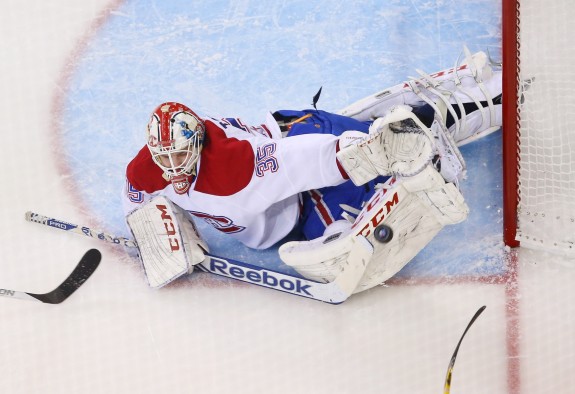 Price: The Crutch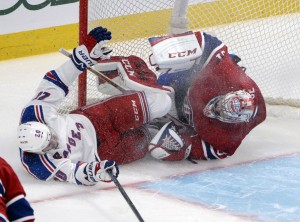 In recent games against the Predators and Dallas Stars the Habs were out shot, out hustled and out matched, only to have Price hand the team 2 points.  Against Nashville, the Habs couldn't generate a shot on goal for roughly 18 minutes; but thanks to Price's heroics the team emerged overtime victors.
When asked after the game if the team relies too heavily on Price, sniper Max Pacioretty told Arpon Basu of NHL.com:
"I don't know. I hope not. We put together a great game in front of Dustin [Tokarski] last game, and as soon as Carey comes back and we had a couple of days off, there's no excuse for a start like that. I hope that's not the case."
It's a thought worth considering.
The game Pacioretty referred to was Tokarski's latest start, a 6-4 barn-burner and victory over the surging New York Islanders.  In that game, the Habs scored first and managed two power play goals; both are aspects of the game with which the Habs have struggled this season.
The Islanders game directly preceded the Predators debacle, and led to speculation that the team might play better in front of Tokarski.
I'm curious – does anyone know the split of Habs possession stats in games Price starts vs those Tokarski starts?

— HabsLinks (@HabsLinks) January 28, 2015
Tokarski: The Stabilizer?
In fact, statistics don't support the argument that the Habs play an improved game in front of their backup net minder.  For one reason, he simply hasn't played enough games for his stats to be significant.  Secondly, with Tokarski in nets the Habs CF hovers just below 50% for the most part,  a percentage that falls in line with the team's 48.7% CF overall at 5 on 5.
Any small indication that the Habs play more solid defense in front of Tokarski would the be the number of registered shots faced to date.  In 10 games played, Tokarski has faced 289 shots; a comparable amount to other goaltenders who have played the same number of games.  Price, on the other hand, has faced 1144 shots in 38 games.  That number ranks 5th in the NHL; though each of the goaltenders who have faced more shots have played at least 40 games.
It's plausible, in that case, that the team allows Price to face an exorbitant number of shots, while reining it in for Tokarski, who faces the average.  Of course, quality of opponent, among other factors not accounted for here, could prove or disprove any inference related to shots faced or the difference between Tokarski and Price relative to team play.  The fact is, with or without the statistics, Price's impact on the Habs' ranking this season is indisputable.  It's time for the team to prepare for the playoffs, which means figuring out a way to win even if Price isn't in nets.
Time to Improve
The Habs would do well to learn to play without their crutch; and there's no better time than now to play Tokarski.
The Habs have a 98.8% chance of making the playoffs, according to Ryan Szporer's insightful article. With 65 points, the team is tied for second in the Eastern Conference: a nice cushion to experiment with down the stretch.  Furthermore, using Tokarski, who has has a respectable 5-3-1 record when in nets, would only be beneficial.
With Tokarski, the team would have to score goals.  In his last 5 starts, the 25 year old backup has allowed 16 goals and still came away with points on three occasions.   If he stumbles, so be it.  The team will have to play better as a whole.
To be fair, Thursday night's tight-checking performance against the rival New York Rangers was a sign the Habs are prepared to learn from their mistakes and improve.  Still, it took a shutout from Price, his 3rd of the season, to get 2 points, since Pacioretty was the only scorer in the game.
As it stands, if anything happened to Price, as it did during last season's playoffs, team confidence would be shattered and a promising season would likely be lost. Why not let Tokarski get some games under his belt to gain some confidence and beneficial experience?
Let's take a few games to see what the Habs can accomplish without their crutch.  If the Habs can figure out how to win games without Price in nets, well…