Ottawa Senators: Goalie Andrew Hammond Lands in the NHL
Andrew Hammond, goalie for the Binghamton Senators in the AHL, is finally getting his chance.
After Sens starter Craig Anderson injured his hand on January 29th, Hammond was promoted to the NHL on an emergency basis.
As per the B-Sens' Twitter account:
The @Senators have recalled goaltender Andrew Hammond on an emergency basis from the #BSens…

— Binghamton Senators (@BSens_Hockey) January 29, 2015
Robin Lehner is likely to shoulder all of the starting work while Anderson is injured.
But, trade rumours have been circling Senators goalies for some time. Anderson was involved in much trade speculation before General Manager Bryan Murray denied interest in dealing his starting goalie.
Now, trade rumours are dogging Lehner. With a goaltending shake-up possible, Hammond's time in Ottawa now may be a look-ahead to the future.
So, who is Andrew Hammond?  
Andrew Hammond: An NHL Future Awaits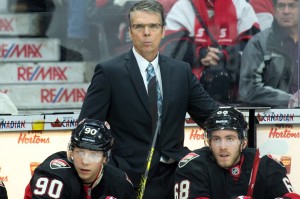 Background
Hailing from British Columbia,the6'1″, 215 lbs. Andrew Hammond played his minor hockey intheBCHL before spending four years at Bowling Green State University. His work in the minors, particularly his last three seasonswithBGSU, show a steady starting goaltender with promise.  
Andrew Hammond's first season in the AHL was strong. He posted a 2.81 goals against average and a .910 save percentage, winning 25 of his 48 games played.
This season has been tougher for the B-Sens as the team has struggled.
Scouting
Despite some rough results this season, Andrew Hammond has received positive scouting reports.
The Hockey News writes,
[Andrew Hammond] owns a projectable frame, and has shown the ability to put up solid numbers at lower level. [He] is level-headed and boasts the ideal demeanor for the goalkeeping position.
The report goes on to note that Hammond must still  add bulk and prove himself at the NHL-level.
College hockey tracker Chris Peters adds that,
Hammond is a sound option to help shore up the depth…he has fair size, but his competitiveness has always been on display.
With a solid frame, an even-keeled disposition, and good competitiveness, Hammond seems to have some of the qualities needed to enjoy success if he gets a chance during his NHL call-up.
Look for Yourself
With the B-Sens, Hammond has displayed strong post-to-post coverage, a good glove hand, and the ability to puck-follow through traffic.
Take a look at some highlights from his shutout of the Syracuse Crunch on January 16th:
Strong when called-upon, Hammond has earned his shot as an NHL backup goaltender. The next test will be to carry over his strong work at the college and AHL levels to the NHL.
With Craig Anderson hurt, now is Hammond's chance.
What do you think, Sens fans? Are you excited to see what Andrew Hammond can do at the NHL level? How would you feel about the Ottawa Senators trading Robin Lehner for picks or prospects?