Field of Dreams was an overrated 1989 Kevin Costner flick about the ghosts of the 1919 Chicago "Black Sox" scandal coming to play in a newly built baseball stadium, situated in the middle of his Iowa cornfield. The film was steeped in meaning, had a great musical score and a young Ray Liotta as "Shoeless Joe" Jackson. But in the end, how good could it really be — it was baseball, not hockey.
The movie's most iconic line, whispered to Costner's character by a disembodied voice, was "If you build it, he will come." Last Friday, Gary Bettman pretty much said the same thing about NHL expansion to Seattle — more or less.
Gary Bettman addresses Seattle expansion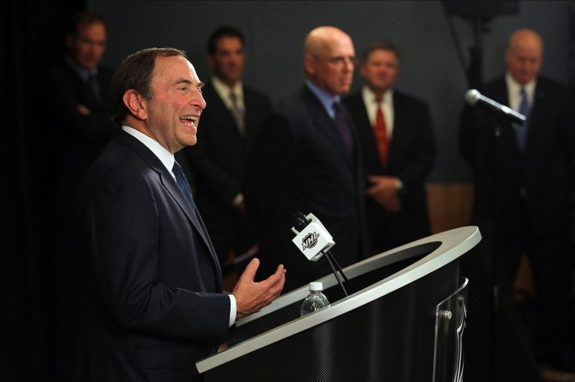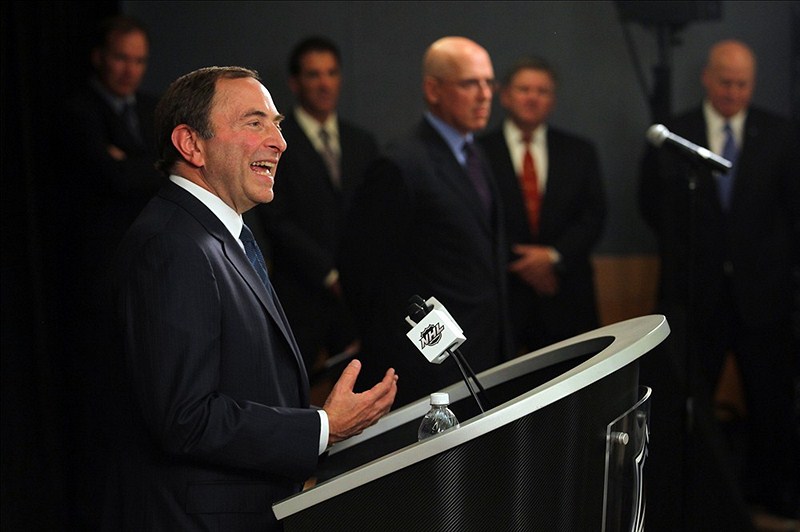 Speaking to a group of reporters covering the Associated Press Sports Editors (APSE) commissioners meetings, Bettman addressed the topic of NHL expansion. For once, he did not mince words.
"From a distance, it won't warrant — if it does at all — serious consideration until there's a realistic expectation that there's going to be an arena there. You've got your approvals, you've got your financing … you're ready to go. You're basically saying, 'Listen, if we get a team, we're committed to and are ready to break ground, because this building can be a reality.'" (Seattle Times)
The entire Times piece can be read here, and the blog NHL to Seattle summed the press conference up nicely as well.
NHL interest in the Seattle market remains high
This is hardly a new subject. There has been speculation for almost three years over the NHL's desire to put a franchise in Seattle, whether it be via franchise relocation or expansion. When considering the size of the media market, area demographics, potential rivalries and other factors, Seattle is an ideal — perhaps the ideal — candidate for expansion.
Bettman said as much back in 2014:
"Well, there's good major junior tradition, there's a lot of interest. There's potential of a good west coast rivalry with Vancouver. But the threshold issue, before we can really seriously consider Seattle, would be whether or not there's a building coming out of the ground. Key Arena is inadequate, and Chris Hanson, who's the one controlling the rights to build a building, is focused on an NBA team." (Bostinno)
Seattle was 'Plan B' during the Phoenix Coyotes arena saga
A couple of years ago, Seattle's newly approved proposed arena appeared to have secured its first tenant. The Sacramento Kings were tentatively sold to an investment group put together by Seattle-area native Chris Hansen, only to see the sale rejected by the NBA.
Months later, it was the Phoenix (now Arizona) Coyotes' turn to look northward for rainier pastures.
The current uncertainties of the arena situation and substandard nature of Key Arena as a potential temporary home
reportedly weren't stopping the league from allowing the Coyotes to relocate
to Seattle in 2013. Had the Glendale City Council not approved a lease agreement at the 11th hour by a 4-3 vote, moving trucks were reportedly at the ready to relocate the team to Seattle.
"Most people don't realize how close we were to actually getting an NHL team," said former Seattle mayor Mike McGinn. "(We) had the authority to accommodate them at Key­Arena without having to get approval from the city council. And we were prepared to do so." (King 5.com)
The arena process should pick up steam
To date, progress on a new arena has been slow. However, things are likely to pick up speed in the coming months, as a long-awaited Environmental Impact Statement should be in by May 7th. After that, Mayor Ed Murray has indicated willingness to help re-work the existing Memorandum of Understanding (MOU) to allow for a hockey-first scenario.
"Should folks in the NHL or potential owners come to us with a different financial plan that pencils out for the city and for our partners at the county, I would be willing to go back to the council and ask them to open that process," said Murray. "I believe there could be an adjustment for an NHL team first if there if a financial plan that pencils out for the city." (King 5.com)
Assuming an amended MOU can be negotiated and final project-related reviews are completed by August, a Master Use Permit for the arena should be issued in early 2016. That final step would then pave the way for an expansion franchise to be granted to Seattle.
"I think if done right and we actually got a team, it would be a benefit to this city, financially and culturally," said Murray. "Obviously that is a real symbol for how excited and this region is about sports teams, and I think a basketball team, and a hockey team, would be incredible assets, there is only an upside, for the economy, for city revenue and the cultural life of Seattle." (Kings 5.com)
They will build it, and they will come
Optimism is high throughout the Puget Sound region that the politicians will somehow manage to put the jigsaw puzzle pieces together in time to get a franchise. With the NBA years away from returning, the NHL is now the prettiest girl at the dance. Fans can practically smell the Zamboni exhaust.
Here's a recent sampling of tweets:
https://twitter.com/Brynnsational/status/592189793070546944
"@smashmode: Representing @NHLtoSeattle at @WAStateFair! We need Hockey here! #NHLToSeattle #Puyallup pic.twitter.com/b9cRS4WU8J" bad ass.

— NHLtoSeattle (@NHLtoSeattle) April 19, 2015
It's going to take real political leadership as well as a strong, local ownership group to get it across the finish line. With all the buzz behind the scenes and the NHL making it clear that Seattle is at the top of their list for expansion, it's hard to believe this won't get done.
What do you think? Will Seattle end up with a team, or will the politicians punt the opportunity away? Leave your comments below, or send a tweet with your thoughts to @McLaughlinWalt.
Walter McLaughlin is a Los Angeles Kings correspondent for The Hockey Writers. He is an avid sports fan, having followed the Kings since living in L.A. in the mid-1970's, as well as suffering through Seattle sports teams' general futility. He has a Bachelor's degree in Finance and has worked in community banking for over 25 years, specializing in SBA loans. He is married and has two daughters.