For more than a decade, Frölunda Hockey Club in the Swedish Hockey league has consistently developed a startling number of top prospects drafted into the National Hockey League. Since 1981, they have produced draft picks every year. This includes players like Daniel Alfredsson, Henrik Lundqvist, Erik Karlsson, Viktor Stålberg, and recent top prospects like Jacob Larrson, Kristian Vesalained, and Joni Ikonen. In 2014, Frölunda had 8 players who were drafted. This is in line with countries like the Czech Republic (8) and Finland (9).
What makes Frölunda so special? I corresponded with Björn Liljander, assistant general manager, Frölunda Indians over two weeks in October 2017. I explored Frölunda's approach to coaching young players. In addition, I asked him about the differences between North America and Sweden and challenges associated with supporting the next generation of high caliber hockey players. Below are the questions I posed and his responses.
Coaching and Learning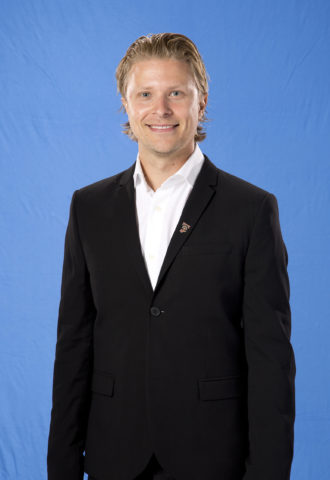 1. How do coaches who work with Frölunda describe their approach to teaching and supporting young hockey players?
It is an approach where the coaches work actively to give direct feedback on concrete behaviors. Coaches focus on building skills and strengthening each player's individual profile. The basic idea is to support each player to become the best player they can be in the future
2. For those with NHL experience, how has the experience in the NHL shaped FHC's approach to coaching?
The mission is to reach all the players, through various educational tools. We are constantly looking at what demands are placed on today's modern leadership and also how to guide today's generation's youth. This includes how we get to know our players, understand our player's profile and personality, and tailoring feedback tools to reach each player in ways they will respond to.
3. What is the most difficult thing for players who are hoping to make the move to the NHL to learn?
Today's game is faster and faster and so we build and educate modern players to fit into what we see is the future of ice hockey. We work toward a developing a physical profile, and we utilize a modern playbook at both the men's team and at the academy. Of course, players need to be ready mentally as well. This occurs through daily guidance from our coaches and learning from their experiences on the ice. One specific challenge for the players who switch to NHL is learning to adapt to the fast game played on a smaller ice surface.
Common Playbook
4. What sort of communication exists between coaches at the main club and other coaches working within the Frölunda program? Is there a common set of principles that guide collectively them?
In weekly meetings, coaches from both men's team and the academies share information and communicate amongst themselves and with managers. We also strive for the coaches to work together to develop the overall culture here. The coaches in the men's team are often working in the academy and academy coaches work with the men's team. This is how we can utilize the same playbook with all our players. We believe that working together with the players, seeing the players' skills and specific aspects of their games allows you to find solutions together. By working together we strengthen our philosophy in the association.
5. There is a perception that Frölunda is focused on ensuring its players are defensively responsible. Is this an accurate portrayal? What does a focus on defense responsibility require?
I hope our players are always defensively responsible. We practice to make sure that our players are strong in key skills. These involve high-speed skating, short shifts, blocking shots, driving to the net, and having discipline. Only after we see this progression to we focus on educating our players in our playbook. Finally, we want the player's individual brand and strength to be supported and developed to allow them to make a difference on the ice.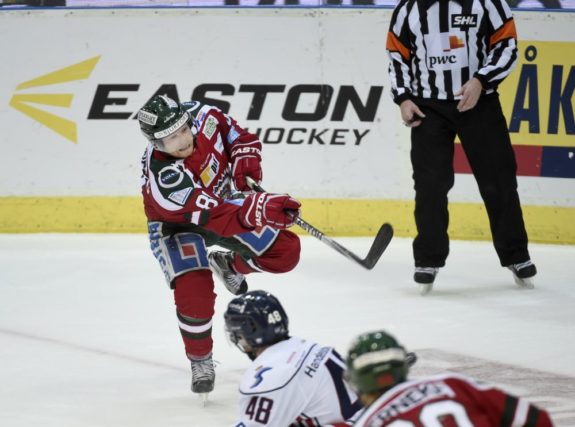 Culture and Success
6. Is there a difference between North American clubs and Swedish League in terms of their approach to developing young players?
Due to the difference in the amount of games we play (82 in the NHL and 52 in the SHL) the Swedish teams can afford the luxury to work more intensively on individual player development.
7. Is there a cultural dimension to Frölunda's success preparing players for the NHL? 
Yes, I believe so. We have worked with many players over the years, both from our academy, but also from recruits to the men's team. Our approach has assisted them to continue to develop as players and hopefully become even more NHL ready. Frölunda has 76 players NHL drafted players total. In 2014, we had 8 players who were drafted. Imagine, our hockey club had the same number of players as the Czech Republic. Finland had 9 players in the same draft.
8. Do players from North America who come to Frölunda have difficulty adjusting? If so, how do they overcome these challenges? 
We have a strong culture here and with the help of our leadership core among the players and coaching staff, those players usually adapt pretty quickly.
Looking Forward
9. Sweden is a proud hockey nation. How do people feel about Frölunda getting recognized for their approach to the development of younger players?
I'm sure people are proud of all the accomplishments Swedish teams have in all aspects of the game. The people within our organization are surely proud of our accomplishments and it motivates us to do even better.
10. Who are some players playing with Frölunda who are demonstrating the sorts of skills that suggest they may be future NHLers?
Rasmus Dahlin amongst many others.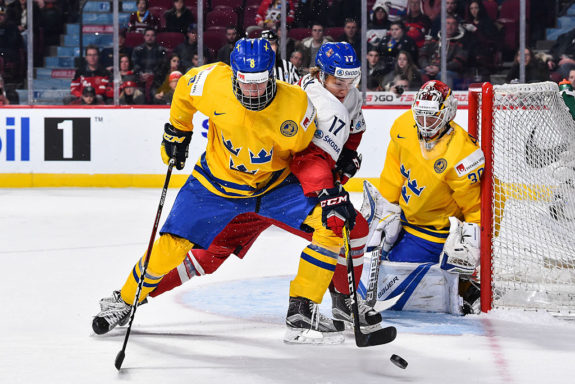 11. Is there something I have not asked but that I should have asked about Frölunda or its approach to developing players?
We have many people who work hard every day with our players in the academy and on the men's team. This involves the every day hard work of coaching the players' behaviors, supporting their achievements, and getting the players to compete in every moment on the ice. We try to push over their boundaries every day. There are no secrets here. Basically, everything is about hard work from everyone at Frölunda. This involves GM, scouts, head coaches, instructors & players. Everybody needs to work hard, over time, the successes will come.
With thanks to Peter Pettersson Kymmer, Press-/informationschef, Frölunda Indians