Marie-Jo Pelletier is 4-foot-11, but only on paper. With the way she plays on the ice, she may as well be listed as 11-foot-4. Pelletier is in the beginnings of her junior season at the University of New Hampshire. She is one of four team captains—an honor initially bestowed upon her in only her sophomore season as a Wildcat. With slightly less than two seasons to go in her collegiate career, there is much that Pelletier is striving to accomplish in the time remaining. With the character and determination that are so deeply innate in her, she is likely to achieve it all.
Pelletier took the time to share with THW the attributes that have made her such an effective leader. A general leading the charge for the Wildcats, she rallies the troops and instills strength in them. Never shying away from challenges or physicality, Pelletier is a "Mighty Mouse" of sorts. She lacks fear in her game and is never intimidated on the ice.
"Growing up with two older brothers, they never went easy on me when we played hockey or soccer, or any kind of competition," she explained. "They built me to become rough and tough. I think that has helped me all along from the time I started playing hockey."
#tbt Marie-Jo Pelletier aux @CanadaGames de 2003 et maintenant membre @Team_EquipeNB #JCHockey avec #Nanguz! pic.twitter.com/SMZsKYGssP

— 2015 Canada Games (@2015CanadaGames) February 19, 2015
She went on to say, "I was never afraid of my opponents. I never stepped onto the ice being afraid and thinking, 'oh, I'm just 4'11″—these girls are so tall and so much bigger'. I always step on the ice and see myself just as another hockey player out there playing the game. Trying to have the biggest impact that I can. Certain things I have to do differently on the ice because of my height but I just try to put myself equivalent to everyone else out there and just to play big even though I have a smaller stature. I try to show that with the way I play."
The picture Pelletier puts forth is incredibly clear.
Pelletier's Early Successes as a Wildcat
Pelletier has not missed a game since she has played for the UNH Wildcats. While she has had strong numbers in each of her seasons, the one category she routinely receives top marks in is blocked shots. In her freshman year she finished second on the team with 67 of them. Last year she upped that number to 69 which tied her for the team lead. She added eights assists her freshman year within her 36 games. Coaches and teammates took note, and as she entered into her sophomore campaign she was named a team captain.
"It was a bit of a surprise when I was selected as one of the captains my sophomore year," Pelletier explained. "But it was such an honor to be selected by my teammates and to have that trust and confidence from my coaches as well."
Effectiveness as a Team Captain for the Wildcats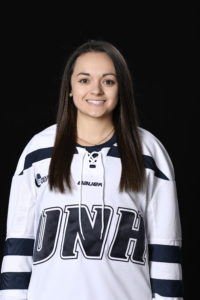 There is more to it than just her blocked shots and assist totals. It is the way that Pelletier approaches the game and how she handles herself on the ice. Particularly in terms of what her personal expectations are for herself. She was asked what attributes of hers comprise such as solid captain. Pelletier gave a thought-provoking response:
"I feel that one of the things is just the will to win and wanting to be successful for myself, but most importantly wanting the whole team to be successful," she explained. "Pushing myself beyond what I think I am capable of, but also holding my teammates accountable in that aspect as well. I think one of the biggest characteristics that I possess is just leading by example and doing the little things that will prepare me for the next game and that will put me ahead."
Pelletier expects that she not only talks the talk, but that she walks the walk. Her actions speak louder than words, and she hopes that by doing so that it disseminates throughout her team.
"Always trying to be better," she said. "I think in that way, and for me to try to be better every day, is hoping to show my teammates that and hoping that they'll want to get better everyday as well. As a whole, wanting our team to be successful and I think one of the biggest things for me is always staying true to myself and what I believe in. I think that translates into being good in the locker room as well being a good leader on the ice."
A Remarkable Sophomore Year for Pelletier
Keeping with her sophomore successes, the 2016-17 season was Pelletier's breakthrough for college hockey. In 35 games she amassed eight goals and 11 assists. Not only did her 19 points place her fourth for Wildcats scoring, but the eight times that she found the back of the net tied her for third on the team and second among defenders. Her .154 shooting percentage was second best on the club too.
Pelletier seemed to be at her finest anytime that the Wildcats played Boston University. In six games against the BU Terriers, she was better than a point-a-game player. Pelletier threaded the Terriers for five goals and three assists. Suffice it to say that she is a bit of a "Terrier-killer" at least as far as Hockey East is concerned.
Speaking of Hockey East, Pelletier's production placed her fourth overall for all Hockey East defenders that year, one of whom was UNH teammate Amy Schlagel. Interestingly enough, Schlagel was drafted by the Buffalo Beauts of the NWHL in the 2017 NWHL Draft. Might Pelletier herself be drafted by an NWHL or CWHL team this summer as well? It seems most likely.
Pelletier Is Representative of Her Home Province
Born Sept. 5, 1997, Pelletier lists her hometown as Dalhousie, New Brunswick. There is something unique about maritime regional hockey players, and perhaps just people from this portion of Canada in general. It is widely recognized that people from this region combine a genuine warmth and friendliness that somehow goes hand in hand equally with their toughness and grit on the ice. Pelletier is certainly no exception to this. In fact, she is likely even more exemplary.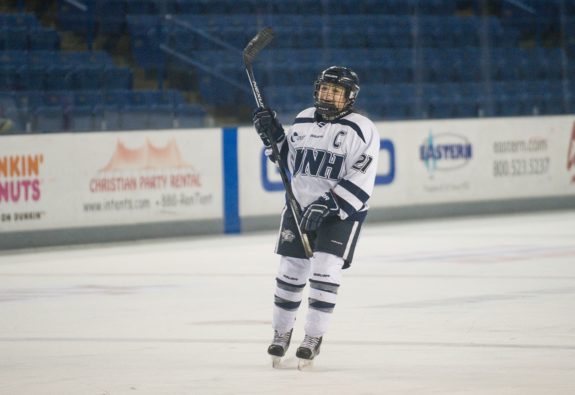 For over two decades now, the Atlantic region of Canada has hosted the Atlantic Challenge Cup—a tournament that features the best young players from the provinces of New Brunswick, Nova Scotia, Newfoundland and Labrador, and Prince Edward Island. Well known Canadian athletes Nathan MacKinnon, Jill Saulnier, Brad Marchand, Blayre Turnbull, and of course, Sidney Crosby, have all partaken in this renowned tournament.
Recipient of the Hard Hat Cup
One of the most distinguished honors of the Atlantic Challenge Cup is the "Hard Hat Cup" award. According to the tournament's parameters concerning this award, the organizers state: The Hard Hat Award is given to the player on each team who is selected to be the "best overall contributor" by his/her teammates. This is a very prestigious award and has become one of the highlights of the event. The individuals chosen must demonstrate outstanding work ethic, a team player first attitude, leadership and a commitment to excellence."
Not surprisingly, Pelletier had this honor bestowed upon her in 2010 when she competed in the Female U15 tournament. Even at that young age she exhibited noticeably superb leadership skills. That is something in her makeup and in her essence.
Voted Most Sportsmanlike for Atlantic
Pelletier continued her same success at the national level for Canada in representing her region. During the 2012-13 U18 Canadian Nationals she was a member of the Atlantic team in a showing of the country's most talented young hockey players. Pelletier would be named Most Sportsmanlike for Team Atlantic. Speaking as to how that particular honor came about, she shared:
"Just sticking to my game and being able to accomplish everything I want to accomplish on the ice without getting penalties and without playing a dirty game, as some people might say. Being able to shut out everything. Not let anyone get into my head. Playing a clean game I think is what helps me the most. Playing more of a sportsmanlike game."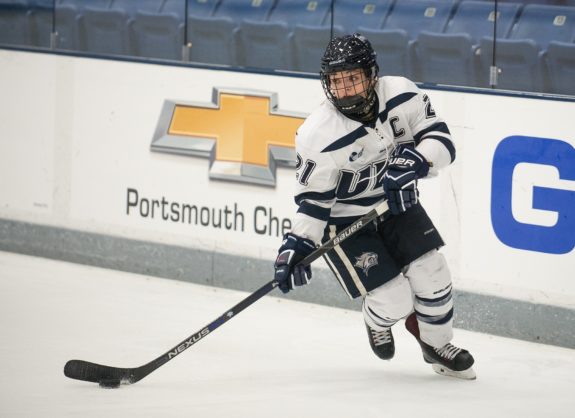 It is interesting to note that she has maintained this same mantra and style of play as she has continued into college. During that aforementioned coming-out sophomore season at UNH, she was assessed only one penalty, albeit a minor infraction at that.
More She Is Geared Toward Accomplishing
In the first three games of the 2017-18 season Pelletier already has two assists. Her two points came during a 1-1 tie and a 3-1 win over Merrimack College. For Pelletier and the Wildcats there are still at least 31 more games to go. That does not include the Hockey East tournament, or a potential birth in the Frozen Four. Those two respective tournaments are the focus and the mindset for Pelletier and what she and the Wildcats strive to accomplish in these last two years.
"First, we want to make it to the Hockey East Tournament," Pelletier stated. "I think this year we have a really good chance at that and I think we have a good chance at winning Hockey East. That would probably be the thing I would want to accomplish with my teammates in the next two years. Hopefully this year we'll make it, and then make it to the Frozen Four. I think we have the talent and the heart in our team this year that for any given day, if we show up, we can have an impact and we can make it there."
Comprising a Winner at UNH
There are far too many key intangibles to name when it comes to what comprises a successful hockey club. Whether that is winning a Stanley Cup or an NCAA championship. But perhaps the one at the top of every list is leadership. Whether it is Mark Messier or Marie-Jo Pelletier, no team can win a championship or a tournament without having that one of a kind leader in the locker room and on the bench. Pelletier is one of those rare individuals, and it is why her words ring true – the University of New Hampshire Wildcats have a legitimate shot at success.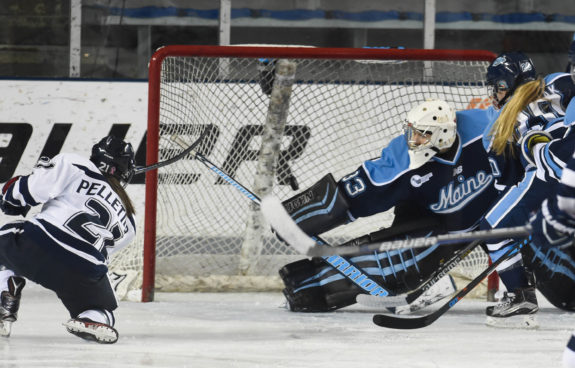 "I am a pretty vocal leader. I try to get my teammates into the game and ready as much as I can," Pelletier stated. "When someone is down, try to pick them up. The way in which I try to motivate my teammates the most is leading by example. Going out there and actually doing it instead of just saying it."
The Desire to Play Professionally
There is no need to rush anything. People do that far too often. Pelletier has just under two years of collegiate hockey left to enjoy and make the most of. Rest assured she will do just that.
Certainly though she must have some thoughts about continuing her hockey career after UNH. There is no question that she would be an elite defender in either the CWHL or the NWHL, or even overseas if she so desired. Both UNH teammates Schlagel and Julia Fedeski were selected in the NWHL Draft back August. The very same could happen to Pelletier this coming summer. Not surprisingly, to play professional hockey has long been a dream of hers.
"I hope to keep playing hockey as long as I can," Pelletier said. "Since professional league in Canada (CWHL) came out in years past, I guess it's always been a dream of mine to play professionally after college. As long as my body allows me to, hopefully that will be in my future.  I am going to keep working at it and hopefully that is going to be my future."
A Positive Role Model for Young Women
Women's hockey is growing rapidly. It ties into the same discussion regarding the success of both the CWHL and the NWHL. Women are being paid as professional athletes, and while they certainly are not being paid enough the fact that they are receiving some compensation of sorts is an integral starting block. Salaries for women's professional hockey players can—and must—go up from here.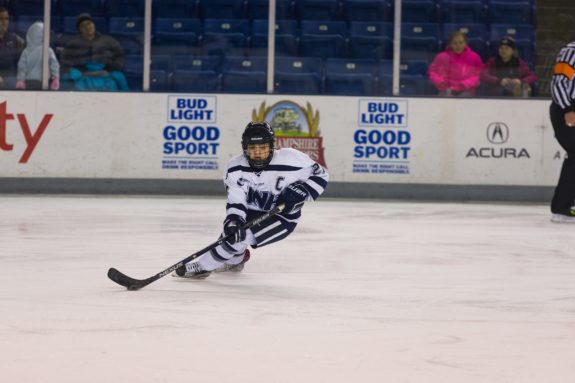 Separately, the current world we live in can be a difficult one to say the least. We need positive role models, especially for girls and young women. Someone who can make a lasting impact upon them for the better. Pelletier is one of those positive role models who is greatly needed. She recognizes how the importance of hockey has even helped her as a young a woman.
"Hockey has helped me to become a confident, independent young woman too," she said. "Growing up I played hockey with guys all the way up to peewee when I was about 12 years old. Being able to play with guys and be competitive with them that translates to into the work world."
Hockey Lessons Are Life Lessons
Marie-Jo Pelletier is about betterment. She betters those around her and those whom she encounters. This is what true leaders do naturally and just by being themselves. Whether you are a hockey player, a fellow student, a member of the work force, or a hockey writer, Pelletier leaves you positively impacted.
Meet the newest Wildcats!

UNH Women's Hockey Announces 2017 Incoming Class.

📝 https://t.co/9l251FmJvg#HockeyEast #GoUNH pic.twitter.com/2mJUmvWIR8

— UNH Women's Hockey (@UNHWHOCKEY) August 29, 2017
Her hockey skills will take her far, but who she is as person will take her even farther. It is the life lessons that Pelletier has learned from hockey that she recognizes can be applied to all facets of life:
"One of the biggest things would be that when things get hard, you can't just give up—you have to keep going," she said. "You have to keep working at it. When you work hard you put yourself in a better situation for success. Oftentimes your rewards are going to be much better when you put that extra effort in. With playing hockey you make so many connections. You deal with so many different people from one team to the other, you get to build your skills with talking to people. Knowing how to deal with different personalities. I think that really helps a lot especially being a business major here at UNH I get to do a lot of group projects. I get to work with different people and different personalities. Having that experience with playing hockey that helps a lot."
The best is yet to come for Pelletier. A giant heart with equally sizable character. While she may be 4-foot-11 she is by far heads above the rest.