The Frozen Four tournament took place over the weekend, an event that continues to grow. Teams that make it this far in the tournament have a lot to be proud of, as they must beat out three other top teams through single-round elimination in order to get there. In a league of parity, those who make it understand it's not an easy job.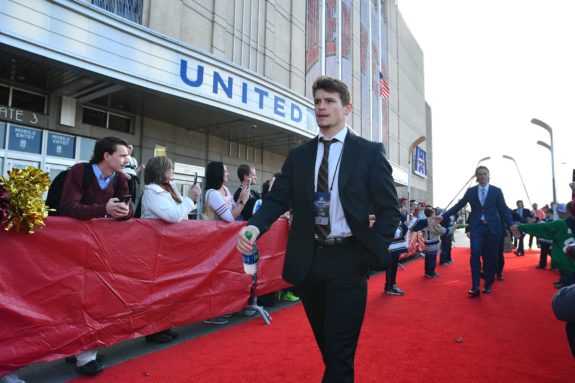 After three intense games over two days, the University of Denver Pioneers won it all.
One could argue the different reasons why Denver came out on top but no one can dispute the hard fact that speed played a big role in Denver's roll out of wins. "We want to play fast," said Jim Montgomery, Head Coach of the Denver Pioneers, in Saturday night's postgame press conference at the United Center.
We want to generate speed and we gotta have — we talk about 10 to 15-foot puck support. If people aren't moving their feet to get the space for their teammate, they're not doing the right thing. And over the course of the year, I think that's why we get better offensively… Every opponent we have played a completely different game throughout this tournament and for us to be able to adjust and just keep playing relentless hockey with puck possession like that, it's because of those guys' commitment to each other. – Montgomery
Like Coach, Like Lukosevicius
The Pioneers won their semifinal game against the Notre Dame Fighting Irish 6-1 on Thursday. The goals just kept coming that night but they knew the Bulldogs wouldn't be so easy to score on…unless your name is Jarid Lukosevicius. In the championship game, he scored his first career hat trick within 7:37 during the second period. This was the first hat trick in the national championship game since 1993, which happened to be when Montgomery got one as a student playing with the Maine Black Bears.
The Most Outstanding Player of the 2017 #FrozenFour…

Denver's Jarid Lukosevicius!! pic.twitter.com/5tattQSxz1

— NCAA Ice Hockey (@NCAAIceHockey) April 9, 2017
Lukosevicius' first two goals were 16 seconds apart, marking them as the fastest consecutive goals scored by an individual in NCAA championship game history and the second-fastest in NCAA tournament history. Consequently, he was named Most Outstanding Player in the 2017 Frozen Four tournament. The last time he got a hat trick was in Midget hockey, "I didn't get one in Juniors," he said. "I wasn't that good. I don't know what Monty saw in me."
"Well, what I saw was a guy who knew how to score goals and had really good hockey sense," Montgomery said in response. "And then we needed to upgrade our goal scoring ability and you never turn away goal scorers. He came here and he didn't understand the work ethic that you need in his freshman year. In his sophomore year, he stayed all summer in Denver. He worked out with our strength and conditioning coach and he was a beast. And then when Trevor Moore signed in August, I said you're not playing right wing anymore, you've got to go learn how to play left wing. Every day you're on the ice, take hard passes on the back end, take every puck because we need a goal scorer."
Tufte Finally Scores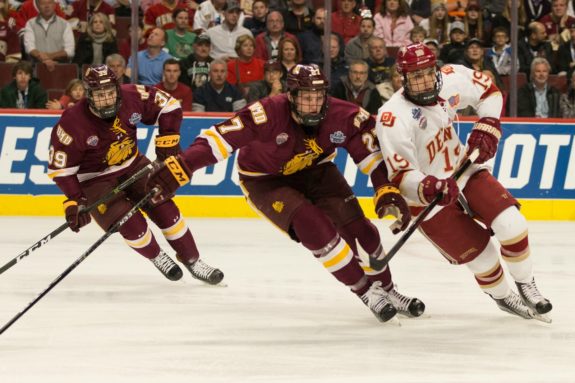 The championship game's final score was 3-2, with Lukosevicius scoring all three for Denver. For the Bulldogs, it was Alex Iafallo and Riley Tufte. Tufte is one of two first-round draft picks who competed in the Championship game and he's known for being a physically gifted goal-scorer with decent skating abilities. However, after getting only two assists in the first and second round games preceding the weekend, he finally scored a much-needed goal within the first five minutes of the final game's third period, providing his team with hope for a comeback. It was a close game but unfortunately for Minnesota Duluth, they couldn't quite stick to the plan as intended.
"…if you make soft plays, they're going the other way with it in a hurry," Scott Sandelin, head coach of the University of Minnesota Duluth Bulldogs, told reporters Saturday night. "I thought the key for us tonight was trying to get out of our zone clean because they [Denver] do such a good job of getting above you and pressuring… instead of just getting the puck out of the zone, we tried to make plays, and they were soft plays, and they contested it with sticks. And next thing you know, it was staying in the zone and now you're playing defense and that wasn't the plan. The plan was to spend as little time in our D-zone as possible, starting with breakouts and transition and clean transitions out of our zone."
No Man Left Behind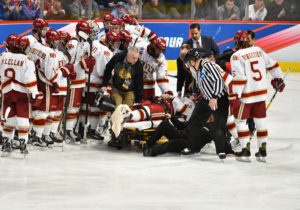 The championship final wasn't all fun and games though. Tariq Hammond of the Pioneers suffered a serious lower-body injury after being body slammed into the boards. He went down immediately, cradling in the fetal position for a bit. While fans ignited with boos until the whistle finally blew, Hammond's coach walked over, knelt down and quickly waved the paramedics over. Eventually, Hammond was lifted off the ice on a stretcher and an ambulance was called.
The whole ordeal was emotional for everyone, especially for coach Montgomery. "…his prognosis is probably a broken ankle and I guess it wasn't easy for three orthopedic surgeons that were here to put it back in place," he said of Hammond's injury. Surprisingly, Hammond did make another appearance on the ice that night, only after the game had ended. "But I'm not surprised. He has the heart of a champion. He's an incredible teammate and he's definitely wearing a letter next year – probably our captain next year." Once Hammond's ankle was back in place, the only thing he wanted to do was hop back out there and support his teammates in their ultimate victory.
Hobey Baker Award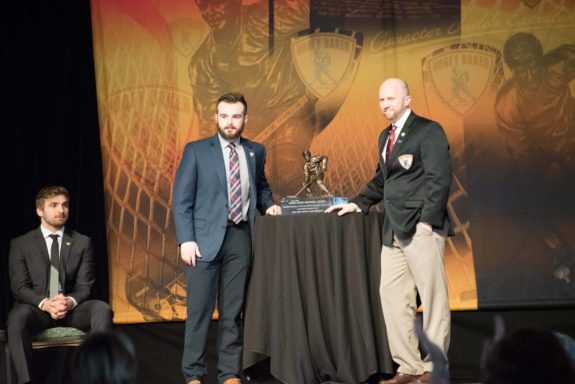 The Pioneers have character on their roster and that includes Will Butcher, their captain, a fifth-round pick from the 2013 Draft and this year's recipient of the Hobey Baker Memorial Award. The annual award is given to the top NCAA men's ice hockey player and it paints an accurate picture of the league's most talented players. Look at last year's Hobey Baker award winner for instance. Jimmy Vesey played for the Harvard University Crimson in 2015-16 as a left-winger. He was also a third-round pick in the 2012 draft and started playing for the New York Rangers this year. In his first 80 NHL games, he scored 16 goals.
Frozen Four Final Note
The championship game's attendance this year was 19,783 at the United Center, home of the Chicago Blackhawks. This is the third-highest attendance for a NCAA Frozen Four game and second-highest at the national championship.
The two-day total attendance was 39,409, marking the event as a success for the league. Rich in entertainment, passion, and excitement, the Frozen Four will continue to showcase it's dedicated and growing fan base next year, as the 2018 Frozen Four takes place in Saint Paul, Minnesota on April 5 and 7, at the Xcel Energy Center, home of the Minnesota Wild.