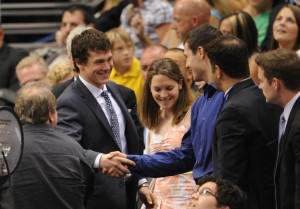 The 2010 NHL Entry Draft had the potential to be one of the best ever for the Carolina Hurricanes. They grabbed Jeff Skinner in the first round, who quickly made an impact on the organization, not only scoring 30 goals on the ice, but becoming a minor celebrity off the ice as well. In North Carolina, one normally has to be involved in one of the local college basketball teams to receive the type of media coverage Skinner earned.
In the second round, the Canes drafted Justin Faulk, who was touted as an offensive gifted, but undersized, defenseman in the scouting reports. Carolina likely drafted Faulk in an attempt to help their struggling powerplay, which had been terrible for years on end by that point. However, since being drafted, Faulk had made great strides on both sides of the ice and solidified his role on Carolina's top pairing.
After that, the draft contained players better suited for "Trivia Night" at a bar rather than any NHL future. Guys like Danny Biega, Austin Levi, Justin Shugg and Tyler Stahl were hoped to be "diamonds in the rough", but like so many Canes' draft picks in the past, look to be nothing more than lumps of coal.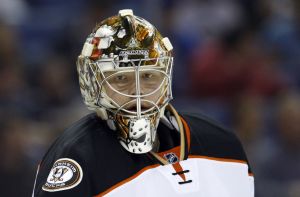 That changed in round 7. The Hurricanes drafted Danish goaltender Frederik Andersen with their last pick in 2010. He was putting up impressive numbers in AL-Bank Ligaen, the premier Danish hockey league, giving hope that he could be a steal in the later round of the draft. That hope only grew after his 2011-2012 season with Frölunda in the Swedish Hockey League, where he surpassed Henrik Lundqvist's record of 7 shutouts in a season.
Doing What's Best for Him
Just when everything seemed to be going right for the Canes and Andersen, it quickly went off the rails. His newfound success caused Andersen to switch agents, deciding on much-maligned agent Ritch Winter. Winter has a long history of causing issues with many, many organizations, and this time was no different.
Rather than sign a new deal that would keep him within the Carolina organization, Andersen felt there was "too much goaltending depth" on the Hurricanes, and decided to re-enter the NHL Entry Draft.
According to a statement from then-general-manager Jim Rutherford, the team and Andersen were all set to sign a new deal before he hired his new agent.
We tried to sign Frederik to a contract, and made him aware that we felt there was an opportunity here for him to earn one of our two NHL spots during training camp. We are very disappointed that he chose not to join our organization. Prior to him changing his agent, we had every indication that he was very interested in being a part of the Carolina Hurricanes.
A fairly standard press release, but that last sentence speaks volumes.
The Hockey Gods Work in Strange Ways
Andersen eventually did re-enter the draft, being selected by the Anaheim Ducks in the 3rd round this time around. Ironically, the Ducks were coming off a similar situation of their own. They had drafted Justin Schultz in the 2008 draft, but Schultz refused to sign with the team, eventually becoming a free agent that offseason and signing with the Edmonton Oilers.
In another twist, if Andersen would have stayed with the Hurricanes, he likely would have found NHL time much earlier than predicted. About the same time that he decided to re-enter the draft, the Hurricanes were dealing with injuries to Cam Ward and his backups on an almost yearly basis. Ward played only 17 games in the 2012-2013 season and only 30 in the 2013-2014 season. Had Andersen stayed, he likely would have had to simply outplay Justin Peters for the starting spot, a task he could have easily accomplished.
Instead, he signed with Anaheim, who (at one point) had Jonas Hiller, Viktor Fasth, and John Gibson ahead of Andersen on the depth chart, arguably a worse position than he had in Carolina.
It All Works Out in the End
There are, no doubt, some lingering feelings of betrayal from the Carolina fanbase. Though Andersen's reason for refusing to sign was sound, fans never want to hear that a player doesn't want to play for the organization they cheer for. However, it's hard to argue that this situation didn't work out for all parties involved.
Andersen has taken over the starting job for the Ducks, and his play is a large reason why Anaheim is tied for first in the league. The Hurricanes have moved on from Andersen and likely found their starting goaltender of the future in Anton Khudobin. Had Andersen stayed, the Canes likely would not have signed Khudobin.
Still, when an organization drafts a future star forward in the first round, a future star defenseman in the second, it would have been nice to complete the trifecta and kept the future star goaltender they drafted in the last round of the 2010 NHL Entry Draft.