No one will ever dispute that hockey is Canada's game. The Canadians seemingly always dominant the Olympics and World Championship, while NHL All-Star rosters are annually filled with names like Toews, Crosby, and Doughty. Recent decades have seen the number of Canadian players in the NHL decrease though, and the league has grown increasingly diverse with time.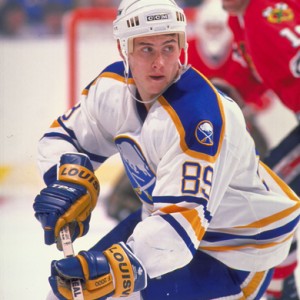 One group of players that has remained relatively stagnant over time has been the Russians. After a large influx of Soviet talent following the defection of Alex Mogilny in 1989, there was little growth amongst the ranks of Russian players in the NHL. Part of this had to do with the emergence of the KHL across Europe, although there were certainly other factors at play as well.
The Norm
In the past, high-profile Russian players have often been reluctant to leave their homeland for a larger stage in the NHL due to the cultural differences between North America and Russia. After all, the two regions have little in common when it comes to language, history, or political ideology, and the transition can be tough for many young players still adapting to life as a pro-athlete. Oftentimes the best strategy is to surround young Russian talent with, well, more young Russian talent. A great example of this can be seen in Washington where Evgeny Kuznetsov has thrived while playing alongside countrymen Alex Ovechkin and Dmitry Orlov this season.
The discussion of modern Russian NHL players has recently been forced to include Chicago rookie Artemi Panarin after his incredible start to the season. That the Blackhawks were initially able to convince him to sign in North America came as somewhat of a surprise to me at the time given the team's recent history with Russian players. After an early-2000's surge that saw as many as seven Russians play on the 2002-03 team captained by Alexei Zhamnov, the Blackhawks haven't had a major Russian contributor since Nikolai Khabibulin started 42 games in net for them in 2008-09.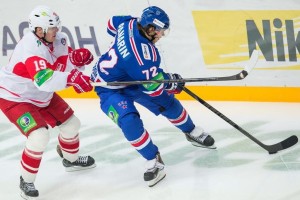 Much of the Blackhawks' wariness to bring in Russian players at any level was due to their high defect rate. Whether it be Alex Radulov or Ilya Kovalchuk simply leaving their NHL teams for the KHL, or Kuznetsov's initial hesitancy to make the jump to North America, these players often represented a huge organizational risk for the GM that brings them in.
The Evolution
With all of this surely in mind, Stan Bowman has done a tremendous job of ensuring Panarin's comfort in adjusting to life in Chicago by acquiring players such as Viktor Tikhonov and Artem Anisimov as well. Panarin was the first to sign back in April, but there was a problem: he didn't know English. Enter Anisimov and Tikhonov. The day before the open of free agency, Bowman acquired Anisimov in the Brandon Saad trade to fill the team's much-maligned second line center position. The very next day, Tikhonov was brought in on a one year contract.
These three players have each played major roles in the success of the other two as well. Tikhonov's ability to translate for Panarin has saved Joel Quenneville and the rest of his staff countless headaches and cemented his place on the roster. Meanwhile, playing between the dynamic duo of Kane and Panarin has Ansimov on pace for a career-best season.
The Future
Together, these three players have made each of the others irreplaceable for the Blackhawks in the short term. The community and communication they offer is hard to find and represents a great example of how to integrate players of different cultural and geographical backgrounds into a team. It also helps when two of those players are a star rookie and the team's long-sought-after second line center.
Whatever their long-term contributions to the team may end up being, Hawks fans have to be happy with the early returns on Bowman's decision to abandon the organizational norm and invest in Russian players. Plus, with great templates for the successful integration of foreign players available in both Chicago and Washington, perhaps highly skilled players of diverse backgrounds will become larger contributors throughout the NHL as a whole.
David is entering his final year as a sport management and operations and information management double major at UMass Amherst. Originally from the West Suburbs of Chicago, David has enjoyed watching the Blackhawks for as long as he can remember. When not watching or writing about hockey, he can be found working on the McCormack Future Leaders Conference on the UMass campus.