Over the years, the Chicago Blackhawks and General Manager Stan Bowman have successfully worked around the salary cap better than most teams have in the NHL, and really in all of professional sports in general. Following their 2010, 2013, and 2015 Stanley Cup victories, the Chicago Blackhawks found ways to trade-off some major pieces while still fielding a competitive team each and every season.
As it stands, the Blackhawks look like they'll be in for a rough off-season in terms of roster transactions, but that's nothing new for Stan Bowman's club. The salary cap has been a constant thorn in Bowman's side for years, but it hasn't stopped him from pushing the Blackhawks into championship situations on multiple occasions despite some drastic changes to his roster each year.
Reviewing Salary Cap Purges Of The Past
In 2010, the Chicago Blackhawks won their first Stanley Cup since the 1960-61 season. The team then went on to win two more championships in 2013 and 2015. As is the case with most championships teams, keeping a roster together is difficult in the salary-cap era of sports as most of the talent that helped earn the championship are expecting, and often deserving of a pay-raise.
Salary Cap-Casualties Following The 2010 Stanley Cup Win
The Blackhawks executed multiple trades following their Stanley Cup victory in 2010, many of which included big name players. Stan Bowman traded away Dustin Byfuglien, Andrew Ladd, Kris Versteeg, Ben Eager, and Brent Sopel in multiple deals while also acquiring prospects such as Jeremy Morin, multiple draft picks including first round picks and second round picks, as well as Jimmy Hayes.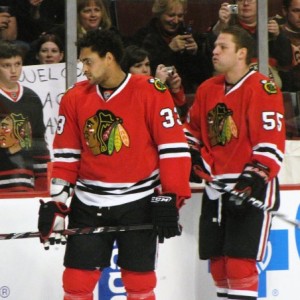 Pierre LeBrun of ESPN wrote an article discussing the trade back in 2010 which included quotes from Stan Bowman who admitted at the time that the trade involving Dustin Byfuglien, Ben Eager, and Brent Sopel was "simply a salary cap move." and that the team was successful in what they tried to accomplish from the deal. "It's exactly what we set out to accomplish," Bowman said. "To get some draft choices. … There were a lot of other considerations and we're satisfied where we ended up."
The Chicago Blackhawks were once again faced with salary cap issues following the 2011 season, and Stan Bowman spared no time in saving some money early on. The Blackhawks traded defenseman Brian Campbell to the Florida Panthers in exchange for Rostislav Olesz on June 24th of 2011 and also traded away gritty, hard-nosed player Troy Brouwer on the same day for a first round draft pick in the 2011 draft which resulted in the Blackhawks selecting Phillip Danault.
Just three days later, the Blackhawks traded away Tomas Kopecky to the Florida Panthers in exchange for a conditional seventh round draft pick in 2012 or 2013. In a move to replenish their roster depth, Stan Bowman traded away that conditional pick just two days later in a move that saw Steve Montador join the Chicago Blackhawks.
Salary Cap-Casualties Following The 2013 Stanley Cup Victory
Following the Chicago Blackhawks 2013 Stanley Cup victory, Stan Bowman traded out Michael Frolik, Dave Bolland, and Daniel Carcillo and in return, the team received six draft picks. The deals were far less significant than the 2010 and 2011 deals, but there was definitely multiple holes to fill on the roster after losing both Frolik and Bolland for nothing in terms of immediate value.
Following the 2014 season, the Chicago Blackhawks traded away Nick Leddy to the New York Islanders in exchange for Kent Simpson, along with minor-league defender TJ Brennan, defensive prospect Ville Pokka, as well as the rights to goalie Anders Nilsson. While Nick Leddy was set to have a relatively inexpensive salary cap hit for the 2014-15 season, the move was a preemptive one as Leddy ended up signing a seven-year contract extension with the Islanders worth $38,500,000 with an average annual cap hit of $5,500,000.
Salary Cap-Casualties Following The 2015 Stanley Cup Victory
The Chicago Blackhawks were once again Stanley Cup Champions in 2015, and that once again resulted in some significant salary cap casualties. The biggest name to be traded out of Chicago following the 2015 season was pending-restricted free agent Brandon Saad. The team also traded away Patrick Sharp, Kris Versteeg and Joakim Norstrom, as well as Anders Nilsson and prospect Stephen Johns. The Blackhawks received Artem Anisimov, Trevor Daley, Ryan Garbutt, as well as other roster players and multiple prospects, most notably Marko Dano from the Columbus Blue Jackets. The Blackhawks also saw defenseman Johnny Oduya walk away for free in free-agency as a result of their salary cap situation.
Trading away Brandon Saad was a move that was shocking to just about everybody in the hockey world, and his absence was felt for most of the season. Losing a young player with the ability of Saad is never easy, but it didn't stop the Chicago Blackhawks from returning to the playoffs in 2016 with high expectations placed upon them. The team ultimately lost in the first round, of course, but that doesn't change the fact that they once again found a way to remain competitive despite trading away major pieces.
2016-17 Salary Cap Projections Not Looking Good For Blackhawks
The Chicago Blackhawks might have to be creative this off-season with the latest salary cap projection looking to be "relatively flat" according to Bill Daly.
Next year's NHL salary cap is expected to remain "relatively flat," per Bill Daly.

— Chris Johnston (@reporterchris) May 30, 2016
Not including AHL players or recently signed Michal Kempny, The Blackhawks currently have $65,757,666 dollars committed to 17 players next year.
When accounting for the fact that the Chicago Blackhawks will likely give Michal Kempny every opportunity to play in a top-four role next season on defense, as mentioned here, as well as the likely AHL call-ups, the salary cap situation looks slightly better. With key free agents to sign such as Andrew Shaw, and Richard Panik as well as the potential to re-sign Dale Weise, Tomas Fleischmann, Brandon Mashinter, Dennis Rasmussen, and Michal Rozsival, it's clear that the Blackhawks will need to make some trades again this off-season if they plan on remaining competitive.
Despite the salary cap potentially remaining the same, there should be nothing to worry about for the Chicago Blackhawks moving forward.
The situation might look dire right now, but this isn't Stan Bowman's first rodeo, and this isn't his first time dealing with the salary cap as outlined earlier. While it's unclear how Bowman will go about keeping the Blackhawks competitive next season, he's more than done his part to earn the trust of the city of Chicago regarding any and all roster transactions.