The Chicago Blackhawks pulled off the unthinkable on Tuesday night (March 14). The team has had its share of upset wins this season, but arguably none have been more impressive than its 6-3 defeat of the Boston Bruins, who are well on their way to winning the Presidents' Trophy.
Related: Blackhawks Would Be Wise to Extend Alex Stalock
Since the March 3rd NHL Trade Deadline, the rebuilding Blackhawks have gone 2-3-1. Despite the record, the group has established a hardworking identity under head coach Luke Richardson, with newcomers and unsung heroes stepping up. Here are the latest headlines surrounding the team with just under one month left in the 2022-23 regular season.
Raddysh's Big Night
It's appropriate how much Taylor Raddysh has stepped up for the Blackhawks lately, considering this Saturday will mark the one-year anniversary of the Brandon Hagel trade. The 25-year-old forward extended his point streak to four games on Tuesday, recording his first-ever NHL hat trick.
He did it all in the final frame, tying the game at 3-3 with a little more than 16 minutes left. After Boris Katchouk gave Chicago a 4-3 lead just over three minutes later, Raddysh scored a power-play goal and added an empty-netter in the game's final five minutes. Raddysh has seven points (six goals, one assist) in his last four games and is the team's leading scorer with 33 points (20 goals, 13 assists) through 67 games.
It's too early to say whether Raddysh will be part of the Blackhawks' future, but Tuesday's game could end up being a statement. He has one season left on his current deal before becoming a restricted free agent in 2024.
Katchouk, Khaira & Anderson Deliver
As impressive as Raddysh was in Tuesday's win, he wasn't Chicago's only catalyst. The club's fourth line was a driving force as forwards Katchouk, Jujhar Khaira, and Joey Anderson combined for seven points (two goals, five assists).
Along with his go-ahead goal, Katchouk added two assists for a three-point night, a new single-game high for the 24-year-old Vancouver native. Khaira recorded two assists, while Anderson, who the team acquired from the Toronto Maple Leafs in the Jake McCabe trade, scored in the last five minutes of the second period before recording a primary assist on Katchouk's goal.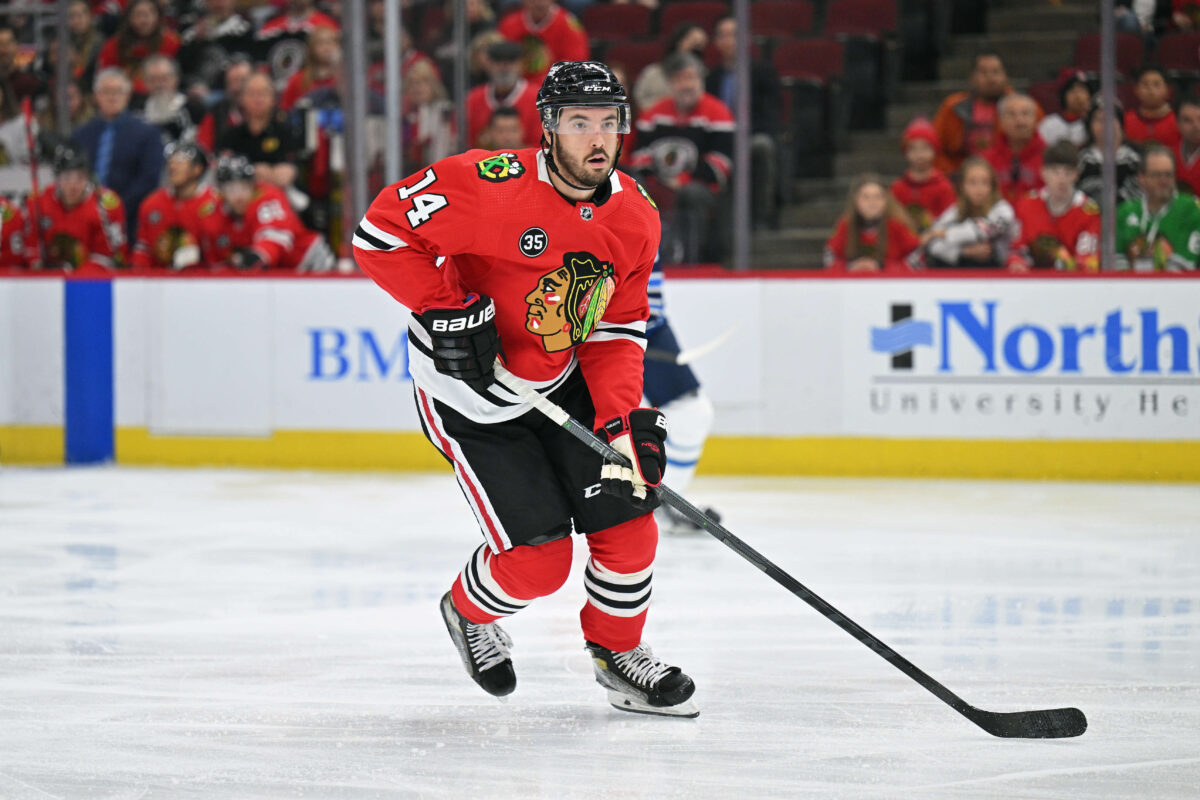 All three players have faced adversity this season; Katchouk had been regularly healthy scratched over the last few months, while Khaira had missed more than two months due to a back injury before returning on Feb. 27. Anderson, on the other hand, split time between the Maple Leafs and the American Hockey League's (AHL) Toronto Marlies before coming to Chicago.
Yet, they've thrived over the last week. Katchouk also scored in Friday's (March 10) 4-3 overtime loss to the Florida Panthers, Khaira has five assists in his last four games, and Anderson has tallied four points (two goals, two assists) in his first nine games with Chicago. Though neither player will be part of the Blackhawks' future, it at least makes for a fun story during the season's home stretch.
Mrázek Sustains Groin Injury & Khudobin Recalled
It wasn't all good news for the Blackhawks after Tuesday's win, as Petr Mrázek suffered his third groin injury this season during the second period. Richardson said he probably will not join the team as they begin their road trip against the Nashville Predators on Thursday night. However, he could join them before their next home game on March 26.
---
Latest News & Highlights
---
Through 33 games, Mrázek has gone 8-19-3 with a 3.63 goals-against average and an .895 save percentage. To fill his place, the team recalled veteran goaltender Anton Khudobin from the AHL's Rockford IceHogs. The Blackhawks acquired the 36-year-old from the Dallas Stars on March 2 in the Max Domi trade.
Except for backing up Mrázek in place of Alex Stalock in Saturday's (March 11) 3-1 loss to the Tampa Bay Lightning, Khudobin has spent the entirety of this season in the AHL. However, he has 13 seasons worth of NHL experience, most notably serving as a major contributor during the Stars' Stanley Cup Final run in the 2020 Edmonton bubble. His last NHL appearance was in Jan. 2022.
Guttman Done for Season
The Blackhawks received another blow this past Monday when Richardson announced Cole Guttman will have season-ending shoulder surgery. According to Charlie Roumeliotis of NBC Sports Chicago, the 23-year-old rookie forward is headed to Los Angeles to have a procedure done on Thursday, but he should be ready for next season's training camp. Roumeliotis added he suffered the injury in November, likely reaggravating it on Feb. 25 against the San Jose Sharks.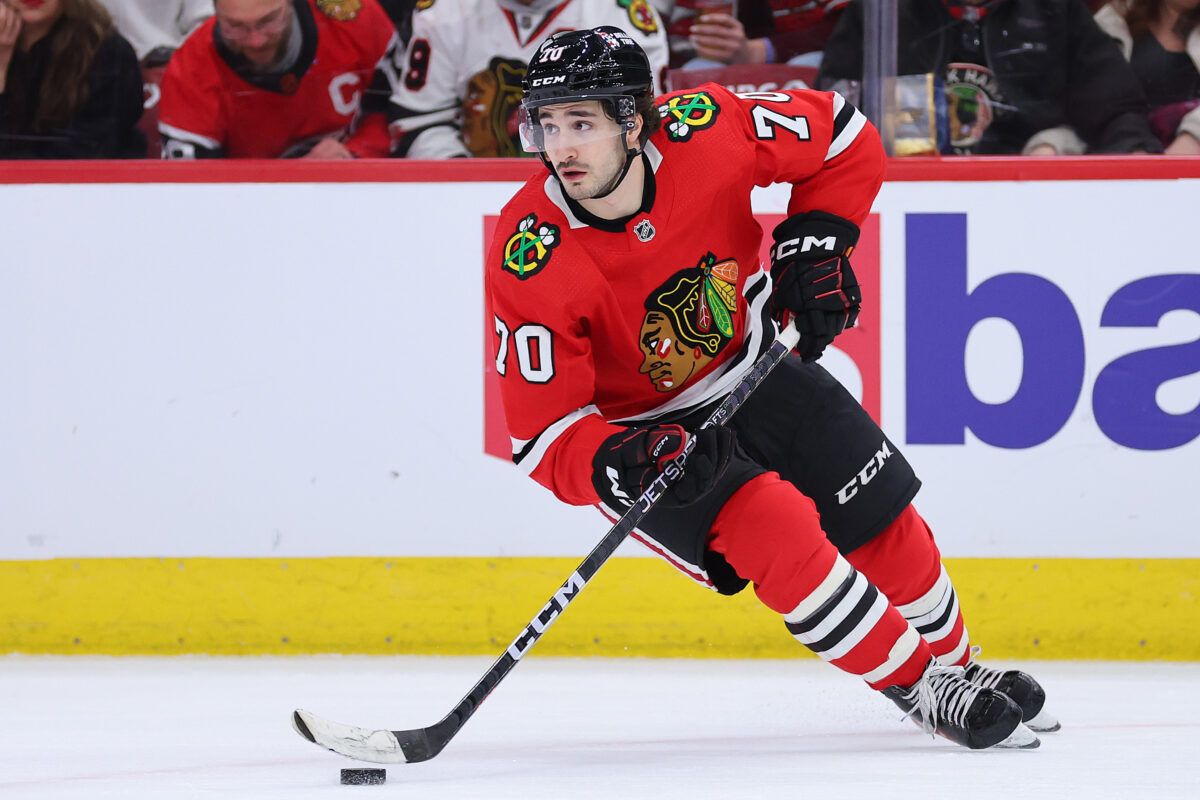 Guttman had been one of the team's biggest positives over the last month. The Blackhawks recalled him from the IceHogs on Feb. 15 before making his NHL debut that night against the Maple Leafs. He tallied six points (four goals, two assists) in 14 games while recording a 52.1 faceoff percentage.
Based on his first taste of NHL action, it seems like Guttman could've been a sneaky good pickup for general manager (GM) Kyle Davidson. He was a sixth-round pick of the Lightning in 2017 before signing his entry-level contract (ELC) with Chicago in Aug. 2022.
Rolston & Kaiser Sign ELCs
Speaking of younger players, the Blackhawks recently signed a pair of prospects to their ELCs. The club signed Notre Dame forward Ryder Rolston on Monday before adding University of Minnesota-Duluth defenseman Wyatt Kaiser on Tuesday. Both signed three-year deals, and the latter will report straight to the NHL.
Related: Blackhawks Have a Great Option for Next Captain in Seth Jones
The Blackhawks acquired Rolston, a 2020 fifth-round pick, from the Colorado Avalanche in April 2021 as part of the Carl Söderberg trade. In his third campaign with the Fighting Irish, the 21-year-old skated in 27 games and recorded 20 points. His father is 17-year NHL veteran and 1995 Stanley Cup champion Brian Rolston.
Kaiser, a 2020 third-round pick of the Blackhawks, had ended his third season with Minnesota-Duluth, where he recorded 23 points in 35 games. He also skated with Team USA at the 2022 World Junior Championships. Because he is coming straight to Chicago, it means the team will burn the first year of his contract.
Draft Lottery Date Set
Commissioner Gary Bettman announced on Wednesday morning that the 2023 NHL Draft Lottery, aka the Connor Bedard sweepstakes, will take place on Monday, May 8 at 7 p.m. Eastern Standard Time (EST). Sitting 30th in the league standings with 52 points, the Blackhawks currently have the third-best odds of drafting No. 1 overall, an 11.5% chance. The Columbus Blue Jackets have the best odds at 25.5% with 49 points, followed by the Sharks at 13.5% with 51 points.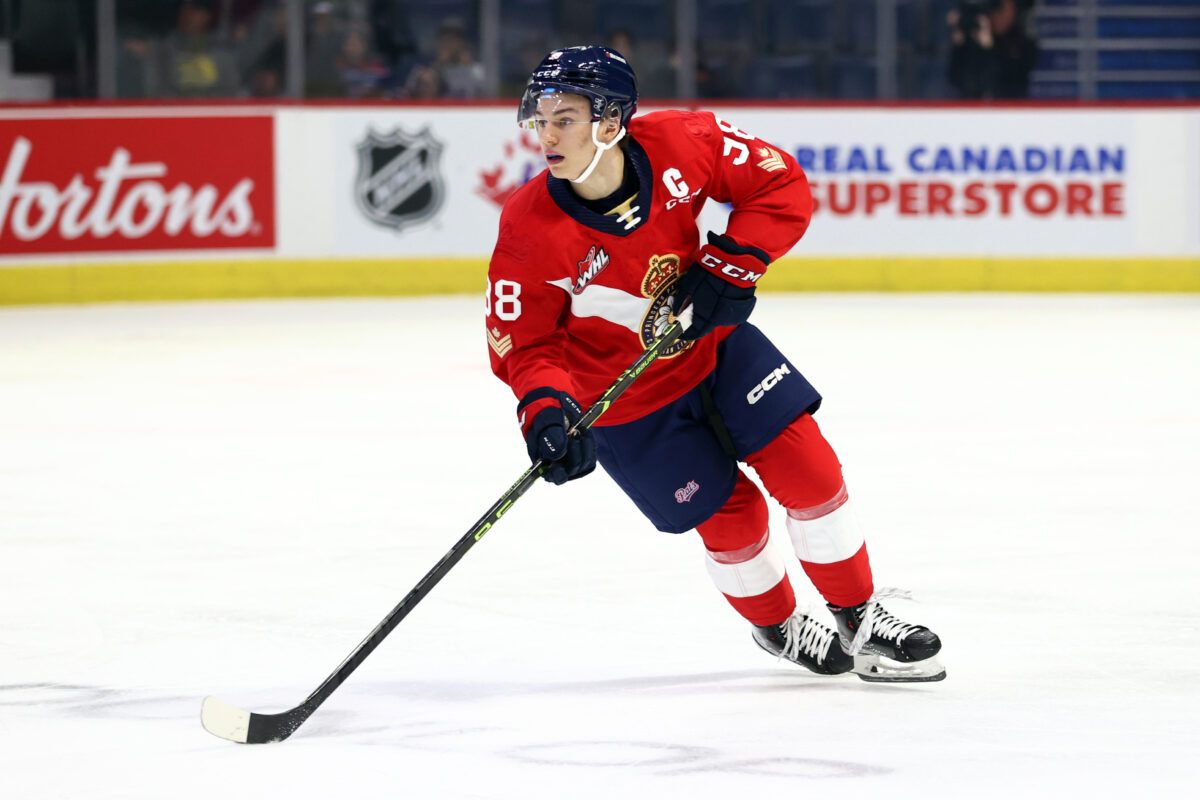 With 125 points in 51 games with the Western Hockey League's Regina Pats, Bedard is widely considered a generational prospect, drawing comparisons to Connor McDavid, Auston Matthews, and Patrick Kane. There's no doubt he'd accelerate Chicago's rebuild. That said, even if the Blackhawks don't land No. 1, there could be some great consolation prizes at picks two through four, including Adam Fantilli, Matvei Michkov, and Leo Carlsson. The draft is set for June 28-29 in Nashville, Tennessee.
The Blackhawks begin their five-game road trip against the Predators on Thursday, with puck drop set for 8 p.m. EST/7 p.m. CST. Chicago will face Nashville for the third and final time this season, losing both of their previous matchups at home 4-2 (Dec. 21) and 3-1 (March 4). Whether they avoid the season sweep remains to be seen, but Tuesday's win should be a great confidence booster.
---
---