With the 2021 World Junior Championship now complete, the hockey world has shifted its attention to the start of the upcoming 2020-21 NHL season. As many who participated in the junior tournament look forward to joining their pro team, the Chicago Blackhawks are faced with answering skeptics after allowing a now-injured Kirby Dach to represent his country.
RELATED: 2021 World Juniors Final: Team Canada & Team USA's Most Important Players
Following a seemingly innocent-looking moment of incidental contact during a pre-competition game, Dach suffered a fractured wrist. The ailment has sidelined him for four to five months. Meaning, he was unable to play the remainder of the World Juniors and is likely to also miss the majority of the Blackhawks' upcoming season. So, at that cost, was it worth sending Dach to compete?
A Year Unlike Any Other
The unique nature of what the hockey landscape has experienced between the completion of the 2019-20 season and the plans for their 2020-21 campaign granted Dach an opportunity he may not have had if the NHL was experiencing normalcy in its scheduling. When there wasn't much else to keep him as finely tuned as playing in this tournament would, it was hard for the Blackhawks to rationalize any other decision.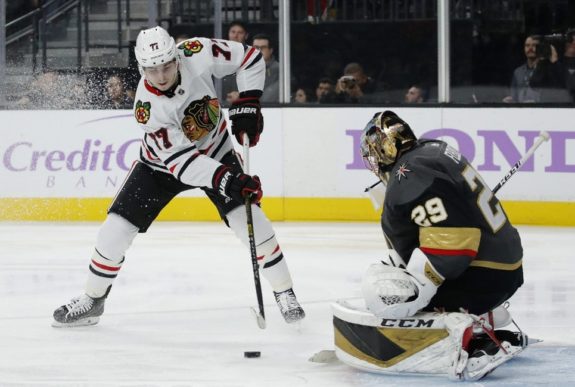 After noticeable progress through his rookie campaign and an obvious presence during the 2020 Stanley Cup Playoffs, Dach was already actively growing his game. Unlike the scenario that saw the New York Rangers avoid allowing first-overall draft pick Alexis Lafreniere from participating, Dach wasn't preparing to set the tone for his career. He had already done so.
Once in a Lifetime Opportunity
Quite literally, playing in the 2021 World Juniors presented Dach with an opportunity that he'd never be able to be granted again. Turning 20 on Jan. 21, 2021, the 19-year-old will be ineligible to participate in the U20 competition beyond this year.
RELATED: Chicago Blackhawks' 'Untouchable' Prospects
Besides, with the Blackhawks focused on rebuilding, why not permit one of their brightest future stars the chance to compete alongside such world-class prospects? It was to both his and Chicago's advantage, hoping it would help influence further progress while getting him game-ready for when the 2020-21 season eventually did kickoff.
Playing for National Pride
It's not every day that an athlete gets to suit up for their country. It's tough enough to break into the highest levels of their respective sport, let alone being amongst the select few to be chosen as the ideal candidates to represent the entire nation.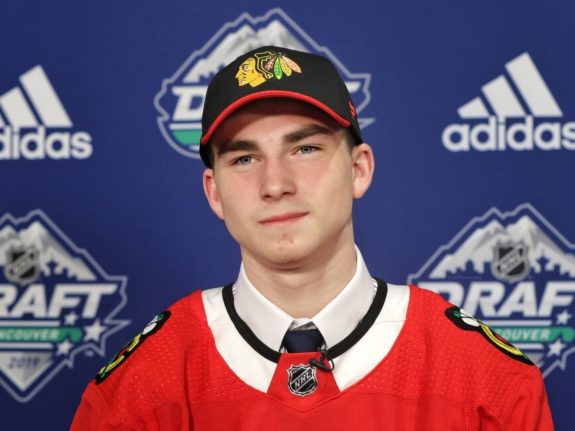 Dach hadn't yet enjoyed the same types of international opportunities compared to other stars in his age bracket. Where they may have made their case earlier, Dach's recent development had finally earned him the chance to play in this important tournament. Case in point, Blackhawks' coach Jeremy Colliton had this to say about Dach's progress heading into the 2020 postseason:
"I expected, almost hoped, he'd come back and look like he took another step, just by being older and with some months of training," coach Jeremy Colliton said. "He's been very noticeable with his skating and confidence on the puck, even more so than last year. We'll see more production as he gets older and more comfortable at our level and [sees] what he can do against NHL defenders. We're excited to see how that turns out."
There's no doubt that he was at the front of the line, lobbying for being given the runway to reach this unique destination. Although international competitions such as the IIHF World Championships occur yearly, and Dach will undoubtedly be proud to wear his flag any chance he gets, the World Juniors is a showcase unlike any other.
These experiences just aren't the same when aligned on an athlete's resume. We'll now have to wait to see if Dach can find future redemption, by being granted the ability to showcase his national pride playing for Team Canada at an Olympic level.
Foreshadowing Future Captain Capabilities
It came as no surprise that Dach was selected as Team Canada's captain. Despite being surrounded by future stars who are already proving they'll land a leadership role as they progress throughout their careers, none brought the same level of professional experience as Dach. And it showed early on.
He was a natural fit for the role, which was a plus for Canada and Chicago alike. This would have given the Blackhawks a front-row seat to witnessing Dach handle that type of pressure-filled spotlight. While Jonathan Toews is the undisputed leader of this team, there's no denying that some focus is shifting in Dach's direction with his potential to take over that role in the years to come.
Allowing Dach to play alongside his countrymen in such an important tournament, which led to him getting the chance to be the voice of the team, was a strategic decision that garnered far more reward than risk for Chicago. Regardless of how things worked out in hindsight.
Important Tournament to Project Trajectory
You don't have to go far to find other Blackhawks' players who benefited from their experience at the World Juniors. Chicago's top five point producers from the 2019-20 season have all represented their respective countries at this tournament. Dach surely hopes to emulate their type of talent and playing for Canada could have propelled those efforts.
RELATED: Blackhawks Look to Their Future at the 2021 World Junior Championship
Dylan Strome suited up for Team Canada in 2016 and 2017, while Alex DeBrincat provided some cross-border competition playing for the USA in 2016. A year prior, in 2015, Dominik Kubalik represented the Czech Republic. Patrick Kane also wore Team USA's colours in 2007, as Toews participated for Canada in both 2006 and 2007.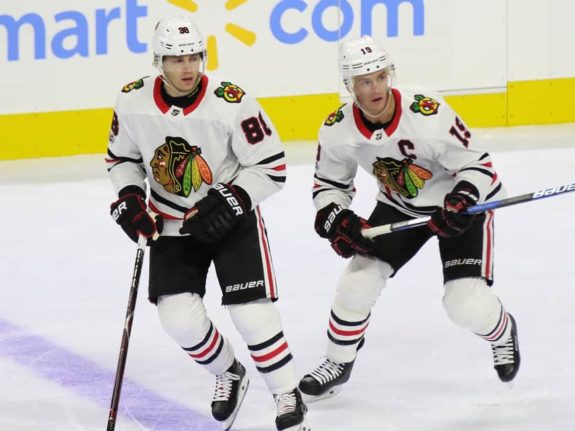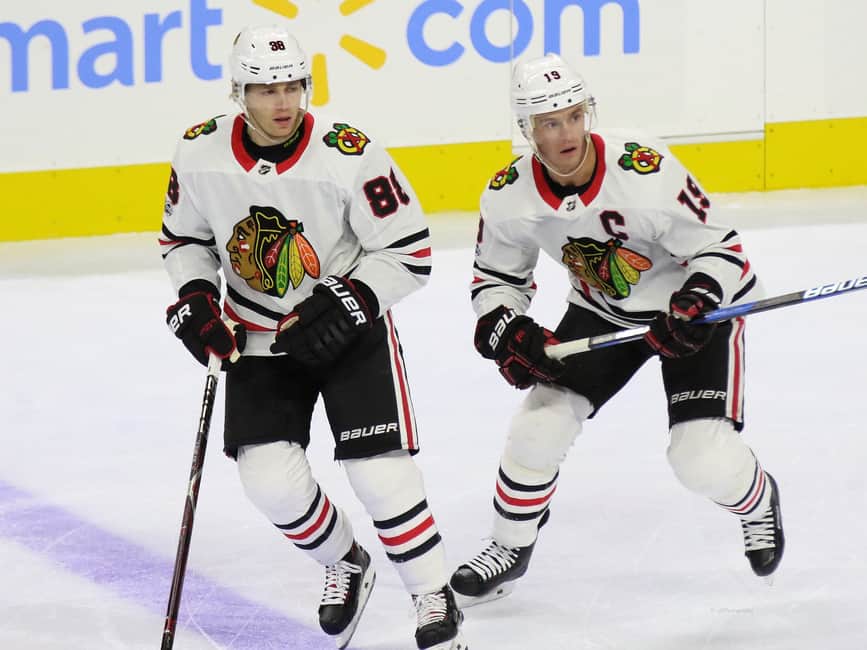 That's a pretty impressive list to align himself with. That alone could have been enough to rationalize allowing Dach to join this group of teammates, who went on to elevate their impact following the international competition. It could have even sped up his timeline of working into a top spot on their production list, too.
Was It Worth the Risk?
In reflecting on the obvious ways this decision was considered a positive one for the Blackhawks, it's quite easy to conclude that the risk was well worth taking. While you never want to see a player go down with an injury, let alone one that will affect their ability to help all season, that's also simply the reality of what can happen at any time in a sport like hockey.
This is not to downplay the seriousness of a broken wrist by any stretch. It's to highlight that this could have occurred in a variety of ways, regardless of where in the world Dach suffered it. Even if it happened during preseason training or within the first few games of the season, the Blackhawks would still have to face the same fate for Dach's immediate future.
RELATED: World Juniors Blowouts & Why It's Never Wrong to Run Up the Score
With that said, it's easy to side with the Blackhawks on their decision to let Dach represent Canada, simply based on what could have come from that experience. Of course, skeptics will claim that had he not gone this wouldn't have occurred. Yet, realists rest assured that participating in this tournament came with such potential benefit for both Dach and the team that it was truly a no-brainer for the franchise to let him play.
Blackhawks Banter Airs Live on Mondays
Catch our weekly episodes of Blackhawks Banter, with The Hockey Writers, on our YouTube Channel and Facebook Page every Monday at 8:00 P.M. ET/7:00 P.M. CT.
---
---