Happy New Year, Blackhawks fans! While we hope you enjoyed health, progress, and success through 2020, there's no denying that we're all looking forward to a fresh start when the calendar flips to 2021. Speaking of which, as the NHL prepares to kick off its upcoming season on Jan. 13, the Chicago Blackhawks are facing transitions of their own. Here's the latest, in today's edition of news and rumours.
Warm Welcome Back to Andrew Shaw!
While this organization grapples with how to manage a depleting lineup, the announcement that Andrew Shaw is ready to play couldn't have come at a better time. First and foremost, this is welcomed news in that it means Shaw is healthy and ready to be back where he belongs. That's a win in and of itself. That his return helps distract us from the fact that so many of his teammates have been forced to the sidelines is an added bonus.
Referring to Shaw as a fan favourite who plays with passion would be an understatement. He's the type of competitor that brings energy to every shift, making it seem like the team he's working to carry is capable of anything. That's the mindset this club needs right now. With all that seems to be going wrong for the franchise, Shaw's return provides a much-needed sense of optimism.
Dylan Strome Still Not Signed
In a recent appearance on the Blackhawks Talk podcast, Stan Bowman was less than clear when asked about the status of Dylan Strome. In what sounded more like political speak than sports talk, Bowman essentially provided anything but a sense of confidence that the team and Strome were near a successful conclusion to this negotiation. A snippet of what was said included:
"I wouldn't say it's a contentious situation. It's just a part of the business. We have to do what's best for us in the short term and the long term and be cognizant of where the market's heading."
When you couple that with what's already transpired through this delayed process, his words tend to read a little more pessimistically. With all that this roster is currently dealing with, in trying to prepare a healthy lineup for the start of this season, you'd think it would have pushed this deal along. Clearly, something is still stopping that from being the case.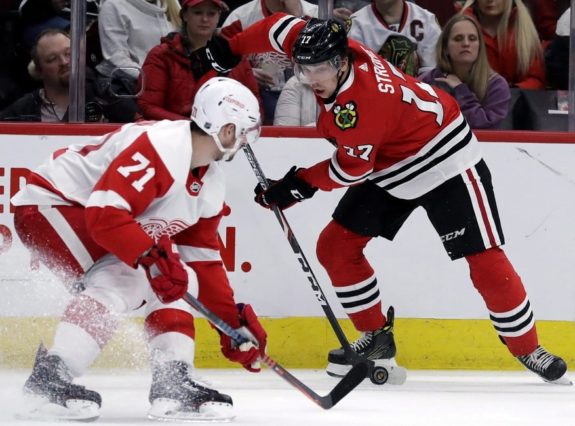 Whether Strome ends up re-signed is yet to be seen. After witnessing all the reasons that this seemed bound to happen, only for it to not, it's as though fans need to prepare for a scenario that doesn't include Strome as the season gets underway. Whether he joins the club at some point is to be determined, but even that becomes less likely as this continues to drag on.
Preparing for a Prospects Showcase
I haven't been shy about my hope that management makes good on their promise to provide greater focus towards youth development. However, I certainly didn't want it to come out of necessity from their rostered players being unable to participate.
In an effort to find a more optimistic angle where there isn't one to naturally gravitate towards, we can take comfort in the fact that opportunity will be granted to prospects who may not have otherwise had such a chance. As this franchise looks to turn the page in its storyline, they might as well start to introduce new characters along the way.
Old Rivalries Scheduled to Reunite
In last Thursday's edition of news and rumours, our team brought you all the details surrounding Chicago's 2020-21 schedule and outlined how the season will play out. To those patiently awaiting every update that alludes to Blackhawks hockey being even more imminent, we have good news for you.
With NBC Sports releasing their national broadcast schedule came the confirmation that the Blackhawks would in fact make it into the opening night lineup against the reigning champion Tampa Bay Lightning. That's one of the seven Chicago games the network will televise throughout the year. The other six will see a split between two heated enemies, with three games against both the Nashville Predators and Detroit Red Wings.
RELATED – Dear Santa: Chicago Blackhawks' 2020-21 Wish List
While their distaste towards the Predators comes from more recent playoff meetings, the 739 games already shared between the Blackhawks and Red Wings includes enough history to re-ignite that rivalry. As these passionate clubs search for ways to crawl back towards being competitive, fans can at least look forward to exciting battles between two of the league's most storied Original Six franchises.
Join Us for Blackhawks Banter
Tune in to our YouTube Channel for Blackhawks Banter every Monday at 8:00 P.M. ET/7:00 P.M. CT. This weekly show, brought to you by The Hockey Writers, can also be found on our Facebook Page. Get caught up with Episode 8:
---
---