In mid-December, Calgary Flames general manager Brad Treliving announced that the team had re-signed defenceman Oliver Kylington to a one-year, two-way contract worth $787,500 at the NHL level. The now 23-year-old defenceman, who was taken by the Flames with the 60th pick at the 2015 NHL Entry Draft, has shown flashes of potential during his professional career. However, he has yet to put it all together consistently, and as a result has yet to carve out a full-time role at the NHL level.
The 2019-20 season saw Kylington play in a career-high 48 games with the Flames, posting two goals, seven points and a plus-minus of minus-six. He also suited up for three games with the Stockton Heat of the AHL, where he scored three goals.
The Swedish defenceman has put up 10 goals and 17 points over his last 21 AHL games, proving he does not belong in that league anymore. Unfortunately, that strong play has yet to translate to the highest league in the world. Given the fact he received just a one-year deal, it appears that this season will be his last chance to prove to the Flames that he can be an NHL defenceman.
Power Play Opportunities
There is no denying the best part of Kylington's game is his offensive instinct. On top of having a solid shot from the point, he is also great with the puck, possessing both great vision and puck-handling skills. He has everything you would look for in a power play defenceman.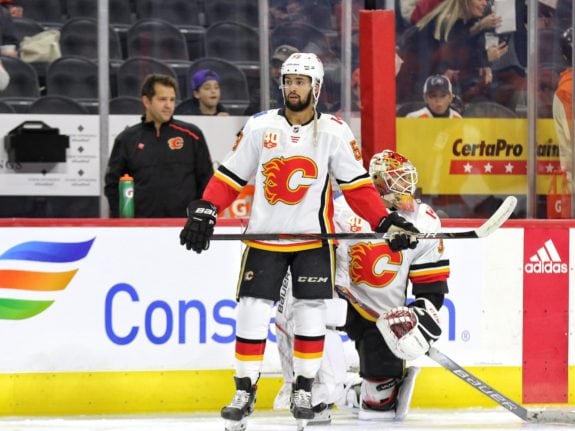 Head coach Geoff Ward seemingly had no interest in trying Kylington out on the power play last season, as he played just 1:32 on the man-advantage through his entire 48 games. Instead, those minutes prior to the trade deadline went primarily to Mark Giordano. Rasmus Andersson and Noah Hanifin also got some reps in.
Then came the trade deadline, when the Flames bring in Derek Forbort and Erik Gustafsson, the latter becoming a staple on the team's power play. These two defencemen spelled the end of Kylington, as he was relegated to the press box for the rest of the season, and did not suit up for a single postseason game. The good news for Kylington is that neither Gustafsson nor Forbort were re-signed by the Flames, so he may have a chance to not only get in the lineup more this upcoming season, but perhaps see some time on the man-advantage.
Defensive Play
As mentioned above, the best part of Kylington's game is his offensive skill. That part of his game has yet to translate to the NHL, however. For some players that wouldn't be a major issue, but it is for him as he is known to have his fair share of blunders defensively. This is the case for lots of offensive NHL defencemen, and teams have to take the good with the bad. However, when the player isn't able to get it done offensively either, it makes him nearly impossible for the coach to put on the ice.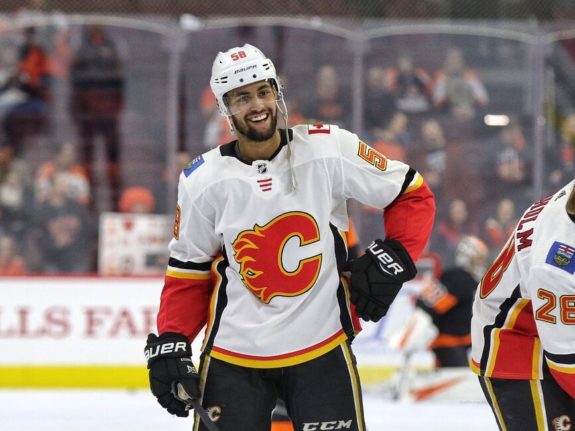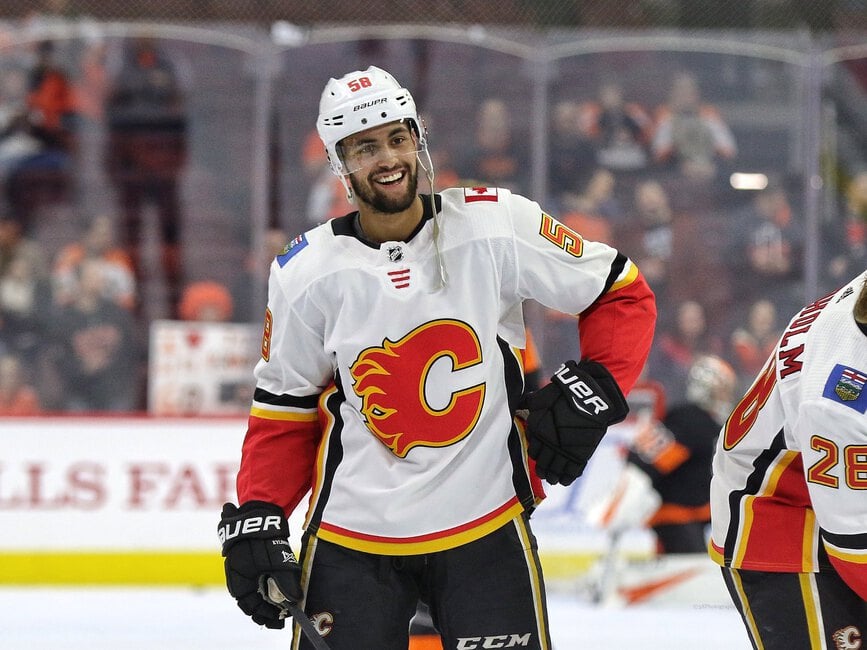 Unless you are a top-end first-round pick, opportunities in the NHL are earned more-so than given. For Kylington, that likely means that he will not be given time to show his offensive skill on the power play, at least at the beginning of the season. He will have to prove to the coaching staff he is able to play solid five-on-five hockey, and clean up mistakes in his own end. If he is able to do that, he should begin to see more opportunities come his way.
Heavy Competition
The fact the Flames chose to offer him a contract extension this offseason means that the current management still has some hope for him. While that is a good sign, cracking the roster this season won't be easy for Kylington. On the left side currently, the team has Giordano, Hanifin, Juuso Valimaki, and Nikita Nesterov under contract. Nesterov remains somewhat of a question mark, but the other three are all locks.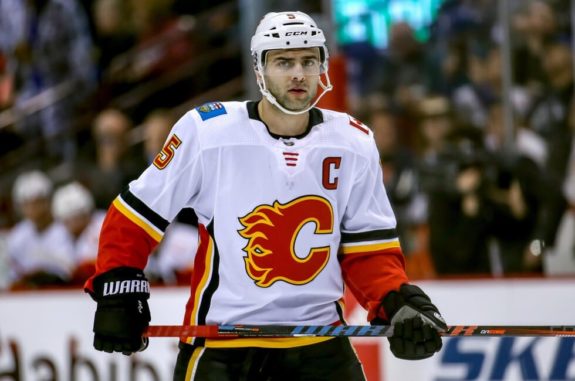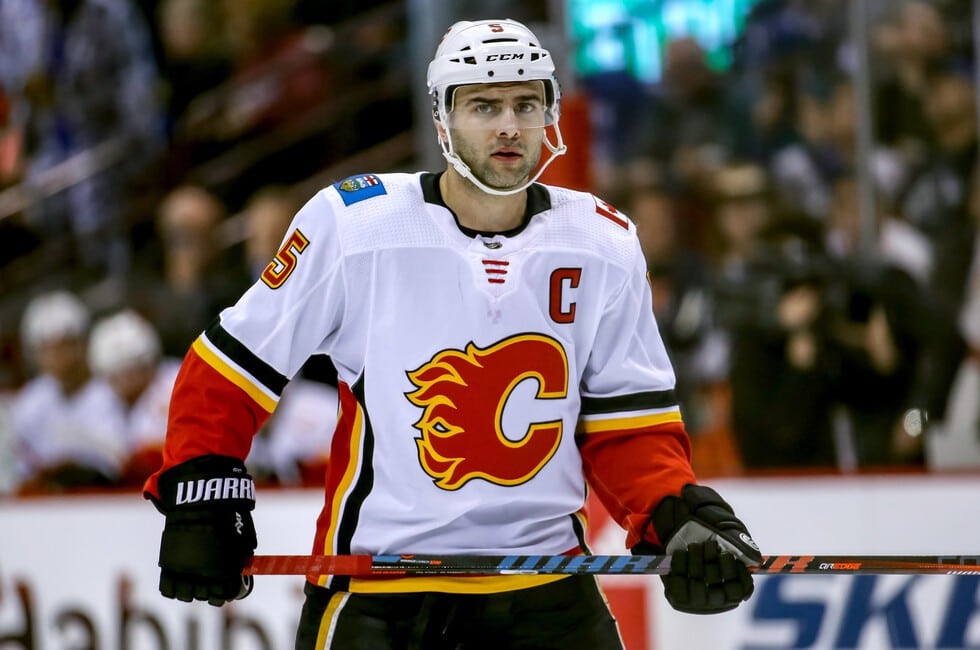 The good news for Kylington is that despite being a left-handed shot, he is comfortable playing on the right side, something he has done quite often throughout his professional career. Things on the right side look more promising for him, as the Flames currently have only Rasmus Andersson and Chris Tanev as locks. They also signed Alex Petrovic on the opening day of free agency, but given that he spent the entire 2019-20 season in the AHL, he appears to be more of a depth signing than anything else.
The one other player who is competing on the right side is Michael Stone, who was brought in on a professional tryout by the Flames. While the team is very familiar with him, having had him since the 2016-17 season, he was a healthy scratch more often than not last season, so Kylington could certainly win a spot on the team over both him and Petrovic with a good camp.
Make or Break Year
As mentioned, this appears to be Kylington's last chance to prove himself. If he is not able to break out this season, it seems very unlikely the Flames will offer him another contract. Given his skillset along with his relatively young age, he may still be able to latch on with another team if things go poorly this season, but as of now he still has a chance to make things work in a Flames uniform.
Not only would it be great for Kylington to finally develop into a reliable NHL defenceman, it would also help the Flames themselves, as they lost four defencemen in T.J. Brodie, Travis Hamonic, Eric Gustafsson, and Derek Forbort from last season. Some of that damage will be minimized thanks to the Tanev signing as well as having a healthy Valimaki, but a big step forward from Kylington would make things even better.
---
---