With NHL training camps beginning over the last few days, many teams have and are continuing to give professional tryout offers (PTOs) to players who are still without contracts. The Calgary Flames are no exception, as they have officially confirmed two players who will be joining the team on PTOs for training camps, and there have been rumors from a very reliable source about a third.
Often times, players on PTOs do not end up making the team. In fact, many believe that general managers sometimes bring in players on PTOs just to intensify things more at camp, rather than believing they have an actual shot at being signed. That isn't always the case, however. Just look at last year as an example.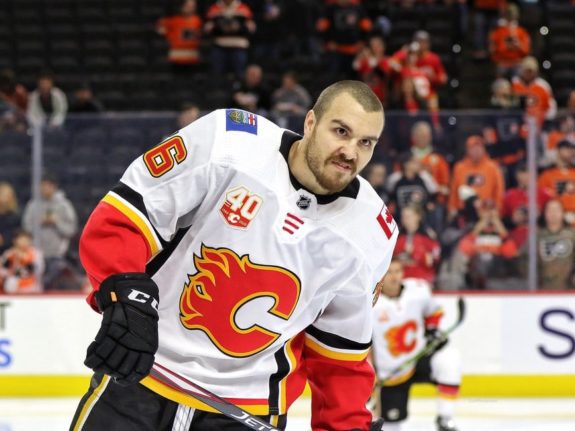 The Flames invited four players on PTOs in Tobias Rieder, Zac Rinaldo, Devante Smith-Pelly, and Alexandre Grenier. Both Rieder and Rinaldo ended up being offered contracts and contributing to the Flames lineup in the regular season and playoffs.
Taxi Squads
Before looking at the players the Flames have on PTOs, we need to first examine the taxi squads that were put in place by the NHL for the 2020-21 season. The taxi squads were made due to travel restrictions as a result of the COVID-19 pandemic. In a normal season, if a player on an NHL roster is hurt, a team can call up a player from their AHL roster to fill the gap. However, given the fact that all travel right now requires self-isolation, it could leave a team shorthanded for multiple games.
The taxi squads will consist of four to six players, and will both travel and practice with their respective NHL team. Unfortunately, this means that players on the taxi squads will not be able to play in any games unless "called up" by their NHL club. Deciding on taxi squads will be tough for teams, as they don't want to have their young prospects potentially miss out on game action for an entire season. At the same time, they also don't want players on their taxi squads to be liabilities for the team if they are needed in games.
One other thing that is extremely important to note is that the four to six players on a team's taxi squad will not count against the team's salary cap, unless "called up" to play. As a result of taxi squads, many teams are inviting players on PTOs to try and put them together with marginal NHL talent as opposed to using top-end prospects. The Flames are no exception, based on the three players below that they have invited to camp.
Michael Stone, D
The first name on this list is a very recognizable one for Flames fans in Michael Stone. The 30-year-old has been a reliable bottom-pairing defenceman for the team since being acquired in a trade from the Arizona Coyotes near the 2017 trade deadline. He was a very valuable piece for Calgary after being acquired, playing well during his short stint with them during the 2016-17 season and suiting up for all 82 games the following year.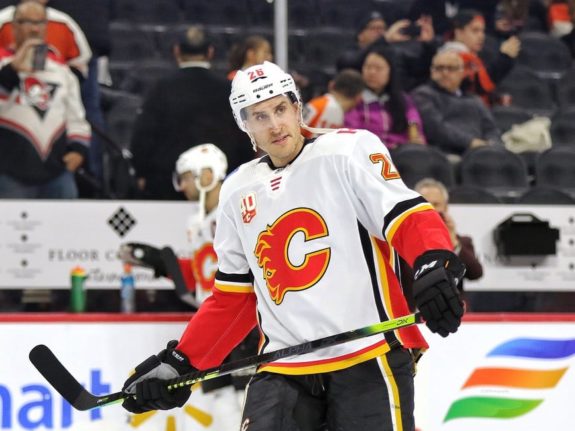 Unfortunately, a blood clot limited him to just 14 NHL games during the 2018-19 season, and the time missed seemed to cause the defender to lose a step. Last season saw him in and out of the lineup, as he was often healthy scratched and played in just 33 of the team's 70 games. To his credit, he never once complained about his role and was a consummate professional, always being ready to step in the lineup when called up and was reliable on the third pair, averaging just over 16 minutes of ice time per game.
The move to invite him to camp doesn't come as a surprise given the rumors that general manager Brad Treliving had been looking to add one more right-handed defenceman to the mix. As of now, the Flames only have two legitimate right-handed NHL defenders in Rasmus Andersson and one of their many free-agent acquisitions in Chris Tanev.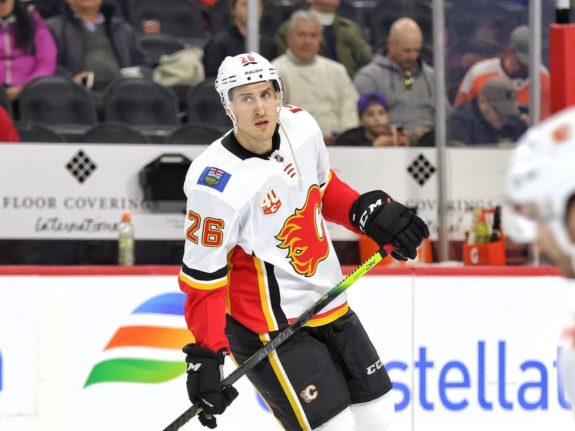 As of right now, the team is only projected to have slightly over $220,000 in cap space headed into the 2020-21 season, so signing Stone would take a bit of wiggle room, but is possible. Given their lack of options on the right side, along with their familiarity with Stone, it wouldn't come as a shock to see him given a cheap deal and kept on the main roster for the season. At the very least, expect him to be kept with the team on the taxi squad.
Garret Sparks, G
The COVID-19 pandemic has forced the NHL to bring in many changes for the upcoming 2020-21 season. One of these is that all teams will be required to carry three goalies. This makes a lot of sense, given that if one goalie were to catch the virus or get injured, a goalie they would normally call up from the AHL would currently be required to isolate before arriving with the team.
Garret Sparks has had some great success at the AHL level throughout his professional career, including a career-best 2017-18 season with the Toronto Marlies where he posted a ridiculous 1.79 goals against average (GAA) along with a .936 save percentage (SV%) and a 31-9-1 record. Unfortunately, however, his brief NHL career has been much less impressive. In 38 total NHL games, he has 3.11 GAA and a .897 SV%. He spent the 2019-20 season in the Vegas Golden Knights system, playing mainly for the Chicago Wolves, where he had a 2.75 GAA and a .908 SV% in 26 games played.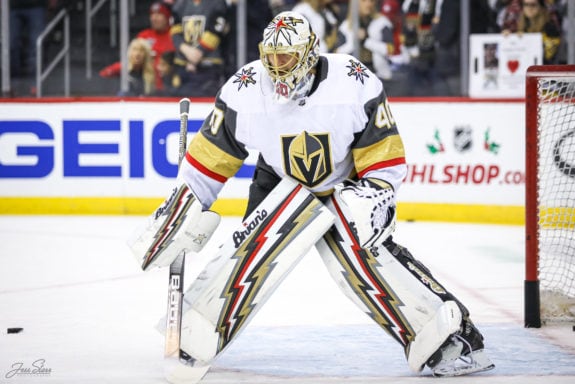 Sparks numbers at the NHL level, albeit at a small sample size, don't garner a lot of excitement. As far as a depth option for a goalie goes, however, he would be quite ideal. He has proven for years now he is a very good AHL goalie, and he has some NHL experience. If he was needed by the Flames, he is capable of making a spot start or two, which likely will not need to happen anyway.
The Flames do have other goaltenders under contract in Dustin Wolf, Tyler Parsons, and Artem Zagidulin. However, Wolf will be returned to the WHL for a final season of junior hockey, assuming the league begins play at some point, and they would likely prefer to have both Parsons and Zagidulin get games in at the AHL level.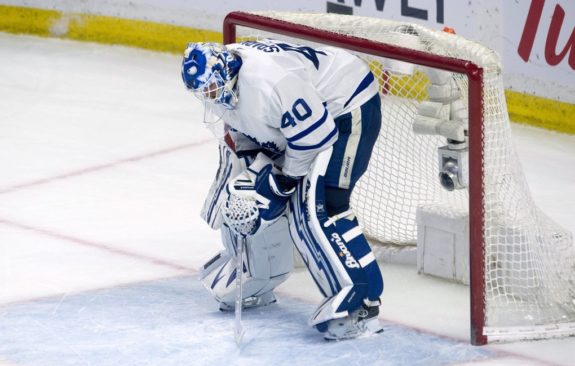 One additional rule is that while teams are required to carry three goalies during the 2020-21 season, one is allowed to be a member of the taxi squad. This means the team could sign Sparks simply for the purpose of insurance, keep him on the taxi squad roster and not have to worry about his cap hit. However, on top of having Jacob Markstrom and David Rittich penciled as their duo for the upcoming year, the Flames also signed free agent goalie Louis Domingue to a one-year deal this offseason.
Domingue has over 100 more NHL games played under his belt, though his numbers aren't a whole lot better than Sparks with a career GAA of 3.06 and a SV% of .904. As of now, the Flames likely see Domingue as their third-string netminder, but if they choose to assign him to the taxi squad they do run the risk of losing him on waivers.
This is certainly a possibility given how many teams will likely be scrambling for a third goalie to place on their taxi squad right now. That uncertainty could be what allows Sparks to secure a one-year deal, though how he performs in training camp will also obviously play a big part in the decision.
Brett Ritchie, RW
Forward Brett Ritchie has not been confirmed by the Flames to have agreed with the team on a PTO, but well-known Sportsnet reporter Elliotte Friedman has mentioned multiple times, including in his newest '31 Thoughts' article, that he believes there is a strong possibility it happens in the near future.
The 27-year-old forward has played in 268 career NHL games. Last season saw him play in 27 games with the Boston Bruins where he had two goals and six points, and an additional 12 with the Providence Bruins of the AHL, where he put up four points.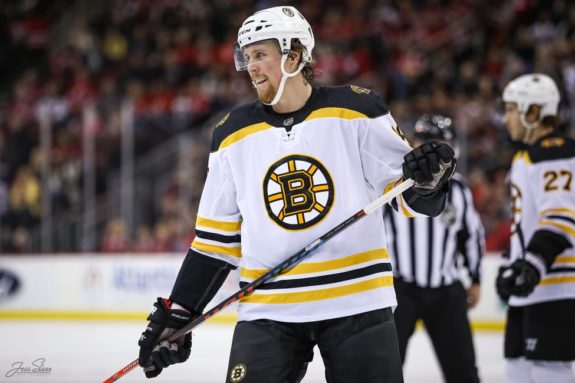 Outside of a 2016-17 season with the Dallas Stars that saw him score 16 goals, Ritchie has struggled to put up offence at the NHL level. While he does bring great size at 6-foot-4, the Flames' forward group appears to be set for the upcoming season, as Treliving added forwards such as Joakim Nordstrom, Josh Leivo, and Dominik Simon earlier in the offseason.
Assuming there are no injuries in camp, it seems unlikely the Flames view Ritchie as a player who cracks their top four lines at this point. They already have 13 legitimate NHL forwards on contracts, and a couple of prospects in Glenn Gadwin and Matthew Phillips who could surprise and earn themselves a spot.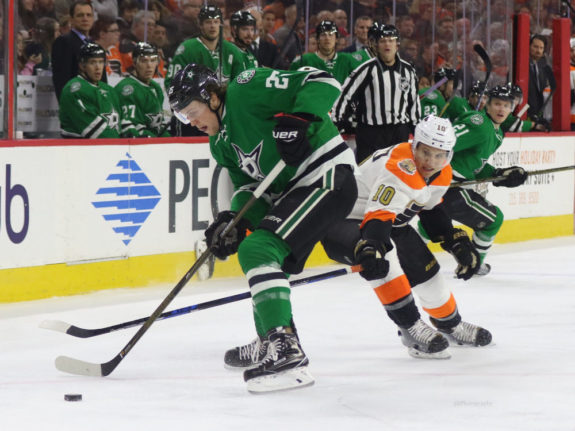 At age 27, Ritchie has likely already reached his potential as a player, and as a result, could very well fit the role of a taxi squad player. Given his fairly lengthy NHL experience, he would be a solid player to come into the lineup when/if needed. Again though, at this point, this signing is just a rumor, as the Flames have not said anything about him attending camp, but considering the rumor came from Friedman it likely has some legitimacy behind it.
Plenty of Depth
One big positive for the Flames heading into the upcoming season is the amount of depth they will have, especially if they add all three players listed above. Currently, it feels like Stone has the best shot to secure a deal, while Ritchie very well could too. Sparks remains a bit more of a question mark given the fact they already have Louis Domingue, but it is still possible they sign him nonetheless.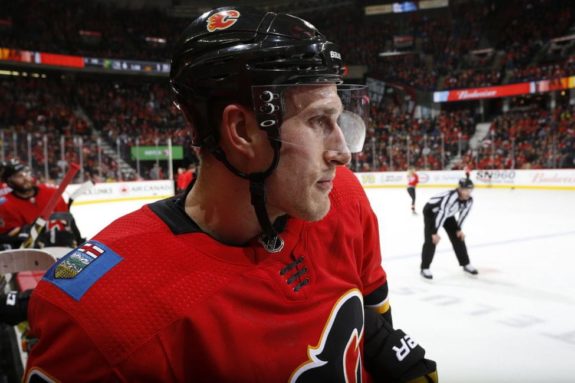 If we are being honest, the entire season as a whole has somewhat of a question mark, as trying to manage a team through an entire season during a pandemic is unfamiliar territory for everybody. Still, you have to tip your cap to Treliving and the job he has done so far, as he added some intriguing new pieces to the roster this summer and appears to have backup options in place if they so need.
---
---
Colton Pankiw is a former Jr. A hockey player who now provides his knowledge of the game through writing. He's been a very active and reliable source for nearly two years at The Hockey Writers. He is a credentialed writer for the Calgary Flames but also does features on other teams throughout the league. Other writing contributions include: Yahoo Sports, Las Vegas Chronicle, Oil On Whyte, and Markerzone.com. Colton is also a co-host of both Oilers Overtime and Flames Faceoff podcasts. Any interview requests or content info can be made through him on Twitter. Take a look at his work here.