Training camps have begun throughout the NHL, and fans have their first taste of possible line combinations for their team. With no preseason games to be played, coaches around the NHL will only have practices to decide what their opening day lines will be when the season gets underway next week.
For the Minnesota Wild, the defence isn't going to be much of a surprise. What will look different will be the forward lines, as several new faces are on the roster. Head coach Dean Evason will have to quickly figure out where each player fits best into the lineup, and we already know what his early ideas are.
Parise – Bjugstad – Kaprizov
This combination looks to be the No. 1 line heading into the regular season. It shows right away how much the organization is impressed with Kaprizov so far, giving him first-line minutes with Parise, the team's leading goal scorer last season with 25. (from ''He comes as advertised': Kirill Kaprizov dazzles in first practice with Wild,' Duluth News Tribune, 01/02/21)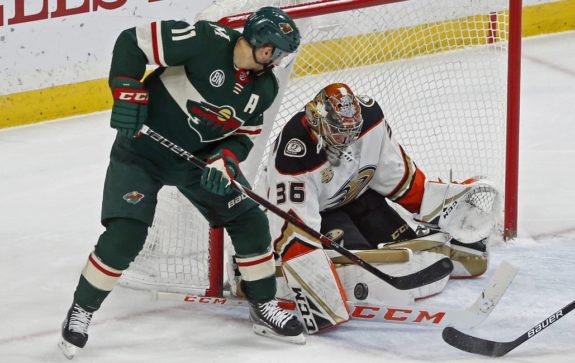 Getting Kaprizov comfortable in the NHL will be a top priority for the organization, so putting him alongside Parise makes total sense. Parise is one of the longest-serving Wild players, a terrific leader, and an ambassador for the team.
If Kaprizov can score in the NHL the way many believe he can, he could become a staple on the top line for years to come. It looks like he will get every opportunity in his first season in the NHL to get the minutes and line-mates to help him succeed.
The most significant question mark about this line is at the centre position with Nick Bjugstad. He was riddled with injuries last season that only allowed him to play in only 13 games, registering one goal and one assist.
The talent is there, and Guerin acquired Bjugstad in the hopes that he would have a bounce-back season. In the 2014-15 season, Bjugstad registered 24 goals in 72 games, and in 2017-18 put up a career-high 49 points. The offensive ability is there, and if Bjugstad can stay healthy, he looks to be the best bet to perform on the top line of the available centres the Wild have.
Johansson – Bonino – Fiala
The Wild's second line might feature the team's most talented player in Kevin Fiala, who had a breakout season in 2019-20 with 54 points in 64 games. He now finds himself in training camp playing on a line with two newcomers to the organization, Nick Bonino and Marcus Johansson.
Both players were acquired via trades by Bill Guerin in the offseason. Bonino is a reliable middle-six forward who was on pace to hit 20 goals last season with Nashville and likely would have if the season wasn't put on pause.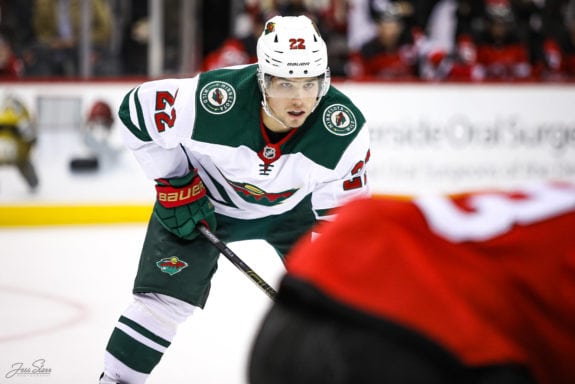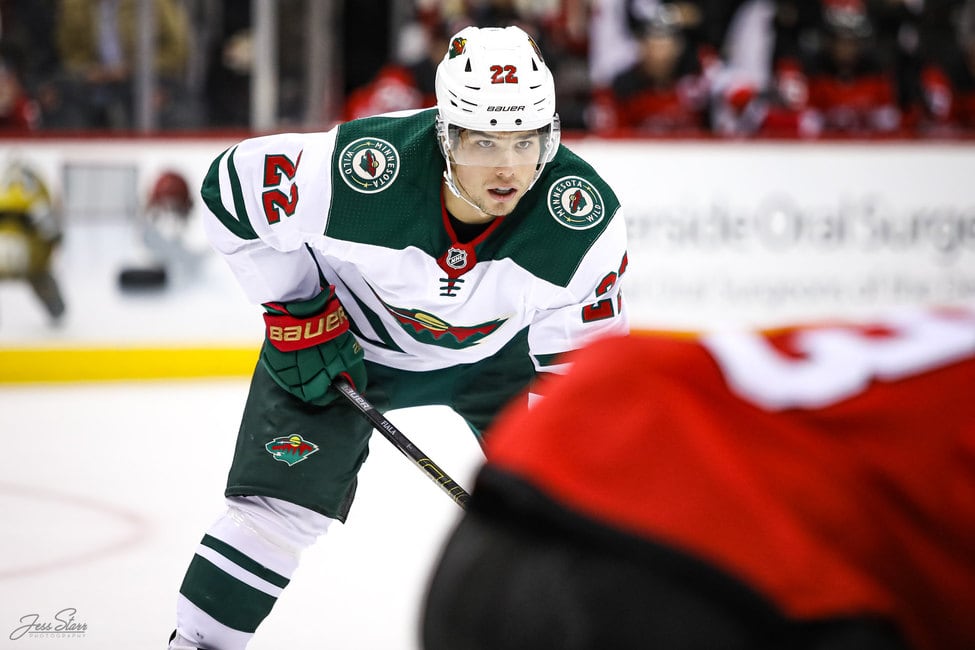 Johansson was acquired from the Buffalo Sabres in the trade that sent Eric Stall out of the state of hockey. Initially, the thought was that the Wild would be giving Johansson a look at playing centre, despite him producing better throughout his career on the wing. It should be a welcoming sign to Wild fans that Evason is starting Johansson at wing, where he likely is a much better fit on this roster.
Greenway – Eriksson Ek – Foligno
The Wild's third line seems to be an ideal shutdown line for Evason and should cause problems for opposing teams' top lines. All three players have big bodies and can play physically, especially Greenway, listed at 6-foot-6, 225 pounds.
All three are great skaters who can form an instrumental third line if they can find some chemistry. They can chip in offensively but also cause an issue for talented players on opposing teams.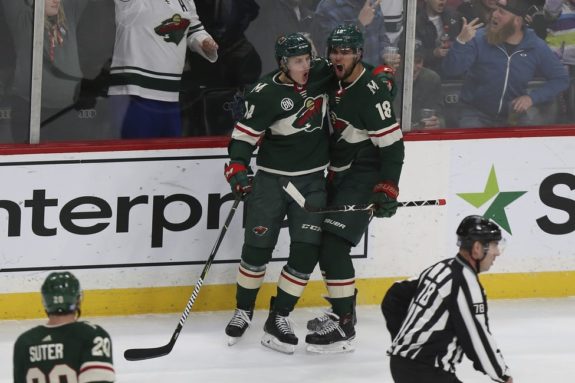 The first two lines are designed to generate offence, and players between those two lines can be moved around until the right mix is found. For a shutdown line like this one, it's crucial to find chemistry early. All three of these players look like they could work perfectly on a third line, and it could be one of the most valuable lines towards the success of the Minnesota Wild this season.
Sturm – Rask – Hartman
If this is the Wild's fourth line, it's going to be one of the most expensive fourth lines in the NHL. Ryan Hartman makes $1.9 million this season, while Victor Rask makes $4 million for the next two seasons.
Nico Sturm has little NHL experience but is looking to crack the opening lineup and be an everyday player in the NHL for the first time in his career. Both Rask and Hartman will help the fourth line chip in offensively from time to time, which is always an admirable quality at the bottom of your lineup.
Both Rask and Hartman have good Corsi numbers and should eat up a bit more time on the ice than a traditional fourth line in the NHL. It's an expensive line, and surely both players will like to force their way up the lineup a bit, but Rask and Hartman along Sturm could be one of the better fourth lines in the NHL.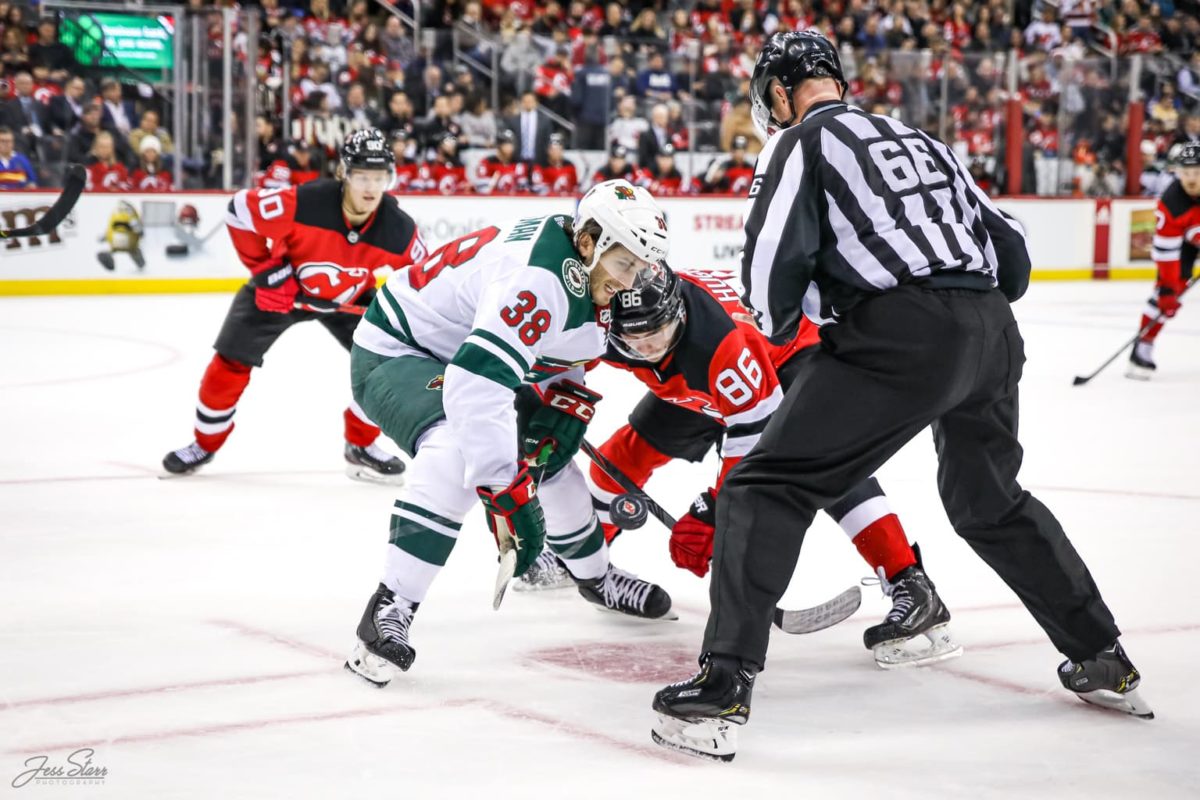 Of course, it's also important to remember that this is just a training camp. Changes could happen at any moment, and these lines could still look different on opening night. Plus, Marco Rossi and Matthew Boldy just wrapped up a terrific showing at the World Junior Hockey Championships and could work their way into the lineup.
For now, though, these look to be the lines Dean Evason would like to see work and could very well be the line combinations used on Jan. 14, when the Wild open up their season against the Los Angeles Kings.
---
---