The Calgary Flames management staff, led by general manager Brad Treliving, has done a good job this offseason. They had one of the best drafts of any NHL team and followed that up by signing the biggest goaltender on the market, Jacob Markstrom. They added a big-name player in Chris Tanev, and recently signed Dominik Simon, Joakim Nordstrom, and Nikita Nesterov.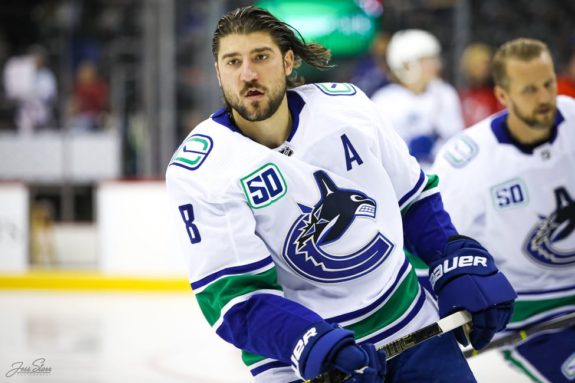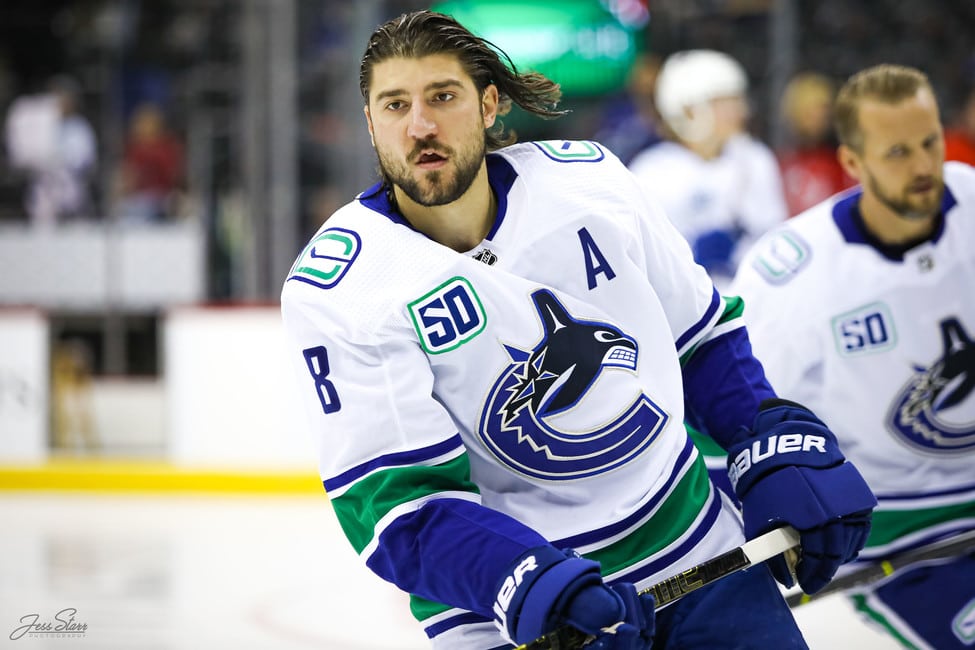 Despite these additions, the Flames also lost some key pieces on the back end. T.J. Brodie, Erik Gustafsson and Derek Forbort all left via free agency, while Travis Hamonic and Michael Stone are both without contracts. Losing five players on defense would normally be devastating, but, on paper, the Flames appear to be ok.
The hope is captain Mark Giordano will continue to be his consistent self, while Rasmus Andersson seems to be getting better every season. Another big boost is Juuso Valimaki, who missed the entire 2019-20 season with an ACL injury, will be able to play next season. He is currently playing for Ilves Tampere of the SM-liiga until the NHL season starts, and is proving how skilled he is with 10 points in 10 games played.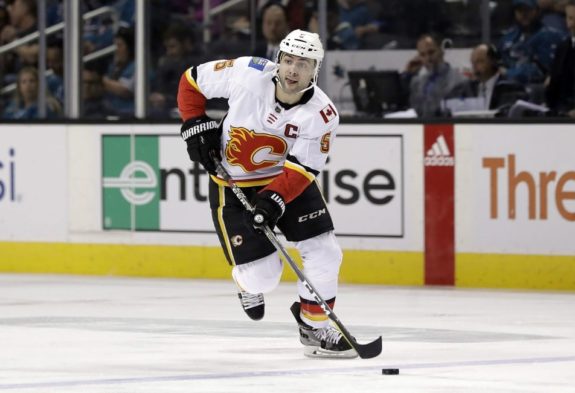 Still, reports have surfaced that the Flames are looking to add another right-handed defenceman. As of now, their only right-handed defencemen are Tanev and Andersson, so this makes sense. Unfortunately, right-handed d-men are hard to come by, and those available on the free-agent market have already been scooped up.
Bringing in another player, especially via free agency, may require some roster shuffling. The Flames have just $1.01 million in cap space and Treliving still has restricted free agent defenceman Oliver Kylington to sign. Whether or not the two sides can work out a deal remains to be seen, but regardless of that situation, the Flames still seem to want to bring in one more defenceman. Here are three free agents they should consider.
1. Madison Bowey, Detroit Red Wings
2019-20: 53 games played, 3 goals, 14 assists
Madison Bowey has had a somewhat disappointing career to this point. The Washington Capitals' 2013 second-round pick looked like he was going to turn into a top-four NHL defenceman after a fantastic junior career in the WHL with the Kelowna Rockets. He also played a huge role in Team Canada's gold-medal performance at the 2015 World Junior Championships, logging a ton of minutes and posting four points in seven games.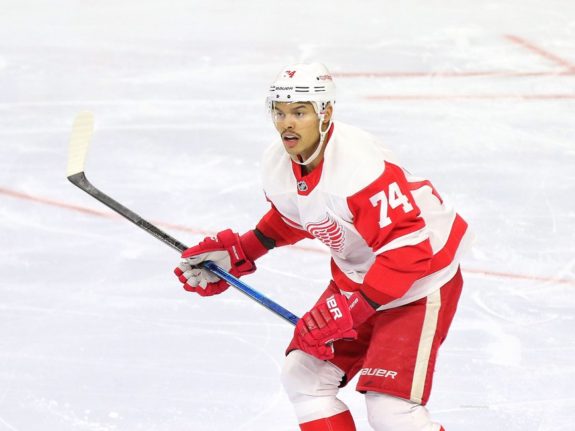 Unfortunately, he hasn't had that same success at the NHL level, with just 39 points in 154 games and very limited ice time. Still, he is just 25 years old, so there is a chance he will still turn into the player many had hoped for. One guarantee, Bowey would bring is a winning pedigree to the Flames.
On top of the World Junior gold, he also won a Memorial Cup with the Kelowna Rockets and was part of the Capitals' Stanley Cup-winning team in 2018, though he did not suit up for any games. Perhaps being closer to home will allow the Winnipeg native, to become the player he is capable of being.
2. Jan Rutta, Tampa Bay Lightning
2019-20: 33 games played, 1 goal, 6 assists
Another option is 30-year-old Jan Rutta, who has been in the NHL since he signed as an undrafted free agent with the Chicago Blackhawks ahead of the 2017-18 season. He has played 127 career games, putting up nine goals and 35 points. While he will never be mistaken for an elite player, he can be used on the third pairing in big situations, as he suited up for five games with the Tampa Bay Lightning during their 2020 Stanley Cup Playoff championship.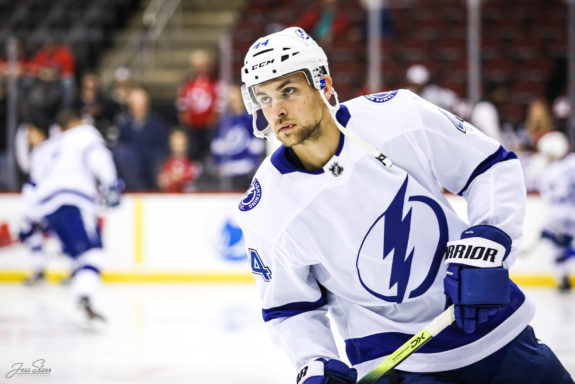 Rutta would be another player, like Bowey, who has a Stanley Cup to his name. While he also didn't play a huge role, he dressed for five games during their playoff run, chipping in with one assist. Having very recently being a part of a Cup-winning team would provide a boost to the Flames' locker room.
3. Michael Stone, Calgary Flames
2019-20: 33 games played, 2 goals, 5 assists
The final option is a familiar face in Michael Stone. The 30-year-old has spent the past three and a half seasons with the Flames, bouncing in and out of the lineup. He isn't the same player he was when he set a career-high 36 points with the Arizona Coyotes during the 2015-16 season but he has continued to work hard when it would have easy to complain about spending time in the press box.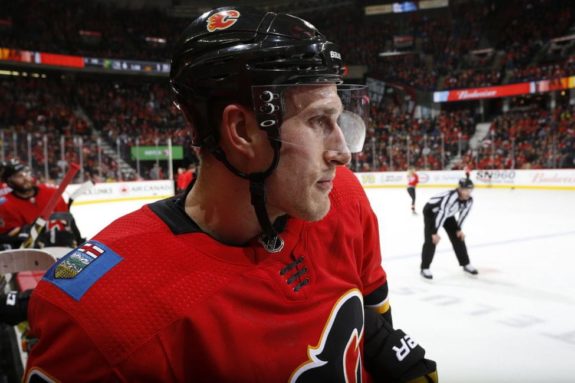 At this point in his career, it's unlikely that Stone will be in the lineup every single night, but he would be able to step in for a struggling player or an injury. He has been with the organization since the 2016-17 season, so they know exactly what he provides, which would be helpful for Geoff Ward and the rest of the coaching staff.
Cap Constraints
None of these three options are very enticing players, especially compared to some defencemen still on the market such as Sami Vatanen or Hamonic. However, the Flames simply aren't in a situation where they can afford to bring in someone of their talent level. Adding one of these players gives the team more depth on what is already a very impressive blue line, and could be huge down the stretch and into the 2021 Stanley Cup Playoffs.
---
---