The Calgary Flames have seen a nice crop of prospects make the jump from the AHL to the NHL in the last couple of seasons. The likes of Dillon Dube, Oliver Kylington, Andrew Mangiapane, and Rasmus Andersson have all graduated to the big club, the latter two starting to make a significant impact. These graduations have led to the Stockton Heat having fewer "true" prospects on the team to make a permanent jump, but could see some intriguing call-ups pending the rules of a COVID-19 season.
Related: Calgary Flames' 'Untouchable' Prospects for 2020-21
The NHL is trying for a Jan. 1 start date, while the AHL Board of Governors has approved a Feb. 5 start date. It is still unknown whether or not players from Stockton will be available for call-ups if the Canada-USA border remains closed. If it does continue to be closed it's more likely the Flames keep the likes of Zac Rinaldo, Buddy Robinson, and Alexander Yelesin up with the big club instead of the younger players. 
Related: Flames Prospects Gawdin & Valimaki Primed to Earn a Spot on the Roster
Players like Glenn Gawdin, Matthew Phillips, and Connor Mackey could all be considered for a trip to Calgary if they have success with the Heat this season. Stockton will have a fairly balanced mix of prospects, veterans, and players on minor-league deals, giving the Flames prospects room to play. Here is a list of the probable candidates to see a call-up this season as well as some honourable mentions.
Glenn Gawdin
Glenn Gawdin had an improved sophomore season in Stockton scoring 16 goals and adding 31 assists, surpassing his rookie totals in 11 fewer games. Gawdin is an interesting prospect as he was drafted by St. Louis in 2015 but then was never signed, making him a free agent. The Flames then scooped him up with an entry-level deal in November of 2017 during his over-age season that saw him explode for 125 points.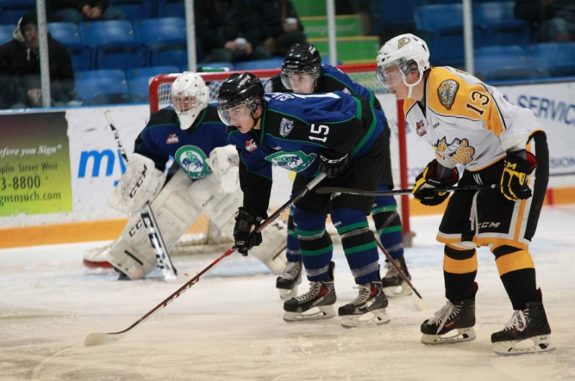 Caution is always warranted with a prospect like Gawdin who doesn't produce impressively until their over-age season. After his second season, though, there is reason to believe that he may be a legitimate prospect going forward for Calgary. The AHL is still somewhat of a primitive league and it's tough to find detailed stats let alone any sort of public analytics to decipher more of Gawdin's season. His plus-minus and penalty minutes improved and he took almost the same amount of shots as he did in his first season. It doesn't tell fans much, but it's a start, showing he was more of a factor on the ice.
Matthew Phillips
Homegrown talent Matthew Phillips was on pace to smash all of his rookie numbers before a knee injury sidelined him for almost two months. (from 'Flames prospect Matthew Phillips hobbled by knee injury,' Calgary Sun, 01/10/2020) Phillips had a blazing start of 30 points in just 28 games during the 2019-20 season — at that pace he would've eclipsed his rookie total by game 35 or 36. Unfortunately, a bad hit put him out from the end of December to the middle of February and he struggled in returning to the ice with just three points in 10 games before COVID-19 cancelled the season.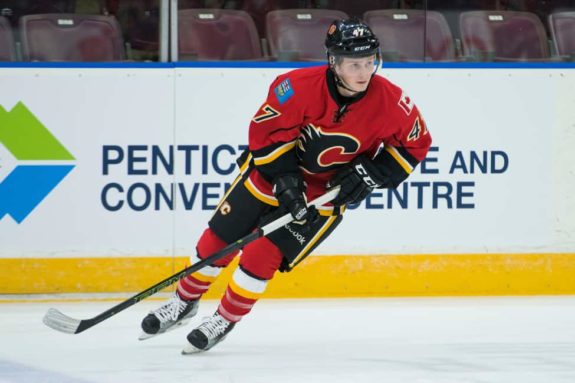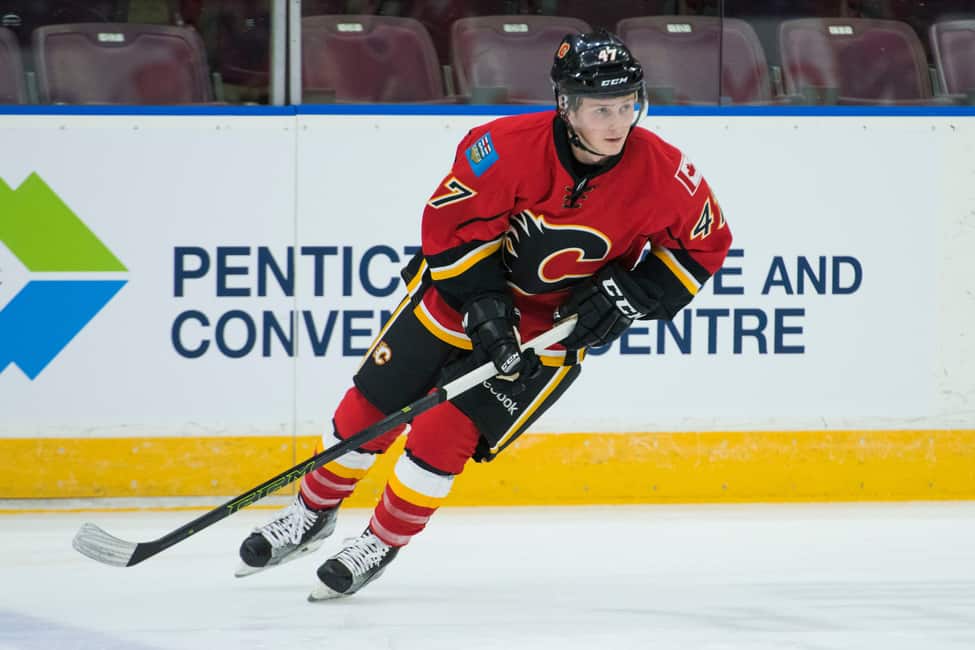 It's quite a feat for a guy of Phillips' size while playing at the highest level of hockey throughout his career that this is the first major time missed dating back to his bantam AAA days. This season will be a major factor for Phillips to really show if he can continue to produce offence as he has in every league he's played in. One small concern is that his shooting percentage nearly doubled last season and will most likely regress this season, but on the other hand he scored 12 goals at five-on-five in both AHL seasons.
Connor Mackey
Connor Mackey had a respectable career at Minnesota State Mankato, putting up 61 points in 118 games across three seasons from the blue line. He was highly sought after by many teams after his junior season and the Flames were able to get a one-year deal done in March. Mackey may push for a job with the Flames, but it's more likely he ends up in Stockton to get used to the pro game.
Related: Flames land two top NCAA free agents in Mackey, Poolman
Making his professional debut at 24 years old, Mackey won't have a ton of runway to prove to management that he'll be capable of regular NHL minutes. He was the only defence prospect that was invited to the Flames return-to-play camp in July, thus making the assumption that he could push for a job at 2020-21 training camp. If he has a strong season in the AHL (however long that may be) it would be more than justifiable seeing him make a possible appearance this season.
Honourable Mentions
Luke Philp
Luke Philp earned himself a contract with the Flames after a productive third season at the University of Alberta where he finished third in USports scoring and first in terms of points per game. After a tough start to his rookie season going scoreless in his first 10 games, he found his stride netting 19 goals and 31 points in the 42 games after.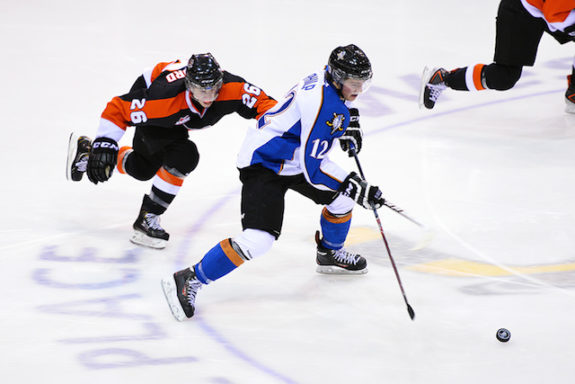 Like Mackey, Philp is "old" for a prospect and will need to have a good showing this season in order to prove himself as an NHL talent, but it's not out of reach for the Canmore, Alberta product.
Adam Ruzicka
Adam Ruzicka gets an honourable mention as he was one of three forward prospects invited to the return-to-play camp along with Gawdin and Phillips. This is why Ruzicka makes this list as there must be something in his game that Flames management sees that warranted an invite to camp.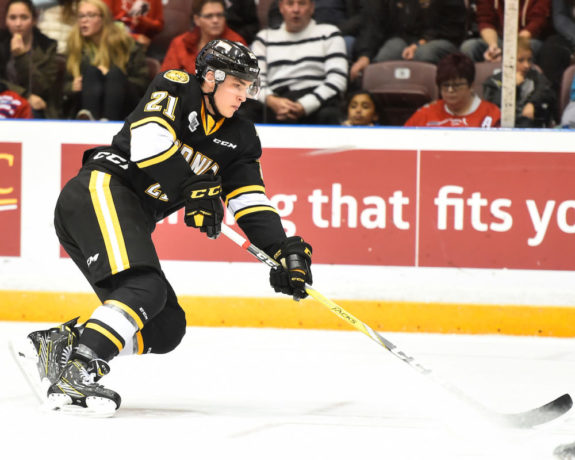 Ruzicka was streaky for offence most of the season until he managed 12 points in the last 14 games. Unlike Philp, Ruzicka has more runway in Stockton as he's four years younger and has time to continue to develop.
Who Gets the Call?
Until the recent depth forward signings by the Flames, Gawdin may have had a legitimate shot at finding a spot on the team. Although he didn't see any NHL minutes, he earned a call-up to the big club last season. Phillips' first half earned him a call-up with Calgary, and like Gawdin, he didn't see a game before being sent back down. Gawdin, Phillips, and Mackey can all push for NHL jobs at training camp, but that's a steep hill to climb. However, a call-up for a "cup of coffee" in the league is absolutely within reach this season.
---
---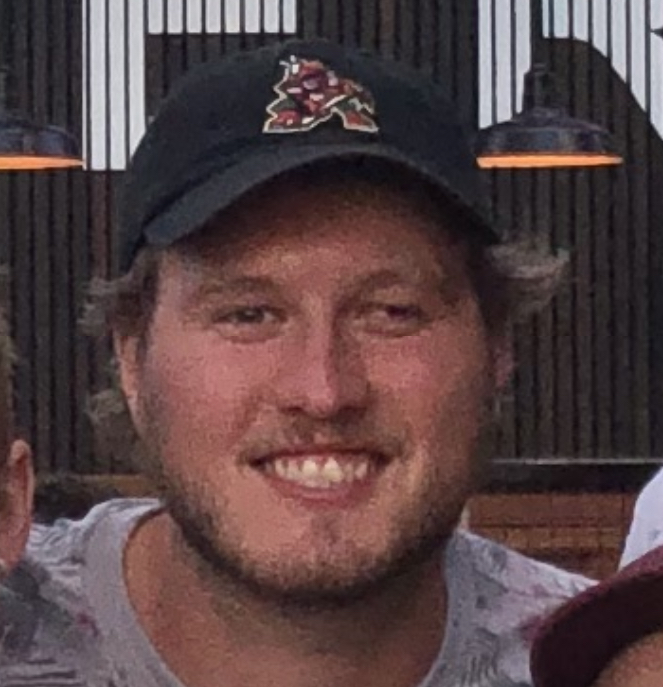 Brett is a freelance writer covering the Calgary Flames here at The Hockey Writers. He is an enthusiast of hockey stats and continues to learn every day about the sports analytics movement. Brett enjoys using both statistical analysis and the old-fashioned eye test in his writing to create the best content for readers. His work at THW has been featured on the Calgary Flames' news feed for The Score and on Yardbarker. Brett is also part of THW's Flames Faceoff YouTube/podcast show where he brings his opinions each week on the team's current state of affairs.