Fans of every NHL team have a list of prospects who they reckon are 'untouchable'. They believe that every player on that list will one day become part of the very soul of the club. Woe be to any general manager who dares consider trading them away.
Related: Flames' Worst First-Round Draft Picks Since 2000
The truth is that a team's list of untouchable prospects changes constantly for many reasons. Whether a team believes it has a shot at winning a Stanley Cup or that it must scrap what it has and rebuild, will decide at least in part, who remains on the list and who moves off. So too do the vagaries of the free agency market, the expiration of contracts with roster players, injuries, personality clashes and team chemistry.
Most important is the development of the prospects themselves. Why do so many top draft picks never match the lofty hopes once held out for them by management and fans? Were he alive today, Shakespeare would find in such tales the fodder for several tragedies. However, let's not stray too far from the task at hand.
Related: The Worst First Overall Draft Picks in NHL History
In late November 2020, who are the Flames' untouchables? The team has plenty of prospects but only a handful can be considered a foundation stone of a Stanley Cup champion. If the list is longer than five, then no real choices have been made about who is really untouchable.
Here are the five:
Juuso Valimaki
Just 22-years-old, the Finnish defenseman is expected to join the Flames' as a regular in the upcoming season. At 6-foot-2 and 212 pounds, Valamaki cuts an imposing figure on the blue line. This in combination with his offensive skills will help shore up the Flames' depleted defense corps. (from 'Flames stock up on defence prospects and build for future at 2020 NHL draft,' Calgary Sun, 10/08/2020) With Mark Giordano nearing the end of his career, Valimaki is the obvious hope to replace him in the next few years.
Coming back from a knee injury that kept him off skates for 17 months, the sturdy defenseman is on loan to his hometown Tempereen Ilves of the Finnish Liiga where he is setting a torrid point-per-game pace. (from 'Flames defenceman Juuso Valimaki shining in Finland's Liiga,' Calgary Sun, 10/22/2020) Before his knee injury, Valimaki played 24 games with the Flames and another 20 with the team's AHL franchise in Stockton. He has demonstrated that he is ready to play in the NHL.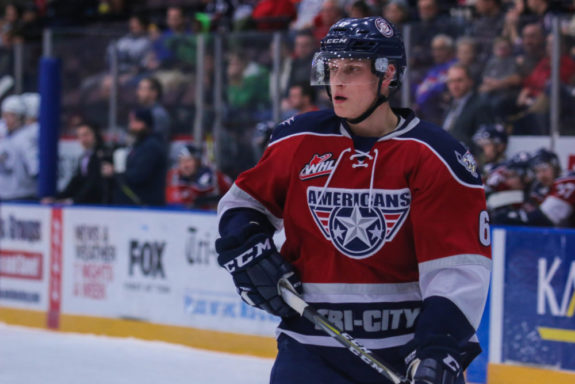 Few contenders for the Stanley Cup have ever been built without a strong defense. If the Flames are to vie for a championship, Valimaki will be a vital part of the Flames' back-end.
Jakob Pelletier
The 19-year-old left-shot was Calgary's first-round pick in 2019. Last year while playing for the Moncton Wildcats of the Quebec Major Junior Hockey League (QMJHL) he notched 32 goals and 50 assists for an astonishing 82 points in 57 games. At only 5-foot 10 and 175 pounds, Pelletier is considered small. However scouting reports peg him as a playmaker and goalscorer in possession of great speed.
Pelletier will probably not make the Calgary Flames roster until the 2021-22 season. That is auspicious timing since contracts with left-wingers Johnny Gaudreau, Matthew Tkachuk and Andrew Mangiapane expire at the end of the 2021-22 season. There would be riots in downtown Calgary if Tkachuk were not re-signed, but it is conceivable that Gaudreau will no longer be with the Flames if he is not able to turn around his recent performance. Contracts with journeymen Josh Leivo and Joakim Nordstrom expire at the end of the 2021 season.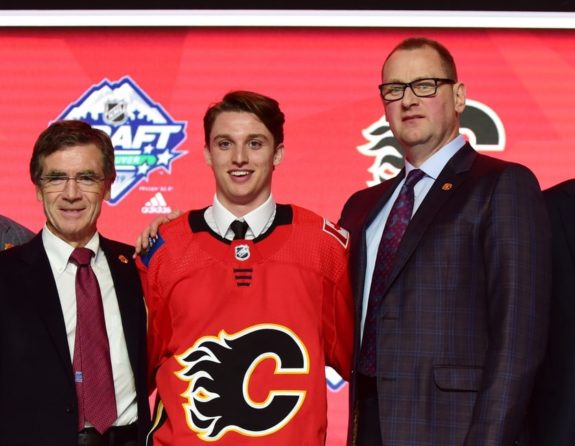 Given the expected churn in the 2021-22 season on the Flames' left-wing, Pelletier could be pivotal in maintaining the team's offensive power. Pelletier will be a big part of any plan to raise another Stanley Cup Championship banner in the Saddledome.
It is almost certain that Calgary fans will see Pelletier play in the 2021 IIHF World Junior Championships (WJC) beginning Christmas Day in Edmonton.
Dustin Wolf
One of the best goaltenders in the Western Hockey League (WHL), 19-year-old Dustin Wolf tends the twine for the Everett Silvertips. In the 2019-20 season, the young American had a dazzling 1.88 goals-against average (GAA) and a .935 save percentage (SV%). Last season he won USA Hockey's Goaltender of the Year award, the WHL's Goaltender of the Year honour, as well as the Canadian Hockey League's award for goaltender of the year.
While scouts consider him small at 6-foot, 165 pounds, he plays with an aggressive edge and is a good poke-checker who doesn't shy away from coming out of the net to challenge shooters. He is a play-maker with the ability to make passes and play the puck.
The signing of Jacob Markstrom as the Flames' No. 1 goaltender combined with David Rittich provides the team with a powerful duo in net for the upcoming season. However, Rittich is in the final year of his contract and will need to be either re-signed or replaced. Wolf is expected to enter the Flames roster in 2022-23 and if he does, that will provide the Flames with additional depth. 
Wolf is yet another Flames' prospect expected to see action in the upcoming WJC tournament possibly as the starting goalie with Team USA.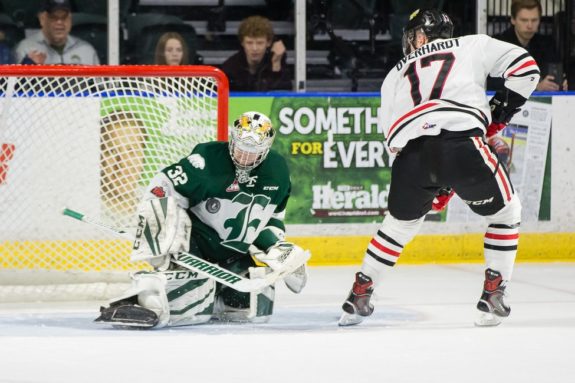 Wolf is widely regarded as the Flames' future when it comes to goaltending. Stanley Cups are all but impossible to win without unsurpassed performances in the net. Wolf has demonstrated the ability to deliver just that.
Adam Ruzicka
The 6-foot-4, 220 pound centre now with Stockton has the potential on the big club in Calgary to become a power forward. In the OHL, he demonstrated an ability to score. In his first year with the Stockton Heat in the 2019-20 season, he put up a respectable 10 goals and 17 assists in 54 games. He can skate, has a blistering shot and is tough to beat on faceoffs.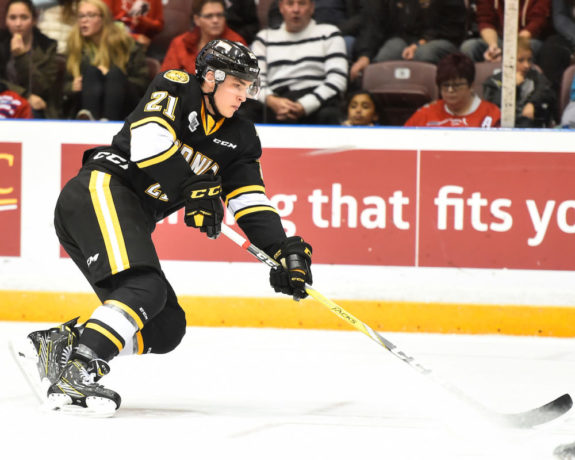 The Flames are a small team. The St. Louis Blues demonstrated the importance of size in their Stanley Cup win in the NHL's 2018-19 season. Teams that can be tossed around physically get worn down before they ever reach the Stanley Cup Final. Ruzicka will go a long way in offsetting that weakness.
Glenn Gawdin
Gawdin has matured in Stockton and with luck and hard work may crack the Flames' roster in the upcoming season – whenever it begins. He is keeping his skills sharp now with EHC Visp in the Swiss League.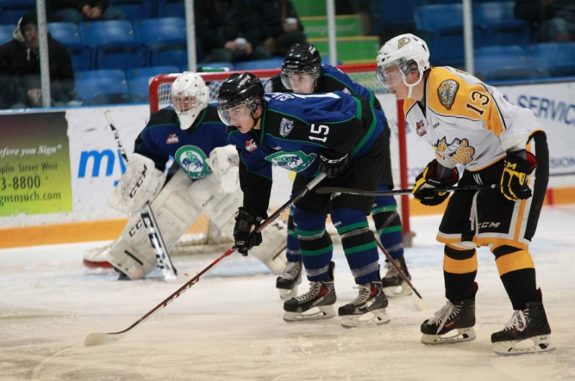 Gawdin was the Heat's leading scorer in the 2019-20 season, scoring 16 times and recording 31 assists for 47 points making him practically a point-a-game player. The 23-year-old 6-foot-1, 190-pound right-handed centre will add much-needed size to the Flames.
Honourable Mentions
Here are the Calgary prospects that could just as easily be on the list of 'untouchables':
Related: Calgary Flames Prospects Update
Matthias Emilio Pettersen, Centre, Stockton Heat
Dmitry Zavgorodny, Left Wing, SKA St. Petersburg, KHL
Johannes Kinnvall, Defense, Swedish Hockey League
Connor Zary, Centre, Kamloops Blazers, WHL
Ilya Nikolayev, Centre, MHL
Yan Kuznetsov, Defense, University of Connecticut
Connor Mackey, Defense, Stockton Heat
Ryan Francis, Right Wing, Cape Breton Eagles, QMJHL
Danil Chechelev, Goaltender, MHL
Jeremie Poirier, Defense, St. John Sea Dogs, QMJHL
Matthew Phillips, Right Wing, Stockton Heat
Rory Kerins, Centre, Sault St. Marie, OHL
Ilya Solovyov, Defensemen, Dinamo Minsk, KHL
Passionate debates over the composition of a list of 'untouchable' prospects for any franchise can be heard in bars and living rooms across the country. Most of the time, it is all but impossible to defend why some players did not deserve to be on the list.
---
---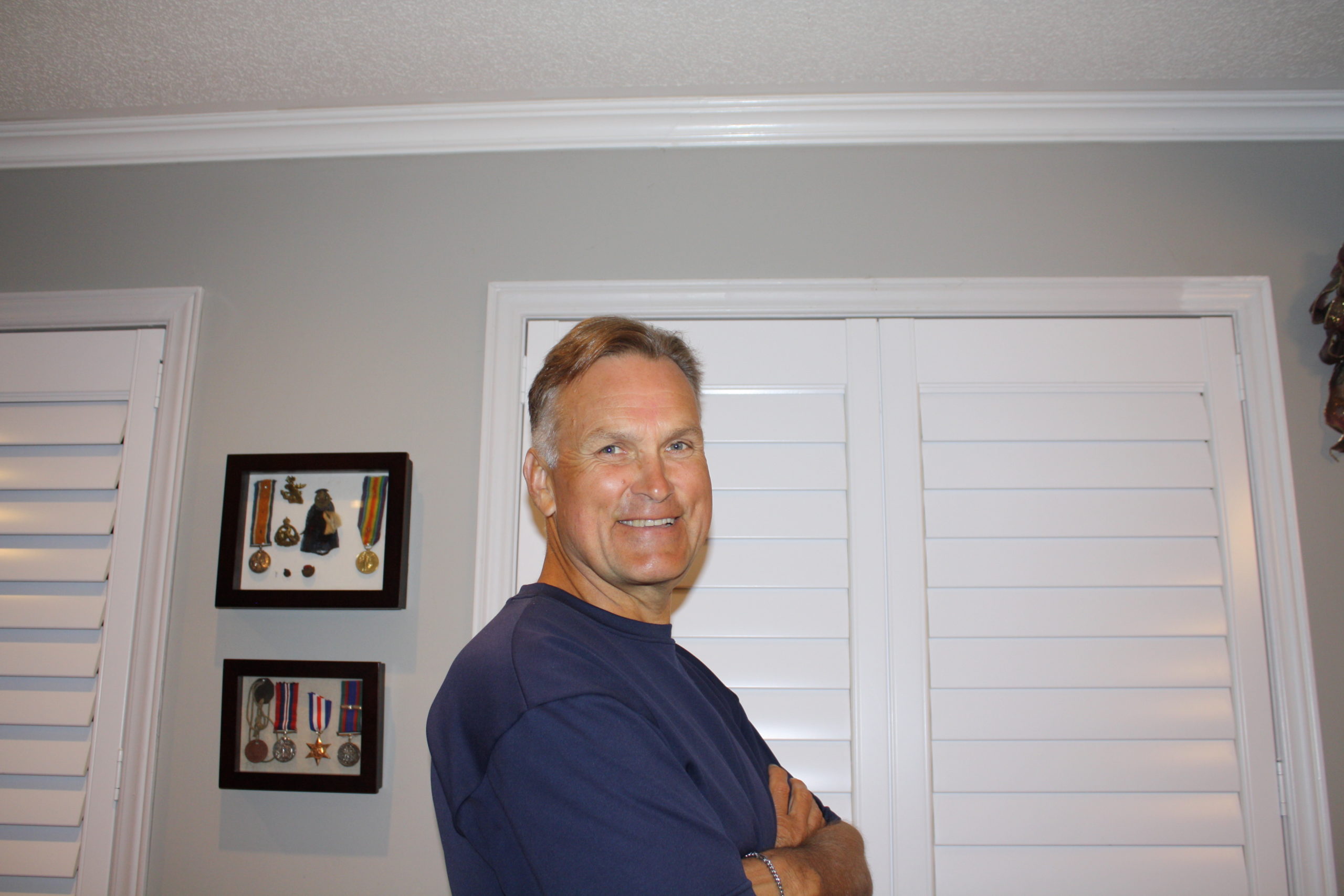 Paul covers the Calgary Flames along with the OHL's Ottawa 67s. A freelance writer and blogger, he is also a passionate old timers' hockey player. Of his work with The Hockey Writers, Paul says,  "I love to tell stories about the game of hockey and the personalities – both past and present, who have made it the greatest game on the planet!"  Follow him on Twitter at @pquinney