Thanksgiving is just a day away and Carolina Hurricanes fans have a lot to be thankful for when it comes to their team. An impressive farm system that is considered one of the best in the league and a good core of young players with established NHL experience.
But with another expansion draft for the upstart Seattle Kraken fast approaching in June 2021, the new season will undoubtedly be used for evaluating assets to see who will be protected and who may be lost to the 32nd team in the NHL.
The Rules of the Draft
The 2021 NHL Expansion Draft will follow the same guidelines as the 2017 Expansion Draft for the Vegas Golden Knights. Seattle will select one player from the 30 other franchises in the league, excluding Vegas.
Current teams will protect seven forwards, three defensemen and one goalie, or eight total skaters and one goalie. First- and second-year NHL players, as well as all players with no-movement clauses at the time of the draft, will be protected.
If worked right, the Hurricanes can use these rules to their benefit, but the right moves have to be made.
Who Will Be Protected?
A team with depth talent can be a blessing and a curse. Teams like the Hurricanes, which possess top-to-bottom talent, are ripe for the picking in an expansion draft. General manager Don Waddell will have his hands full this season, assessing who is part of his team's long-term plan and who may need to be surrendered as the NHL adds another franchise.
Assuming Carolina's roster stays mostly the same, there are some easy choices for who to protect first. 
Forwards Sebastian Aho, Teuvo Teräväinen, and Andrei Svechnikov are all easy choices. They were the top three in points last season for the Hurricanes, and all are still young with NHL experience. Vincent Trocheck seems another easy decision after Carolina traded for him last season at the deadline. The captain of the team, Jordan Staal, is also under a no-movement clause, automatically protecting him in the draft, and 21-year-old Martin Necas will also be exempt as he has just two seasons of professional hockey under his belt.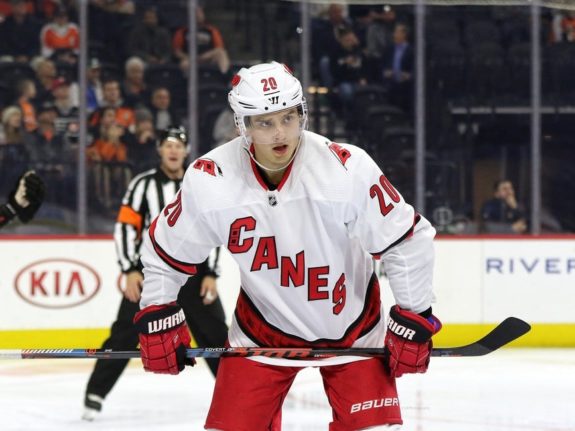 But the remaining picks are where it gets a little tricky and where depth can be a curse. Veteran forward Nino Niederreiter seemed a lock this time last year, but a disappointing 2019-20 season (29 points in 67 games), and other forwards like Necas seeing big improvements, dropped him near the bottom of the lineup. Other candidates for protection include prospects Warren Foegele and Morgan Geekie — who become restricted free agents in 2021 — and the recently signed Jesper Fast. These players will all be kept under the microscope for the 2020-21 season as they compete for the remaining protection spots.
Goaltenders will also be competing for their protection next season. Petr Mrázek and James Reimer will both be exposed, though prospect Pyotr Kochetkov is exempt due to lack of experience. Both Mrázek's and Reimer's contracts expire at the end of next season, meaning Carolina will have to sign one back in order to protect them. If that happens, the choice is most likely Mrázek. The 28-year-old played in 15 more regular-season games with a .905 save percentage, allowing 2.69 goals against per game. Though not eye-popping numbers, Mrázek is younger than Reimer with less of an injury history. 
Another option could be to let both walk and protect 24-year-old Alex Nedeljkovic, who is also exposed due to his professional experience in other leagues. Some fans think he should already be the starter, and the expansion draft may give Carolina incentive to make the change.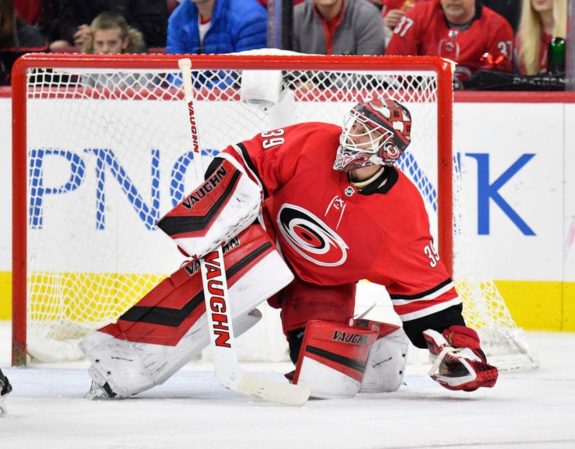 With a few exceptions, it all seems mostly straightforward. Defensively, however, is where Waddell and the front office will have to earn their paycheck. There is solid depth all along the blue line, but some sacrifices may need to be made with limited protections in place.
Options on the Blue Line
Should the Hurricanes opt to protect seven forwards, which is likely, the team can only save three d-men, and the decision all comes down to Dougie Hamilton.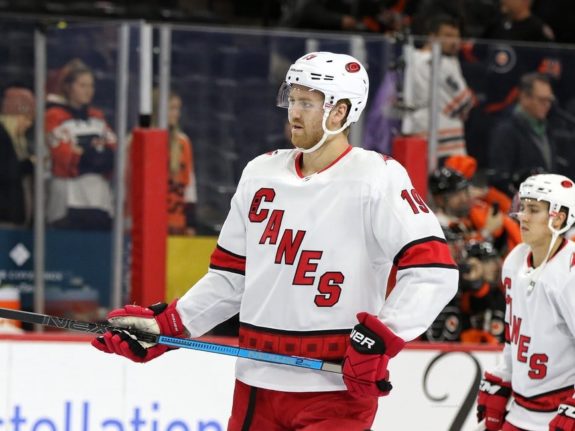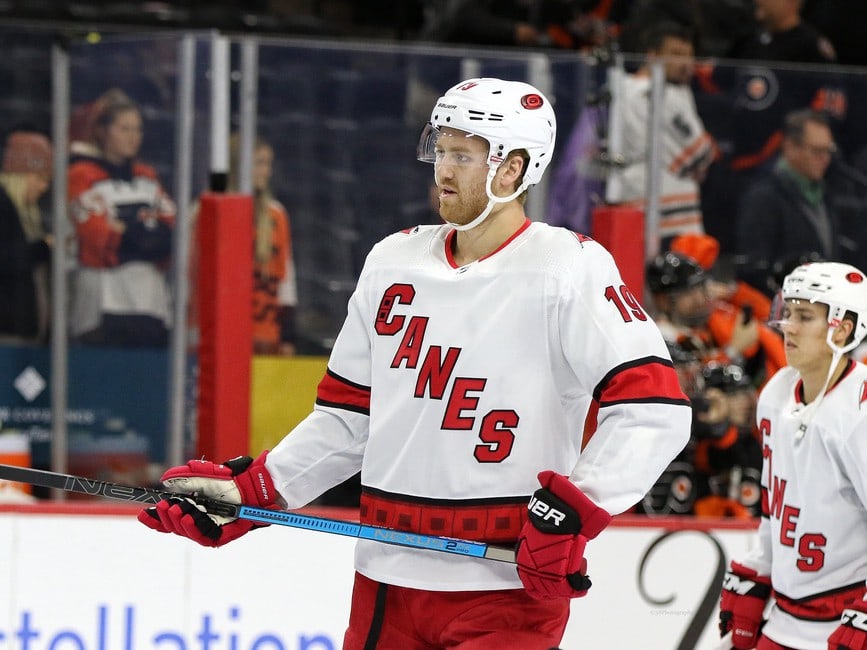 After playing some of his best hockey last season — fourth on the team with 40 points in 47 regular-season games — the defenseman went down with a left fibula fracture. As it stands now, Hamilton becomes an unrestricted free agent at the end of the 2020-21 season. Waddell has publicly stated that he intends to sign Hamilton to an extension but also said those talks had not begun yet.
Hamilton's contract negotiation is interesting with regard to the expansion draft. Extending their best defenseman obviously makes sense for the Hurricanes. However, if he is left to walk in free agency, they could theoretically protect other defensemen Jaccob Slavin, Brett Pesce and Haydn Fleury and re-sign Hamilton afterward. The move would be incredibly risky as he could sign with another team, but it might be worth a look and may even slow down Hamilton's extension talks further if his play regresses or the injury problems worsen next season.
There are other alternatives as well when it comes to safeguarding the blue line. Carolina could opt to protect eight total skaters and a goalie instead of the typical seven forwards, three defensemen. However, sacrificing two protection picks to save another defenseman may be a hard sell.
The Hurricanes could also make a trade with Seattle to ensure the new franchise takes a lesser player at the cost of a high draft pick. This move was seen plenty in 2017 when the Golden Knights made 15 expansion draft trades and took depth pieces to build for the future. Carolina could convince the Kraken, whose general manager (GM) is former Hurricanes GM Ron Francis, to make a similar deal to ensure they retain Fleury, Jake Bean or other assets.
Projected Protections
| | | |
| --- | --- | --- |
| Forwards | Defensemen | Goaltenders |
| Jordan Staal | Dougie Hamilton | Alex Nedeljkovic |
| Sebastian Aho | Jaccob Slavin | |
| Andrei Svechnikov | Brett Pesce | |
| Vincent Trocheck | | |
| Teuvo Teräväinen | | |
| Jesper Fast | | |
| Warren Foegele | | |
| | | |
Unless they see a dramatic step forward in the 2020-21 season, Niederreiter will most likely either be left unprotected or be dealt to the Kraken to retain other pieces. Young players like Foegele and Svechnikov have too much long-term value to risk an aging veteran on an expiring contract. Defenseman Jake Gardiner will also most likely be left unprotected. While passable at times, Gardiner is another veteran who does not show enough impact on the ice to warrant a protection pick, especially after his -24 plus/minus last season.
In between the pipes, Carolina would also be smart to protect Nedeljkovic. He, along with Kochetkov, appears to be the goalie of the future. The expansion draft offers the perfect time to transition away from the duo of Mrazek and Reimer, neither of whom have shown to this point that they can lead a team to the Stanley Cup.
But it is still a long way away from June 2021. Plenty of moves can be made between now and then. But the day of reckoning is on the horizon.
---
---
Covering the Hurricanes for THW. University of Florida alum. Former sportswriter with The Alligator, ESPN Gainesville and Drafttek.