This offseason has been especially odd. Not only did it begin in October, when the NHL season usually starts, but Montreal Canadiens fans seem excited about the moves made by general manager Marc Bergevin. Over the last few seasons, he has been a polarizing figure in the city, and many have voiced their displeasure with his decisions.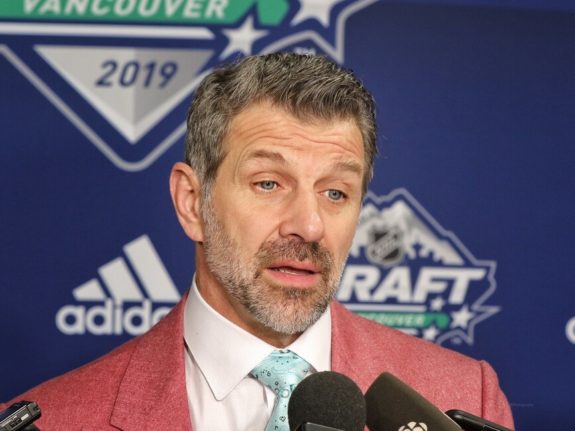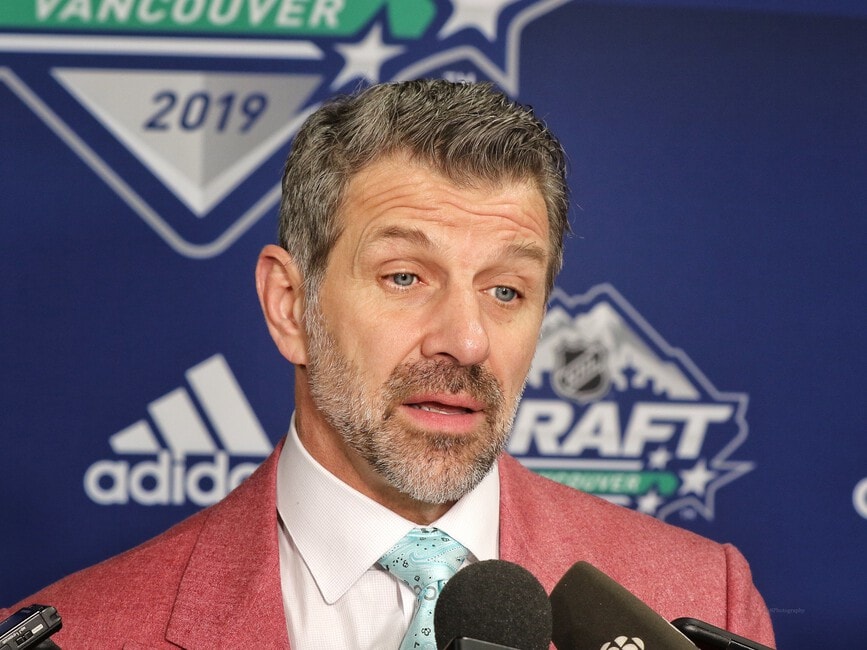 Another oddity this season is that no matter when it starts, any transactions will have an impact on how Bergevin and the Canadiens approach the upcoming Seattle Expansion Draft which is expected to be held in June 2021.
The return to play plan gave the 24th seeded Canadiens an opportunity, to test their roster when healthy. A revived Carey Price and the emergence of the young players showed they can compete if supported. Due to this, Bergevin took the opportunity to take a leap in his retooling plan. This work was completed quickly and has given Canadiens fans a newfound optimism. Yet, just how well did Bergevin do? We will grade his work in a few categories.
Draft – Grade B+
Heading into the 2020 NHL Draft, the Canadiens addressed their organizational need at center and on defense, but beyond Cole Caufield, they lacked high-end skill on the wing. At the 2020 draft, instead of trying to add goals, the Habs focused on using their top picks to add size and mobility.
They added 6-foot-3, 208-pound, left-handed defenseman Kaiden Guhle with the 16th overall pick which can be considered a safe selection as his NHL potential as a blueliner is more certain than some of the forwards who were still available. That being said, Guhle brings more than just size, he also brings excellent mobility which was evident at the recent Team Canada World Junior selection camp.
Canadiens assistant general manager Trevor Timmins also added Luke Tuch, brother of Vegas Golden Knight Alex Tuch, with the team's first pick in the second round. The younger Tuch adds size – six-foot-two, 203 pounds – and the grit of a power forward, which the Habs have lacked in their system for many years.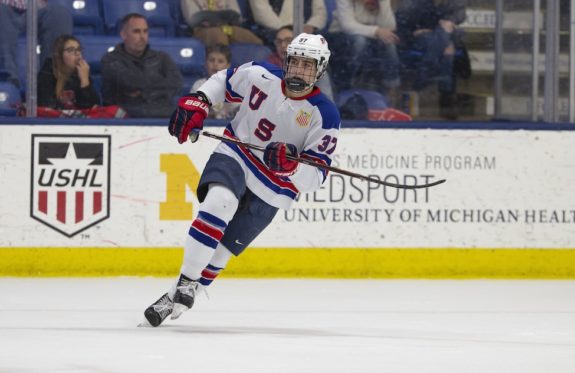 He is committed to Boston University, so will have four seasons to develop his game. Fans shouldn't be expecting a top-line power forward, but, in time, the team could have a top-nine, gritty, two-way forward.
The home run swing was made immediately after selecting Tuch when Timmins picked shifty Czech center, Jan Mysak. He has the skill set to become a top-six forward and be a draft steal as he was highly rated by Craig Button.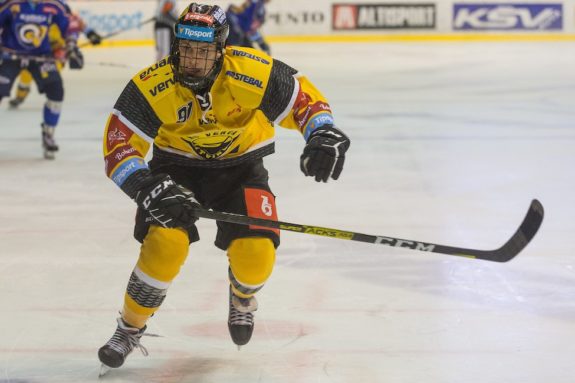 Button, TSN's director of amateur scouting compared his style of play to that of Nick Suzuki. Mysak's numbers with the Hamilton Bulldogs of the OHL should give the Canadiens hope that they selected an offensively capable player, and being named to the Czech Men's National Team this season indicates that his game is maturing quickly. 
The Canadiens also drafted forwards Sean Farrell and Alexander Gordin who are putting up good offensive numbers in lower leagues this season, but for now, expectations for their development must be tempered.
Overall, the Canadiens drafted well, selecting players who can provide skills that were deficient in the system. None of the players are seen as potential stars and all will be projects. With that, the team's development system will need to take a few years to polish these possible gems into NHL players. This is not necessarily a negative review as the prospect depth for the Canadiens' system should provide time to assess, develop and graduate these players without the pressure to rush them into NHL service.
UFA – Grade B+
Bergevin wasn't as busy in the unrestricted free agent (UFA) market as some had hoped. That being said, he did produce quality results while not overspending. His big acquisition came as a surprise when the addition of Tyler Toffoli was announced. Adding an experienced – won the 2014 Stanley Cup with the Los Angeles Kings – two-way top-six winger who can provide 20 to 25 goals per season was exactly what the Habs needed.
Adding Toffoli on a four-year deal worth an average of $4.25 million which was a pay cut from his previous contract paying him $4.6 million made this signing even more surprising. The reason being is that Montreal has not been seen as a destination for UFAs.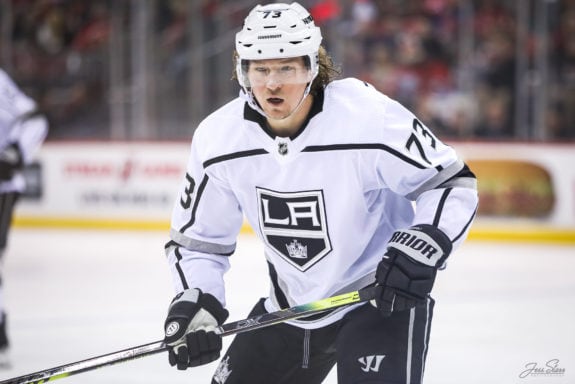 An unheralded addition was the signing of AHL forward Brandon Baddock to a one-year AHL level contract. His addition adds a much needed policing element to protect the younger prospects coming into the minors. The AHL is still a very physical league filled with players looking to make a name for themselves against top prospects. Despite what some may feel is a dying part of the game, players capable of playing the role of enforcer while filling in a regular shift is still a necessity in the minors and he will help protect a young up and coming team in Laval.
Bergevin didn't add any star power or top-line players, however, he did add quality players who can fill specific roles to his NHL and AHL rosters. This added depth will be key for the Canadiens and Laval Rocket head coaches who both like to roll all four lines.
Trades – Grade A+
Bergevin wasted no time in working the phone lines before the Stanley Cup final began by finding a quality backup goaltender for Carey Price. Adding 2019 Stanley Cup Champion Jake Allen early in his offseason moves. He didn't wait for free agency and traded some of his picks to ensure he added a goaltender who has proven he can play in a tandem or backup role on a contender.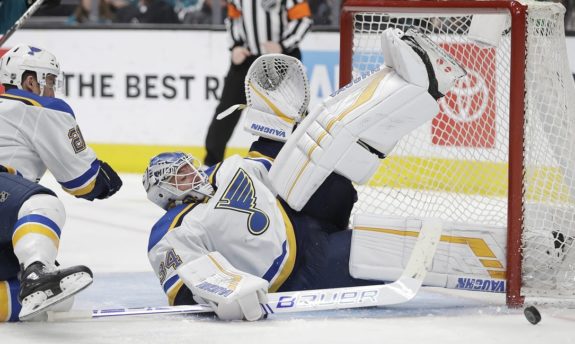 Bergevin then signed Allen to a two-year extension averaging $2.875 million dollars. While some will complain that the last year of Allen's current deal, paying him $4.35 million this season is too rich, there is no denying the Canadiens cap space made it very easy to absorb for this season, and likely was the only reason the cap-strapped Blues made him available.
Next, Bergevin made a surprise move and traded a 2020 fifth-round pick for the negotiating rights to big-bodied defender Joel Edmundson. In his time in Carolina, he played top-four minutes and mentored their young and talented blueline, however, he didn't fit their man-to-man style defense.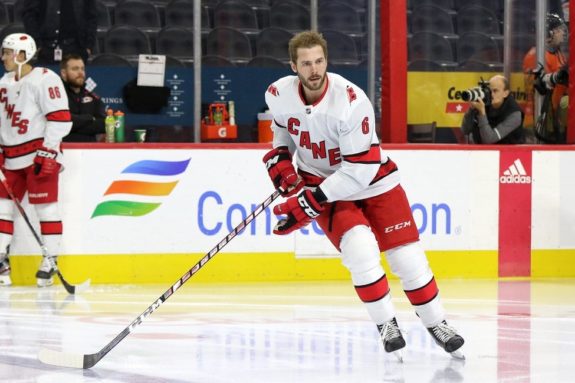 As a stay-at-home defenceman, Edmundson was more comfortable the season before playing the zone defense employed by the Blues, where he won the Stanley Cup in 2019. Edmundson plays a style similar to that of Ben Chiarot and it may have been a move with the expansion draft in mind to ensure the Habs retain at least one veteran defenceman on the left side. 
The final addition may have been the largest, both literally and figuratively. A massive target is now placed on Josh Anderson from the fans and local media alike for three reasons.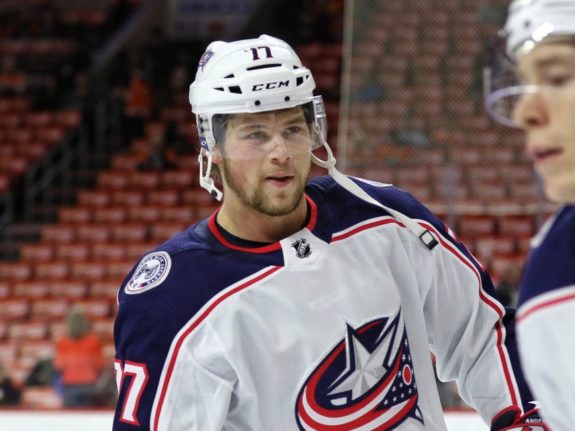 First, he was the target of a deal moving Max Domi out of Montreal. Despite Domi not being in the team's future plans he was a popular player. The second is Anderson's newly minted large contract paying him an average of $5.5 million over the next seven years. Finally, his shoulder injury, if he can't properly recover his top level of play and rediscover his 27 goal season from two years ago, it won't take long for fans to turn on the power forward.
Bergevin scored highly in this section of his report card. He had a clear and concise plan focussed on adding a quality backup goaltender with Allen to allow Price to rest while giving the team a chance to win when Allen starts. Bergevin then added more size to protect the crease as well as defensive play in the hopes to lower goals against. Finally, Bergevin traded a player in Domi that no longer fit in the team's long term plans for Anderson, to fill a power forward role that has been vacant since Erik Cole last played for the Habs.
Re-signings – Grade B-
After adding fresh blood to the Canadiens roster, it was time to address who to retain so as to shape the team's salary cap structure in the mid-term. Bergevin was able to get a deal with Jeff Petry signed rather quickly and the progression of the younger players proved to be a deciding factor
"The last little return to play, it showed just what we have coming up. We have a lot of good young players and guys like KK (Kotkaniemi) and Suzuki showed that in the playoffs, which is huge. With those guys coming up, it shows that the future is bright here, and that was ultimately one of the deciding factors in signing this extension."

Jeff Petry
Next up was the Brendan Gallagher extension. There was quite a bit of drama surrounding this deal. Bergevin began soon after signing Petry stating publicly (in french)
"I am ready to settle this today if Brendan and his agent are ready. We had preliminary discussions but nothing more than that so far….He will be the highest paid forward on the team"

Marc Bergevin
Eventually, that became the reality as Gallagher signed a six–year contract extension worth an average of $6.5 million. However before that happened, according to NHL insider Pierre Lebrun, there was a breakdown in the contract talks. This led to a wild 24 hours in which widespread speculation and rumors of Gallagher being on the market, perhaps even going to his hometown of Vancouver, circulated.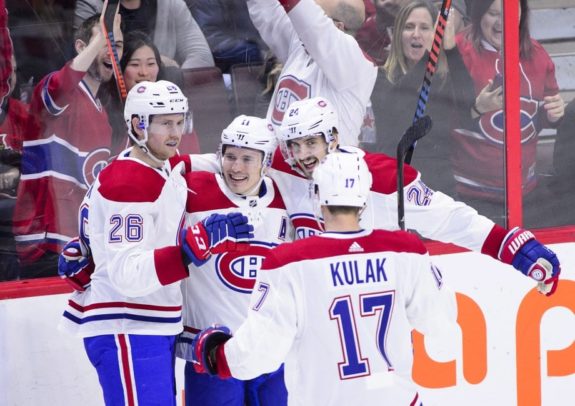 But, before the end of the day after the reported breakdown in talks, a deal was inked and a very emotional Bergevin addressed the media on the importance of Gallagher to the Canadiens.
Bergevin's grade could have been higher. Granted, the contracts signed by Petry and Gallagher are market value deals, however, their age and term length do give some anxiety that they may not be able to provide their current level of play for the entire length of their contracts, which could cause problems for the team if there is a decline in their level of play.
Raised Expectations
Bergevin went to work this offseason addressing several deficiencies and spending his cap space as fans had demanded that he do for several seasons. Now that he has and adding depth, the expectations on the Canadiens, whether in a normal NHL or a Canadian division, have taken a dramatic 180-degree turn, fans and media alike see this lineup as a playoff team. Not only that but one that could make life difficult for teams in the playoffs.
That ensures Bergevin gets high marks for his work this offseason. The question the team now faces is, thanks to a well-executed offseason, will just making the playoffs be enough to satisfy fans? 
---
---