The Calgary Flames have had a bit of a rough offseason. Yes, they added a few players who will help the team, but they also lost a few. As a result, their prospects will need to step up and take on a big role with the club. Glenn Gawdin and Juuso Valimaki are ready to play in the NHL full time, however, roster spots won't just be handed to them.
Glenn Gawdin
Gawdin has performed well in the AHL since he joined the Stockton Heat for the 2018-19 season, but he truly broke out in 2019-20 when he posted nearly a point per game. His offensive production may take a while to get going in the NHL, however, he'll be a very good bottom-six center to start the season and should get stronger as it progresses.
Gawdin is 23 years old and was originally a fourth round pick by the St. Louis Blues in 2015. He went unsigned, however, and was offered an entry level contract by the Flames during the 2017-18 season.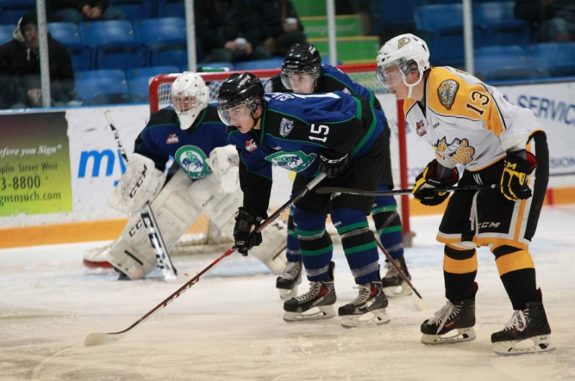 With the departures of Mark Jankowski to the Pittsburgh Penguins and Tobias Rieder to the Buffalo Sabres, there are roster spots available going forward. Gawdin will have to work to earn one of those spots against heavy competition. With that being said, he has an opportunity in front of him as he enters a contract year. He signed a one-year, two-way contract on Wednesday and with a strong performance with the Flames, he could earn himself a one-way deal and a much larger payday next season.
What Does Gawdin Bring to the Flames?
Gawdin has a well-rounded game and he's a solid option at both ends of the ice. He was the leading scorer on the Heat last season with 47 points through 53 games. The only strike against him is that he has never played an NHL game.
Gawdin could effectively replace the production of Jankowski, and although he's unlikely to become more than a bottom-six forward, he could be a serviceable option for many years to come. His AHL numbers are very similar to Jankowski's, and although that's not always a guaranteed translation to the NHL, they have a very similar style of play.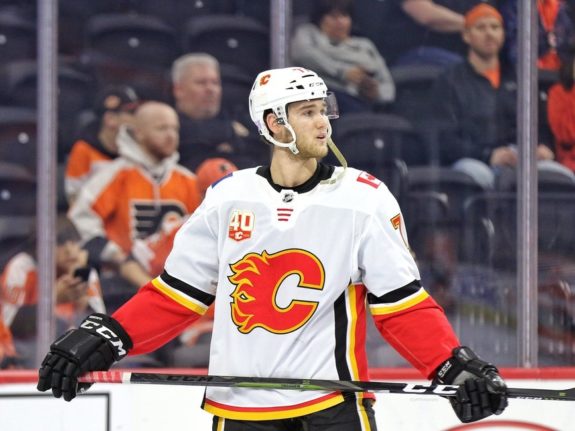 He's more deserving of a roster spot than Zac Rinaldo or Buddy Robinson who do have NHL experience. Rinaldo and Robinson are decent depth options, however, Rinaldo is 30 years old and has been a fringe NHL player for a majority of his career. While he's someone you can count on to fill in if there is an injury, he's played a maximum of 23 games in the last two years for good reason. Through his 370 NHL games, Rinaldo has only accumulated 42 points.
Robinson is a 29-year-old with only 12 games of NHL experience, and although, like Rinaldo, he's a decent option to fill in if needed, he's not an ideal candidate to be on an NHL team regularly. It would be much more ideal to have a younger player who can make an impact for years to come on the roster.
Mathias Emilio Pettersen could easily compete for a spot as early as this upcoming season. He was a sixth-round pick in the 2018 Draft, however, the 20-year-old has been a standout at the University of Denver since he joined them in the 2018-19 season. Last season, he had an impressive 35 points in 36 games.
Lucky for Gawdin, the Flames likely won't use Jakob Pelletier at center because of his size, however, there are always players who seem to come out of nowhere and impress at training camp.
With Sean Monahan and Mikael Backlund holding the first and second-line center spots for the foreseeable future, the bottom-six could become a carousel over the next few seasons. However, for this season, Gawdin would be the ideal man for the job.
Juuso Valimaki
Valimaki is more likely to earn a roster spot than Gawdin because he was primed to do so in 2019-20 before an injury caused him to miss the entire season. He's now fully healed and ready to compete for an NHL job. The 22-year-old former first-round pick is on loan to Ilves of the Finnish Liiga where he has four assists through his first four games.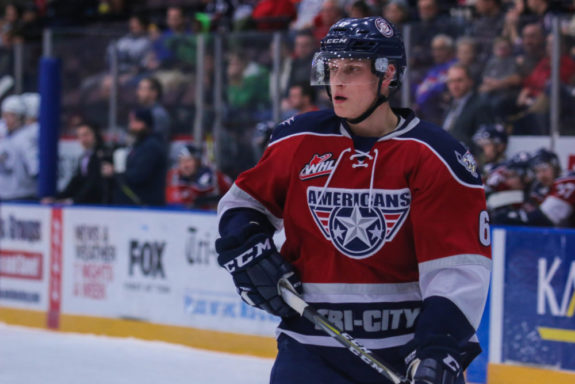 The biggest question for Valimaki, assuming he makes the opening night roster, is where will he play? Ideally, a high-end prospect like Valimaki won't receive limited ice time, however, it would be difficult to place him above Mark Giordano or Noah Hanifin. He'll likely end up on the third pairing.
Oliver Kylington will also be competing for a spot on the bottom pairing on the left side, so it won't be easy for Valimaki to make the opening-night lineup in that spot. However, the Flames will have a left-handed defenseman playing on the right side unless general manager Brad Treliving adds another right-handed defenseman before the season. So, it's possible Kylington and Valimaki will both make the roster, though ideally, neither would play on their off-side.
The shift in the NHL season will benefit Valimaki. Considering that, in most seasons, his first NHL games would be in the preseason, allowing him to play in Finland will help ensure that his injury is fully healed and he can work off any rust before having to compete for an NHL job.
Gawdin and Valimaki are certainly the front runners to make it to the NHL this season, and as long as they have a solid training camp and preseason, they should be able to do so. While Valimaki will likely have more opportunities down the line if he were to miss out, Gawdin might not be as lucky considering his age and those below him on the depth chart. This is a once-in-a-lifetime opportunity for both players, and they need to make sure they take it.
---
---
William Espy is a graduate of California State University, Stanislaus. He has been writing about hockey since 2016 on various platforms. He currently covers the Columbus Blue Jackets but had a previous stint covering the Calgary Flames.