The Calgary Flames have had a busy and very exciting offseason. First was the draft, where they were able to grab seven players, including Kamloops Blazers forward Connor Zary. Then, there was free agency, where they made two big moves with the signings of former Vancouver Canucks Jacob Markstrom and Chris Tanev to long-term deals.
Related: Flames Add Depth & Two-Way Play With Connor Zary Draft Pick
On Monday, they grabbed another free agent, as general manager Brad Treliving announced the team agreed to terms on a one-year deal worth $700,000 with Swedish forward Joakim Nordstrom. While he isn't nearly as big of a name as the two listed above, he has still carved out a solid NHL career to this point, playing in exactly 400 regular-season games.
It is fairly obvious given his contract, but Nordstrom is not known for his offensive abilities. In 48 games this past season, the 28-year-old had just four goals and seven points for the Boston Bruins. For his entire career, he has produced just 31 goals and 68 points. Despite the low numbers, this is still a good signing for the Flames, and here is why:
Penalty Killing
Nordstrom has been known throughout his entire NHL career as being great in his own end, especially when it comes to the penalty kill. This was a huge need for the Flames, given that they lost both Mark Jankowski and Tobias Rieder to free agency already this offseason. Nordstrom is a player that head coach Geoff Ward will be able to count on when down a man, and while he won't put up many points at even strength, he also won't give up much, meaning he can provide depth to help the Flames top players from playing too many minutes and becoming fatigued.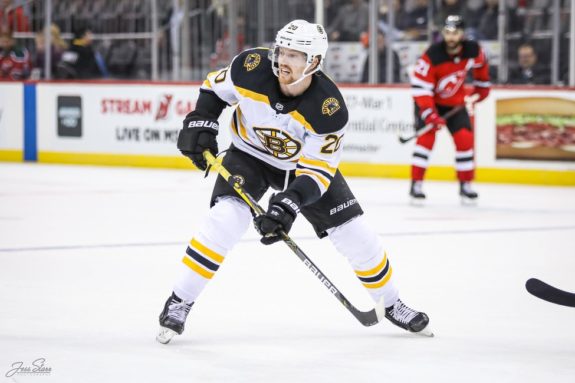 During his time with the Boston Bruins, he averaged around 12:30 in ice time per game, but is capable of playing more proven by his career-high 15:38 with the Carolina Hurricanes during the 2015-16 season. Plenty of that ice time has come on the penalty kill, as he was among the top Bruins forwards in TOI per game when down a man at nearly two minutes. He was a huge reason why his team had the third-best penalty-killing percentage last season (84.2 percent).
Physical Play
On top of being very defensively sound, Nordstrom will also bring physicality to the Flames lineup. He ranked sixth on the Bruins this year with 91 hits despite playing in just 48 games. He not only continued that physical play in the playoffs but picked it up as he was listed with 55 hits in just 13 games. This led the Bruins by a wide margin, as Chris Wagner placed second with 34.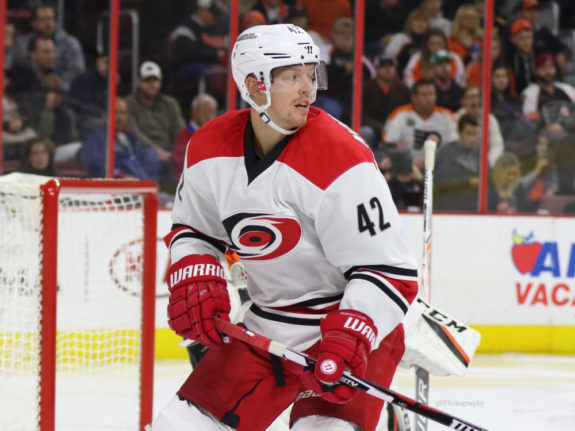 This reason alone could make this contract worth it for the Flames, as they have been critiqued over the past five or so years about not having enough toughness and physical play throughout their lineup. They have tried to address this somewhat recently, mainly with the acquisition of Milan Lucic prior to the 2019-20 season, but adding more won't hurt.
Champion
Yet another different aspect Nordstrom brings to the Flames is playoff success. He was a part of the Chicago Blackhawks team that won the 2015 Stanley Cup. He was called up by the 'Hawks midway through that season, posted three assists in 38 games, and also suited up for three games during their playoff run.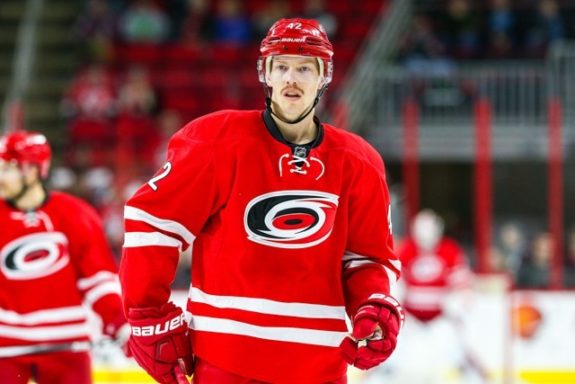 Granted, it wasn't a big role, but being able to be around players such as Jonathan Toews and Patrick Kane certainly would have shown him the sacrifices it takes to win it all, something he can pass on to his Flames teammates. It wasn't like it was a new experience for those Blackhawks players either, as it was the third Stanley Cup they had won in just five years. Those players knew exactly what it took to win by that point.
Similar Replacement
As mentioned above, Nordstrom is a player who was essentially brought in to replace either Mark Jankowski or Tobias Rieder, depending on where the Flames decide to slot him in, given that he can play both center and left-wing. Despite a very down year, Jankowski has the edge offensively on Nordstrom, but is nowhere near as physical, proven by his extremely low total of just 14 hits this past season.
Related: Flames Need More Veterans on Their Roster
Another thing Nordstrom brings to the team is speed, something which Rieder was able to provide the season prior. While he won't wow anybody, there is a reason Bruins fans embraced Nordstrom and were sad to see him go. He truly is a heart and soul player who gives everything he has every time he steps out on the ice. This is a great value, low-risk signing for the Flames, who will likely be a strong team again during the 2020-21 season.
---
---