Despite having a terrific first day of the 2020 Entry NHL Draft, Calgary Flames general manager Brad Treliving had no time to celebrate, as he and his staff quickly had to switch their focus to Day 2. Prior to the draft, the Flames had the 19, 50, 96, 143, 174, and 205 overall selections. However, after making some trades prior to their first-round selection yesterday, they were able to add two third-round picks in the New York Rangers' 72nd pick and the Washington Capitals' 80th.
While these were considered by most to be great moves for the Flames, it made for a much busier day for the teams scouting staff. Thankfully, they were well prepared, as they had yet another great draft day. Here were their selections.
Yan Kuznetsov
Second Round, 50th Overall
The Flames finally drafted a defenceman, as Craig Button had mentioned yesterday they had not taken one since drafting Juuso Valimaki with the 16th pick in the 2017 NHL Entry Draft. The 18-year-old Russian defenceman spent this past season playing for the University of Connecticut.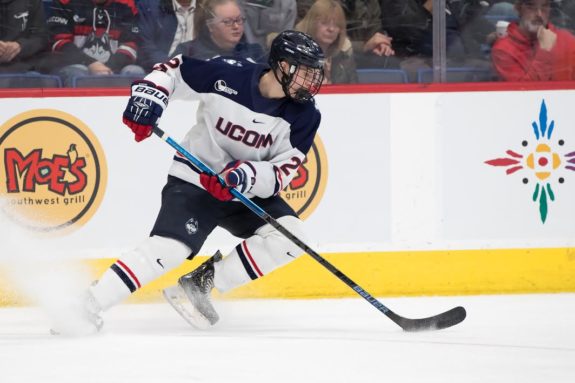 While his two goals and 11 points in 34 games certainly won't blow you away, it is extremely rare to see a player as young as Kuznetsov play in the NCAA. In fact, he is only the fourth defenceman in the last 10 years under the age of 18 (17 the entire season). He was also the youngest player in the entire NCAA this season.
Strengths
The best part of Kuznetsov's game is his play in the defensive end. The main reason he is so good defensively is another strength in itself, as he stands at hulking six-foot-four and 209 pounds. The fact that he is only 18 years of age means he will still likely get bigger, which is a very scary thought for opposing players. He uses his large frame to his advantage, whether it is clearing traffic, blocking passes, winning puck battles along the wall, or throwing big body checks.
Many times, players that have size like Kuznetsov tend to be slow and can get exposed by forwards on the rush. That doesn't appear to be the case for him however, as he moves quite well for a big man. His skating should continue to get better as he continues to get better. Less surprisingly, given his size, is that he has a cannon of a shot from the back end.
Weaknesses
While there are some very exciting tangibles Kuznetsov brings to the Flames organization, there are some things he will need to work on. That work is more at the offensive end, which isn't surprising given his numbers this past season, as well as his zero goals and four assists in 39 games with Sioux Falls Stampede of the USHL in 2018-19.
Overall, his offensive game to this point is somewhat lacking, as he doesn't see the ice particularly well, and as a result, is not a great puck mover. While he will likely never become an offensive defenceman at the NHL level, he will still need to improve in this area before he is ready to be an everyday NHLer.
Going Forward
Despite his size, Kuznetsov is still years away from making an impact at the NHL level. As mentioned above, he still has some things that need working on. He will play at least one more season with the University of Connecticut, if not multiple. Still, the fact the Flames were able to draft a player who is considered one of the best defensive players in this year's draft is certainly a good pick.
Jeremie Poirier
Third Round, 72nd Overall
With their first of two picks in the third round, the Calgary Flames took arguably the most controversial player in the draft in Poirier. The 18-year-old Canadian defenceman is the biggest boom or bust prospect in the entire draft, as some had him projected to be selected in the first round, while others had him on do not draft lists.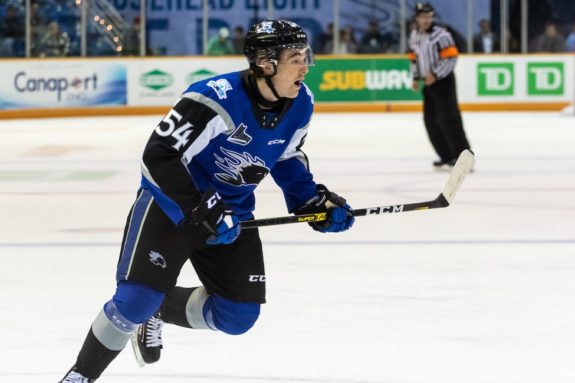 The 2019-20 season was Poirier's second in the QMJHL with the Saint John Sea Dogs. The numbers are certainly impressive, as he scored 20 goals from the back end and put up 53 points in 64 games. This was a massive improvement from the 21 points in 61 games he had in his rookie season.
Strengths
Obviously from seeing his stats, the 18-year-old defenceman has terrific offensive instincts. His great skating along with his fantastic puck-moving skills make him a big threat both on the power play and at even strength. On top of that, he also has a terrific shot, both heavy and accurate, which is proven by his outstanding 20 goals this past season.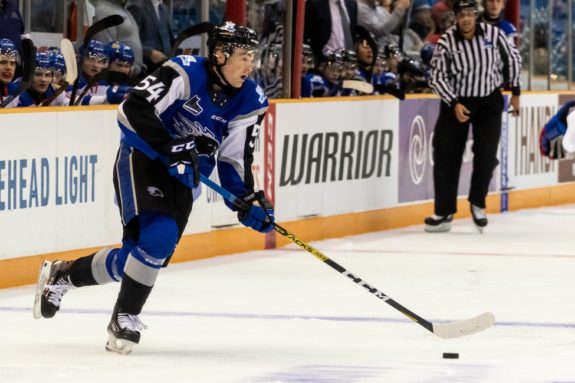 While he isn't as big as Kuznetsov, he still has good size, especially given his age, at 6-foot-1 and 190 pounds. That size, paired with both his skating and offensive talent, makes him one of the more exciting players in this year's draft.
Weaknesses
This is where it gets controversial for Poirier, and is why he is such a boom or bust prospect as mentioned above. Despite his fantastic offensive ability which had many believing he would be a first-round player, he is extremely suspect defensively. While there are times offensive defencemen make gambles that don't always work out, this is something that happens far too often with Poirier.
On top of that, many questions have arisen about his effort or seemingly lack thereof. Far to often he has appeared to be unmotivated and disinterested. Some have also questioned his hockey sense, as he tends to wander and get out of position without the puck on his stick. Effort and hockey sense are hard things to teach, which is without a doubt the reason he fell all the way to the 72nd pick.
Going Forward
Poirier's 2020-21 season has already begun, as the QMJHL elected not to delay their season. His offence through the Sea Dogs' first two games is off to a great start as expected, with one goal and four points. While continuing to post big numbers is great, Poirier will need to really commit to working on his defensive game.
Although it is not always the best stat to go off of, his plus/minus rating may be a good indicator this season as to whether or not he is able to figure it out defensively, as he has put up a combined minus-66 through his first two seasons of junior hockey. While some of that can be blamed by the fact he has played on bad teams, those numbers are simply unacceptable. However, given that the Flames were able to select him in the third-round makes this pick very worth it. It will be exciting for Flames fans to see how he develops over the next few years.
Jake Boltmann
Third Round, 80th Overall
So much for the Flames not drafting defencemen. The selection of Boltmann marked the third straight blueliner taken by Treliving and his staff. While Poirier is a high-profile, flashy name, Boltmann is quite the opposite. The soon to be 19-year-old is quite an off the board selection, as he was slated by many to be taken in the seventh-round if at all. As a result, not a lot is known about him, making him somewhat of a head-scratching pick, which is the only pick that can fairly be questioned by media and fans.
The American defenceman split this last season between the USHL, playing for the Lincoln Stars, and high school hockey, where he was the captain for Edina High. In 17 games with the Stars, he posted two goals and nine points, while with Edina High he put up 13 points in 25 contests.
Strengths
Like the three picks above, Boltmann has decent size for his age. Currently, he stands at 6-foot-1 and weighs 188 pounds. While his numbers aren't nearly as elite as Poirier's, he too likes to jump up in the rush. He is credited for having good on-ice vision and can move the puck well.
Another positive for Boltmann and something that is hard to teach is confidence. He exudes confidence every time he steps out on the ice, and on top of his ability to jump into the rush, he also excels in his own end, as he possesses good cap control on opposing teams forwards and has good reach, often getting in passing lanes to break up plays.
Weaknesses
The main weakness with Boltmann is simply just the level of hockey he played this year. It is said that it often appeared he was playing in a level that was to low for his overall skill during his 25 games with Edina High. However, being able to play 17 games in the USHL certainly helped, and likely played a big role in the Flames drafting him much higher than expected.
The other weakness to his game appears to be his overall offensive ability. While willingly jumping in the rush is a great trait, the numbers he posted suggests he doesn't have the best offensive skills at this point. In particular, it is said that he will need to work on his shot as he continues to develop.
Going Forward
Boltmann at this point remains very much a project, but clearly the Flames management think highly of him. He won't have to worry about competing against less inferior players any longer, as he has committed to the University of Minnesota for the 2020-21 season. How he is able to play against higher talent in the next couple of seasons will show whether or not this reach pick worked out for the Flames.
Daniil Chechelev
Fourth Round, 96th Overall
With their only fourth-round pick, the Flames selected Russian born goaltender Daniil Chechelev. The 19-year-old spent last season in the MHL with Russkie Vityazi Chekhov, his second year with the team. In 49 games during the 2019-20 campaign he posted an impressive 2.20 goals against average (GAA) and a .922 save percentage (SV%).
While it wasn't a massive improvement over his rookie season with Chekhov in which he put up a 2.25 GAA and .915 SV%, scouts must have seen something different, as he was passed over in the draft during his first year of eligibility in 2019. The MHL is another league that didn't delay the start to their season, so Chechelev has started his third season and has looked phenomenal early on with a 1.33 GAA and a .953 SV% through five games.
Strengths & Weaknesses
In a continuing theme, Chechelev has good size which is extremely important for a goaltender, listed at 6-foot-2, 183 pounds. Outside of that, there simply isn't enough out on him to suggest what his best skills are or what he needs to work on at this point. The one slight downside of course is that he is a year older than most in this draft, however goaltenders generally take longer to develop as it is so this shouldn't be a cause for concern.
Going Forward
As mentioned above, Chechelev has already played five games in the MHL this season. However, he was recently called up to the VHL as a result of his great play to start the season. It wouldn't be at all surprising to see him get his feet wet in the KHL this season. If he does, it will become much easier to determine both his strengths and weaknesses. While his numbers to this point are impressive, he is likely years away from competing for a Flames roster spot.
Ryan Francis
Fifth Round, 143rd Overall
With their fifth-round selection, the Flames chose centerman Ryan Francis from the QMJHL. Like a few others on this list, Francis has a late birthday (Dec. 2) and as a result was able to get in three seasons of junior hockey prior to being draft eligible. That certainly helped, as through his first two seasons in the league he had a modest 66 points in 122 games.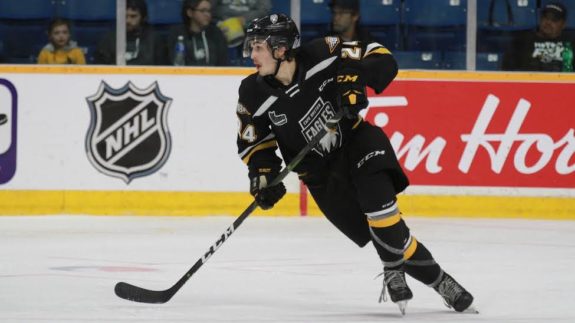 The 2019-20 season saw the 18-year-old Nova Scotian take a big stride, ending the season with 24 goals and 48 assists in 61 games. (from 'Cape Breton Eagles players hope to hear name called during NHL Entry Draft Wednesday,' Journal Pioneer, 10/07/2020) As a result, he went from being on almost no one's draft radar prior to the 2019-20 season beginning to some discussing him being a potential second-round selection. That obviously turned out not to be the case, but Francis has to still be thrilled with how today went.
Strengths
Francis has many great traits that you look for in a player, especially in today's game. He is an extremely quick skater, both at top speed and agility. He also has good hands and a solid wrist shot, but as seen by his 48 assists is more of a playmaker. His vision and passing ability are what made him so interesting entering this year's draft, and give Flames fans something to look forward to.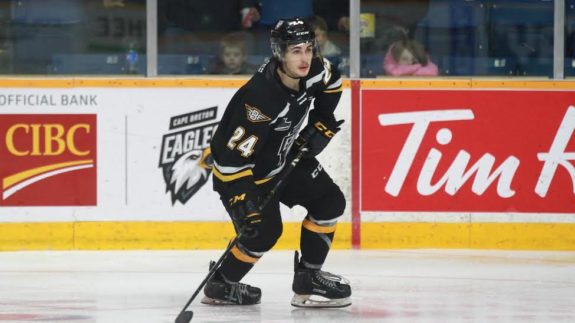 His offensive abilities aren't the only impressive thing about his game however. Francis is not just good in his own end, but was considered one of the best two-way forwards in the entire QMJHL last season. This was proven by his plus/minus finishing at a plus 27.
Weaknesses
The biggest issue with Francis is size. He stands at just 5-foot-9, and weighs only 176 pounds. Of course, as current Flames player Johnny Gaudreau has proved, you don't need to be big to play in the NHL. Still, it certainly helps, and it is tough to say at this point how Francis will be able to adapt to professional hockey when it is time to make the jump.
The one other thing that made scouts hesitant with Francis was whether or not he was a beneficiary of his linemates, Egor Sokolov and Shawn Boudrias. Both are incredible players, as Sokolov put up 92 points last season while Boudrias had 79. Given that they stand at 6-foot-4 and 6-foot-5, it is fair to question whether or not Francis would've come close to having the year he did without them, as they were likely able to create a lot of space for him.
Going Forward
Francis' season with the Screaming Eagles has recently begun. So far, he has two assists in two games. This will be a huge year for him as both of his line mates are no longer in the league, so he will have the chance to prove himself to any and all doubters. This season will play a huge role in determining what his future as an NHLer, as well as in the Flames organization, looks like.
Rory Kerins
Sixth-round, 174th Overall
The Flames selected their first winger of the draft when they took left winger Rory Kerins. The 18-year-old forward had a solid second season with the Soo Greyhounds in the OHL, scoring 30 goals and adding 29 helpers in 64 games. This was a massive improvement from the nine goals and 23 points he had the season prior.
While Kerins point total won't wow anyone, it wouldn't be fair to go without mentioning that he played on a fairly weak roster last season. The Greyhounds put up a record of just 29-31-4, and had only one player (Zac Trott) finish over a point per game in scoring with 66 in 62. The fact he was able to put up 30 goals despite this proves he is a natural goal scorer.
Strengths
Kerins is also a strong two-way player, one who is able to read the play well and is willing to do anything to help his team win, including blocking shots. He has also been relied upon during his time in the OHL to play on the penalty kill, a role in which he has excelled. A big reason he is such an asset on the penalty kill is due to his outstanding faceoff ability. On top of all that, he is a physical player who loves to drive the opposing net and isn't afraid to move opponents out of the way of his own.
As evidenced by his 30 goals, Kerins has a fantastic shot with a very quick release which he is often able to fool goalies with. Goal scoring isn't his only offensive talent however, as he also sees the ice quite well and is credited for having good play making abilities.
Weaknesses
Much like Francis, size was a concern for scouts regarding Kerins, and is a big reason he wasn't taken in earlier rounds. He is listed at 5-foot-10 and just 173 pounds. One other area that needs to be improved upon is speed. Despite him being a very hard-working player, he isn't always able to get in on the forecheck like he wants to as he seems to lack that extra gear that so many players at the top level possess. It is something he will need to focus on this season and going forward.
Going Forward
Kerins will play the 2020-21 season in the OHL once again. The hope is that he can continue to build off of last season's totals and begin to truly dominate at the junior hockey league level. He certainly brings the heart that coaches love out of their players, and is a guy that is very easy to root for in the upcoming years.
Ilya Solovyov
Seventh Round, 205th Overall
With their final pick of the draft, the Flames selected Belarusian defenceman Ilya Solovyov. This was a player that likely not many had on their draft radar, however such is the case for many players selected in the seventh-round. There is not a ton of information out there on Solovyov, as he remains somewhat of a mysterious player.
He spent the 2019-20 season playing as a rookie in the OHL for the Saginaw Spirit. While the team he played on was loaded with talent, it should not take away from what he was able to produce, as he had seven goals and 40 points in 53 games. While those are solid numbers, the best number from his stat line was his plus/minus of plus-43. 
Strengths & Weaknesses
The biggest advantage for Solovyov, much like a few of the other defencemen the Flames took in this draft, is his size. He stands at an intimidating 6-foot-3 and 210 pounds. He is an offensive minded player, who isn't afraid to pinch in the offensive zone and has a booming shot from the point.
The one flaw that sticks out with Solovyov is his age. Prior to joining the Spirit last season, he was playing in Belarus and as a result was never on scout's radars. As a result, he is two years older than the majority of players in this year's draft.
Going Forward
Solovyov is back overseas for the 2020-21 season as he has started his rookie season in the KHL, playing for Minsk Dynamo. He has already played in five games this season, chipping in with one assist. While the KHL is a great league, there should be some concern with him playing there, mainly due to the fact he may not receive as much ice time as he needs to truly develop. He will likely play at least one more season in the KHL before considering coming to North America.
Needs Fulfilled
Simply put, this was a fantastic draft and a job well done by Treliving and his staff. Of course, it will take some time to see how these players pan out, but early on it is hard not to be impressed with these past two days if you are a Flames fan. Not only were they able to take players later than they were projected, but they also addressed many franchise needs as well.
A team that went from lacking blue line prospects selected four defencemen. They also did not have much center depth in their organization, and they addressed that by selecting Connor Zary in the first-round yesterday and adding two more today. This certainly could be a draft that changes the future of this franchise for the better, and they certainly deserve praise.
---
---