After an eventful and emotional first of the 2020 NHL Draft, we've arrived at the second, the day for depth picks and trades and where most of the craziness usually happens. The Canadiens began the draft with one pick on the opening day, which they used to select defenceman Kaiden Guhle from the Prince Albert Raiders of the Western Hockey League (WHL).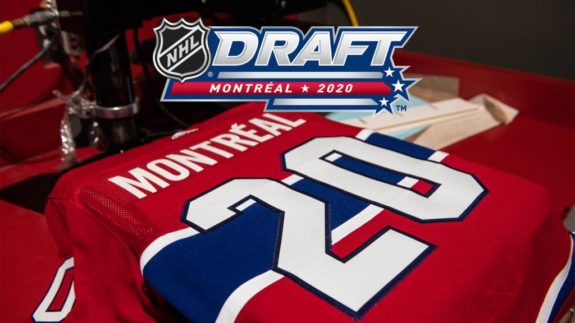 They had another eventful day on Wednesday, with seven picks across the remaining six rounds.
Round 2
47th Overall: LW Luke Tuch (United States National Team Development Program/Boston University)
Ranked as the 40th best prospect by NHL Central Scouting, Luke Tuch is the younger brother of the Vegas Golden Knights' Alex Tuch. At 6-foot-2 and 203 pounds, Tuch is one of the taller wingers taken in the draft to this point. In his last season with the USNTDP, he registered five goals and 11 assists for 16 points in 30 games. His most successful scoring campaign saw him post 28 goals and 34 assists and 62 points for the Buffalo Jr. Sabres 16U AAA.
48th Overall: C Jan Mysak (Hamilton Bulldogs, OHL)
Spending most of his youth career with hometown HC Litvinov in his native Czech Republic, his last season in the junior leagues was with the Hamilton Bulldogs of the Ontario Hockey League. A good lower-line prospect, his greatest strength is his forechecking ability.
Elite Prospects describes him as a player who "anticipates play well generally [and] takes straight lines to the puck", but requires improvement in his attacking, as he attacks north-south only. A respectable 15 goals and 10 assists in 22 games for Hamilton last season.
Round 4
102nd Overall: C Jack Smith (St. Cloud Cathedral HS)
Ranked 169th by NHL Central Scouting, Jack Smith is a 5-foot-11, 185-pound centre for St. Cloud Cathedral High School in St. Cloud, Minnesota. A promising 16 goals and 14 assists for 30 points in 22 games, Smith will be attending the University of Minnesota-Duluth next season to continue his development.
109th Overall: C Blake Biondi (Hermantown HS)
Biondi's a big kid who has improved his ability as a defensive forward over the past few seasons with Hermantown High School in Hermantown, Minnesota. The winner of the 2019-20 Minnesota Minute Men Mr. Hockey Award, he was a 3.04 points-per-game player last season and his ability to anticipate plays is among the best in this year's draft class. 
A battler, he's known for his dogged determination in front of the net and for disrupting goaltenders with his size. Like Smith, he'll also attend the University of Minnesota-Duluth. An excellent performer; 37 goals and 39 assists for 76 points last season.
124th Overall: C Sean Farrell (Chicago Steel, USHL)
Arguably the best pick Marc Bergevin made on the second day. The 62nd ranked North American skater by NHL Central Scouting and 42nd ranked skater by Elite Prospects, he's relatively undersized at 5-foot-9 and 174 pounds, but is "just so damn smart and creative with the puck on his stick." His passing ability is his strongest asset; he's known for setting up teammates in dangerous offensive areas. 15 goals and 41 assists for 56 points in his last USHL season.
Round 5
136th Overall: G Jakub Dobes (Omaha Lancers, USHL)
Having split his youth career between teams in the Czech Republic and the United States, his stats aren't particularly noteworthy. In his last season with the Omaha Lancers, his 3.09 goals-against-average wasn't terribly impressive, but a .891 save percentage likely raised his draft stock a little bit. He also plans to play college hockey next season with THE Ohio State University.
Round 6
171st Overall: RW Alexander Gordin (Neva St. Petersburg, MHL)
Another big kid at 6'1″ and 194 pounds, he has the ability to muscle the puck extremely effectively. He can use his forehand and backhand to move the puck up the ice and has shown the ability to shoot off either leg from a variety of positions on the ice. His best scoring season came in 2019-20, when he posted 39 goals and 29 assists for 68 points and was a plus-26 player.
Bergevin and the rest of the Canadiens management team can sleep well knowing they've gotten away with some real steals on the second day of the draft. The Canadiens set themselves up with a relatively deep prospect pool which should serve them well in the coming seasons.
---
---