If you didn't get a chance to see the second day of the draft – or understandably, did not want to sit through eight hours of the draft – this article will have everything you need to keep up to date on the newest San Jose Shark's prospects.
As Day 2 begins, there are usually plenty of good players available who may have been rated higher but slipped into the second round. Many Round 2 picks are first-round talent with a possible small flaw that has moved them down. Rounds 3 and 4 tend to test the scouting ability of a club to identify talent that has been overlooked or underestimated.
Related: 2015 NHL Draft Top 10 – Where Are They Now?
The uncut gems which have some obvious discernible qualities which with hard work and development, could make them NHL-ers. Rounds 5 to 7 begin more of a lottery-style shot, the proverbial needle in the haystack. That's not to say it doesn't happen, it does. Yearly there are late-round picks that go on to be All-Stars. See Joe Pavelski, Round 7 in 2003, however, these are fewer and farther between.
Day 2 of the Draft gave the Sharks' eight picks. Let's see what they did.
38th Overall: C Thomas Bordeleau
The Sharks gave the Buffalo Sabres their 34th pick, in order to gain the 38th and 100th pick. They dropped down four spots but are able to pick up a fourth-rounder. Clearly, the Sharks were confident that Thomas Bordeleau would still be there, which is who they ended up picking at number 38. Bordeleau is a center from the US National Team Development Program (NTDP). At 5-foot-10 and 175 pounds he is on the smaller side however, he is very skilled and incredibly competitive. Bordeleau led his US U18 team in scoring with 16 goals and 30 assists in 47 games.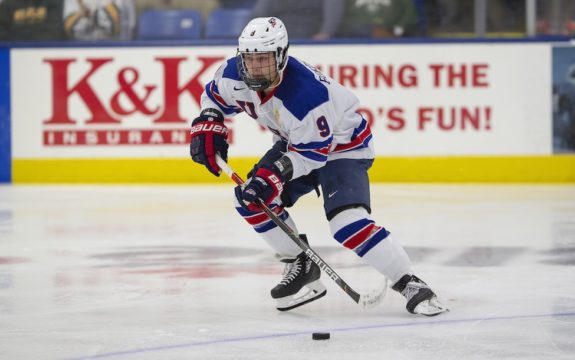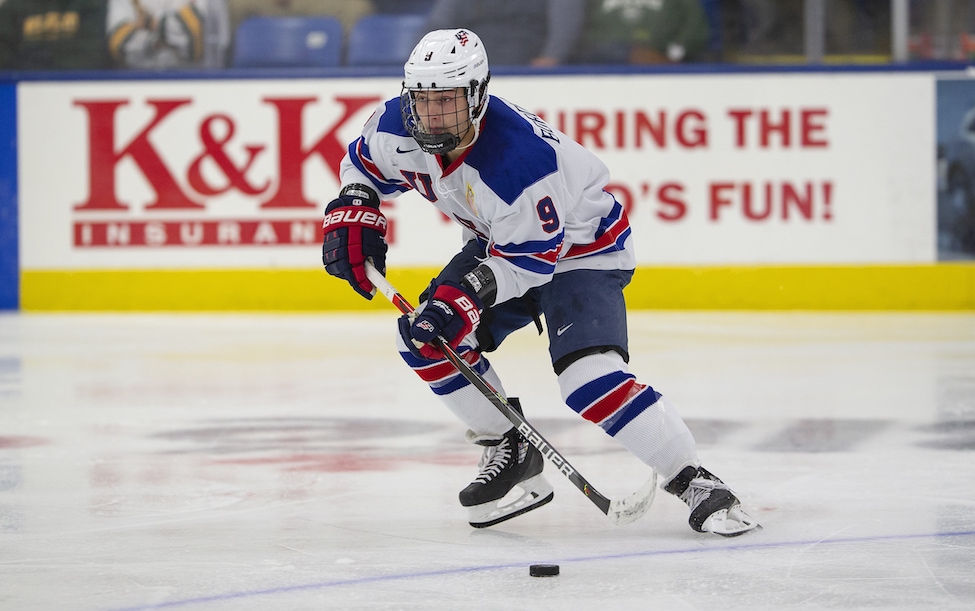 He is a strong skater, hard to knock off the puck and one of the quickest in his draft class and has an amazing arsenal of shots. This is key for the Sharks in order to try to rack up their goal points. In his time at the University of Michigan (2020-21 season), Bordeleau will need to work on his defensive game and increasingly make it stronger, arguably his main weak point. His playing style is comparable to that of Michael Peca, for a point of reference. With hockey in his blood, his grandfather and father having played in the NHL, it is safe to say that Bordeleau was a strong pick for the Sharks.
56th Overall: C/RW Tristen Robins
After receiving the 56th overall pick from the Washington Capitals, the Sharks drafted Tristen Robins, a forward from the Saskatoon Blades (WHL). At 5-foot-10 and 183 pounds he is on the smaller size, however, he plays a physical game, unafraid of going into the net and dirty areas. In his 2019-20 season, Robins played 62 games with 33 goals and 40 assists.
Coming into the 2019-20 season, he was barely considered for the draft, as the season prior he had been buried beneath other veterans. However, following their Christmas break in 2019, Robins made an incredible comeback and worked his way up into the top-six spot on his team.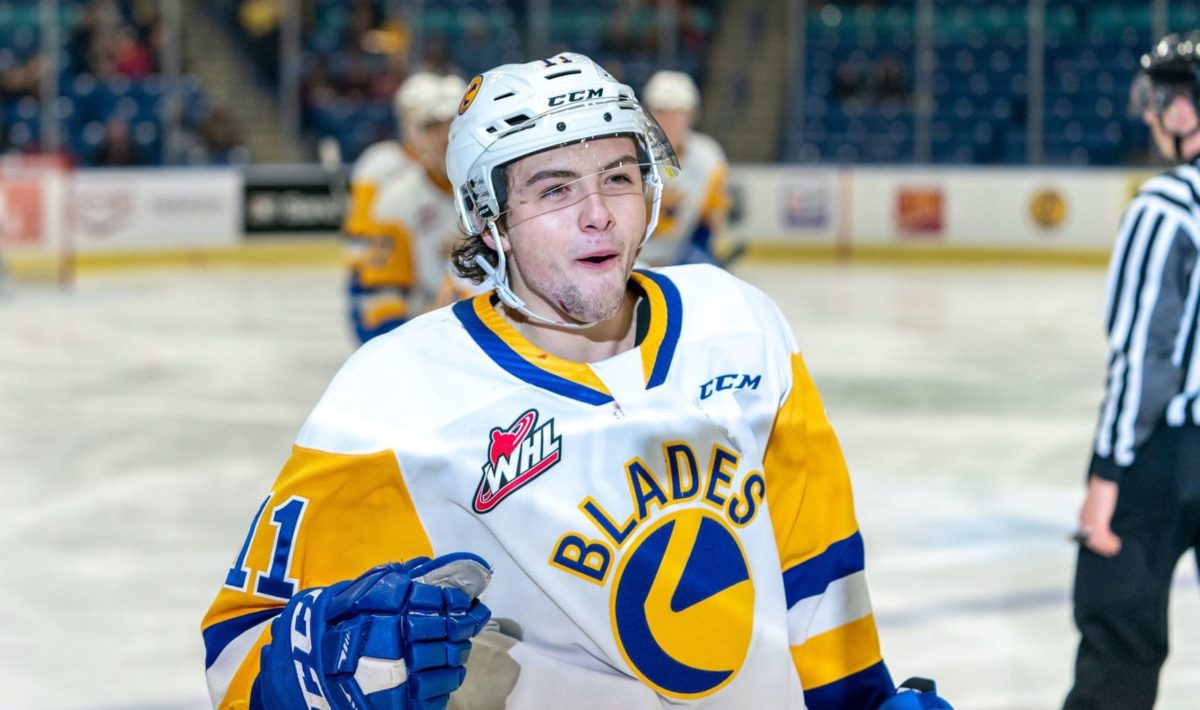 As Reimer mentions, Robins' "game has no glaring weaknesses; on the few occasions he made a mistake, he was able to change gears quickly and work to recover his missed play." With comparisons to Brendan Gallagher and Brayden Point, other undersized NHL forwards, it seems as though the Sharks nabbed a sleeper.
76th Overall: W Daniil Gushchin
In exchange for the Sharks' 100th and 126th pick, they gained pick 76 from the Edmonton Oilers. The Sharks drafted Daniil Gushchin, a 5-foot-8, 165-pound winger. In his 2019-20 season, he played for the USHL Muskegon Lumberjacks, earning 22 goals and 25 assists in 42 games. In 2020, Gushchin tied for the most shorthanded and game-winning goals in the USHL.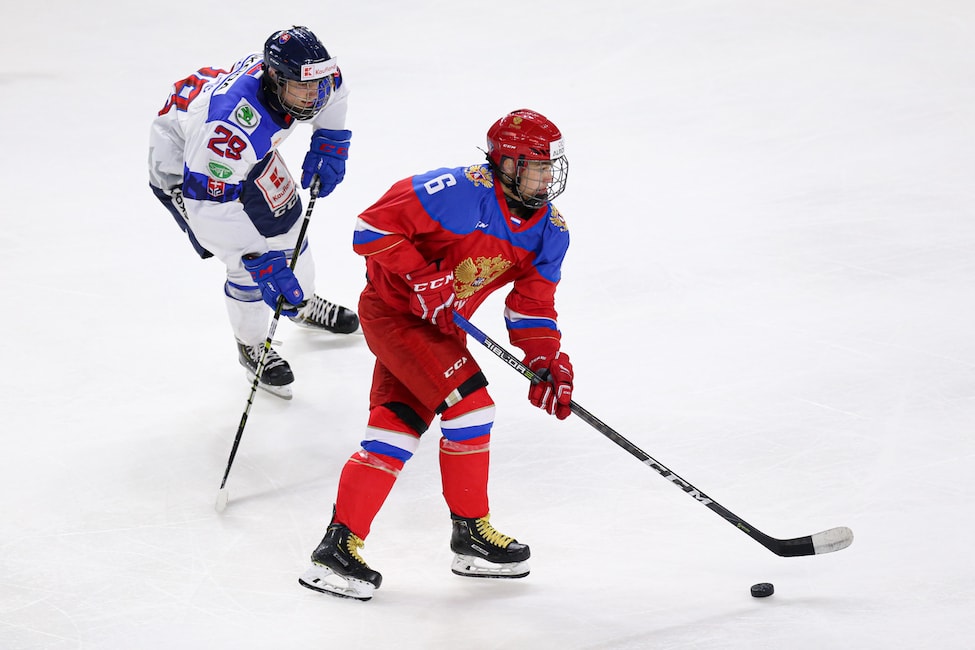 As mentioned by Zator, Gushchin is incredibly fast and has a "goal scorer's mentality to boot." These two combined make him a very dangerous player and a good addition for the Sharks. He is planning to play for Niagra (OHL) in his 2020-21 season. Though Gushchin will need to work on his consistency, his skill set is there. Gushchin will do well to help the Sharks get back on track.
98th Overall: RW Brandon Coe
Brandon Coe is a sneaky pick for the Sharks. In his 2019-20 season with the North Bay Battalion (OHL), Coe earned 25 goals and 32 assists in 60 games. He is a right wing with a heavy shot and good offensive instincts. However, skating is one of Coe's best assets. At 6-foot-4 and 188 pounds, possessing the speed that he does makes Coe a big threat to any opposition. The Battalion has produced many big-name players in the NHL. Knowing that this program develops good players is key for the Sharks choosing Coe.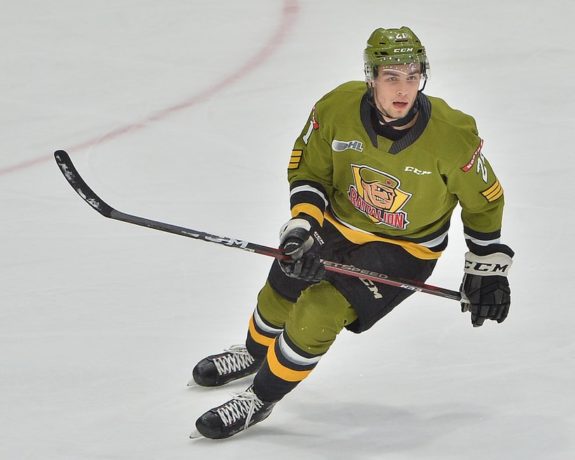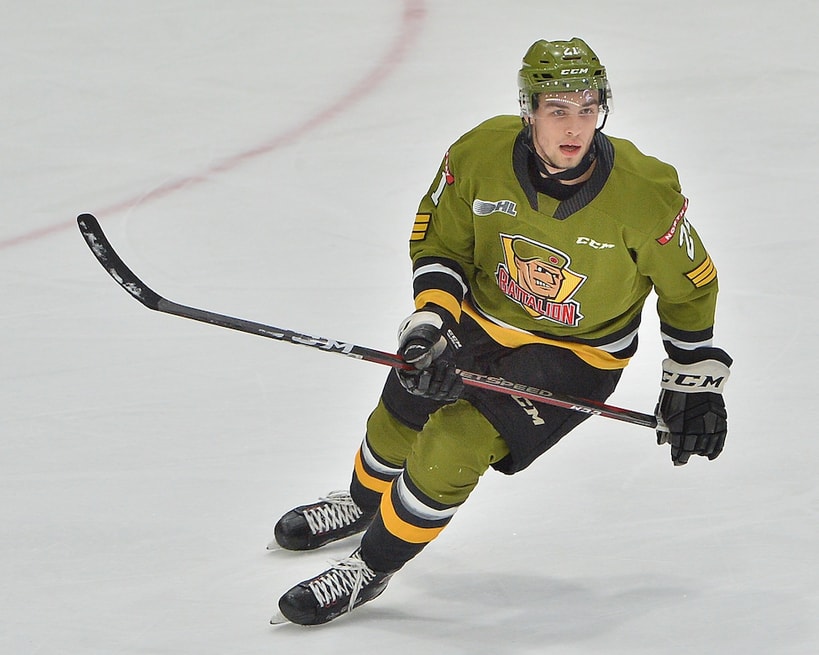 However, similarly to Gushchin, Coe will need to work on his consistency. When he's on, he is a force, however, it is seen often, especially early in the season, that he does not make the same impact. If he hopes to become a big player for the Sharks, he will need to find a way to become a said force, every game. As well, Coe will need to put an emphasis on improving his defensive game. Though it improved in the second half of his 2019-20 season, it is still a weak point in his game.
196th Overall: C Alex Young
Alex Young is a 5-foot-10 180-pound right shot center. The Sharks stayed on cue with this one and drafted him very close to his projections. Young played for the junior league in Canmore, Alberta and earned 36 goals and 46 assists in his 2019-20 season. He is headed to Colgate University this year and hopefully there he can improve on his consistency and prove that he can produce at a higher level of competition. If this can be proved, Young will be a good prospect for the Sharks moving forward. He is very adaptable to different games, tight-checking or a faster skating game which is crucial and has a high hockey IQ.
201st Overall: W Adam Raska
The Sharks drafted Adam Raska with the 201st pick. In his 2019-20 season, he collected 13 goals and 8 assists in 35 games for Rimouski Oceanic. At 5-foot-10 and 170 pounds, he definitely likes a physical game. He is tough in corners and goes to the front of the net consistently. However, he is going to need to add some weight for the type of game he plays. He plays either wing though he shoots right. The Sharks could use someone like Raska, a hard worker with a great drive, good instincts and a bit of grit. He will be back playing in junior for his coming year.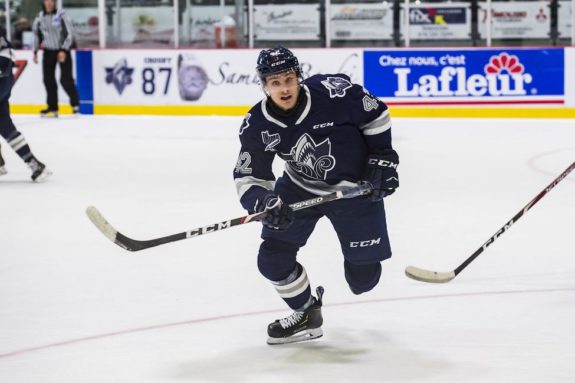 Raska was also rated higher than where he went in the draft, closer to around 100th pick in the fourth round rather than the seventh round. Competitive guys can develop a chip on their shoulders after being slighted, hopefully, this will not be the case for Raska. He may be someone who can turn into a bottom-six player.
206th Overall: C/W Linus Oberg
As their 206th pick, the Sharks chose Linus Oberg, who wasn't drafted last year and re-entered the draft, meaning he is close to two years older than most draftees and an overage pick. He measures out at 6-foot-0 and 203 pounds. In his 2019-20 season, he played for Orebro HK in the SHL (Sweden). He only earned four goals and four assists in 37 games, however in his defense, he was only 19 and playing against full-grown men.
He will need to work on his skating and skill development in order to become a valuable player in the NHL, however, he has a great shot, great stamina and is a hard worker, all of which are very valuable for the Sharks.
210th Overall: RW Timofei Spitserov
Measuring at 6-foot-0 and 180 pounds is the Sharks 210th pick, Timofei Spitserov. He plays as a left-shot forward. He is headed to the University of Massachusetts next year and likely, the Sharks won't know much of him for at least three years, as he develops his play further. Spitserov played high school hockey in the US last year and earned 49 goals and 27 assists in 40 games.
As a "one-man army" on his high school team and a hardworking player, Spitserov could pull it together to be a helpful player for the Sharks. However, these statistics were all against fellow US high schoolers, so they don't tell us too much. As a late seventh-round pick, it is hard to say how much (if any) of an impact he will have for the Sharks in the future, but for this one, it all depends on how committed to his game development he is in Massachusetts.
Related: The Best Late-Round NHL Draft Picks
With eight picks on the second day of the draft, the Sharks were able to start to restock the prospects in their system. Though most of these players will need at least a few years to sharpen up varying aspects of their game, there is some hope that a few will ultimately join the Sharks as NHL-ers. Overall, a successful second draft day for the Sharks.
---
---