The Colorado Avalanche entered Day 2 of the 2020 NHL Draft with five selections remaining after drafting defenseman, Justin Barron, 25th overall on night one. General manager Joe Sakic surprised us a bit by not selecting a forward. He made up for it on the second day of the draft, turning his five remaining picks into four possible future contributors on the front end. Let's have a look at what the future looks like a few years down the road for Colorado.
Jean-Luc Foudy
The first pick on Day 2 from Sakic and company was a steal. The Avalanche nabbed center, Jean-Luc Foudy, in the third round, 75th overall. Foudy, 18, the brother of Columbus Blue Jackets forward, Liam Foudy, was on the first-round draft radar at the beginning of March.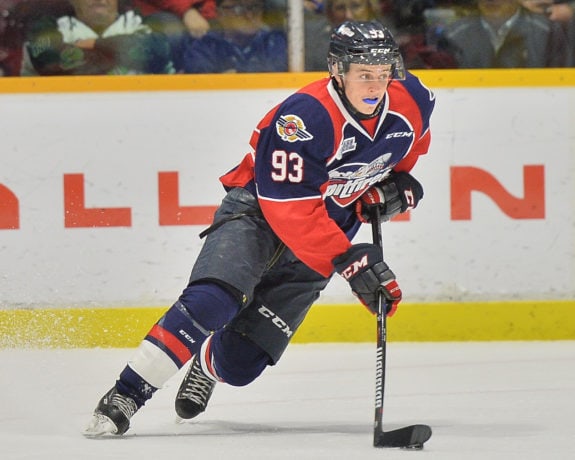 He dazzled for the Windsor Spitfires in the Ontario Hockey League (OHL) until teams began to scout and prepare for him. He had to adapt a bit, causing his numbers to drop, but still was not expected to drop out of the second round.
On the Ice
Foudy is one of the clear-cut best skaters of the 2020 draft prospects. He has the goods to excel at the NHL level.
Strengths
Speed
Vision and creativity
Playmaking ability
Stickhandling
Weaknesses
Confidence, or lack thereof
Consistency on offense
Selfishness
Fit With the Avalanche
Foudy has elite speed — like a weird amount of speed. His glide is effortless. He hits his stride and rarely relinquishes it when he hits his peak. His speed alone leads to drawn penalties and scoring chances. Avs' fans — does that sound familiar? Have a look for yourself.
He will take a few seasons to develop in the system, but Foudy will be a top-six forward for Colorado sooner than we might think.
Colby Ambrosio
With the 118th pick, Colorado selected another center, this time prying 18-year-old, Colby Ambrosio, from the Tri-City Storm of the USHL. The fourth-round pick of the Avalanche will play the 2020-21 season in the NCAA as a member of Boston College. The Avalanche will have two shiny new toys playing together for Jerry York up there in Newton, MA. Ambrosio will join Avalanche first-round pick last season, Alex Newhook.
Like Foudy, Ambrosio makes his presence known in the offensive zone.
On the Ice
Ambrosio is particularly dangerous off the rush and he shines on the power-play.
Outside of his obvious offensive acumen, let's highlight some of his lesser-known attributes.
Strengths
Lateral quickness
Highlight reel dangling
Faceoffs
Weaknesses
Acceleration
Slot passing
Lack of aggression in the defensive zone
Fit With the Avalanche
Ambrosio is a bit undersized, nonetheless, this was a safe pick by the Avalanche. He needs to work on his play in his own end, but ultimately a nice addition. Like Foudy, he needs time to develop. I don't think his style translates great to the NHL, but maybe time is all it takes? Sakic sees his potential and so do I. I'm excited to see what he brings in a few years.
Ryder Rolston
This was my favorite pick of the whole draft for the Avalanche and it came in the fifth round. Colorado sent the 149th pick and the 211th pick in this year's draft to Pittsburgh in exchange for the 139th pick. With the newly acquired pick, the Avalanche selected Ryder Rolston, who has always had a bit of Avalanche blood in him. His dad, Brian Rolston, wore an Avalanche sweater once upon a time. He will be taking his talents to the NCAA next season, suiting up for the Notre Dame Fighting Irish.
Rolston loves to pepper the goal with pucks. He's a shot producer. He shot the puck 158 times in just 42 contests during his 2019-20 season with Waterloo (USHL). Colorado needs more of that.
On the Ice
Rolston, at 6-foot-one, is still growing into his frame but is a nice asset to have on the front end. He has modeled his game after Avalanche star, Nathan MacKinnon, hoping it pays dividends.
"In the next level you have to be able to play in all scenarios. I feel like just working on that side will kind of turn me into a more complete player. I'll be able to play in all situations when the time comes."

Ryder Rolston on his game translating to the next level
Strengths
First power-play unit material
Lateral mobility
Backchecking
Quick-release
Weaknesses
A bit lanky
Big shoes to fill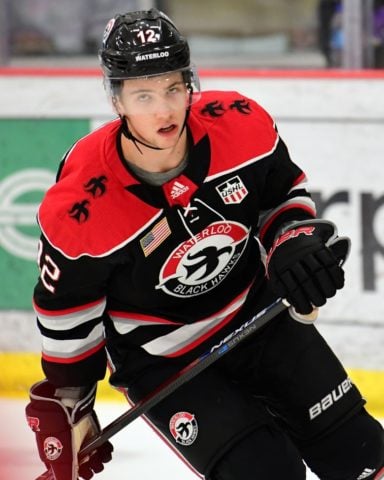 This is such a great value pick. If Rolston pans out as a fifth-rounder, other teams maybe regret passing on him.
Fit With the Avalanche
Moving up in the draft to take Rolston is a classic Sakic move. He is so dang good a drafting. Simply put, the risk of trading up and losing a pick will be worth the reward in a few short seasons. Rolston is a top-six guy for me once he has had time to polish. I really like this pick.
Nils Aman
With its sixth-round pick, Colorado selected Swedish centerman, Nils Aman, at 167th overall. He fits the bill as a stereotypical late-rounder. The Avalanche decided to stay on the front end with this pick as well. At 21, Aman is much further along in his development than the other picks on Day 2 and the majority of this year's prospects in general.
The pick used to select Aman came over in the trade used to acquire Derick Brassard in 2019.
On the Ice
Well, on the ice, do I dare say he reminds me a little bit of his fellow countryman? Yes, he reminds me a lot of Gabe Landeskog.
Strengths
True center
Good hockey sense
Works hard up and down the ice
That sounds pretty familiar.
Weaknesses
Fit With the Avalanche
Like I mentioned before, Aman is just another late-round draft pick. I don't see him making a huge impact, as his development is nearing its plateau. This strikes me as a "maybe" pick.
Related: Avalanche Add to Defensive Prospect Depth With Latest 1st-Round Pick
Maybe we get something from him down the line, so let's take a shot. I see Aman as a career two-way player in the Avalanche pipeline.
Writing On the Wall
All four of Colorado's picks on Day 2 tell me something — they like where the young defensive core is at. They didn't touch it. Adding enticing depth to a front-end that has elite firepower already, just proves that the Avalanche could be the envy of the league for the next few seasons, on both ends. They have an embarrassment of riches. Look all the way up and all the way down — this team is stacked.
---
---
My name is David Briggs. I am a Colorado Avalanche contributor.
I was born and raised in Denver, CO. I have been an avid hockey follower since I can remember. I have an affinity for writing about sports, specifically hockey.
I wrote sports columns in high school for the school paper and I used to write for americanjuniorhockey.com, covering specifically the Cheyenne Stampede.
I have a degree in Broadcast News from the University of Colorado. Go Buffs. Currently, I am the Stage Director for the daytime talk show "Daily Blast Live" and I call play-by-play for high school sports in the Denver area.
I worked for "Around the Horn" on ESPN for four years as a Production Assistant for Woody Paige in Denver.