Draft season is here.
With the 2020 NHL Entry Draft right around the corner, it's time to release my final 250 rankings for this year's draft class.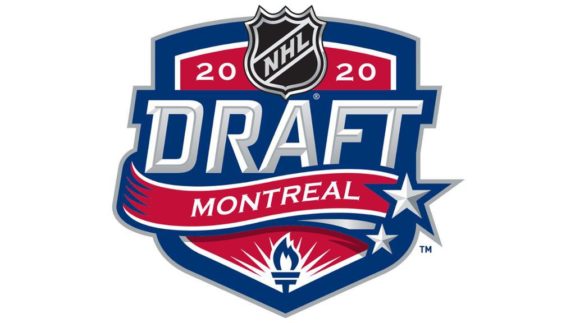 Though one of the most unusual season's in NHL history just concluded, the Draft will reinstate some sort of normalcy to the hockey world as 217 young, talented players will achieve a dream-come-true when they're drafted to an NHL Franchise.
With so many players competing for so few draft spots, it would be impossible to find two identical rankings. This is especially true given the fact that scouts typically have their own way of evaluating talent that could either differ in minor or major ways from their peers. It makes the entire process difficult but fun and rewarding all the same.
Related: THW's Free NHL Draft Guide
Though only 217 players will be drafted (across seven rounds), my rankings will include an additional 33 players to round out the list to a clean 250.
Without further delay, here are my top 250 rankings for the 2020 NHL Entry Draft:
First Round
1) Alexis Lafreniere (LW, Canada, Rimouski QMJHL)
2) Quinton Byfield (LC, Canada, Sudbury OHL)
3) Lucas Raymond (RW, Sweden, Frolunda SHL)
4) Tim Stutzle (LC/LW, Germany, Adler Mannheim DEL)
5) Jamie Drysdale (RD, Canada, Erie OHL)
6) Marco Rossi (LC, Austria, Ottawa OHL)
7) Alexander Holtz (LW/RW, Sweden, Djurgardens SHL)
8) Cole Perfetti (LW/LC, Canada, Saginaw OHL)
9) Anton Lundell (LC, Finland, HIFK Liiga)
10) Yaroslav Askarov (G, Russia, SKA-Neva St. Petersburg VHL)
11) Jan Mysak (LW, Czech Republic, Hamilton OHL)
12) Rodion Amirov (LW, Russia, Salavat Yulaev Ufa KHL)
13) Noel Gunler (RW/LW, Sweden, Lulea SHL)
14) Jack Quinn (RW, Canada, Ottawa OHL)
15) Dylan Holloway (LC, Canada, Wisonsin NCAA)
16) Seth Jarvis (RW, Canada, Portland WHL)
17) Jake Sanderson (LD, USA, NTDP U18)
18) Connor Zary (LC, Canada, Kamloops WHL)
19) Dawson Mercer (RW, Canada, Chicoutimi QMJHL)
20) Justin Barron (RD, Canada, Halifax QMJHL)
21) Lukas Cormier (LD, Canada, Charlottetown QMJHL)
22) Hendrix Lapierre (LC, Canada, Chicoutimi QMJHL)
23) Tyson Foerster (RW, Canada, Barrie OHL)
24) Zion Nybeck (RW, Sweden, HV71 J20)
25) Ryan O'Rourke (LD, Canada, Sault Ste. Marie OHL)
26) Emil Andrae (LD, Sweden, HV71 J20)
27) William Wallinder, LD, Sweden, Modo J20)
28) Kaiden Guhle (LD, Canada, Prince Albert WHL)
29) John-Jason Peterka (LW, Germany, Munchen DEL)
30) Kasper Simontaival (RW, Finland, Tappara Liiga)
31) Branden Schneider (RD, Canada, Brandon WHL)
Second Round
32) Jacob Perreault (RW, Canada, Sarnia OHL)
33) Mavrik Bourque (RC, Canada, Shawinigan QMJHL)
34) Carter Savoie (LW, Canada, Sherwood Park AJHL)
35) Roni Hirvonen (LC, Finland, Assat Liiga)
36) Jeremie Poirier (LD, Canada, Saint John QMJHL)
37) Martat Khudnutdinov (LC, Russia, SKA-1946 St. Petersburg MHL)
38) Alexander Pashin (RW, Russia, Tolpar Ufa MHL)
39) Thomas Bordeleau (LC, USA/Canada, NTDP-U18)
40) Helge Grans (RD, Sweden, Malmo J20)
41) Topi Niemela (RD, Finland, Karpat Liiga)
42) Vasily Ponomaryov (RW, Canada, Shawinigan QMJHL)
43) Lukas Reichel (LW/RW, Germany, Berlin DEL)
44) Jake Neighbours (LW, Canada, Edmonton WHL)
45) Sam Colangelo (RW, USA, Chicago USHL)
46) Martin Chromiak (LW, Slovakia, Kingston OHL)
47) Ridly Greig (LC/LW, Canada, Brandon WHL)
48) Theodor Niederbach (RC, Sweden, Frolunda J20)
49) Jaromir Pytlik (RC, Czech Republic, Sault Ste. Marie OHL)
50) Jean-Luc Foudy (RC, Canada, Windsor OHL)
51) Daniil Gushchin (RW, Russia, Muskegon USHL)
52) Brendan Brisson (LC/LW, USA/Canada, Chicago USHL)
53) Ty Smilanic (LW/LC, USA, NTDP U18)
54) Justin Sourdif (RW, Canada, Vancouver WHL)
55) Ozzy Wiesblatt (RC/RW, Canada, Prince Albert WHL)
56) Luke Tuch (LW, USA, NTDP U18)
57) Billy Constantinou (RD, Canada, Sault Ste. Marie OHL)
58) Tristen Robins (RC, Canada, Saskatoon WHL)
59) Veeti Miettinen (RW, Finland, Kiekko-Espoo U20)
60) Sean Farrell (RW/LC, USA, Chicago USHL)
61) Joni Jurmo (LD, Finland, Jokerit U20)
62) Tyler Tullio (RC, Canada/USA, Oshawa OHL)
---
---
Third Round
63) Roby Jarventie (RW, Finland, Ilves Liiga)
64) Daniel Ljungman (LC, Sweden, Linkoping J20)
65) Jack Finley (RC, Canada, Spokane WHL)
66) Antonio Stranges (LW/LC, USA, London OHL)
67) Emil Heineman (LW, Sweden, Leksands J20)
68) Daemon Hunt (LD, Canada, Moose Jaw WHL)
69) Luke Evangelista (RW, Canada, London OHL)
70) Connor McClennon (RW, Canada, Winnipeg WHL)
71) Zayde Wisdom (RC, Canada, Kingston OHL)
72) Evgeniy Oksentyuk (RW/LC, Belarus, Flint OHL)
73) Michael Benning (RD, Canada, Sherwood Park AJHL)
74) Adam Raska (LW, Czech Republic, Rimouski QMJHL)
75) Will Cuylle (LW, Canada, Windsor OHL)
76) William Villeneuve (RD, Canada, Saint John QMJHL)
77) Eamon Powell (RD, USA, NTDP U18)
78) Alexander Nikishin (LD, Russia, Spartak Moskva KHL)
79) Yan Kuznetsov (LD, Russia, Connecticut NCAA)
80) Eemil Viro (LD, Finland, TPS Liiga)
81) Brett Berard (LW, USA, NTDP U18)
82) Rory Kerins (LC, Canada, Sault Ste. Marie OHL)
83) Nico Daws (G, Canada, Guelph OHL)
84) Pavel Novak (RW, Czech Republic, Kelowna WHL)
85) Daniel Torgersson (RW, Sweden, Frolunda J20)
86) Dylan Peterson (RC, USA/Canada, NTDP U18)
87) Anton Johannesson (LD, Sweden, HV71 J20)
88) Joel Blomqvist (G, Finland, Karpat U20)
89) Mitch Miller (RD, USA, Tri-City USHL)
90) Kasper Puutio (RD, Finland, Everett WHL)
91) Theo Rochette (LC, Canada/Switzerland, Quebec QMJHL)
92) Jack Thompson (RD, Canada, Sudbury OHL)
93) Blake Biondi (RC, USA, Hermantown U.S. High School)
Fourth Round
94) Evan Vierling (LC, Canada, Barrie OHL)
95) James Hardie (LW, Canada, Mississauga OHL)
96) Charlie Desroches (RD, Canada, Saint John QMJHL)
97) Oliver Suni (RW, Finland, Oshawa OHL)
98) Tyler Kleven (LD, USA, NTDP U18)
99) Maxim Groshev (RW, Russia, Reaktor Nizhnekamsk MHL)
100) Drew Commesso (G, USA, NTDP U18)
101) Ben Schoen (RC/RW, USA, Youngstown USHL)
102) Luke Reid (RD, USA/Canada, Chicago USHL)
103) Ronan Seeley (LD, Canada, Everett WHL)
104) Thimo Nickl (RD, Austria, Drummondville QMJHL)
105) Colby Ambrosio (RC, Canada, Tri-City USHL)
106) Alex Cotton (RD, Canada, Lethbridge WHL)
107) Ruben Rafkin (RD, Finland, Windsor OHL)
108) Samuel Knazko (LD, Slovakia, TPS U20)
109) Juuso Maenpaa (LC, Finland, Jokerit U20)
110) Lleyton Moore (LD, Canada, Oshawa OHL)
111) Nick Malik (G, Czech Republic, Sault Ste. Marie OHL)
112) Elliot Ekmark (LC, Sweden, Linkoping J20)
113) Oskar Magnusson (LC/RW, Sweden, Malmo J20)
114) Shakir Mukhamadullin (LD, Russia, Tolpar Ufa MHL)
115) Pavel Tyutnev (LC, Russia, Loko Yaroslavl MHL)
116) Simon Knak (RW, Switzerland, Portland WHL)
117) Ryder Rolston (RW, USA, Waterloo USHL)
118) Amir Miftakhov (G, Russia, Bars Kazan VHL)
119) Logan Morrison (RC, Canada, Hamilton OHL)
120)  Xavier Simoneau (LW/LC, Canada, Drummondville QMJHL)
121) Gunnarwolfe Fontaine (LW, USA, Chicago USHL)
122) Oliver Tarnstrom (LC, Sweden, AIK J20)
123) Alex Gaffney (LC, USA, Muskegon USHL)
124) Luke Prokop (RD, Canada, Calgary WHL)
Fifth Round
125) Dmitri Ovchinnikov (LW, Russia, Sibirskie Snaipery Novosibirsk MHL)
126)  Samuel Hlavaj (G, Slovakia, Sherbrooke QMJHL)
127) Alex Laferriere (RW, USA, Des Moines USHL)
128) Cross Hanas (LW, USA/Canada, Portland WHL)
129) Simon Kubicek (RD, Czech Republic, Seattle WHL)
130) Hugo Styf (LD, Sweden, MODO J20)
131) Jan Bednar (G, Czech Republic, Karlovy Vary Czech)
132) Christoffer Sedoff (LD, Finland, Red Deer WHL)
133) Brandon Coe (RW, Canada, North Bay OHL)
134) Leo Loof (LD, Sweden, Farjestad J20)
135) Carson Bantle (LW, USA, Madison USHL)
136) Ethan Cardwell (RC, Canada/USA, Barrie OHL)
137) Ryan Francis (RC/RW, Canada, Cape Breton QMJHL)
138) Bogdan Trineyev (RW, Russia, Dynamo Moskva MHL)
139) Artur Akhtyamov (G, Russia, Irbis Kazan MHL)
140) Joe Miller (RW, USA, Blake U.S. High School)
141) Oliver Okuliar (LW, Slovakia, Lethbridge WHL)
142) Ivan Didkovsky (LW, Russia, Dynamo Moskva MHL)
143) Brock Faber (RD, USA, NTDP U18)
144) Victor Mancini (RD, USA, Frolunda J20)
145) Donovan Sebrango (LD, Canada, Kitchener OHL)
146) Marko Stacha (LD, Slovakia, Dukla Trencin)
147) Maxim Beryozkin (LW/RW, Russia, Loko Yaroslavl MHL)
148) Egor Sokolov (RW, Russia, Cape Breton QMJHL)
149) Dylan Garand (G, Canada, Kamloops WHL)
150) Noah Ellis (RD, USA, Des Moines USHL)
151) Lukas Svejkovsky (RW/RC, USA/Czech Republic, Medicine Hat WHL)
152) Dmitriy Zlodeyev (LC/LW, Russia, Dynamo Moskva MHL)
153) Laroslav Likhachev (RW, Russia, Blainville-Boisbriand QMJHL)
154) Ville Ottavainen (RD, Finland, Kitchener OHL)
155) William Dufour (RW, Canada, Drummondville QMJHL)
Sixth Round
156) Matej Kaslik (LC, Slovakia, Malmo J20)
157) Michal Gut (LC, Czech Republic, Everett WHL)
158) Landon Slaggert (RW/LC, USA, NTDP U18)
159) Calle Clang (G, Sweden, Rogle J20)
160) Trevor Kuntar (LW/LC, USA, Youngstown USHL)
161) Axel Rindell (RD, Finland, Jukurit Liiga)
162) Patrick Guay (LW/LC, Canada, Sherbrooke QMJHL)
163) Jacob Dion (LD, Canada, Drummondville QMJHL)
164) Lucas Ramberg (LD, Sweden, Lulea SHL)
165) Mikael Pyyhtia (LC, Finland, TPS U20)
166) Axel Kumlin (RD, Sweden, Frolunda J20)
167) Karel Klikorka (LD, Czech Republic, Mlada Boleslav)
168) Yegor Chinakhov (RW, Russia, Omskie Yastreby MHL)
169) Josh Lawrence (RC, Canada, Saint John QMJHL)
170) Mathieu De St. Phalle (RW, USA, Chicago USHL)
171) Nikolai Mayorov (LW, Russia, Cedar Rapids USHL)
172) Brady Burns (LC, Canada, Saint John QMJHL)
173) Elliot Desnoyers (LW, Canada, Moncton QMJHL)
174) Maximilian Glotzl (LD, Germany, Kolner Haie DEL)
175) Cole Shepard (LW/LC, Canada, Vancouver WHL)
176) Marek Blaha (RD, Czech Republic, Sparta Praha U19)
177) Alex Young (RC, Canada, Canmore AJHL)
178) Mans Forsfjall (LD, Sweden, Skelleftea J20)
179) Kyle Crnkovic (LW, Canada, Saskatoon WHL)
180) Alex Jefferies (RW, USA, The Gunnery U.S. High School)
181) Anton Kosolapov (RW, Russia, Dynamo Moskva MHL)
182) Noah Delemont (LD, Switzerland, Acadie-Bathurst QMJHL)
183) Mark Hillier (LC, Canada, St. Andrew's College High School)
184) Nikita Yefremov (LD, Russia, Sibirskie Snaipery Novosibirsk MHL)
185) Hank Kempf (LD, USA, Muskegon USHL)
186) Artem Shlaine (LC, USA/Russia, Shattuck St. Mary's U.S. High School)
Seventh Round
187) Aidan Campbell (G, USA/Canada, Erie OHL)
188) Jakub Kolenic (RW, Slovakia, Zvolen)
189) Charles Beaudoin (RW, Canada, Shawinigan QMJHL)
190) Benjamin Baumgartner (LC, Austria, Davos NLA)
191) Maxim Musorov (RW/LW, Kazakhstan, Snezhnye Barsy Astana MHL)
192)  Jake Boltmann (RD, USA, Edina U.S. High School)
193) Adam Wilsby (LD, Sweden, Sodertalje Allsvenskan)
194) Theo Nordlund (LD, Sweden, Frolunda J20)
195) Tanner Dickinson (LC, USA, Sault Ste. Marie OHL)
196) Jack Smith (LC, USA, St. Cloud Cathedral U.S. High School)
197) Samuel Johannesson (RD, Sweden, Rogle SHL)
198) Grant Slukynsky (LC, USA/Canada, Warroad U.S. High School
199) Alexander Gordin (RW/LW, Russia, St. Petersburg MHL)
200) Winter Wallace (LW, USA, Shattuck St. Mary's U.S. High School)
201) Ethan Edwards (LD, Canada, Spruce Grove AJHL)
202) Egor Smirnov (RD, Russia, Dynamo Moskva MHL)
203) Ryan Helliwell (LD, Canada, Langley BCHL)
204) Cameron Berg (LW, USA, Muskegon USHL)
205) Vladimir Mashkov (RW, Russia, Omskie Yastreby MHL)
206) Reid Valade (RW, Canada, Kitchener OHL)
207) Brock Gould (G, USA, Moose Jaw WHL)
208) Hayden Fowler (RW, Canada, Erie OHL)
209) Gerard Keane (RD, USA, London OHL)
210) Victor Ostman (G, Sweden, Chicago USHL)
211) Devon Levi (G, Canada, Carleton Place CCHL)
212) Alec Belanger (LD, Canada, Ottawa OHL)
213) Jeremie Biakabutuka (RD, Canada, Val-d'Or QMJHL)
214) Ethan Bowen (LC, Canada, Chilliwack BCHL)
215) Riley Duran (RC, USA, Lawrence Academy U.S. High School)
216) Maxim Krovyakov (RC, Russia, SKA-1946 St. Petersburg MHL)
217) Ryker Evans (LD, Canada, Regina WHL)
Honorable Mentions
218) Isaak Phillips (LD, Canada/Jamaica, Sudbury OHL)
219) Kristian Tanus (LC/LW, Finland, Jukurit Liiga)
220) Pavel Gogolev (LW, Russia, Guelph OHL)
221) Ilya Solovyov (LD, Belarus, Saginaw OHL)
222) Lassi Lehtinen (G, Finland, Lukko Liiga)
223) Jimmy Dowd Jr. (RD, USA, Chicago USHL)
224) Conner Hutchison (LD, USA, Penticton BCHL)
225) Hugo Ollas (G, Sweden, Linkoping J20)
226) Jordan Power (LD, Canada, Lincoln USHL)
227) Andrei Gusev (RD, Russia, Stalnye Lisy Magnitogorsk MHL)
228) Keanu Derungs (LW, Switzerland, Victoria WHL)
229) Vitali Pinchuk (LC, Belarus, Kingston OHL)
230) Payton Mount (RW, Canada, Seattle WHL)
231) Jakub Dobes (G, Czech Republic, Omaha USHL)
232) Colin Purcell (G, USA, Youngstown USHL)
233) Tucker Tynan (G, USA, Niagara OHL)
234) Stanislav Rangayev (LW/RW, Russia, Ladia Togliatti MHL)
235) Harijs Brants (LD, Latvia, Acadie-Bathurst QMJHL)
236) Alexander Ljungkrantz (LW, Sweden, Brynas J20)
237) David Aebischer (RD, Switzerland, Gatineau QMJHL)
238) Sergei Safin-Tregubov (LD, Russia/Portugal, Tolpar Ufa MHL)
239) Karri Aho (LD, Finland, Ilves U20)
240) Dmitri Sheshin (RW, Russia, Magnitogorsk MHL)
241) Brett Brochu (G, Canada, London OHL)
242) Cole Hansen (RW, USA, Blaine U.S. High School)
243) Pier-Olivier Roy (LW, Canada, Gatineau QMJHL)
244) Wyatt Schingoethe (LC, USA, Waterloo USHL)
245) Danil Aimurzin (RC, Russia, Tolpar Ufa MHL)
246) Calle Spaberg Olsen (LW, Norway, Rogle J20)
247) Viktor Persson (RD, Sweden, Brynas J20)
248) Aleks Haatanen (LW/RW, Finland, Pelicans Mestis)
249) Ben King (RC/RW, Canada, Red Deer WHL)
250) Ludvig Hedstrom (LD, Sweden, Djurgardens J20)