Though the autumn crisp in the air typically signals the beginning of hockey season, the unique circumstances of the 2019-20 season mean that we are actually just days away from the NHL Draft that was originally scheduled to take place at the Bell Centre in Montreal on June 26 and 27. On Tuesday night, fans will witness the first round of the long-anticipated draft, and though many things have changed since June, one thing is expected to remain the same: the New York Rangers are still expected to select standout QMJHL prospect Alexis Lafrenière with the first overall pick.
Lafrenière's significance on the ice already looms large: drafted first overall to the QMJHL by Rimouski Océanic in 2017, the now 18-year-old has done everything a prospect can do. As a rookie, his 80 points in 60 games earned him recognition as the QMJHL's and Canadian Hockey League's (CHL) Rookie of the Year.
The following two seasons, Lafrenière was the CHL's Player of the Year and the QMJHL's MVP. In the 2018-19 season, he led Canada to a Hlinka Memorial Gold Medal, and the following season, he battled through injury to help them claim gold at the World Junior Championship (WJC), where he was named Best Forward and Most Valuable Player.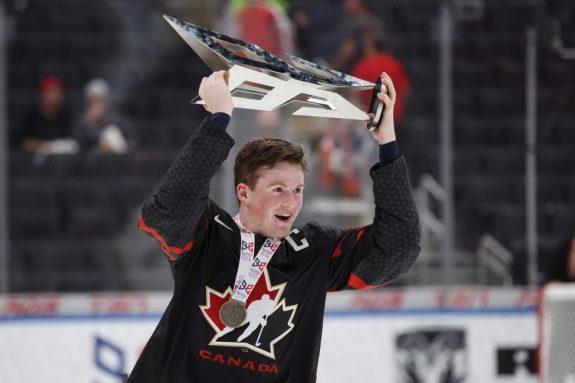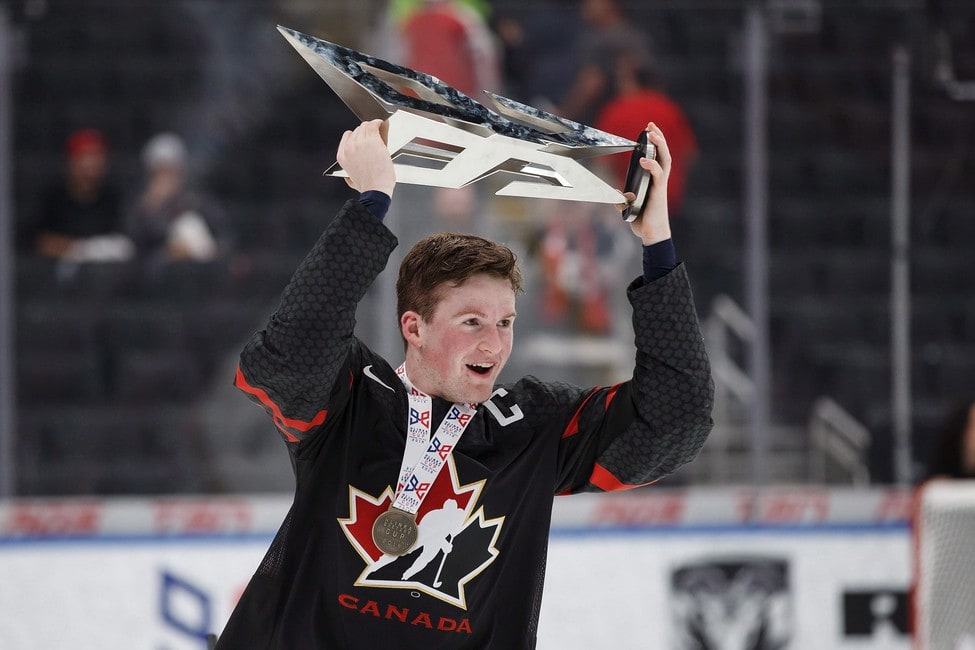 No player since Connor McDavid has captured the excitement of Canadian hockey fans as much as Lafrenière, which means that his impact will be felt off the ice as much as on it. The Hockey Writers got the opportunity to speak with Paul Zickler, the Sports Brand Manager at Upper Deck, who have an exclusive trading card and memorabilia deal with Lafrenière. He shared his thoughts on the impact that the presumptive number one pick will have away from the ice.
Boosting a Booming Market
One of the bizarre effects of the shutdown of sports across the globe has been a corresponding boom in the excitement and value surrounding the trading card and memorabilia industry. Consider Connor McDavid's Upper Deck Young Guns card. According to StockX, an online marketplace for investors, the value of McDavid's Young Guns card has more than doubled in the last six months. In March, the card could be purchased for as low as $440, while August and September saw a series of sales at $1,025.
Zickler told of an even more incredible McDavid rookie card sale that took place during that time, though: "McDavid's Cup Rookie Auto card was pulled in June in an online break, and it was numbered 97/99, so it was serial-numbered to his jersey number, and it ended up hitting an auction and going for $135,000. So whenever that sort of interest in high-value trading cards hit the market, it also garners a lot of publicity."
Each year's rookie class offers a new host of Young Guns, Cup Rookie Autos, and many more cards for collectors to pursue, and Lafrenière's cards are expected to be the most sought after since at least Auston Matthews in 2016, if not McDavid himself.
That's thanks to Lafrenière's incredible skillset, which Zickler described in detail: "He's got a unique talent and… skillset. He combines power and finesse. He can pass and shoot very well, but can also still play the physical game. I think that he does have the unique skillset compared to, sort of, just the pure goal scorers, where he has a little bit of power to his game."
It's no wonder that Upper Deck signed him to an exclusive deal, indoctrinating Lafrenière into a family that already includes basketball legends Michael Jordan and LeBron James and one of golf's greatest players, Tiger Woods.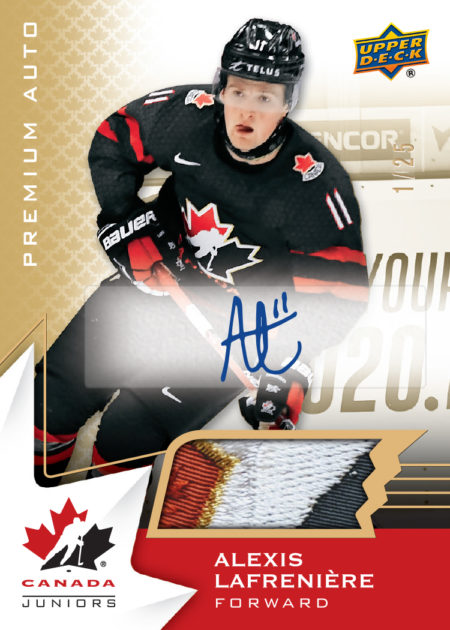 "The unique thing about having an exclusive," Zickler explained, "this Upper Deck exclusive spokesperson family is a tight-knit group and we take it very seriously. You obviously know the company that Alexis is joining… He comes from a very humble family, family is really important, and he's really just a solid human being. We're just excited to add him to the brand, in addition, to obviously what he's done on the ice."
Big Expectations in the Big Apple
Of course, when a company makes a big investment in a player like Lafrenière, they expect him to thrive wherever he goes. But Upper Deck certainly weren't upset on Aug. 10, when the New York Rangers won the NHL's Draft Lottery. New York is the NHL's biggest market by size by far, and a historic, Original Six franchise. It might be the best possible landing spot for Lafrenière Upper Deck could have hoped for, outside of a Canadian market, and Zickler wasn't shy in expressing his excitement.
"Everyone knows the hockey card business is doing well in Canada, but any time we get exposure south of the border, it's the perfect match. There are only a few instances over the past 15 years, where high-scoring Canadian forwards who are drafted as number one overall picks play for American teams: you have Sidney Crosby in Pittsburgh, Steven Stamkos in Tampa, Nathan MacKinnon in Colorado, John Tavares and the New York Islanders, and, obviously, if Alexis gets chosen by the New York Rangers, it will be another one to join that illustrious group. It transcends the entire trading card market when an A-list prospect joins a storied franchise like that."
But there's more to the excitement than just the size of the market. The team circumstances could hardly be better than what Lafrenière is expected to inherit in the Big Apple. He'll join a young, hungry team coming off a qualifying round exit in the bubble playoffs, and should see top minutes playing alongside star forwards like Mika Zibanejad, Hart Trophy Finalist Artemi Panarin, and last year's Number Two overall pick, Kaapo Kakko, who has yet to fully breakthrough at the NHL level.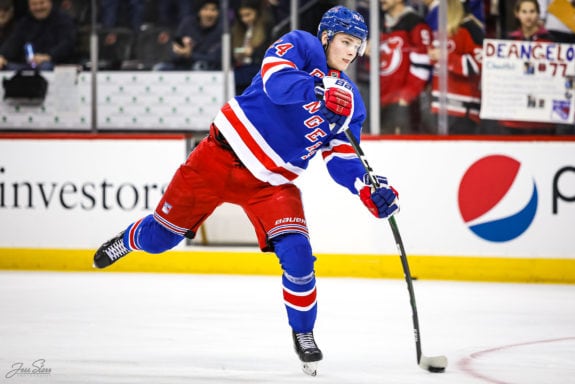 "There's a lot of youth movement that's on that team," Zickler said. "So I believe Alexis is going to be given every opportunity to skate and have a prominent role in his rookie year, which is a good opportunity for his development as a professional hockey player, as well as a good opportunity for our trading card business."
Lafrenière, Upper Deck face Challenges
Of course, neither Lafrenière's nor Upper Deck's road to this point has been paved with gold. Both the player and the company have had to deal with the COVID-19 pandemic like everyone else, and while the circumstances may have led to a boom in the market for trading cards and memorabilia, it has created other problems for the company as a whole, as it's still anyone's guess when the next NHL season will start.
"It's very difficult," Zickler said. "Typically our licensing rights with the Players' Association kicks in when the players skate in their rookie year. So our calendar has had to be reracked and rescheduled several times based on when the season is hypothetically gonna land. And there's been some rumblings about December or January, so we're kind of positioning for that timing. The release calendars across the board in all sports have had to be juggled, and we're no different."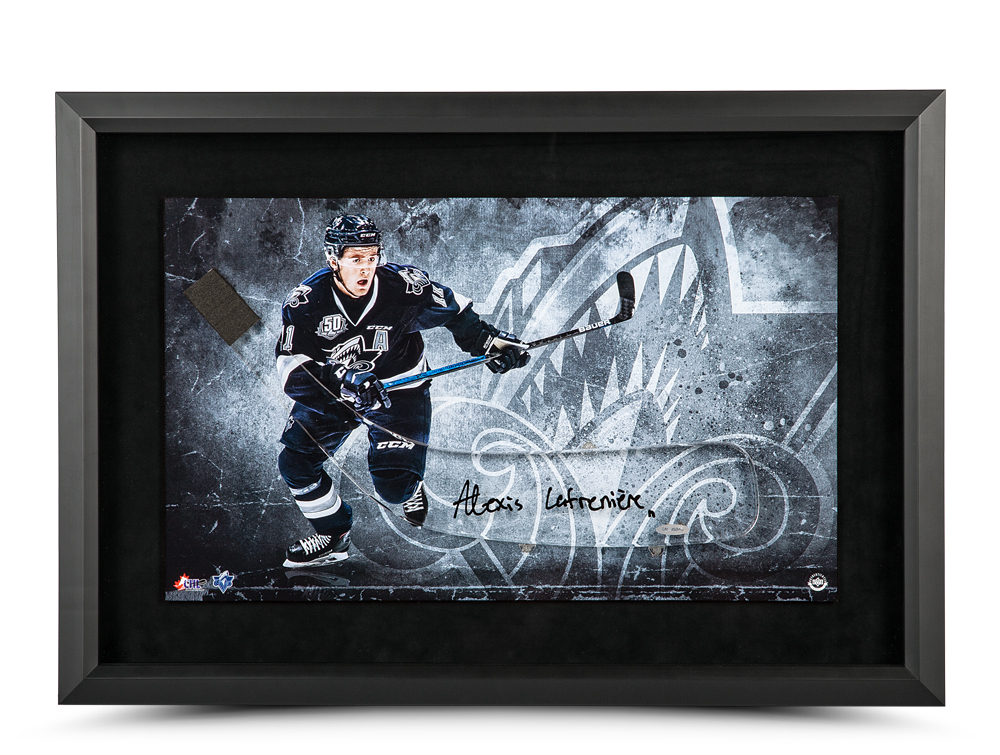 Fans desperate to open the next new Upper Deck product can take some solace, though. "Luckily, we have maintained the release schedule for some of our early 20-21 hockey releases we can still release with some redemption cards for rookies," Zickler explained, "but some of our mid-season releases will likely have to move out based on when the season starts, and that's just the reality."
Lafrenière's First NHL Card This Week
Fortunately, those desperate to claim his first NHL card won't have to wait long. Upper Deck plans to release an exclusive digital draft set of hockey cards the night of the First Round on Tuesday, which will feature Lafrenière and several of the other top draft picks. The set will be available for free to anyone who signs up for an Upper Deck ePack Account at upperdeckepack.com, their online trading card platform.
Zickler eagerly anticipates seeing Lafrenière drafted, whether to the Rangers or elsewhere. In the meantime, Upper Deck has plenty of work on their hands: "[Trading cards] are not a typical widget that you can just burn and turn, there's a lot of different elements that go into it. Like I said, with the Players' Association and getting a new batch of players every year, we in essence have to create new products every year. There's new players, new photos, new stories and new brands. It's always a fluid business, and they are difficult and complex products to build." 
But collectors are thankful that they do the hard work. And they're excited to see Lafrenière on the ice when the 2020-21 NHL season eventually gets underway. Before that, he has to be drafted. Don't expect to wait long after the Draft begins at 7:00 PM ET on Tuesday night to hear his name called from the podium.
---
---