The 2019-20 NHL season has officially ended, as the Tampa Bay Lightning won the second Stanley Cup championship in franchise history.
To reach similar heights, the Edmonton Oilers need to add players through the NHL draft that will begin on Oct. 6, with the team's first pick coming at 14th overall.
Related: Our Free NHL Draft Guide
So, who will the Oilers draft with the 14th pick? There are many positions the team needs in order to advance further in the NHL playoffs. Edmonton was eliminated in the qualifying round on Aug. 7 by the Chicago Blackhawks. The team will have $11,256,182 in salary cap space for the 2020-21 season, but will need to add players through the draft and take advantage of the fact that their young players will be playing under their first contracts.
NHL Draft Salary Implications
The Oilers have many options when it comes to their first-round pick at No. 14. They can take a goaltender to replace Mike Smith, who may leave the team because he is an unrestricted free agent. The Oilers might also take a player that can add secondary scoring to the team. They cannot continue to rely on Connor McDavid and Leon Draisaitl for the bulk of their scoring in the future.
Could the Oilers Target Askarov?
It is not known if the team will bring back the 38-year-old Smith. The team could draft Yaroslav Askarov, the 18-year-old out of St. Petersburg, Russia. Askarov is 6-foot-3 with a generational hockey IQ, high skill level and a fantastic ability to move laterally. One of the few flaws in his game is that he goes down into the butterfly too early and tends to let in goals up high. This can easily be fixed by any goalie coach that he works with when drafted.
This will help with the team's salary cap crunch because the goalies that are available in the free agent market will likely ask for more money than the team would be willing to pay them. The problem with drafting a goalie so high in the draft is that as with all players in any draft, it is not a sure thing that they will pan out. (from 'Oil Spills: Oilers' depth analysis,' Edmonton Sun, 10/01/2020) If the team drafts Askarov, they will be passing up on another talented player that could help sooner.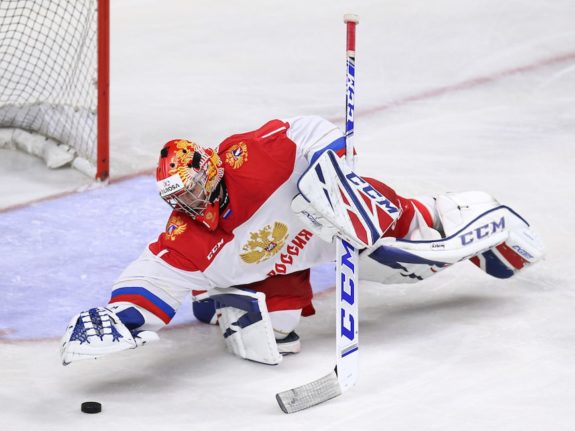 The team did take a goaltender in last year's draft. Ilya Konovalov was selected 85th overall out of Lokomotiv Yaroslavl of the KHL. While it is not ideal, the team could draft a goalie for a second straight year.
Rodion Amirov Has Strong 200-Foot Game
If the team does not see value in drafting Askarov at 14th overall, they could target a player such as left-winger Rodion Amirov. Playing last season with Salavat Yulaev, Amirov is a two-way winger who creates space in the offensive zone. At only 18 years old, Amirov scored 10 goals and added 12 assists for Tolpar. He also added two assists when he spent 21 games in the KHL (widely considered to be the second-best hockey league in the world).
Amirov is hockey smart with a lot of skill, but does lack pure speed and strength. To make up for this, Amirov is able to see plays before they develop. This is exactly the type of player that the Oilers need to add in order to get secondary scoring that they are sorely lacking.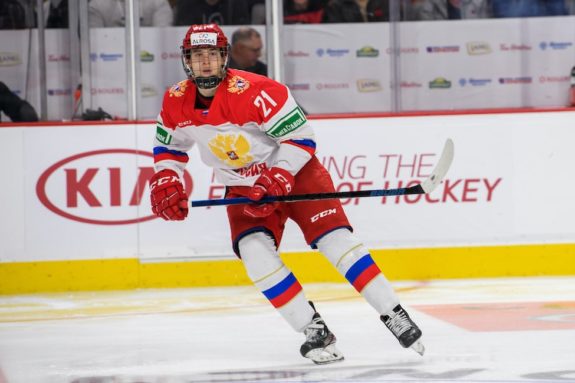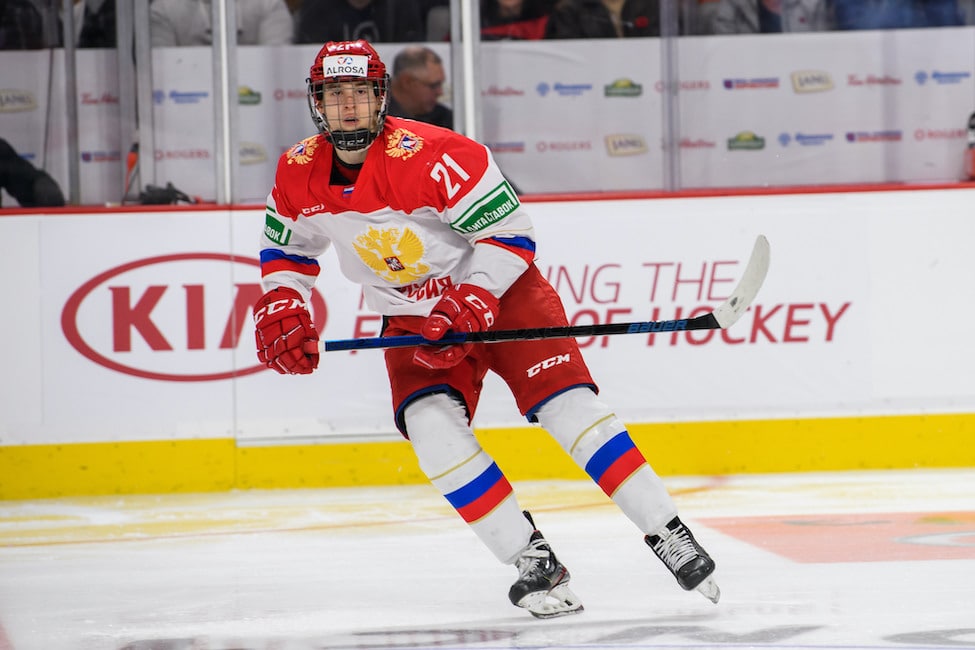 One thing that Tyler Wright, who is the director of amateur scouting, said recently is that the team will take the best player available. 'We got a target at 14. We have to wait and see the 13 other players who go before him.'
If that is the case, there are two players the Oilers could target at pick 14. Seth Jarvis, a right-winger out of Portland, and Ridly Greig, left-winger out of Brandon, both hail from the Western Hockey League (WHL) and are both under six feet tall.
Greig Plays with Energy
Greig plays with tremendous amounts of energy. He is willing to get physical in the "dirty areas" of the ice and is defensively intelligent. The Oilers need more of these types of players to play alongside the supremely talented McDavid and Draisaitl. Greig ranked third on the team with 26 goals and 34 assists for a total of 60 points in 56 games played the 2019-20 season for the Wheat Kings.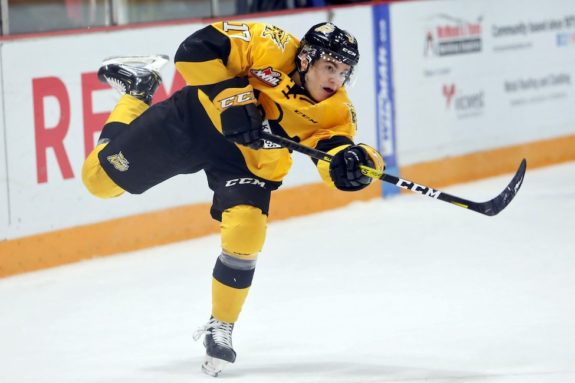 Greig also uses his high defensive IQ to make up for his average stature. Drafting such a player with this trait can help improve the team's overall defense. The Oilers gave up seven more goals (215) than the league average for the 2019-20 season.
Jarvis is a Gifted Passer and Shooter
Jarvis is a gifted passer who has plenty of moves when pulling away from defenders. He is also a talented shooter that wants to play with the puck on his stick. Jarvis led the Portland Winterhawks with 42 goals and 56 assists totaling 98 points in 58 games played.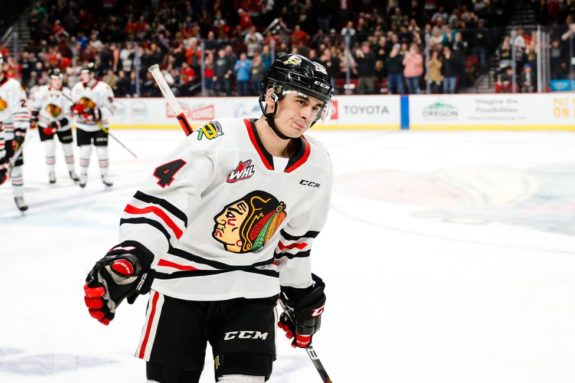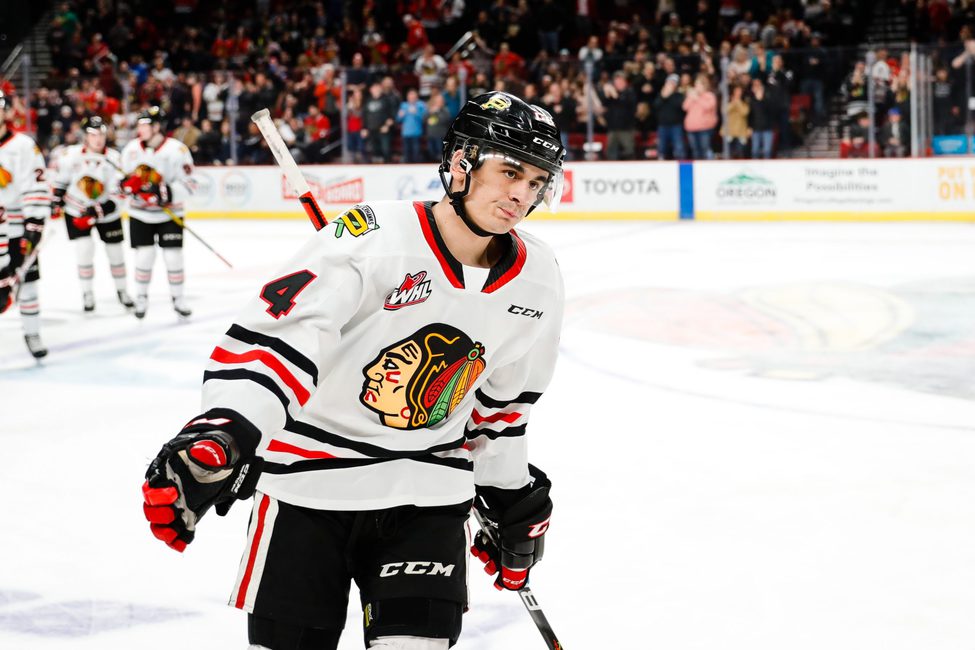 The Oilers will get a talented player no matter who they take at 14th in the first round. If the team feels that drafting a goaltender this early is too risky, even one as talented as Askarov, they can target Amirov, Greig or Jarvis. Any of these players are very skilled even if some talent evaluators find flaws in their respective games.
Oilers First-Round Picks in the 2010s
Drafting a player in the first round of the draft does not guarantee immediate success for a team. The Oilers are more than one piece away from competing for the Stanley Cup – they need to add a goaltender as well as secondary scoring at forward. The team has plenty of depth at defense with the likes of Darnell Nurse, Oscar Klefbom and Matt Benning at the core of their defense.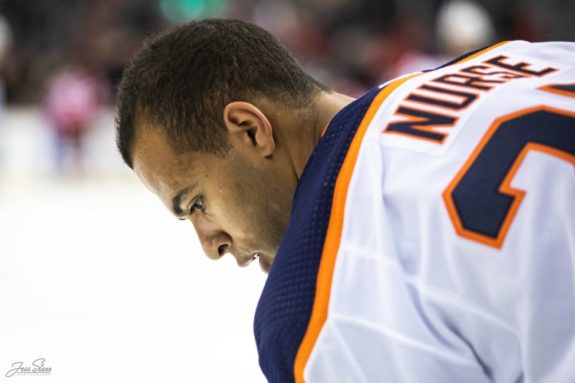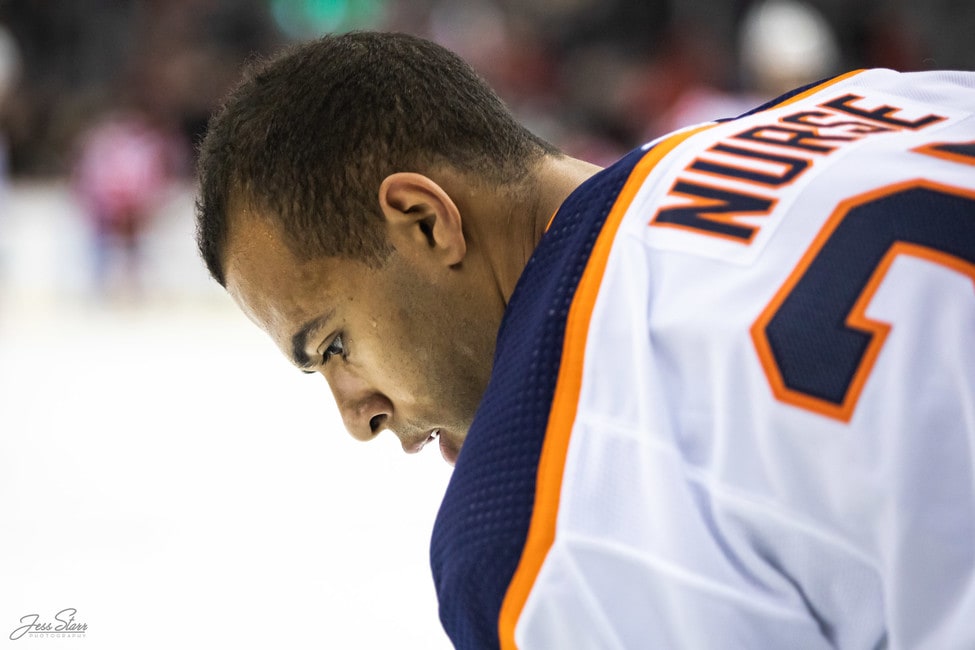 THW's own Josh Vold has ranked the 11 first-round draft picks the Oilers made in the 2010s. Some of these have been more successful than others. Not all of these selections were made by Ken Holland as there were six general managers in the decade (Keith Gretzky served as interim general manager after Peter Chiarelli's departure on Jan. 23, 2019).
From best to worst:
Nail Yakupov – 2012, 1st overall
Jesse Puljujarvi – 2016, 4th overall
Philip Broberg – 2019, 8th overall
Evan Bouchard – 2018, 10th overall
Kailer Yamamoto – 2017, 22nd overall
Darnell Nurse – 2013, 7th overall
Taylor Hall – 2010, 1st overall
Oscar Klefbom – 2011, 19th overall
Ryan Nugent-Hopkins – 2011, 1st overall
Leon Draisaitl – 2014, 3rd overall
Connor McDavid – 2015, 1st overall
McDavid is clearly the best player of these first-round draft picks. As noted in a previous THW article, Draisaitl is playing in McDavid's shadow. If Draisaitl was playing on any other team in the NHL, he would be a superstar. As such, the franchise is wasting the talent of both players given the fact that they both have had subpar records in the playoffs (8-9 in playoff games).
One player that has had an interesting time while in Edmonton is Puljujarvi. The players that were selected before the 22-year-old were Auston Matthews, Patrik Laine, and Pierre-Luc Dubois. Matthews is easily the best player of these four and has had a tremendous career so far for the Toronto Maple Leafs, scoring 158 goals and adding 127 assists for a total of 285 points in 282 games played for the Maple Leafs. Much like Puljujarvi, he has not had the playoff success that the Leafs probably expected when they drafted him first overall in the 2016 NHL Entry Draft.
Whoever the Oilers select in the draft on Oct. 6 will have to play on a team that has two of the best players on the planet. A team with McDavid and Draisaitl can have expectations of a deep run in the Stanley Cup playoffs. This has not been the case in the recent past, though, and time will tell if they can live up to these expectations.
---
---
Friendly TV fan. Social media junkie. Coffee advocate. Unapologetic marketing and sports geek. GIF you wish.