The already active NHL offseason raged on with the 2020 NHL Entry Draft and the Pittsburgh Penguins weren't expected to make much noise with their picks. For the most part, the organization remained relatively quiet through all seven rounds. That might be a good thing for a team that has seen some huge changes so far this season.
The Penguins' biggest move of the draft, and perhaps the whole offseason, came just before day two of the draft started. Goaltender Matt Murray was traded to the Ottawa Senators for a second-round pick (52nd overall) and forward prospect Jonathan Gruden.
Related: Classic Draft Day Quotes
Gruden, a 20-year-old left winger, will most likely play with the Wilkes-Barre Scranton Penguins in the AHL to start his tenure with the organization. In his own words, Gruden is a two-way forward who will play in the dirty areas. That includes being a big body in front of the opposing goalies. Maybe not this season, but in the coming seasons if his style of play remains that way, Gruden could become a good replacement for the role Patric Hornqvist filled.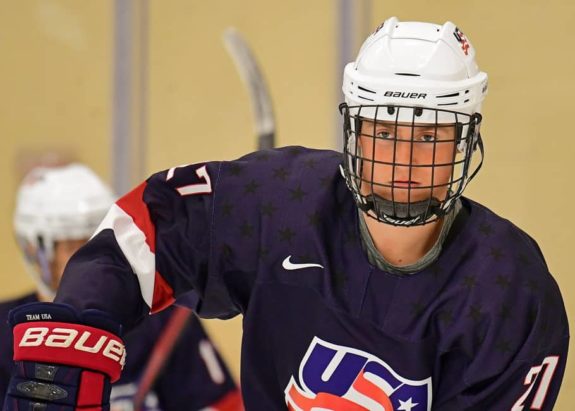 With the OHL's London Knights last season, Gruden posted 30 goals, 36 assists, for 66 points in 59 games.
Going into the Draft, the Penguins completely bypassed the first round of the draft after trading away the 15th overall pick to the Toronto Maple Leafs for the return of Kasperi Kapanen. Originally without a second-round pick, the Murray trade brought the 52nd overall pick to the Penguins.
Round 2, 52nd Overall: Joel Blomqvist
With that 52nd overall pick, the Penguins chose goaltender Joel Blomqvist from Karpat of the SM-liiga. The Pens trade a goalie away and draft another with the pick they got in return, and it makes sense the Penguins would want to take a goalie this year. With Murray's departure, holes need to be filled elsewhere in the organization. While Blomqvist is not an immediate filler, soon enough his name will begin to be brought up in the organization.
Goalies are always hard to get a read on in terms of where their projection lands, and Blomqvist is no different. Ranked as the No. 3 European goalie by NHL Central Scouting, Blomqvist has gotten off to a hot start in the 2020-21 season with Karpat. After two games, he has two wins and a .910 save percentage.
Scouts say that Blomqvist is a physically gifted goalie who was ranked among the top in the draft class for his position. Standing at 6-foot-2, he has good size and uses it well with quick reflexes and good footwork. Keep an eye out for him in the coming years' rookie camps, as he has a real shot at cracking an NHL lineup one day.
Round 3, 77th Overall: Calle Clang
The Penguins went an interesting route for their third-round pick as they decided to take another European goalie. Being added to the Penguins goaltending depth chart was Calle Clang of Sweden.
Clang, ranked No. 4 among European goalies by NHL Central Scouting, gives the Penguins both the third and fourth-ranked goalies from Europe. Currently on loan to Kristianstads IK, Clang played the 2019-20 season with the Rogle BK J20 team and played in 34 games, posting a .913 save percentage.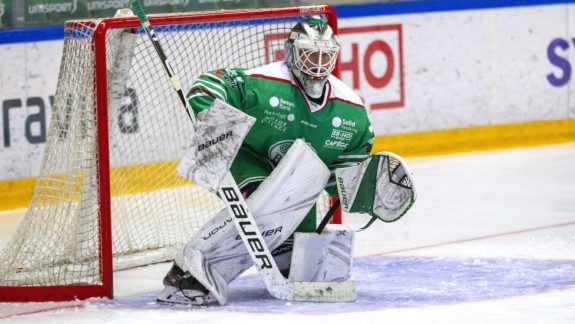 The chances of Clang reaching the NHL are a little hampered by Blomqvist being taken just a round prior, but anything is possible, and we know general manager Jim Rutherford is not afraid of to trade. Again, goalies are tougher to get a projection on, but with some hard work and some growth as a shutdown goalie, Clang could see the NHL in his career.
With the Clang selection, the Penguins have gone past the top 100 picks without a skater taken.
Round 4, 108th Overall: Lukas Svejkovsky
With their fourth-round pick, the Penguins chose their first skater of the 2020 Draft by taking Lukas Svejkovsky from the Medicine Hat Tigers of the WHL. During the 2019-20 season in the WHL, Svejkovsky played with both Medicine Hat and the Vancouver Giants scoring 38 points in 52 games.
Owning dual citizenship between the United States and the Czech Republic, Svejkovsky will be heading to the U.S. World Junior Camp. Penguins' Director of Amateur Scouting, Patrik Allvin, said that Svejkovsky has a great hockey sense and is a good skater. His skills are what made him intriguing to the Penguins organization. He may not have a high potential, but it never hurts to have another depth role player in the system.
Round 5, 149th Overall: Raivis Ansons
The Penguins traded away their 139th overall pick to the Colorado Avalanche in exchange for their fifth (149th) and seventh (211th) round picks.
With the 149th selection, the Penguins chose Raivis Ansons from Baia-Comeau Drakkar of the QMJHL. If that team sounds familiar, that's because that is the junior hockey team that prospect Nathan Legare plays on as well. Ansons is a native of Riga, Latvia, just like current Penguins center Teddy Blueger.
With many Penguins scouts watching Dakkar games to keep an eye on Legare, they also saw how skilled of a player Ansons is. The organization became intrigued by his size and speed, and at 6-foot-1, 191 pounds with room to grow, Ansons has great potential to be a phenomenal grinder of a depth forward.
Ansons will be spending the 2020-21 season with Baia-Comeau, and his offensive production is expected to increase. The 2019-20 season was his first year playing on North American ice and he picked up 13 goals, 22 assists, for 35 points in 60 games.
Round 6, 170th Overall: Chase Yoder
It's pretty well known that the Penguins organization has a love for keeping an eye on college athletes, and that continued with their sixth-round pick. The Penguins chose Chase Yoder from Providence College. Yoder is a center who will be spending at least the next season playing at Providence to grow his game.
Yoder, a freshman at Providence, was ranked No. 132 by the NHL Network and has the ability to play all 200-feet of the ice. He already possesses a good two-way game and has been compared to Penguins forward Brandon Tanev. This comparison by Tony Granato is a good sign as Tanev is one of the Penguins' best defensive-minded forwards.
Allvin also had a comparison to give for Yoder, and that was current Penguins center Blueger, a hard-working two-way player. While Yoder's projection isn't super high, he could grow to be another great depth piece as a fourth-line player who can kill penalties and play as a defensive forward. His focus isn't about producing points or scoring goals but doing whatever it takes to win.
Related: The 10 Best 7th-Round Picks Since 2005
The Penguins sent the seventh-round pick acquired from Colorado to the Washington Capitals for next year's seventh-rounder. And that called the end of the Penguins in the 2020 NHL Draft. The five picks made by Pittsburgh may not have an impact next season or even the season after that, but these are players to keep an eye on. It's hard to predict exactly what any of these players will turn out to be, but maybe the Penguins found a diamond in the rough.
---
---