Calgary Flames fans were getting very excited over defenceman Juuso Valimaki prior to the 2019-20 season, and for good reason. During the 2018-19 season, he played in 24 games with the Flames at just 20 years old and looked like he belonged despite posting just three points. He was also able to play in two postseason games with the Flames as well and showed his offensive potential in the AHL earlier that same season, putting up 14 points in 20 games with the Stockton Heat.
Unfortunately, what many thought would be a breakout campaign turned into disaster, as Valimaki missed the entire season after tearing his ACL while training in August. Some questioned whether the 2017 16th overall pick would be able to fully recover from such a devastating injury. It would have been a huge blow to the Flames if he wasn't able, as before the injury he looked like he had the potential to become an NHL stud. Thankfully, the 22-year-old has returned to full strength and looks as good as ever playing in his home country of Finland.
Lighting It Up
Valimaki has been able to get back into playing shape, which is a huge bonus for both him and the Flames, as it is allowing him to work off any rust after sitting out all of last season. He has appeared in 12 games for Ilves Tampere of the Liiga and is showing everyone just how talented he is, with two goals and 11 points along with a plus/minus of plus 13.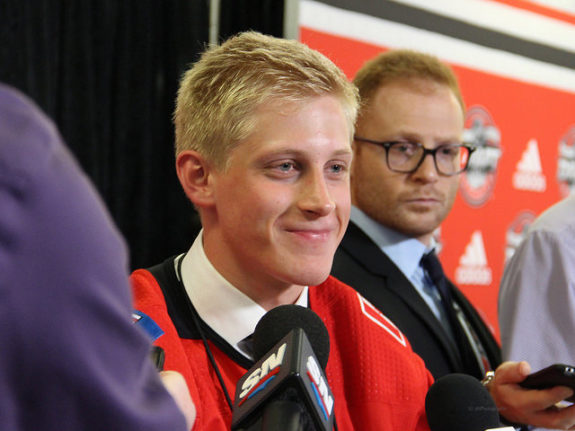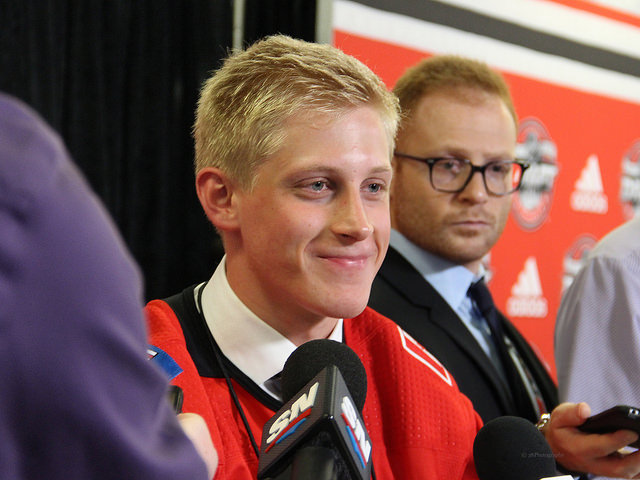 Those numbers have him second in the entire league for points by a defenceman, as well as tied for third on his team.  He hasn't been getting soft on-ice matchups to help boost his totals either, as he has been leading his team in ice time all season, averaging well over 22 minutes a game. Safe to say that by the time the NHL season starts, regardless of when that ends up being, he will be more than ready to go.
Potential Pairings
Flames' head coach Geoff Ward will have some tough decisions to make for defensive pairings this upcoming season. While the team has added Chris Tanev and Nikita Nesterov to the mix, they also lost T.J. Brodie, Travis Hamonic, Mark Stone, as well as trade deadline acquisitions in Erik Gustafsson and Derek Forbort. Oliver Kylington also remains without a contract, and it remains a question mark whether or not a deal will get done there before the season begins.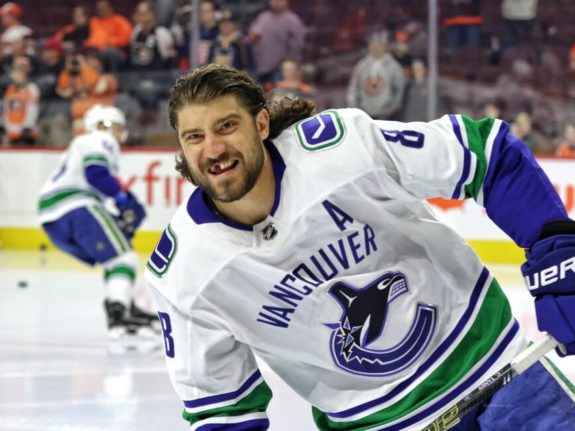 The good news for both the left-handed shot Valimaki and the Flames is that he will not have to be thrown to the wolves early, as they have two other lefties in Mark Giordano and Noah Hanifin who can log plenty of minutes and tough matchups. Valimaki may prove that he is able to handle big minutes as well, but given that he averaged just 15:29 minutes in ice time during his first NHL stint, they will likely be cautious with him to start the season.
As for right-handed defencemen, they currently have Tanev and Rasmus Andersson and are reportedly looking to add one more before the season starts. Either of these two would be great partners for Valimaki, as Tanev is a 514-game veteran, and Andersson has proven over his first two full seasons in the league that he is a competent top-four defenceman. Tanev appears to be the best fit, as his solid defensive play would allow Valimaki to feel more comfortable to create big plays offensively, which is a huge part of his game.
Of course, this all depends on if they have a new defenceman on the right side prior to the season starting. If they acquire a veteran in free agency, perhaps they play him alongside Valimaki on the third pairing to allow him to get his feet wet. With the lineup looking the way it does currently, however, I believe Tanev would be an excellent fit.
Power Play Opportunities
Considering the numbers Valimaki has put up offensively throughout his junior career, as well as his time in the AHL and now the Liiga, it wouldn't come as a surprise to see the Flames give him a shot on one of their powerplay units for the upcoming season. Once they acquired Gustafsson at the 2020 Trade Deadline, they used him frequently on their first powerplay unit, with Giordano quarterbacking the second.
Given Giordano's veteran experience, as well as his proven offensive abilities at the NHL level, you would have to think he's moved back onto the first powerplay unit now that Gustafsson is gone. The second unit, however, is likely up for grabs, as they don't have any other defencemen in the lineup who have put up big totals in the NHL. He will almost undoubtedly get some looks on this unit, though whether or not he sticks will depend on how he plays.
Growing Season
The important thing to remember is that Valimaki is still just 22. He will make mistakes, and he will have some bad games. However, given how talented he is, he will also have both shifts and games that show his true potential and just how good he will become. While this season will not be one where he puts up 40+ points, it appears he is well on his way to becoming that player consistently down the road. This season will be just the start of what is likely to be a very solid NHL career.
---
---